It's commonly accepted that after describing New York City and London as two of the most vibrant and exciting cities to live in, the next thing everyone can agree on is that they're two of the most expensive cities to live in.
In fact Londoners and New Yorkers often battle for who gets to have the biggest chip on their shoulder in terms of who has it worse when it comes to pricey lifestyles and cost of living.
Well the popular roommate matching site and app SpareRoom decided to put the debate to rest by conducting a survey of over 2,000 roommates in New York and London, asking questions about commute time, food spending, preferred evening activities, utilities, rent, salary and more.
The the results? Well! They'll surprise you/won't surprise you! And to be honest don't really solve the question of who has it tougher!
Let's start with the cost of living: New Yorkers pay $1,212 on average for a room, while Londoners only pay $932, BUT New Yorkers are hauling in an average annual salary of $69,681 while Londoners are bringing in $42,837.
Buuuuuuut, New Yorkers also report 34% are spending over half of that higher salary on rent, while only 26% of Londoners do the same. Plus 49% of New York renters spend over $250 a month on bills, compared to London's 17%. Yikes.
In terms of food, clothing and other non-essentials like cappuccinos and movie tickets, pretty much everything (except a pair of jeans) is cheaper in London.
[anad]
That probably explains why 34% of New Yorkers described their ideal night as staying in to order take-out and watch tv, whereas over a quarter of Londoners prefer a night out on the town.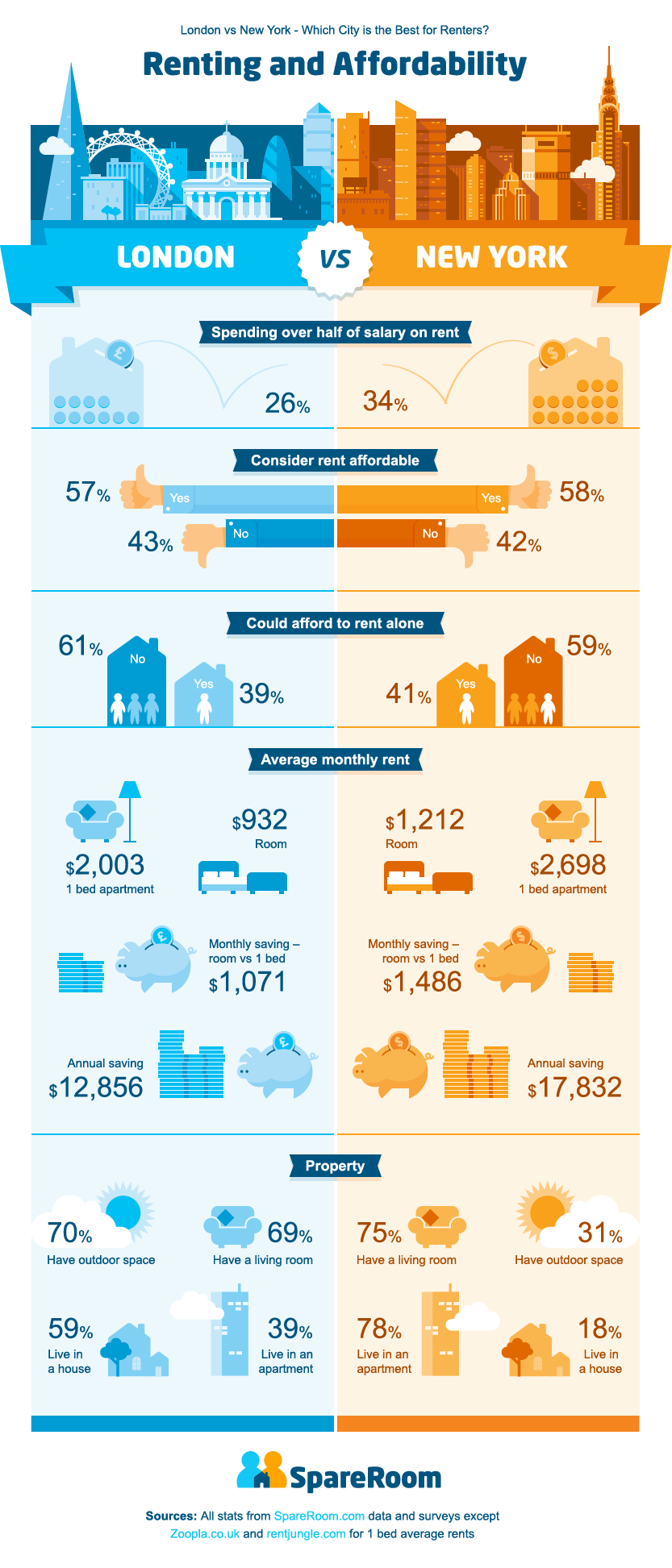 Now who exactly are New Yorkers and Londoners living with? According to the survey, most New Yorkers live with just one other person, and only 38% didn't previously know their roomie, while most Londoners share a flat with 3 or more people, and 59% didn't previously know their roomies.
Wondering how Londoners cram so many people into a tiny apartment? It's actually because most aren't renting apartments—59% of London-towners live in houses, compared to New York's 78% sharing apartments.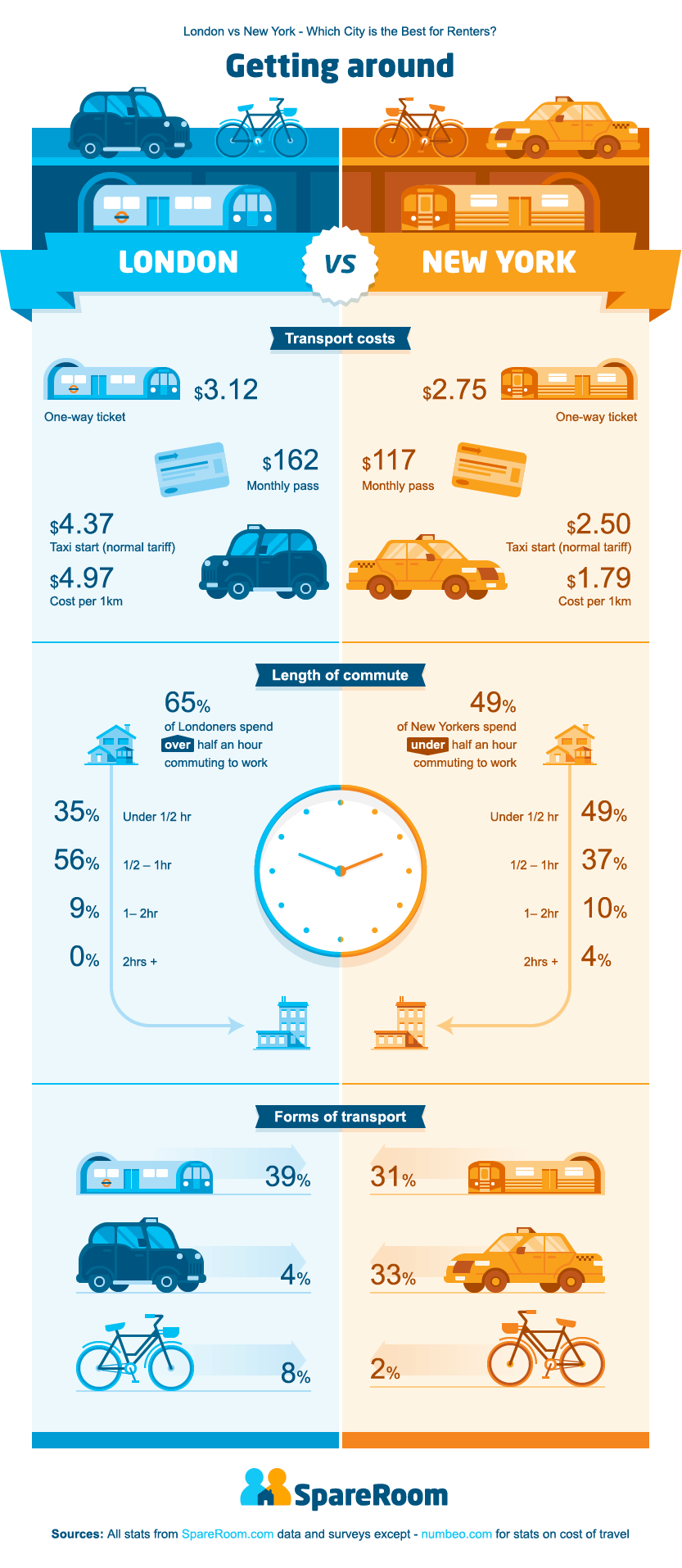 Living in houses may mean actual outdoor space (70% have an outdoor area compared to New York's 31%), but it also means longer commute times. In fact, 65% of Londoners have to commute 30 minutes or more to work, whereas 25% of New Yorkers only have to commute 15 minutes or less.
What's the takeaway from this survey? Both cities have their pros and cons. If you're looking for cheaper rent and cost of living, larger living space, and are willing to put up with longer commute times, maybe London is for you.
If you're down to pay more, but still have an overall higher disposable income, don't mind a smaller space if shared with less people, and want to roll out of bed 30 minutes before it's time to report to work, then congrats! You're in the right city! New York is the place for you!
Check out all of SpareRoom's fun infographics on their official findings!
Whatever... New York is still the best city in the world. Right? Right?!
Well, Rupert Hunt (you might remember his epic quest of entrepreneurial altruism from last Fall), SpareRoom's CEO, also weighed in.
"Having been lucky enough to share in London and New York, I know personally that they're both incredible cities to live in. The main thing they have in common is that they're expensive, but there are few cities in the world that offer the same diversity, creativity and excitement. There are some definite differences though.

When I first came to New York I was shocked at how much more expensive it is than London, not just in terms of rent but also essentials like food and bills. However the great thing about New York is the fact that so many people live centrally, which just doesn't happen in London.
But one thing London has over New York is the amount of green space. Londoners are twice as likely to have a garden or yard as New Yorkers, generally because houses are more common in London. The flipside of that is it often means people live further out and have to commute a bit more.
I'm not sure I could choose between the two cities. London is still home, but I love New York and I'm in no rush to leave just yet!"
So... let's call it a tie for now?
Find a Roommate That Makes Sense for You & Check Out SpareRoom Right Here.
[Feature Image Courtesy BusinessOfFashion]