We're totally psyched for spring in New York City.
So much amazing stuff goes down in NYC this time of year: food festivals, outdoor films, and some truly beautiful scenery.
But the thing we're definitely not excited for?
More snow.
Yup. Just when you thought that it was finally getting warmer in NYC.
Meteorologists are predicting up to 2 inches of "slushy snow" this Saturday, beginning in the morning and mixing back in at sundown.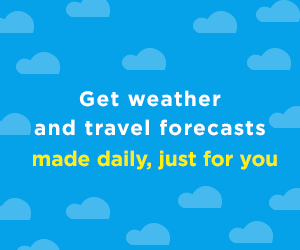 So, we could possibly be waking up to a lovely dusting of snow on our fire escapes on Sunday morning.
COOL. (No pun intended.)
The predictions are still a bit up in the air, seeing as reports have been adjusted from a 3 inch prediction on Thursday to the current 2 inches.
More adjustments are expected to be made in the following days as more information is available.
But even if it it does end up snowing this weekend (ugh), there's tons of awesome indoor activities to cross off your NYC bucket list before the cold weather officially ends.
Or, you know, you could just stay in and watch the entirety of Friends on Netflix.
[anad]
We certainly won't judge.
But on the other hand, there's still so much cool sh*t going down this weekend. Some of it might get delayed because of the weather.
So what do you do? You use the absolute best weather update app around: Poncho.
Poncho's the most adorable cat in a yellow raincoat making the most out of bad news by delivering it cutely.
Poncho is hands-down the best way to check weather from the moment it wakes you up with a weather-based alarm to the minute before you leave work for the evening. Download the Poncho app here.
Check out This NYC Subway Rider's Hilarious Fake Book Covers.
[via DNA Info]
[Feature Image Courtesy AccuWeather]