Say what you will about the stranglehold gentrification has on the outer boroughs, or the scaly, spineless reptiles squeezing the life out of their people, snakes will always be the most appropriate metaphors for treacherous people with ulterior motives.
You've got the biblical Eden, Jungle Book's Kaa, even the metaphor for Sam Jackson's fear of flying realized in Snakes on a Plane (okay, so that's a reach, but we had to hit that reference at some point).
Someone took it to another level last Saturday when they decided to leave a bag with a giant boa constrictor on the B12 bus heading through Brooklyn.
The driver was only 8 stops into the route when the driver noticed the snake. According to the MTA, there were no other passengers on the bus, so he was able to immediately book it back to the bus depot to have the snake removed.
The snake didn't make things easy, though.
No, workers had to remove panels of the bus to even get to the snake who appeared to be heading towards the warmth of the bus's engine. Poor guy.
[anad]
The snake was then taken away by Animal Care and Control.
Apparently, a driver had seen a passenger get on the bus with a snake in a bag a day before. It should have been safe to assume that when the passenger got off, he took the snake with him-- and that's exactly what the driver assumed.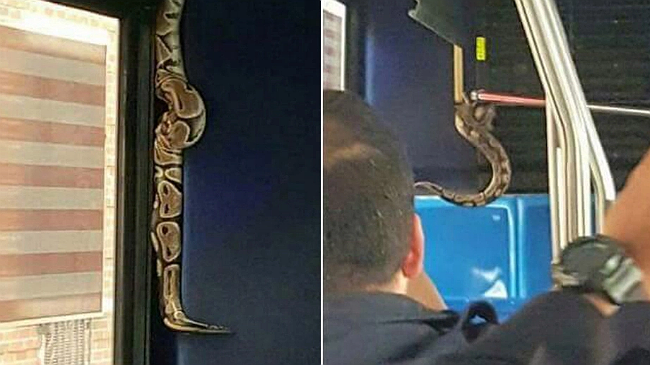 via The New York Post
"I guess it got too big for him to take care of, so he left it on the bus in the bag," the driver told the New York Post.
Nope. The stowaway snaked his way out of the bag for the longest free ride in Brooklyn Boa Constrictor History (not entirely sure we can actually verify that claim, though).
Who can really blame the snake? There are worse two-legged snakes walking the streets of NYC every day. Even if he was trying to catch a free ride, it's not like he was reaching into the pockets of other riders.
Check out Did You Hear About That 6 a.m. Ugly Sweater Dance Party That Went Down in Macy's.
[via Gothamist]
[Feature Image Courtesy New York Post]