Subscribe to spoiled NYC's official newsletter, The Stoop, for the best news, eats, drinks, places to go, and things to do.
Well, THAT was a rough one, gang!
2016 took from us our hopes, our dreams, our idols, and our MONEYYYY, WHERE DID IT GO???
Can we make one New Year's resolution that we can actually keep?
Let's resolve to spend less on useless sh*t, especially when our fair city is just lousy with plenty of amazing free stuff to do all year around.
Let's start 2017 right: with nature, music, and not wearing any pants on the subway!
---
1. Free Days at Wave Hill (January 3rd-31st)
wavehill A profusion of orange blooms scale a wall of the Palm House and dangle from the ceiling—our flame vine is a must-see in winter. #wavehill #gardenglory #flamevine
Make it one of your New Year's resolutions to explore NYC more, starting with The Bronx. Wave Hill is a 28-acre public garden and cultural center in the Bronx overlooking the Hudson River and Palisades.
There are over 10 different gardens and exhibits to wander through within Wave Hill - and just think about the photo ops once we get some SNOW!? My heart.
Check out the Kerlin Overlook for an unstoppable view of the Hudson River that will make you forget you took the subway to get here.
Wave Hill is located at West 249th Street and Independence Avenue in the Riverdale section of the Bronx, New York and offers free admission before noon!
---
2. El Museo del Barrio's 40th Annual Three Kings Day (January 6th)
elmuseo Come celebrate @elmuseo 40th Annual Three Kings Day Parade with us! Register now and march the streets of East Harlem, #NYC with live camels, music and more! (Link in Bio) #threekings #tresreyesmagos #parade #elbarrio #tradition #holidays #elmuseo #freeadmission #3kings2017
This annual celebration to honor individuals who have made significant contributions to the Latino community is celebrating is turning the big 4-0! This year, El Museo del Barrio will be hosting a parade featuring music, dancing, puppets, CAMELS, and more!
So basically, just come to East Harlem on the 6th for the music but stay for the f*cking CAMELS. I don't know what is going to happen with/to/at/for the camels but I am here for it.
The parade route begins on 106th Street and Lexington Avenue and ends on 115th Street and Park Avenue. Several camels were harmed in the making of this listicle.
---
3. No Pants Subway Ride (January 8th)
sophiefontanel - Où ça, un lundi ? It means : "A Monday ? Where do you see a Monday ? I do not see any Monday ? Are you sure sure sure it's Monday ?" #oucaunlundi #nopantssubwayride (rg @fergusondouglas!)
It's time once again to bust out those stems! Those sad excuses for skin and bone that you call LEGS! It's the 16th anniversary of the No Pants Subway Ride which is...pretty self-explanatory. You take off your pants and ride the subway.
But if you don't want to be a PERV about it, you do it in a group and you subscribe here so you can be in the know on where to meet with other like-minded pants-less wonders!
Meeting point & start time TBA (sign up for the mailing list!). After party at Bar 13!
---
4. NVR Sleep - RnB Party (January 11th)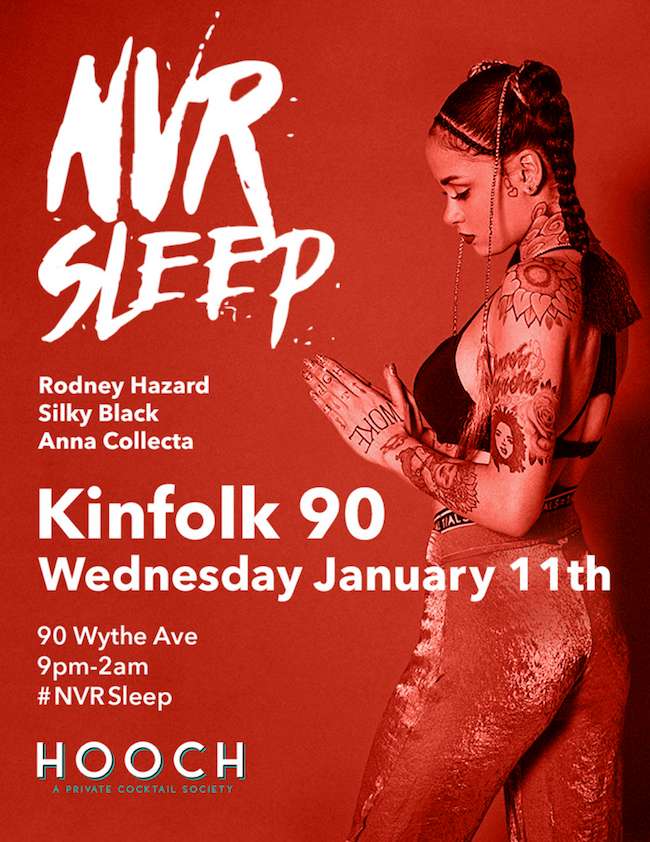 NVR Sleep is back this month at Kinfolk 90 in Williamsburg. Holllaaaaaa!
spoiled Creative Director Rodney Hazard is back at it again this month with NVR Sleep – RnB Dance Party. Winter's here. Face the facts. So, work up a Keith Sweat in Brooklyn.
What can you expect? 5 hours of dance, drink, and good vibes. Or, you know, everything you've come to expect from NVR Sleep. Vice's new beer, Old Blue Last, is also doing a $3 open bar with our friends at HOOCH, so don't miss out. Oh, and it's free. Just RSVP right here.
---
5. Lunar New Year Bronx Museum (January 14th)
Enjoy the Lunar New Year at the Bronx Museum with costumed folk dances, authentic music, and a Lion Dance, presented by the New York Chinese Cultural Center from 2 p.m. until 4 p.m.
At 2 p.m., there will be traditional paper cutting and calligraphy lessons, and performances begin at 3 p.m.
Admission is FREE! You can find the Bronx Museum at 1040 Grand Concourse.
---
6. Brooklyn Tribute to Dr. Martin Luther King, Jr. (January 16th)
julia__antonelli #martinlutherkingjrday ❤️
Anyone feeling terrible about the events that will transpire on January 20th, may want to take the anniversary of MLK's birth to reflect on the work of this iconic civil rights leader.
BAM is paying tribute by bringing together world-renowned activists, intellectuals, and civic leaders together with musicians, poets, and other performers to honor King's legacy and keep his message alive.
This year, featured speakers and performers include Opal Tometi, a racial justice and immigrant rights activist and one of the founders of Black Lives Matter, and the Institutional Radio Choir of Brooklyn.
The event begins at 8am in the BAM Howard Gilman Opera House Lobby, Peter Jay Sharp Building, 30 Lafayette Avenue, Brooklyn NY.
---
7. Whiskey Me Away: Sex Tips and Whiskey Tasting (January 21st)
mindfullyjackie #babelandnyc #sexpositive #sexgeek #newyorkcity #nyc
If you're going to be hibernating with bae this winter, you might as well pick up some tips to keep things interesting. The Babeland at 94 Rivington will be serving whiskey from local distilleries, to replace any sex talk awkwardness you might have with a nice, warm buzz.
The first 10 visitors will get some freebies to bring home, so get there early! Register here.
---
8. Winter Jam NYC (January 28th)
FOR THOSE ABOUT TO SNOW: Winter Jam NYC is "the ultimate snow day"! Get your snow bunny squad together and head to Central Park for day of sledding, snowshoeing, skiing, snowboarding, and some yummy eats at the Taste of NY Winter Market!
And don't worry if your skis are stashed somewhere in your parents basement in another state: equipment is provided for FREE! But get there early!
Winter Jame NYC runs from 11am-3pm at Central Park, Bandshell area, enter at 72nd Street.
---
9. Chinese New Year Firecracker Ceremony and Cultural Festival (January 28th)
stephentwon Maybe its Maybelline 📷: @cindychasesthesun #futsan #kungfu #liondance #liondancenyc #luenhing #luenhingnyc #lhny #chinesenewyearnyc #chinesenewyear #newyork #traditionalliondance
While many of us celebrated the first day of 2017 on January 1st, the first day of the Chinese New Year will fall on January 28th- it's the year of the Rooster! Take that for what you will!
Anyway, The Chinese New Year Festival is centuries old (although has only been celebrated in NYC for the past 17 years) and will be celebrated with a parade, firecrackers, costumed characters, and of course yummy delicious food!
Chinese New Year Firecracker Ceremony & Culture Festival will be held at Sara D. Roosevelt Park. Grand Street and Chrystie St, kick-off is 12pm!
Got a hot tip or correction? Drop us a line at tips@spoilednyc.com