Subscribe to spoiled NYC's official newsletter, The Stoop, for the best news, eats, drinks, places to go, and things to do.
Hey, so 2017 is off to KIND OF a rough start, huh?
I'm gonna need to see a few less civil rights stripped away next month, you feel me?
But even though it's the end of humanity as we know it, that doesn't mean you can't have a little FUN, right?
Since you're now stashing your money under your mattress to prep for #endofdays; let's chat about all the fun you can have for FREE, in this amazingly diverse, accepting place we call come home!
... No really, you should be saving all of your money to pay for out-of-pocket doctor's visits when the ACA is dismantled. Happy February!
---
1. Apollo Open House (February 4th)
apollotheater Come one, come all!! We're opening our doors for a FREE day of events at the #ApolloOpenHouse this Saturday in celebration of #BlackHistoryMonth. http://bit.ly/ApolloOH17
In celebration of Black History Month, the Apollo Theater in Harlem will be hosting an afternoon of free programming from 2 p.m. until 6 p.m. This year, the events will be hosted by Billy Mitchell, "Mr. Apollo," and co-hosted by members of the Apollo Theater Academy.
Highlights of their plans include performances by youth organization Urban Word NYC, who will be delivering relevant poetry and spoken word, performances by Amateur Night winners, music by Tre Trax, and a Family Workshop held by the Harlem Swing Dance Society.
Later, excerpts from Tell Them We Are Rising: The Story of Black Colleges and Universities, and the newly released I Am Not Your Negro, will also be screened. The latter, directed by Raul Peck, was adapted from Harlem writer James Baldwin's final un-finished work, and is narrated by Samuel L. Jackson. The clips will be followed by a panel discussion.
Like we said, admission is free, but you can register and read more about their programming on their website.
---
2. Chinese New Year Parade (February 5th)
therenwicknyc We're not one to pass up a celebration. Head out for #ChineseNewYearNYC celebrations this weekend!
"If you were born in any of these years, you're a Rooster!
1945, 1957, 1969, 1981, 1993, 2005, 2017
You are practical and resourceful, and you use what you have to succeed without taking a lot of risks. A hard worker, you say what's on your mind and have a sense of style that sets you apart."
Celebrate your hard work, even if you're not a Rooster, you deserve it! Chinatown's Annual Lunar New Year Parade is not one to miss. There's uncomprable visuals, yummy bites, and unique cultural performances. The all-ages party winds through Chinatown at 1 p.m.
---
3. NE-HI Free concert (February 6th, Baby's All Right, 146 Broadway, Brooklyn)
nehi_band We made it out of Austin alive. Last night of tour in Dallas tonight. ✌️📷: @equirk
The 4-piece band from Chicago, NE-HI, is playing a free show at Baby's All Right in BK and you should totally go because this band is getting a ton of buzz right now! Their laid-back, post punk vibe vibe has them being compared to bands like Twin Peaks and Head North.
Perfect to spend an evening with to just take your mind away from it all... nothing in particular, of course.
---
4. NVR Sleep: The Lover's Edition (February 8th, Kinfolk 90)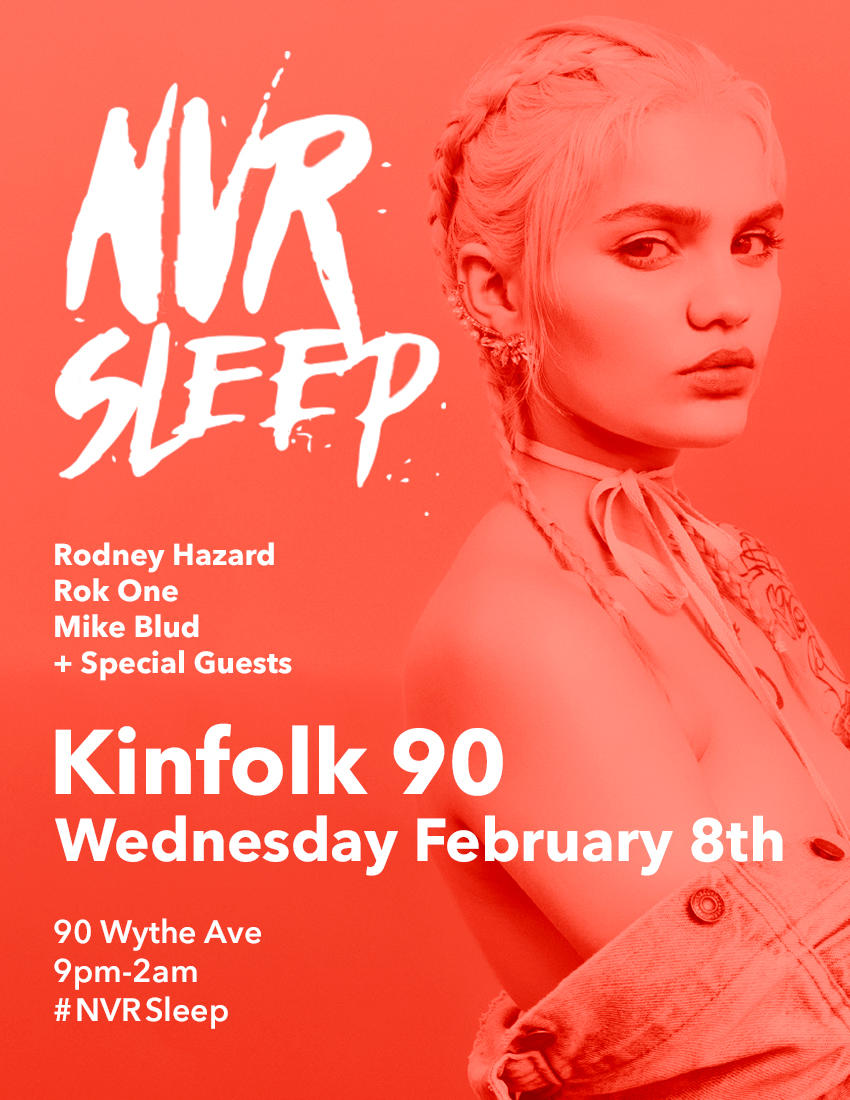 Hip-hop producer and spoiled Media Creative Director, Rodney Hazard—along with The Culture LP—is turning things up a notch or two at Kinfolk 90 in Williamsburg next Wednesday for the 1-Year Anniversary of NVR Sleep.
Oh you weren't there for the first-ever NVR Sleep? We don't blame you. It was f*cking cold. The wind was insane. It was miserable outside. But, make a point of going next week.
It's NVR Sleep: The Lover's Edition! So, grab your lover by the hand, sip (or knock back) a beverage or three, get your nom on, and give yourself a high-five for locating a Wednesday night party without scraping together cash for a cover charge.
Nothing makes us want to dance more than a free dance party, so grab a friend and get ready to shake it all night long, from 9 p.m. to 2 a.m. We believe in you. But don't get left out in the cold. RSVP here.
---
5. Lovecraft: A Valentine's Day Experience (February 10th - 12th)
popupnation.co Celebrating #sweettoothtuesday with @fineandraw | Get their Valentine's Day Collection at #lovecraft17! 🍫😍
Procrastinators unite and rejoice! Pop Up Nation presents Lovecraft: the answer to your Valentine's Day gift related woes.
The FREE couples and singles-friendly will be hosting the best up-and-coming NYC retailers for chocolate, jewelry, lingerie, pleasurables (not sure what that specifically means, but we'll guess), and dessert at 435 Broome Street in Manhattan.
"Singles-friendly" might not seem like the most welcoming phrase, but don't be dissuaded– they will have free makeovers, free massages, free hot cider tastings, a photo booth, and you'll be able to check out those pleasurables we were talking about earlier.
The pop-up shop will be that whole weekend too, so there's no reason you shouldn't stop by.
---
6. Love in Venice (February 10th, New York Public Library, 476 Fifth Avenue)
vivitowers One magnificent place that take my breath away 🖤🙌🏼// Un lugar magnificente que me deja sin aliento 🙌🏼🖤
"This exhibition examines the literary, artistic, musical, and cultural aspects of Venice's seductiveness"...OOH!
Seriously though, GO TO THE LIBRARY YA DAMN KIDS. It's so friggin' cool.
This exhibit is sure to educate on all things amore with works ranging from wedding poetry, to pop-up books that show "undergarments" (LOL) of Venetian prostitutes. Check it out, ya creeps!
---
7. Central Park Ice Festival (February 11th, Naumburg Bandshell)
istillheartnewyork #TBT to a previous Central Park Ice Festival with the Okamoto Studios sculptors shaping the ice into one of the park's famous sculptures. This Saturday Feb. 13, they will be sculpting the much loved Alice in Wonderland statue at the Bandshell at 3PM. There will also be a silent disco starting around 5PM. UPDATE: Cancelled due to cold weather. #centralparkicefestival #icefestival #icefest #icesculpture #icecarving #art #sculpture #centralpark #nyc #newyorkcity
Bundle up, throw some hot toddies in your thermos, and head to Central Park to see ice carvers make romantic statues with power tools!
And then IDK make a snow angel or something. You'll def want to stick around though, because at 5pm, you can trade your ID for headphones and dance at an outdoor silent disco! There's DJ's there's colorful lights, there's ice sculptures: it's gonna be weird and wonderful.
---
8. A Walk Of Art (February 13th, Parasol Projects Gallery, 208 Bowery)

aishling__ #AWalkOfArt #ShoeDesign Show 😍
It's Fashion Week in NYC! But not for us poors. OH WAIT: the American Friends of Bezalel present "A Walk Of Art"!
This is a showcase of over 60 contemporary women's footwear designs, with themes ranging from the more traditional, to futuristic and fetish; the sky's the limit! The shoe's the limit? Go see a man about a shoe? There are going to be a lot of shoes at this exhibit.
---
9. Feed/Clothe the Homeless on Valentine's Day (February 14th)
njdotcom Penn Station is retiring an iconic structure today: its 10-foot-high train departure board. A network of video displays will replace the board in the main concourse. || 📷 by John Munson #pennstation #bigboard #commuter #trainstation
Flying solo this Valentine's Day?
Kill two birds with one stone, in a way, at this singles event, where everyone will feed and clothe the homeless people at Penn Station. Just saying, it's a lot easier to weed out the f*ckboys when you're at a volunteering event. BUT OBVIOUSLY, that's not the most important part.
February in NYC can get frigid, and even more so without that fuzzy Canada Goose Jacket. The best things you can bring are a couple of used hats, gloves, and coats– they have more suggestions here.
---
10. Love in Times Square (February 14th, West 46th Street & Broadway)
daynuh_e They say when you're in love you accept another's flaws. Well, NYC, I think I love you. #Iheartnewyork #ihatetimessquaredoe #loveintimessquare #heartofheartstsq
While Times Square is where most of the relationships in my life have fallen apart, this Valentine's Day, couples can take a picture on the red glass steps in front of a heart sculpture! Or you know, renew their marriage vows!
Aw! Have fun you two! Seriously! I'm fine! You're the one I'm worried about! I've made all the right decisions!!
---
11. AFROPUNK x Harlem (February 21st, National Black Theatre, 2031 5th Ave)
bryanlozano I listened to and loved The Moth podcast for so long. Finally had the privilege to attend the show in person. Nice reminder that I'm home again. 👍
February is Black History Month, and AFROPUNK (in association with Harlem Stage and The Apollo) is commemorating by hosting a series of events throughout Harlem. The kick-off event is tonight, an open panel discussion featuring such creators and activists as Zoe Kravitz, Sade Lythcott, Matthew Morgan, And Larry Osse-Mensah. Reserve Your Ticket Now!
Got a hot tip or correction? Drop us a line at tips@spoilednyc.com