Discover more like this at www.perlamente.com

Per La Mente—for the mind has been created by Fernet Branca to expand your ideas about what's possible by being the source of discovery into the universe of creative experiences. We're endlessly curious about underground, experiential, and elusive culture, as well as the artists who make and love it. We want to share it all with you. We seek a spark of mystery, a hint of eccentricity, a dash of staggering originality, and a tinge of chaotic genius. Think of www.perlamente.com as the storyteller, the enabler — your conduit to the path less traveled. So open your mind and join us for some splendid adventures like the one we have brought forth here.
---
There are some parties that are so unusual, so splendid and scintillating and strange, that they remain fixed in your memory, a touchstone to look back on as a moment when everything merged perfectly into one glorious, glowing evening. Nightlife impresarios Kevin Balktick and William Etundi Jr. have worked for decades to produce those parties, with dazzling success.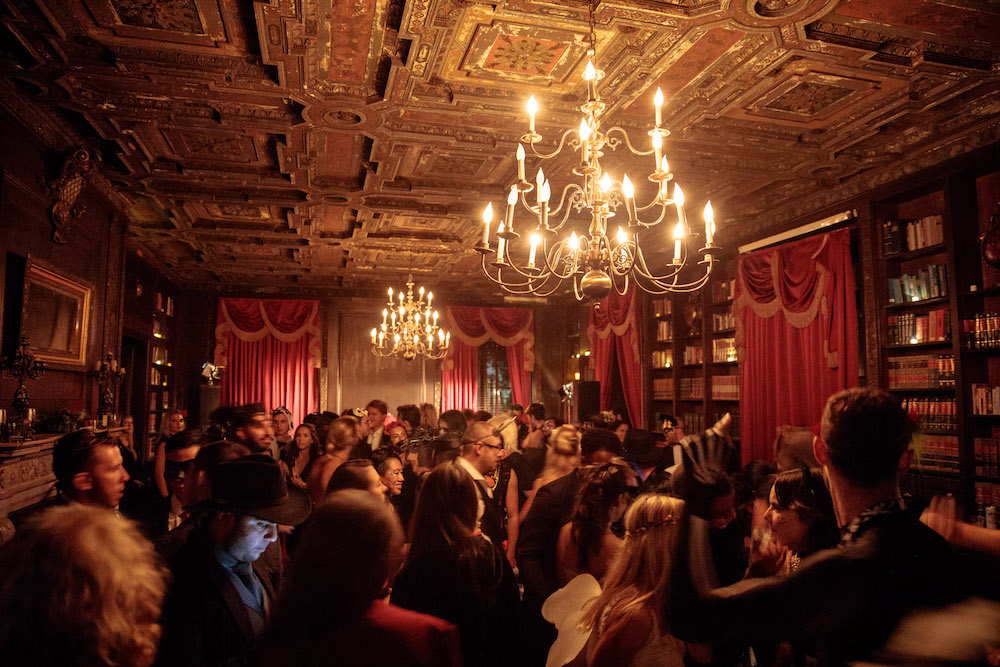 Photography Credit: Tod Seelie
This year marked the fifth You Are So Lucky production in and around the expansive grounds of the Alder Manor, a 72-room gothic mansion north of New York City in Yonkers. The spectacle boasted several dance floors, dozens of interactive art installations, more than 100 performers, and some 7,000 elaborately costumed guests.
"Our goal is to create something more than a party," Etundi says. "Something aesthetically and culturally evolved that everybody involved can participate in. We want to show an evolution of nightlife."
The mansion's grand foyer opened onto a tableau of cascading chandeliers piled on the floor, forever frozen at the moment of impact, their light glinting sparkles on the milling masses hungry for the night's magic. Wandering through the manor's endless rooms was a delirious delight full of endless diversions. One might stop to gawk at an aerialist threading down from the ceiling of a vestibule, listen to a musician ensconced in a grotto, or lounge on an overstuffed cushion in the grass by a glowing fire pit. Some doorways obscured dancers, some hallways branched out into discos, and some curtains parted to reveal interactive performances to join.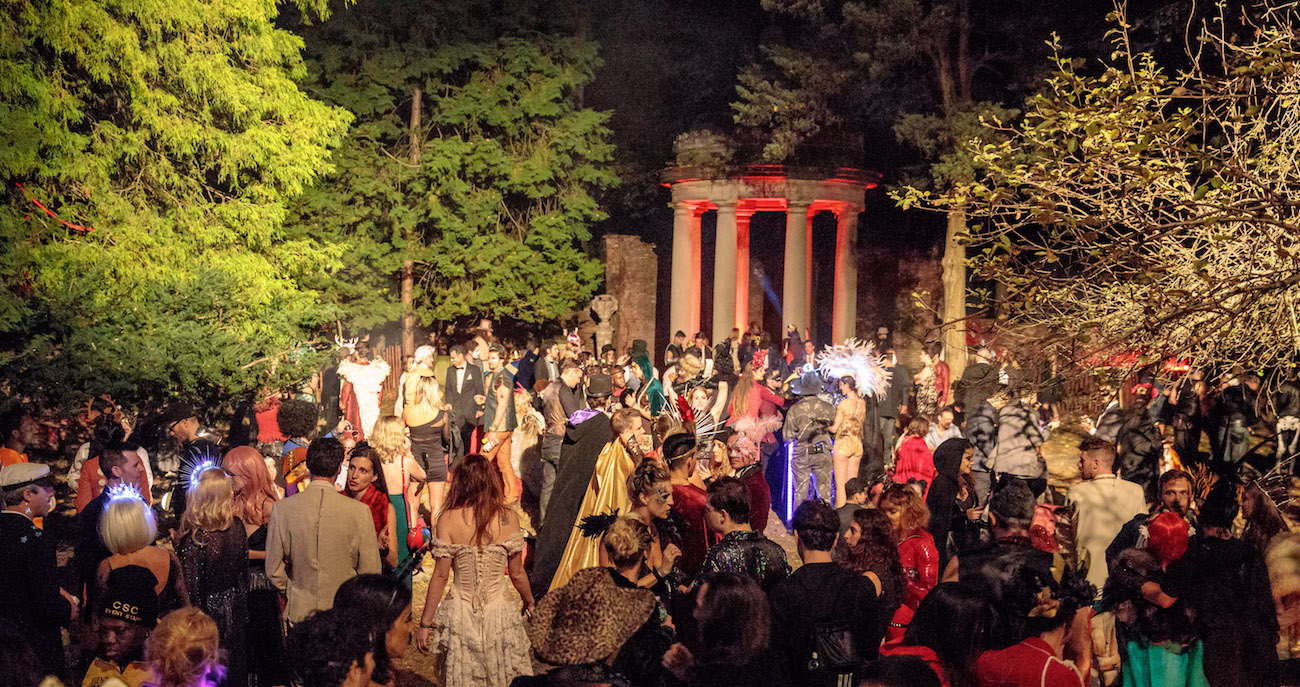 Photography Credit: Tod Seelie
"It's about making magic real and creating somewhere where people can feel completely inspired," Balktick says.
There were rooms made into forests, ankle-deep in leaves and with branches twined through the rafters. There were emptied pools glowing with light projections, and others used as staging grounds for elaborate performances. There were bathtubs filled with poets, red-lit hallways peopled with henna artists, closets you had to be chosen to enter, which opened out into little scenes filled with flowers and candles or fog machines and pillows. Each corner turned meant a new adventure to be had, with and amid the crush of endless fellow revelers.
So many kinds of experiences are possible at a party like this: thumping bass or soft marimbas, raucous dancing or peaceful contemplation, marveling at art or participating in a performance. It's a splendid way to immerse into Halloween — a holiday when boundaries are thin, inhibitions are low, and everyone has come to be someone outside of themselves.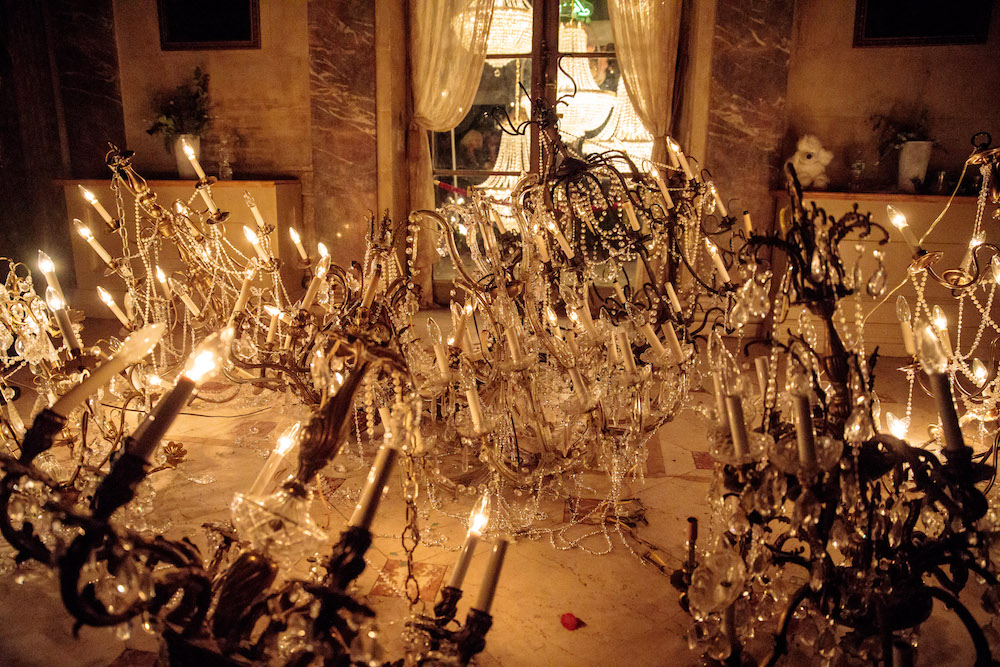 Photography Credit: Tod Seelie
"We want to inspire people," Balktick says, "to remind them that you don't have to settle for a boring existence. You can dream, and live those dreams, and create dreams for others."
Etundi adds: "We hope that people make spontaneous connections here that stay with them for the rest of their lives. We want to give them that moment that feels so special, reminding them that they are so lucky to be with the people they're with, to be in the city they're in, and to be living the life they're living."

Author Credit: Oriana Leckert
Photography Credit: Tod Seelie
If you enjoyed this find more at perlamente.com
---