Had enough of the winter yet? Well, it hasn't had enough of us, apparently.
Weather.com reported there's a winter storm named Olympia on its way east, and it just might make a pass at New York
Over the weekend, Olympia brought snow and several multi-vehicle accidents to the Midwest.
This morning, the storm has already caused multiple accidents across North Carolina.
The National Weather Service has issued winter storm watches and freezing rain advisories from Maine to Georgia, which does include us.
So New York City, be on the lookout for precipitation which may start as snow or ice this afternoon, continuing into tonight.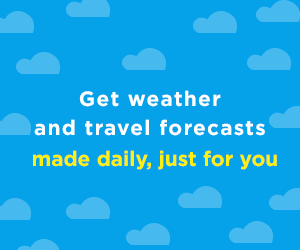 Of course, the snow might change to good old rain. Which would be sort of a bummer.
Once the storm passes, we'll be in good shape, as evidenced by the weather's behavior in Boston. Boston dipped to negative 9 degrees on Sunday morning, but should soar to the mid 50s with rain on Tuesday once Olympia's passed.
[anad]
All-in-all, meteorologists are calling for 1-3 inches of snow in New York City this afternoon. They're pretty confident about it, too, since they're saying there's a 100% chance we'll get snowfall.
We're okay with 1-3 inches. It's way fewer inches than Jonas' 26.8 at least.
So we probably won't get to sled or play in this snowfall, but we will get to enjoy the splendor of a city coated in fresh snowfall, so that's always beautiful.

If you really want to know what's up with Winter Storm Olympia, of course, you should get yourself Poncho, the weather app that know's what's up.
You know how meteorologists are always talking about the weather in terms of wintry mixes, icy gusts and currents?
Well, Poncho doesn't. Poncho explains the weather in a personal, adorable, easy-to-understand way, plus also how the weather will affect your hair and commute. So, yeah, Poncho for the win. As for the snow, you should probably just continue to stay inside. Download the Poncho weather app here.
Check out Poncho Just Launched the Most Amazing Weather App Ever.
[via Weather.com]
[Feature Image Courtesy Weather.com]