We're done with it. We heard the call of the groundhog, and we got stoked for the end of winter.
Not so fast. Mother Nature heard we were talkin' sh*t. She's not happy. She's exacting her revenge.
First she gave us Jonas, then there was a pretty little snowfall one happy Friday morning. Then she hit us with snow, freezing rain, followed quickly by really warm, albeit rainy, weather earlier this week. How's your immune system? Drink up on that Vitamin C. You'll need it.
Yes, next week there could be something decidedly awful: a vicious storm combining all of your favorite wintertime calamities.
Yes, possibly rocking a neighborhood near you next Tuesday through Thursday, low pressure could intensify along the East Coast, and this last death rattle of winter weather could bring heavy snow to the Appalachians and all along the interior Northeast.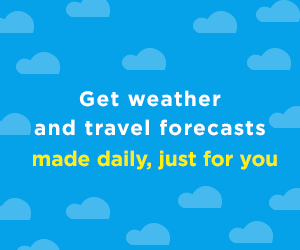 Now, this could simply be the remnants of Winter Storm Olympia that plowed up and down the east coast the last week or so, but any ice that comes might not be as bad as what we saw last week.
But along the I-95 Northeast Corridor, snow could start falling, turn into rain, and then turn right back into snow again. This being the weather though, we don't know exactly what's going to happen.
But the combination of a strong jet stream and warm, moist air, could bring severe thunderstorms and tornadoes to the Deep South and Southeast as soon as Monday. But it could go right on through Wednesday.
All of this is to say, "Yo, Mother Nature. Calm down. We get it. We shouldn't have put our trust in a groundhog, and we definitely shouldn't have whined about the lack of winter weather."
[anad]
So, naturally, we're keeping tabs on the veritable weather witchcraft by using the Poncho weather app. Poncho keeps you up to date on weather alerts from the moment you wake up right until the moment before you leave the office for the evening.
You can use Poncho as your morning alarm, your go-to app during your lunch break, and even as a deftly accurate commuter alert. Poncho is definitely the best way to keep tabs on what the weather has in store for you. Download the Poncho weather app right here. Be careful out there.
Don't Get Caught in Unfortunate Weather. Download the Poncho Weather App Right Here.
[via Weather.com]
[Feature Image Courtesy Weather.com]