It's a good time to grab a cocktail with beautiful weather on the rise and Spring in action. Kick back this month with cheap eats and drinks for you or a group of pals! Enjoy these scenic indoor dining spaces, outdoor patios, and more!
Taru NYC (30 W. 53 Street), is launching a Perfect Pairing series just in time for Spring fling behavior. The series features pairings like hotaru ika or firefly squid, a springtime delicacy paired with the Golden Girl, made from Nikka gin, mandarin orange, maraschino and garnished with smoking rosemary. Among the other new pairings from Chef Tony Inn and bar manager Dylan Lyon is The Tempura Toki, there is an Apple Tempura with a sauce of honey, brie, and mascarpone alongside the fragrant and fruit-forward Toki Trees, made with Suntory Toki, green apple, and pandan. The "it" bread of the moment, Japanese shokupan, or milk bread, is featured in a pairing called The Signature, which couples Taru Dreams of Matcha–a libation made from honkaku rice shochu, matcha, amazake, and egg white–with Housemade Milk Bread and umami-packed seaweed butter. Taru's happy hour runs from 5:00 p.m. to 7 p.m., Tuesday through Saturday and each pairing is priced at $25.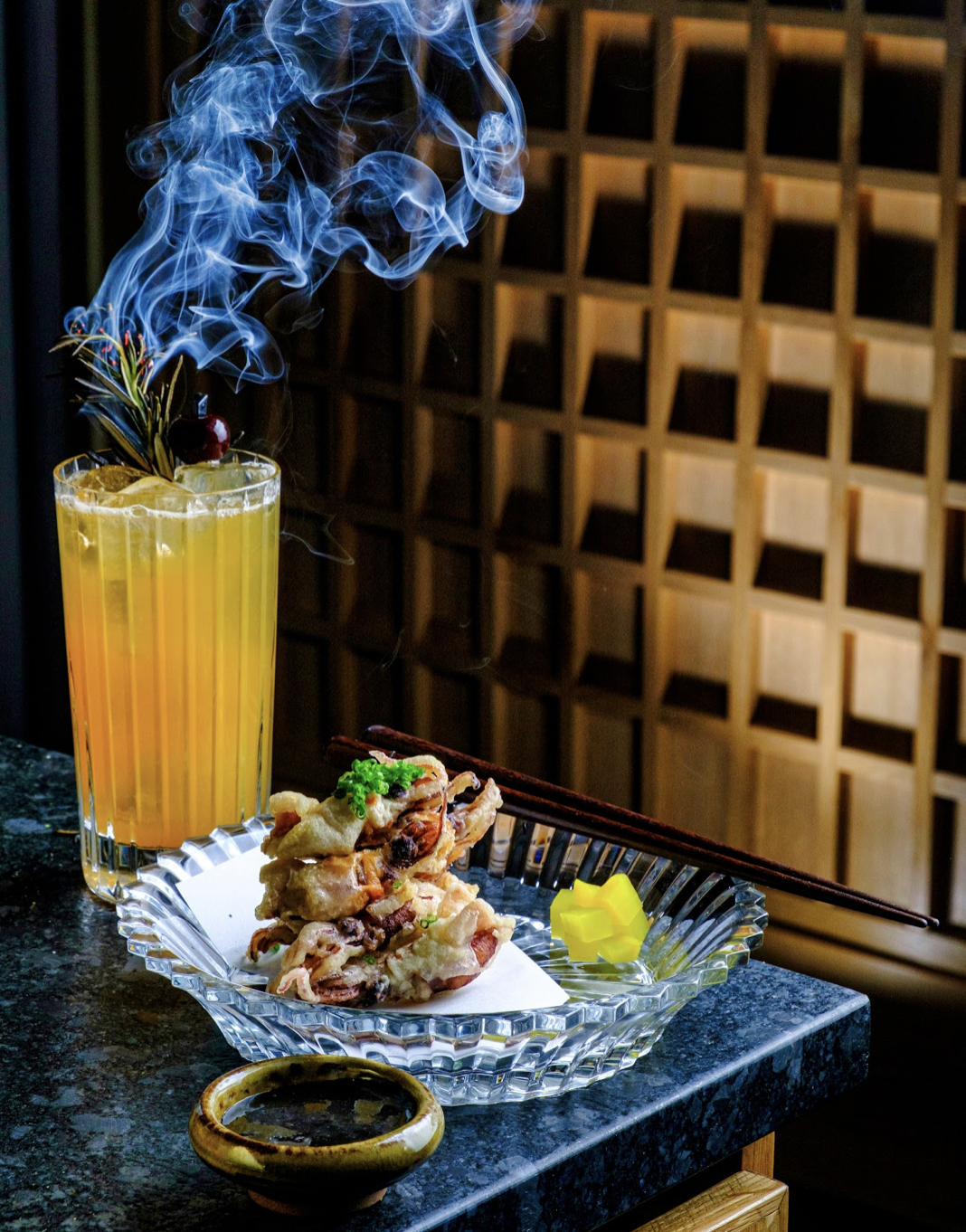 Taru NYC
The Bronx Public embodies the city with wall graffiti decor reflecting the borough's hip-hop inspirations to urban art. Guests can swing by during happy hour Monday through Friday from 3 to 7 p.m. (and all night on Wednesdays) for a $5 margarita and $1 wings. A giant Uno deck, Jenga, and Connect 4 are just a few of the entertaining games available at the neighborhood bar for playing with friends (or making new ones). Come back for brunch and add your very own bottle of rosé to your meal if you can't get enough of this Kingsbridge bar.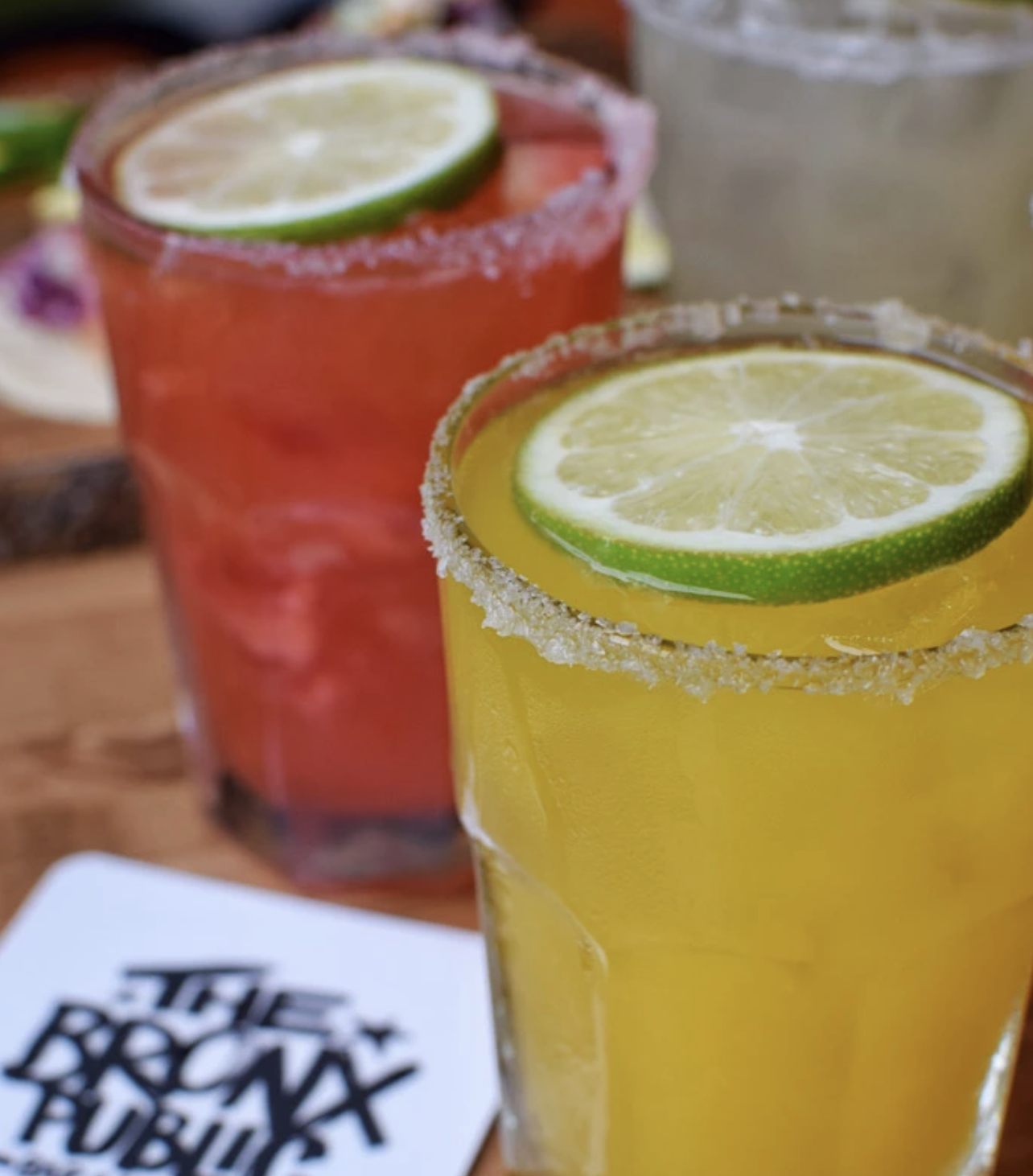 The Springs' patio in Greenpoint at 224 Franklin St. is officially open and hosting a cheerful happy hour Monday through Friday from 4 p.m. to 7 p.m. Drinks deals include $10 glasses of Wines, $4 Bud Light or Narragansett, $6 craft beer, a $10 cocktail of the day and $8 well drinks or shots. Step outside into a lush, green oasis and soak up the sun while sipping on one of their delicious cocktails like the Frozen Aperol Spritz and Hollaback Mai Tai. The patio is the perfect place to catch up with friends or unwind after a long day, surrounded by plants and twinkling lights.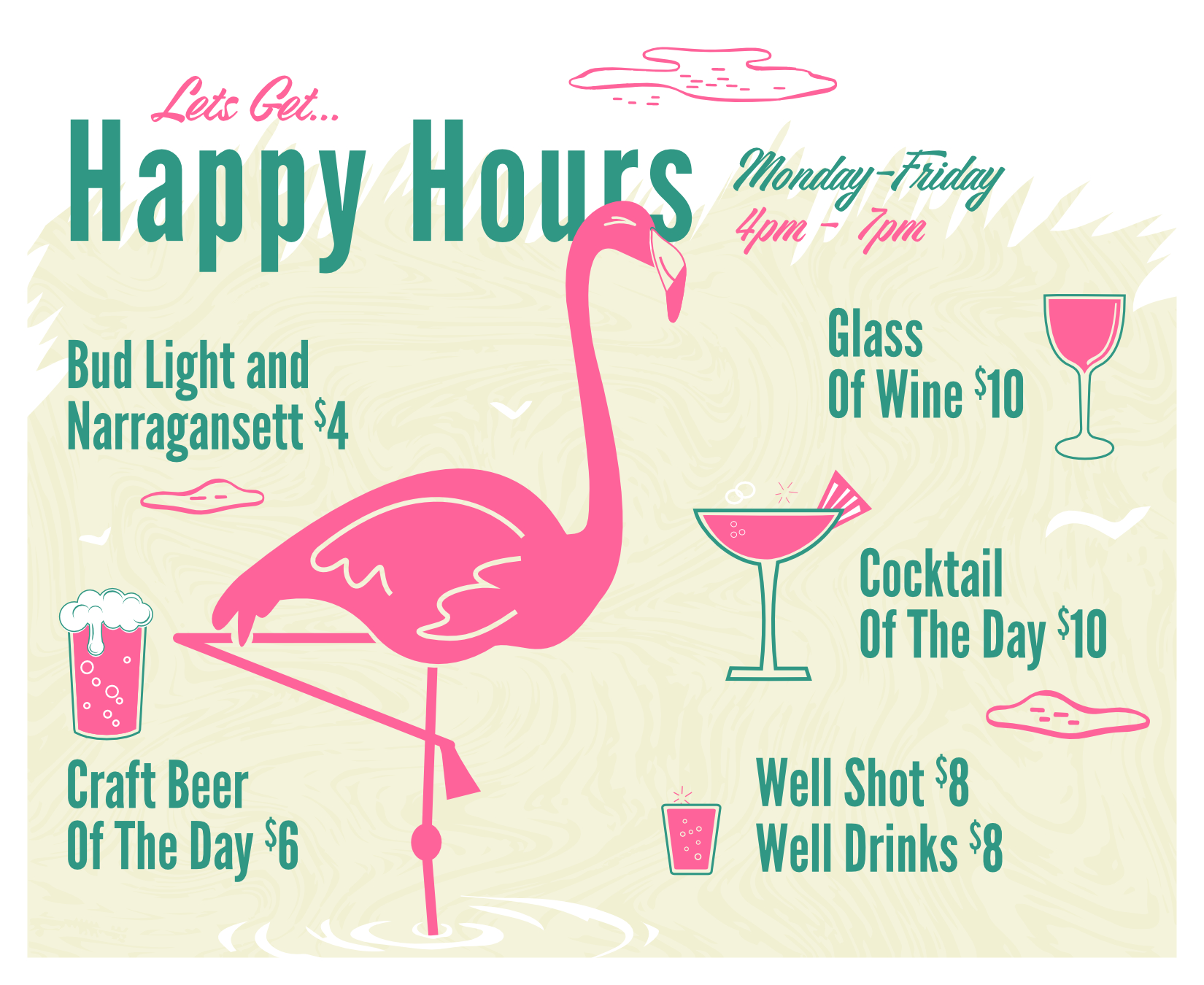 Enjoy month-long all-day specials at Ten Hope (10 Hope Street) in Williamsburg in honor of their seasonal grand reopening on Thursday, April 20th! The beautiful dining destination is ready for the warm weather, with a 2,500-square-foot vine-laced open-air patio and a new $10 Happy Hour menu full of Mediterranean bites. The $10 Tapas menu, available all April long, features Starters like Asparagus Croquettes, and Mushroom Pate, Homemade Flatbreads served with Chickpea hummus and Ricotta from scratch, and meatier bites like 3 oz. Sliders and Hanger Steak Skewers. Guests can wash it down with $5 beers, shots, and hard seltzers, and $10 wines, cocktails, and spirits. To make a reservation visit, https://www.tenhopebk.com/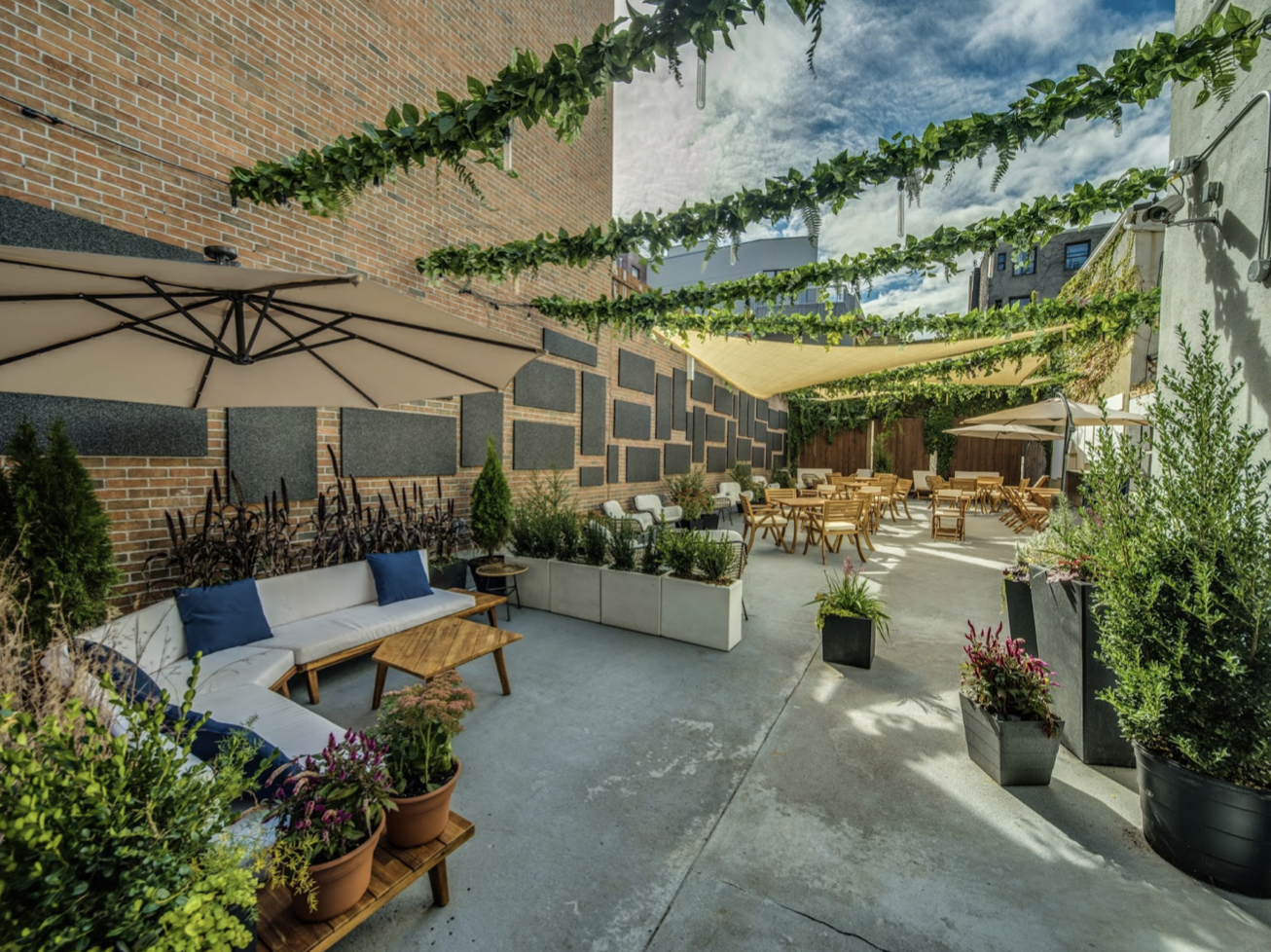 Isla & Co. (107 N. 12th Street), from the Australian restaurant group Parched Hospitality Group (the team behind New York City's wildly popular Hole in the Wall restaurants, The Sentry, Daintree and Ghost Burger), is serving up a delicious all-day happy hour from Tuesday to Sunday between 3 p.m. to 6 p.m. The restaurant, housed adjacent to The William Vale in Williamsburg, will offer small bites like $5 Fries, $8 Brussels, $10 Mum's Homemade Hummus and $12 Wings from Executive Chef Matt Foley. Guests can also order $7 Wines, and $10 cocktails like the Espresso Martini, Aperol Spritz, and Vieux Carre or get half-priced bottles of wine on Wednesdays.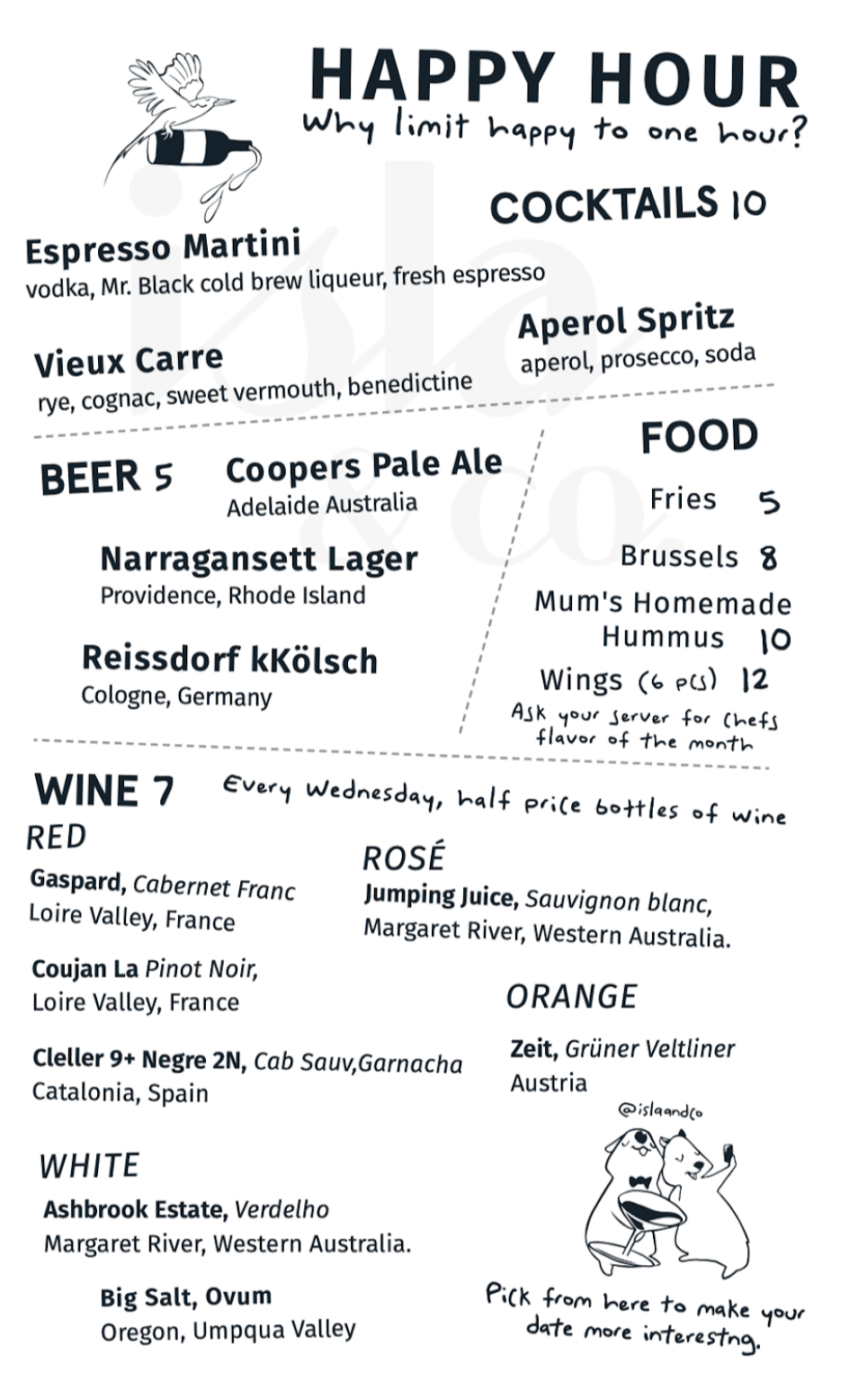 Ainslie (76 Ainslie St.) in Williamsburg has Happy Hour deals Monday through Thursday between 5 p.m. and 7 p.m. and on Fridays between 4 p.m. and 7 p.m.! Guests can take in the dazzling indoor and outdoor dining spaces including their massive wine bar, and beer garden while enjoying $5 First Italian Lagers, $5 Estrella De Jalisco, $10 Aperol Spritz, $12 Patron Margaritas and $7 Wines. Alongside Ainslie's all-day menu of wood-fired pizzas, pastas, free range chicken, New York Strip Steak, Atlantic Salmon and Wood Fired Rosemary Wings from Executive Chef John DeLucie, guests can snag $8 Rucola and Margherita pizzas, $7 Meatballs, $7 Arancini and $5 Truffle Fries while dining on the patio or at the front bar.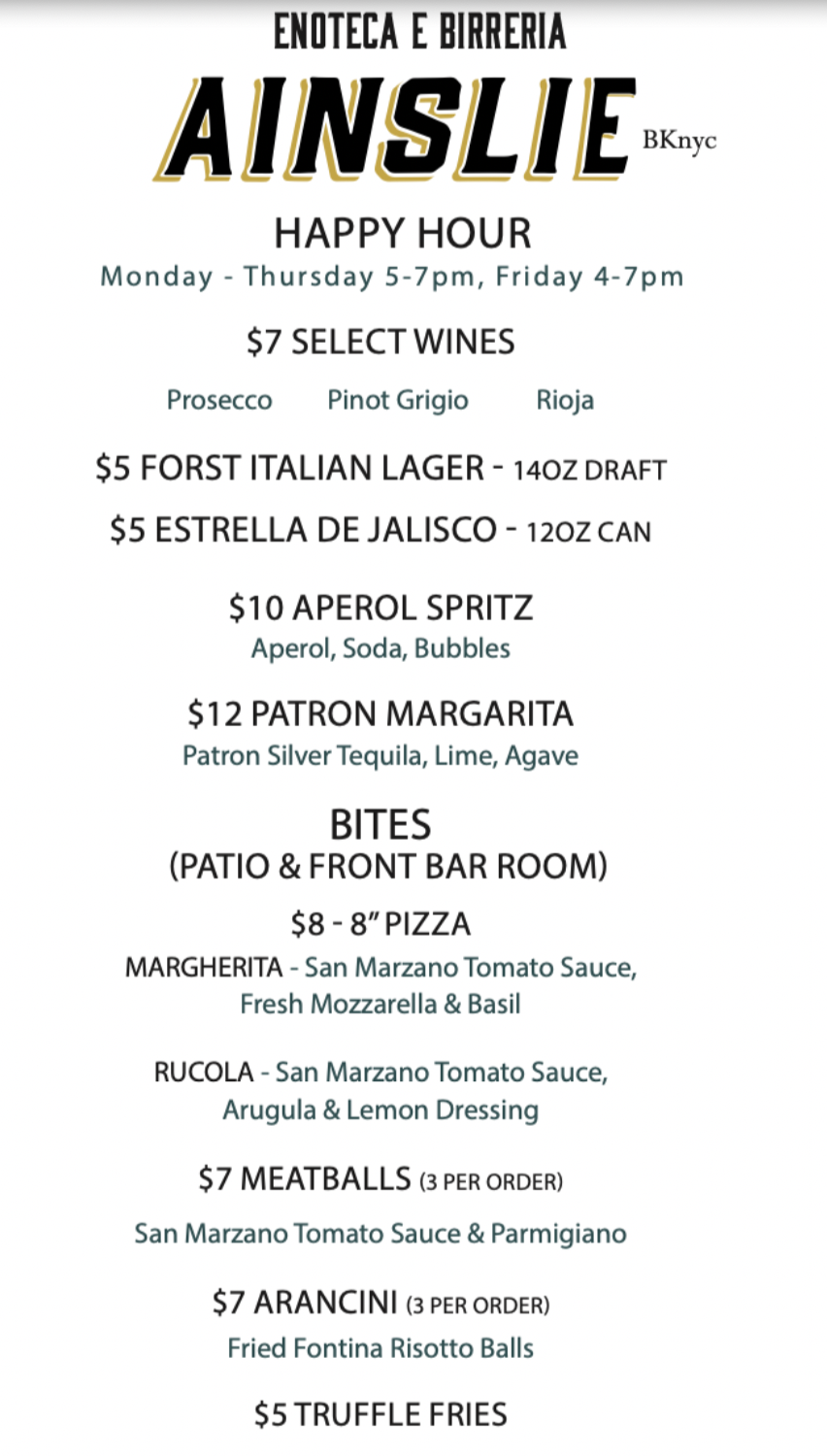 Crystal Lake (647 Grand St.) offers happy hour at their hauntingly decked out bar and event space that pays homage to the horror films of yesteryear and today, located in the heart of Williamsburg, Brooklyn. Opened by three veteran bartenders and a talented chef, Crystal Lake offers an endless selection of quality draft and bottled beers, seasonal cocktails, wine and elevated pub food from the resident chef behind Bitchn Kitchn. Guests can admire Crystal Lake's rustic styling, antique bar with hand-painted glass mirrors and a huge back room while taking part of their 666 Happy Hour deals all week long between 4 p.m. and 7 p.m. and all night on Mondays. The menu includes $6 Beer, $6 Wines, $6 Well Drinks plus early bird specials 12 p.m. to 4 p.m..