Maybe it's because some Punxsutawney Phil and Staten Island Chuck didn't see their shadows. Maybe it's because people really hate snow.
Whatever the reason, the weather has done some pretty consistent 180's this winter, going from a 70˚F Christmas to dropping 26.8 inches of snow.
So because the temperatures have been relatively similar (and by that we mean within the 25-50˚F range) for the last few weeks, it's time for Mother Nature to throw us yet another curveball.
AccuWeather

forecasts are predicting that the average temperature for NYC for the month of February will be around 46˚F; 10˚F above the normal average for February (36˚F).
So for everyone who really hates snow, it seems as if we might be in for a pretty mild month.
We might even see temperatures in the low 60's tomorrow, though it's shaping into being a pretty wet day.
And if you're still wondering what you're plans are for Super Bowl Sunday, we'd recommend spending it outside.
[anad]

NYC is looking at a mostly sunny day with temperatures around 48˚F. So much for winter, right?
Regardless, you might want to check the weather before you get out of bed each day, because Mother Nature seems to be on a bit of a roller coaster lately, and who's to know when she'll finally steady out.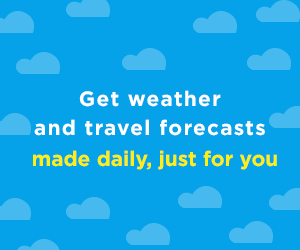 To get the most absolutely delightful weather and travel updates right on your phone, check out the Poncho weather app.
Whether it's waking you up with a song that lets you know how it's lookin' outside, getting quick tips on potential delays before your commute, or a simple alert on whether or not it's raining outside right before you leave the office for the night, Poncho is the move for all of your weather alerts.
Download the New Poncho Weather App Here.
[via AccuWeather]
[Feature Image Courtesy Instagram]