The Weekend is coming up, New York City. To us that means a whole lot of fun. Of course, it also means Valentine's Day.
Yup, Valentine's Day is on Sunday and if you haven't heard, it's supposed to be kind of nuts. Of course, the city throws down plenty of Valentine's Day events. There are plenty of Valentine's Day events geared towards single people, too.
So, yes, we will be thinking about Valentine's Day as we head into the weekend, but we'd also like to remind the planet that there are two other days this weekend that are not Valentine's Day.
Believe it or not, we're excited for this weekend because we think weekends should be filled with fun, dancing, and alcohol.
Want to know what's up in NYC for this coming weekend? Well, great. We've got a handy list for you below, so get out your calendars and phones, and start planning.
---
Thursday, February 11th
1. Nvr Sleep (90 Wythe Avenue - Brooklyn)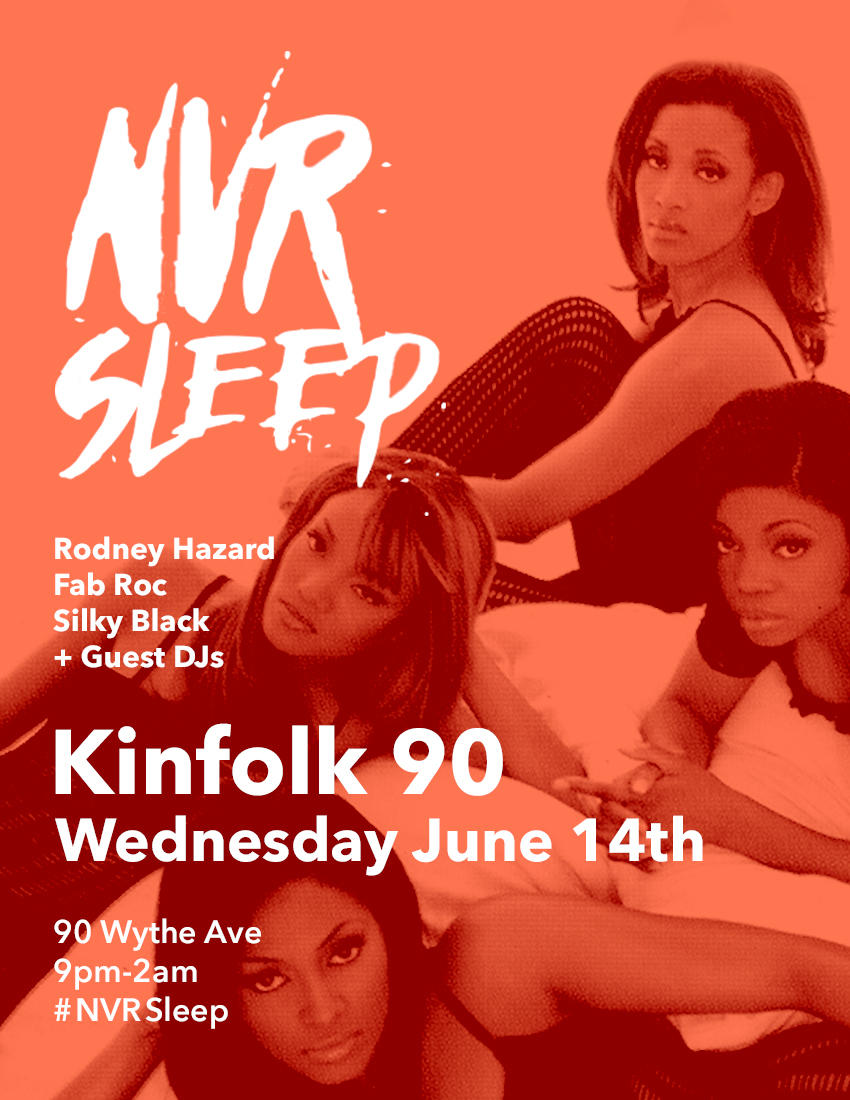 Our favorite DJ Rodney Hazard will be spinning sets at Kinfolk 90 on February 11th, and you know you've got to be there.
We mean, we'll be there. Don't you want to come out and hang out with us?
[anad]
The party will jam from 9 p.m. to 2 a.m. and there's no cover, so your excuses for why you can't come have just officially run out.
Also, Rodney's mixes are fire, and if you want to start getting hype about jamming to his music, you can do so here. This event is for sleepers, dreamers, and those who love to dance. We mean, come on, could it get any cooler?
---
Friday, February 12th
2. ALL BLVCK (59 West 21st Street)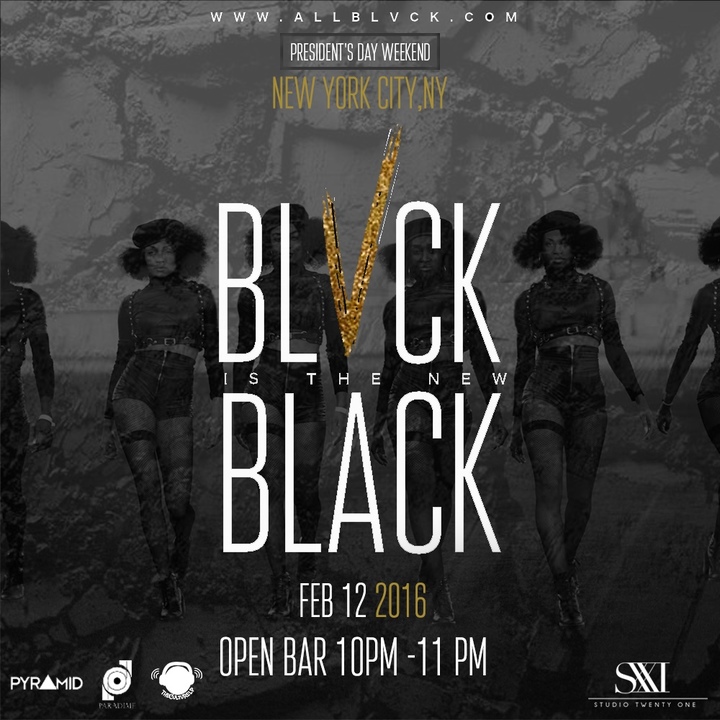 It's Black History Month in NYC, which means an ALL BLVCK party is just what the doctor ordered.
It's going to be wild. There will be dancing, alcohol, sparklers, and plenty of party people, doing like, way too much dancing.
It'll be held on Friday, February 12th at Studio XXI, and the party will rage from 10 p.m. to 3 a.m. The best part? There will be an open bar from 10 p.m. to 11 p.m., so our best prediction is that the fun will be bursting at the seams.
There will be hundreds of NYC's most beautiful, debonair, elegant young alumni, graduates, and professionals in attendance. If you want to be a part of it, get your tickets here.
---
3. MoMA Scavenger Hunt and Cocktails (160 West 54th Street)
todayisartday #LoveAffairWeek continues… In the early 1900s, #PabloPicasso had a relationship with Fernande Olivier, a French artist and model. They had a really passionate and also violent relationship that lasted over 7 years. When their relationship ended, #Picasso asked his mistress not to publish memoirs of their relationship. He even gave her money to dissuade her. The book was finally published in 1988, after their lifetime. She is thought to be one of the figures of "Les Demoiselles d'Avignon" on view at @themuseumofmodernart in New York. #todayisartday #art #arte #kunst #artist #oiloncanvas #artwork #arthistory #fineart #artoftheday #artpic #dailyart #artgallery #love #loveaffair #picasso #pablopicasso #cubism #moma #museumofmodernart #nyc #newyork
Haven't been to the MoMA yet? Well, we have the perfect opportunity for you to change that. What about the rest of you? Have you been to the MoMA, and love art and drinks?
Well then, looks like you should be a part of this as well.
[anad2]
On this scavenger hunt, you'll solve clues and complete picture challenges right alongside all the masterpieces housed in the MoMA. After you've completed the challenge, you'll meet at Old Castle Pub where the drinks will keep flowing.
Get your tickets here.
---
Saturday, February 13th
4. Monkey House (96 Lafayette Street)
djjdnyc Crowd at I Feel: Angels of the Underworld. #ifeel #burningman #burner #party #partytime #newyorknightlife #nightlife #nyc
Do you want to celebrate the Chinese New Year and Valentine's Day?
Well, we do also, and we have the perfect idea to combine your revelry for both of those holidays. Come out to Kostume Kurt's Valentine's Party at Santos Party House. This party is geared toward both Valentine's Day and the Chinese New Year, and should be an excellent time.
The party will begin at 9 p.m., and it'll keep bumping all the way until 5 a.m. There will be drink specials all night, and there will be people dressed up as either Valentine's kings and queens or monkeys or any zoo animal with fur.
There will be DJs on two floors, sexy tire swinging, dodgeball, hide the banana, and lots of incredible performances. Basically, you should be there. Get your tickets here.
,
5. Flatiron Food, History, and Architecture Tour (200 5th Avenue)
helenadelonge En vivo y en directo es IMPRESIONANTE ❤️🏙🚖🇺🇸#miedificiopreferidodelmundomundial #flatiron #flatironbuilding #nyc #manhattan #newyork #trip #holidays #lovethiscity
NYC has a lot of amazing food and a lot amazing architecture.
Instead of spending your Saturday ordering Seamless from the same old place, why don't you get out and see what the city really has to offer?
[anad]
If you take part in this tour, you'll meet in front of Caffe Lavazza in Eataly at 10:30 a.m. on Saturday, where you'll hit up the neighborhood's must haves. We're talking Shake Shack, Eataly, Obica Mozzarella Bar, Beecher's Cheese, and Bread's Bakery.
Plus, you'll get to check out some hidden gems in the area, too. You'll definitely need to come hungry, and you'll also need to come on time. This tour is a stickler for punctuality. Wear comfortable shoes because you'll be walking for about two and a half hours. Get your tickets here.
---
Sunday, February 14th

6. Dart to the Party at Village Pourhouse (64 3rd Avenue)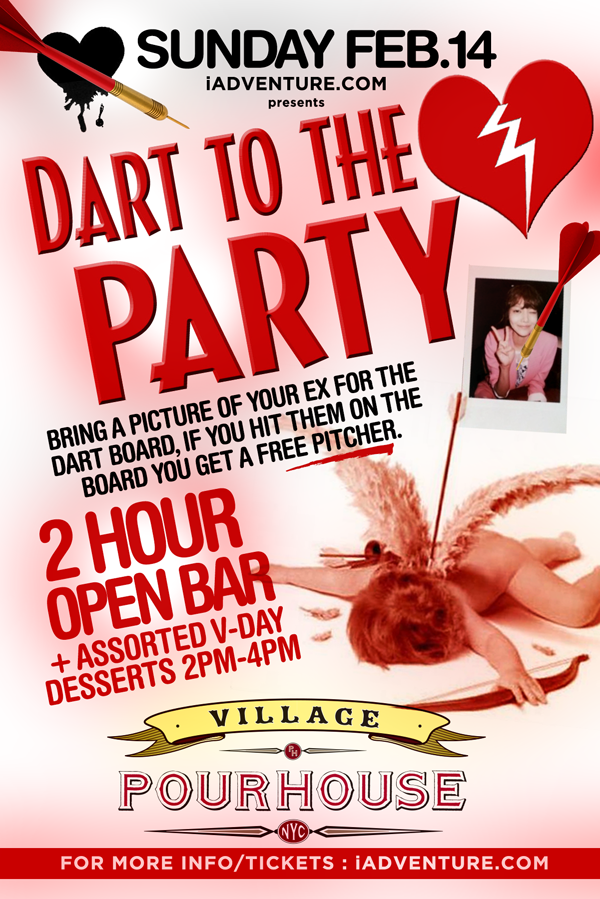 Village Pourhouse is far and away one of the most excellent bars in the land, will be hosting their 3rd annual Dart to the Party Valentine's Day party this year on Sunday, February 14th from 2 p.m. to 4 p.m.
There will be an unlimited open bar, with a plethora of drinks and assorted Valentine's Day desserts from 2 p.m. to 4 p.m.
Bring a picture of your ex for the dart board, too. If you hit your ex with a dart, you'll win a free bud light pitcher.
Couples are welcome here, but this party isn't just for lovers. It's for everyone who loves desserts, drinks, and throwing darts at their ex's face, too. Get tickets here.
---
7. Love Bites Singles Brunch Party (92 Madison Avenue)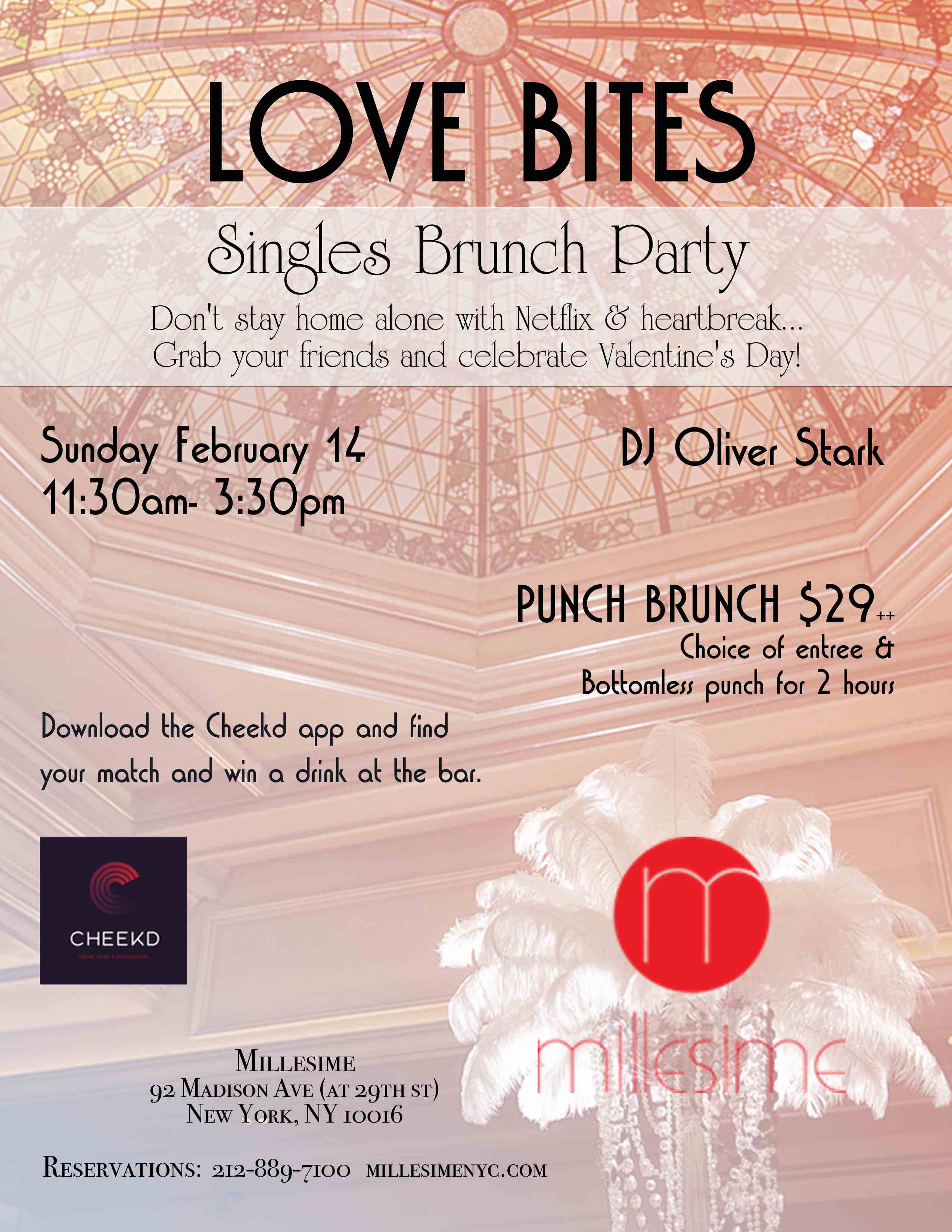 Love Bites will be having the best singles party at Millesime for Valentine's Day on Sunday, February 14th from 11:30 a.m. to 3:30 p.m. If you're single and ready to mingle, you need to be there.
There will be a punch brunch for $29, which will include a choice of entree and bottomless boozy punch for two hours. So, yeah, you'll definitely get more than tipsy.
[anad2]
Also, if you download Cheekd, the dating app of the century, you might be able to win a free drink at the bar. If you download Cheekd you might be able to find a steamy Valentine's Day date and win a free drink at the bar.
DJ Oliver Stark will be spinning tunes, and everyone will be getting wild. Grab your most fun single pals, and make your reservations here. You know you want to. Oh, and download the Cheekd app here.
---
8. LUST (2 Wyckoff Avenue - Brooklyn)
houseofyesnyc THE WEEK AHEAD @ House of Yes !! ~ TUES 🎬 Little Cinema presents TUES (late) 🎉 Mardi Gras !! WED 💅🏻 POLARI queer extravaganza! THURS 🎪 Circue Revue Variety Show THURS (late) 👯 Dirty Thurs Dance Party FRI 🎊 Wonderwheel 12-yr Anniversary SAT 💞 Lover's Ball SUN 💋 LUST: immersive erotic vday dinner Check http://houseofyes.org/calendar/ for all event info !! (📸: @razberryphotography)
This event is taking place at the new House of YES in Bushwick, and it's going to be actually incredible. The word incredible is undervalued, but this event really will be just that.
It's an immersive dinner party that will include burlesque, live music, rope bondage, and dinner served off naked bodies. There will be live body paintings, a garden with a fire pit and cuddle puddle areas. What more could you want?
There will be amazing performances and an erotically charged feast, which will transition into interactive art installations, performances, and live music.
If we've ever heard of a Valentine's Day event we want to be at, this is it. You need to be there too. Get your tickets here.
Check out 21 Must-See Concerts in NYC This February.
[Feature Image Courtesy Pinterest]