The Lucky B Bar on Avenue B & 11th street is surprisingly quiet at 9:30 on a Sunday night. A car will slip through the narrow avenue every few minutes. There's hip-hop blasting from a third story window across the street. When you walk by the front of the bar, the red neon Lucky sign buzzes faintly.
There's a handful of people at the bar making unintelligible chit chat. A few bar patrons are situated outside with dog carriers lying next to them. I'm nearly late because my Uber Pool had to drive all the way up to 38th Street to drop off another rider. Luckily, however, so are the dogs.
Around 9:45, a gray SUV pulls up on the opposite side of the road. It's the volunteer driver for Waggytail. Through the tinted windows I spot four or five gray airline carriers nestled in the backseat. She attempts to make a U-turn so she can park in front of the bar, but she can't, so she continues down the block to turn around.
Then I spot a red CRV parked down the block. There's a blonde woman with her hair tucked into her cap already unloading stuff from her car. She's got a manila envelope with forms, microchip syringes, leashes and harnesses, and a dog in a carrier. She looks flustered. I ask her how she's doing. She tells me that the transport she partnered with had forty or so dogs crammed in the van, and all of them are unmarked. Waggytail's expecting fifteen or so dogs, and two of them are brown & tan chihuahuas, but they only receive 14. The transport had ten different tan chihuahuas. They were held up at the airport trying to figure out which dogs belonged to them.
Then the driver pulls up right behind us. A few of us start to pull carriers from her car. My girlfriend, Hoa, grabs a carrier and struggles to pick it up. She asks me to carry it. It can't be that heavy, I think to myself, but it is. I look inside, and all I see is a big bundle of darkness with a pair of eyes staring right back at me.
"I think that's Midnight. Supposed to be a daschund mix," she tells me. No way. This dog is way too heavy to be a daschund. At least twenty-something pounds before the carrier. Then the blonde haired woman's boyfriend, Jeff, passes me while carrying another dog.
"This one's wagging its tail off," he says as he strolls to the bar.
There's already a few dogs in the back of the bar. A repurposed traffic light illuminates the back in green, yellow, and red. The carriers smell like generic hand soap. I set Midnight down onto the wooden floor. There's ten dogs in total. Three of the fifteen had been picked up in New Jersey. One of the dogs didn't go on the trip.
"Who's got who?" the blonde haired woman asks the fosters. They all check the carriers to see which dogs belongs to them. It's like a small dog swap. Everybody knows what they need to do. The swap is seamless.
The fosters open the carriers and take the dogs out. Midnight starts to cry, jealous because he's the only one still locked in his carrier.
The blonde haired woman meets with a foster who will be taking Wynter, a Chiweenie (chihuahua & dachshund mix) mother whose puppies had been adopted out by Waggytail beforehand. The blonde haired woman grabs the dog's fur between the shoulder bones and tents it. She tries to inject the microchip, but the dog flails and whimpers. It doesn't work. She tries again for the second time, but Wynter won't let it happen. They give up and decide to have Winter microchipped when she goes in for her spay appointment.
Wynter and the foster leave, splitting the Sea of Dogs (as Jeff calls it) that has formed in the bar.
Behind me Midnight is still crying, but now he's scrambling. His paws are on the door. He wants out. Then Jeff approaches the carrier and takes him out.
He's cradling midnight in his big burly arms. Midnight is undoubtedly a lab mix. He's got the face, and the eyes, and the tongue. He's holding on for dear life, unsure of what might do.
"Whole shitload of lab in there," he says.
Seconds later Midnight bombards Jeff with kisses. There's dog slobber all over his face now. Midnight takes a quick break, then resumes the barrage. Midnight's about three months old, so he'll easily double his weight when he's older, but Jeff has no problem cradling him like a big baby.
In the middle of the sea of dogs, one of the dogs is backed into the corner of its carrier. It doesn't want to leave. One of the fosters is trying to bribe it with treats trying to get into a bag. Finally, after several treats, the dog gets in.
Now Jeff and Midnight are dancing, or rather Jeff is rocking Midnight, to Johnny Paycheck's "Take this Job & Shove It". Eventually, it's time to go. Midnight's foster takes the dog and they leave the bar.
Once all of the dogs are gone, it's just the blonde haired lady, Jeff, Hoa, and me. We break down the airline carriers to be returned the next day. By 10:30, we're out the door.
---
angelinabowiewaggytail Signature leap to shoulder! #adoptdontshop #waggytailrescue #shouldermonkey #chihuahualife #rescuedogsofinstagram #happydog #sillychihuahua
That woman with her blonde hair tucked into her cap is Holly DeRito. She started out as a dominatrix in the 90s. She had been able to pocket enough money and buy a four-story walk-up in the East Village. She's been living there for 20 years.
Founded in 2004, "Waggytail Rescue is an NYC based animal rescue charity dedicated to the rehabilitation and rehoming of small breed dogs." Holly had been living with her Chihuahua, Taco, the dog on the organization's logo.
"I named him Taco because when I was a little kid I always wanted a Chihuahua," said DeRito. "But I always called them Taco Dogs. And whenever he wagged his tail, his whole body would shake. That's where I got Waggytail from."
Holly has always had an affinity for dogs and animals. She grew up with a Labrador retriever and horses. On 9/11 she spent her day walking dogs. Before Waggytail, she had fostered for other groups. After her first foster dog was adopted, that's when everything changed.
"The second the other dog was adopted, Taco looked around and he looked so sad. I just thought, 'I just got rid of my dog's best friend.' So I got on my bicycle and I rode up to Animal Care and Control on 110th Street. I was there to try and meet a dog to adopt, and out from the back popped this woman, Kashima, who I had worked with many years before.
And she said, 'Hey what are you doing here?' And I said, 'I want to adopt a dog.'
She said, 'Come back here!'"
"At the time (2004) there were high euthanasia rates there," said DeRito. In 2004, according to a report published by the Mayor's Alliance for New York City's Animals, the total animals euthanized in NYC that year was 26,456.
"A lot of the dogs were put down. There were these cages of dogs who were considered unadoptable and they were going to be euthanized unless a rescue took them. So I went home with seven dogs that night. I couldn't leave any. We cleaned it out."
Over the past decade, euthanasia rates for NYC animals have been on a steady decline. 2017 data published by the Animal Care Centers of New York City reported that only 3,143 animals (1716 dogs, 1427 cats) were euthanized that year.
"Then I just sort of found friends to help me, and she (Kashima) was my mentor and she helped me start doing it and I had an ad on Craigslist, and this woman Jennifer came to meet and adopted and fostered a dog, and we just really clicked. She (Jennifer) was really my complete opposite in the best way possible. She could build the website and do all the tedious stuff while I was running around on my bicycle up to the shelter and putting dogs in my backpack, and taking them to the vet, and foster care. In the beginning every dog we got out of there I pretty much picked up personally… Now the shelters have changed. They transport and everything."
angelinabowiewaggytail Just hangin with my new friend, the sloth. #adoptdontshop #waggytailrescue #slothsrock #bullystick #cutecouples #shareyourfood #cutnessoverload #rescueismyfavoritebreed #rescuedog #slothsarethebest
While Waggytail rescues all types of dogs, a large majority of the dogs they receive are small dogs like Chihuahuas.
"People in New York want small dogs because they have small apartments. I started with small dogs mostly because I live in a fifth-floor walkup building, and I wanted to be able to be a backup if something happened. And I'm not allowed big dogs, and I couldn't sneak one in. We do sometimes take some bigger ones now that we have the foster base built up who are reliable fosters for bigger dogs."
An important aspect that separates Waggytail from traditional rescues is that it operates with a foster-only system. That means there isn't a physical shelter for the dogs to stay at. Every dog that Waggytail receives is immediately put into a foster home.
"In a physical shelter, the dogs are in an artificial environment. They're in cages, and a lot of them are scared and nervous. They can get claustrophobic. There's also the spread of diseases sometimes. In the foster-based system, we get an idea of what each dog is like in a home situation, which is often very different from how they are in a shelter. They're allowed to relax, they interact with other people, and we get a general feel of the personality of the dog when it's not stressed out."
Waggytail is extremely thorough with how they receive and catalog new arrivals. Any dog without a profile usually stays with a foster for a few weeks.
The foster-only based system allows newly rescued dogs to acclimate to a home environment. Most of the dogs come from a shelter if they haven't been directly surrendered to Waggytail. Some dogs, mainly puppies, are rescued from puppy mills. Some are strays rescued from the streets.
"A lot of times when we get new dogs in, we really don't know much about them, or we know something about them in one environment but not a new environment, which is why fostering is so important. When the dogs arrive here we need to evaluate them ourselves through our own group and see how they are in this environment. Sometimes other groups that we partner with aren't entirely accurate."
---
Waggywest
waggytailrescue OK well really we're looking for flight chaperones ! ✈️Our #waggyWest division in #LosAngeles #rescues #dogs Who are at risk of euthanasia in overcrowded shelters in the greater Los Angeles area. If you are flying to the New York City area from the #LA or Burbank or Long Beach airports you can #saveadog by offering to fly one with you in the main cabin. We will pay for the dogs airfare and help you organize. And lend you a carrier.. All you have to do is send an application to waggytailwest@gmail.com. #Waggytailrescue is doing all we can to rescue LA #pups and bring them to #NYC where they would fare much better dwelling in an apartment. We are also looking for Fosters in the greater Los Angeles area. If you are interested in fostering one of our rescue dogs, please send your application to waggytailWest@gmail.com.
After the success of Waggytail in NYC, Holly started a branch in Los Angeles called Waggywest. Many of the dogs they receive come from high-kill shelters in Texas, Los Angeles, and San Diego. Waggytail has a program that asks volunteers to transport dogs if they're ever flying to New York City. According to Holly, there's always a demand for adoption in NYC.
"We have flight programs where if somebody will fly a dog from either Texas or Los Angeles and San Diego, with partner groups or our own branches, we pay the airfare for the dogs to fly along with the person. Just the dog airfare, not the person. We supply them with bag carriers. They fly and drop off, and we pick them up on the other side. We've gotten over 500 dogs."
During a visit to a shelter in Los Angeles, Holly realized it wasn't just NYC's dogs that needed her help.
"I was in a shelter in Los Angeles, and there was this one fluffy dog. They said it was a two-year-old female. She didn't look like it. She looked so scared there. So I asked if I could handle the dog. They said I had to sign a bite waiver. So I signed it, and they went to get her out, and the guy couldn't catch her. She was snarling and biting.
He said, 'You can't handle this dog.'
And I said, 'I want to try. I signed a bite waiver.'
So I pushed my way into the cage and I sat down. I sat there, and I didn't look at her. She inched closer and closer. Within about ten minutes, she was sitting on my lap.
At the time, they thought she was a girl. In the car on the way home I (realized), 'This is a boy.' He had kennel cough, so they let me take him home that day. Then I got him on a flight to New York City."
While New York City has improved its conditions in the shelter, Los Angeles is a different story.
"I started a branch in Los Angeles because while in New York City the shelter system cleaned up–people are spaying and neutering–there aren't really dogs out on the street breeding. Whereas in Los Angeles there's a Chihuahua crisis after the whole Paris Hilton thing. A lot of the dogs are out in yards. It's really easy for them to get into contact and have puppies. So the shelters were full of wonderful dogs–who could move to New York City–who were being euthanized. That's why I started a branch there."
Celebrities like Paris Hilton, along with the 2008 release of Beverly Hill's Chihuahua, commercialized the 5-pound, purse-accessory dog breed. Breeders jumped on the opportunity to turn a profit. However, as owners quickly realized the difficulty of owning a Chihuahua in not-so-glamorous conditions, they were quickly abandoned. In 2010, California dog shelters would receive on average ten Chihuahuas a day. California shelters, which were designed for much larger dogs, had to remodel in order to appease the crisis.
angelinabowiewaggytail #unionsquareholidaymarket #supportsmallbusiness #endhumantrafficking #adoptdontshop #waggytailrescue #holidaypeace #recycle #shopresponsibly #love
Holly has also just expanded her reach to include dogs from San Diego. Along the California-Mexican border, near Tijuana and San Diego, is another crisis. If Holly can secure funds, she hopes to establish a facility where dogs can be pooled in order to receive veterinary care.
"What I would like to do is open up a small facility in San Diego. A place to pool dogs and provide them veterinary care until we can transport them here (to New York City). Possibly like a bed and breakfast shelter sanctuary type thing for the rescues."
You can follow Holly on Instagram @angelinabowiewaggytail.
---
Waggytail's success stems from the closely knit community of volunteers and fosters it has built up. They use Facebook and Instagram as their mains platforms for communication and outreach. Their operations flow seamlessly because of the dedicated group of volunteers that are always at the helm. The dogs always come first.
"I was told I was the first successful major foster-based only group. I really believe it's because we have a Facebook group, and we put fosters in touch with other fosters, kind of like a big sister program. We work well together. We're a foster chain, but we always see each other face to face. We have a really good balance, and we're really communicative with each other. That was one of the biggest issues I had with other groups: a lack of communication. Fosters would ask questions, and they (the other groups) would just leave them. I want to make sure that everybody has support. Once people learn things, they're willing to support others."
Without the volunteers, fosters, and adopters, Waggytail would not have as great of an impact as it does. For many of these people, helping Waggytail rescue dogs has become a second life for them. They often work 9-5 jobs. Despite their responsibilities, they manage to make time for Waggytail. Everybody pitches in. If a foster isn't able to home a dog anymore, another person will step in and take their place.
Here are just a few of the faces behind Waggytail Rescue.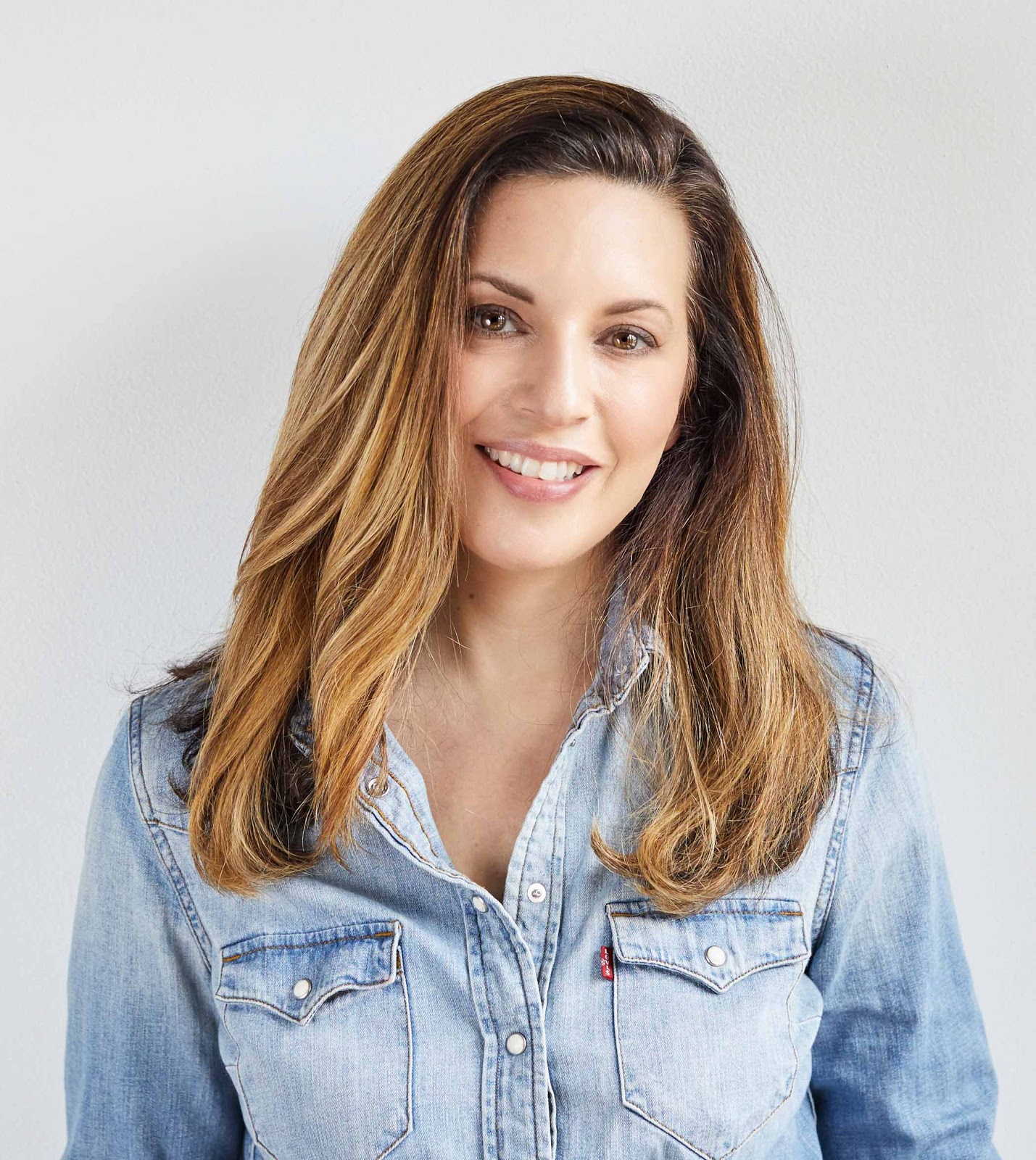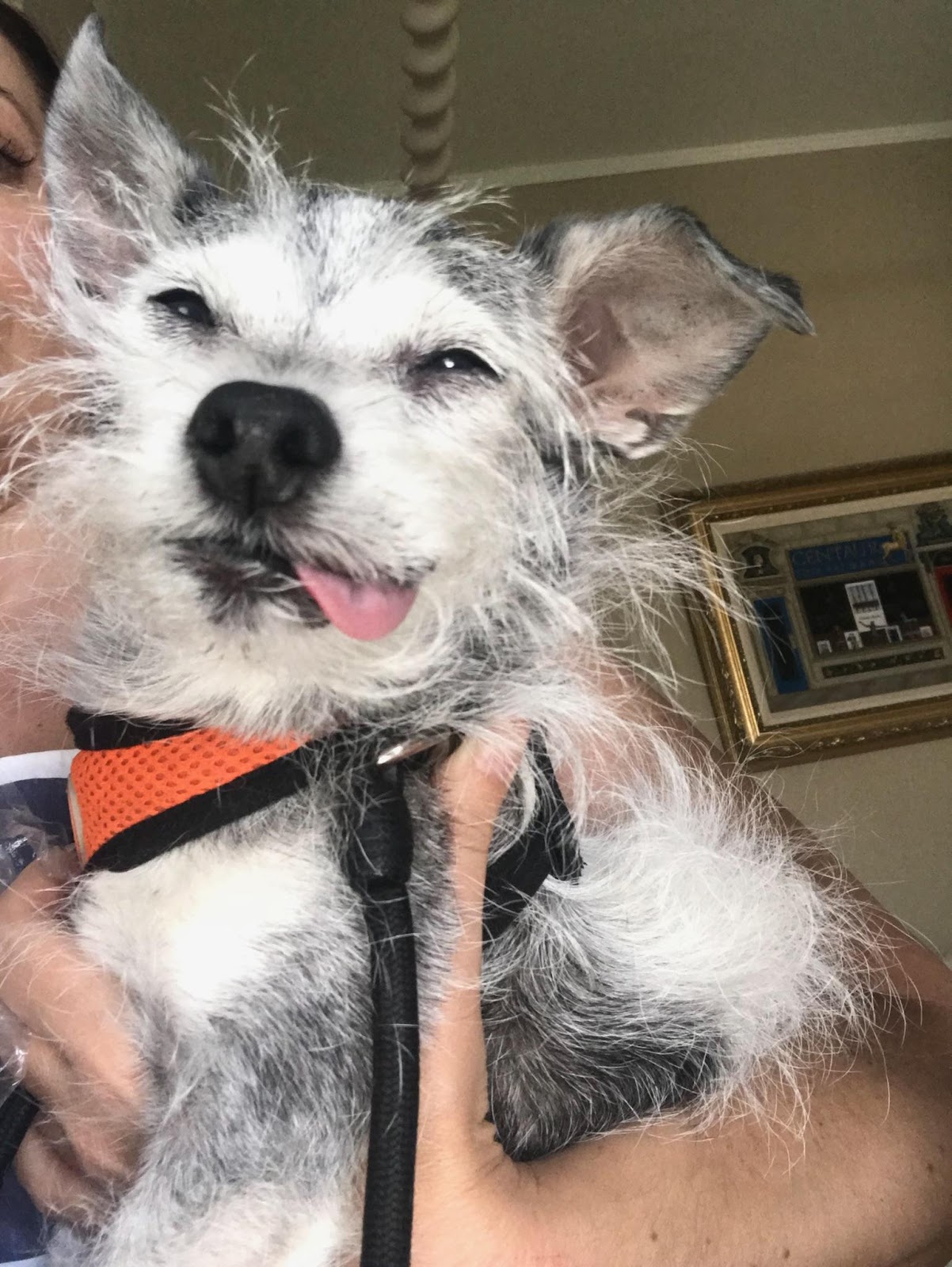 18-year-old Nola.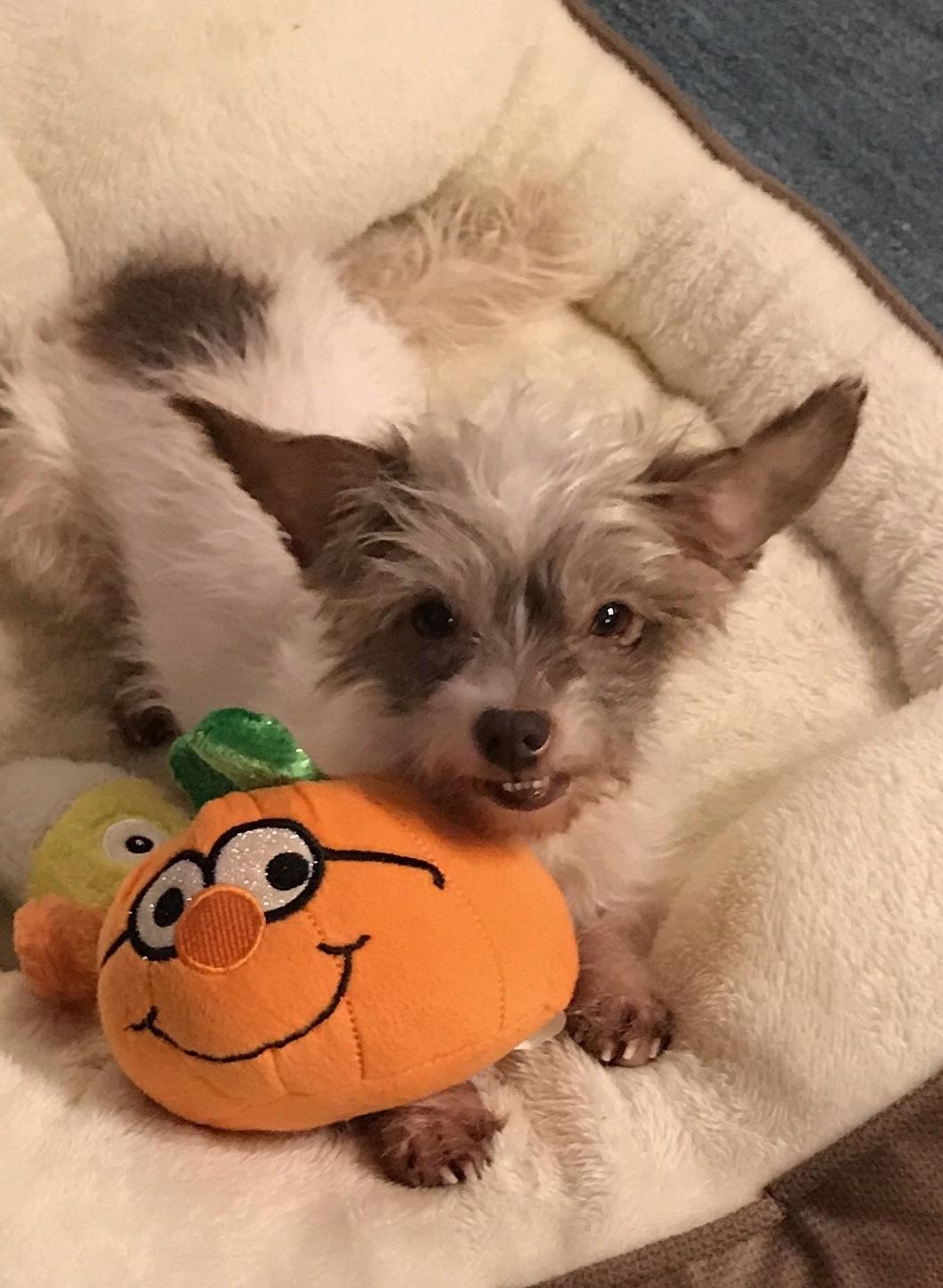 7-year-old Kirby.
One of the persons who's been with Waggytail from the very beginning is Laura Schafferman, founder of the Legally Addictive cookie brand.
"Holly and I became friends, and I was fostering A LOT of dogs at the time. I would have one foster at a time. I don't even know how many. I always had one for two years- No four years! I feel like I always had a foster."
She had met Holly on the street in 2005 in the Lower East Side. They both had Chihuahuas. When Laura applied to foster a dog through Waggytail, she hadn't realize it was connected to Holly.
"I acted as an advisor for people who were new. I acted as a liaison between new fosters. We would process the applications quickly. We would contact anyone who was a viable candidate for adoption. When somebody would apply for a job, and they were a good candidate, we made sure the adoptions went through as quickly as possible."
Waggytail's network of volunteers, fosters, and adopters have created a small, but closely-knit community in NYC.
"Lots of times you'll meet somebody and they'll say, 'I'm fostering this dog.' And then you'll respond, 'I'm fostering for so-and-so.' And then you bond over it. It's a community. People have made friends over it. People I've kept in touch with. With the dog we adopted, his brother was adopted by somebody fostering for Waggytail. Both dogs came from L.A. We stay in touch. I also stay in touch with the lady who adopted Bear. I'm in touch with her almost every day. I definitely feel like it's a community."
According to Laura, one of the most important reasons that she's stuck with Waggytail is because of their total devotion to the welfare of the dogs that they receive.
"If I had had a bad experience, I wouldn't be doing this [fostering]. For a different organization, it took over two months for an adoption to go through. We were fostering this dog for so long and this org wouldn't respond. They never once called in, or checked in to see how I was doing. In two months! I don't even think they remembered we had the dog. They didn't even put the dog on their website, or their social media. It's like they honestly forgot about her!
People apply all the time on Instagram. People would be like, 'I sent in an application for this dog three times, or I applied to be a foster, and they wouldn't respond."
"Waggytail acts on everything. Every application they would send to us right away. Waggytail makes sure everything is responsive. Even if communication isn't great–it happens–the intention is always good. They don't let dogs fall through the cracks. They're not gonna lose track of the dogs. They move quickly, and their goal is to save the dogs."
Laura gives back to Waggytail by setting up connections with fundraisers, such as the online market Eat, Love, Give.
"They let you sell your products, and the portion of the sales would be donated to your charity of choice. They gave me a list of organizations, and it just made sense. I asked if they would add Waggytail as a charity, and they said yes!"
The relationship between Waggytail and Laura is just as strong now as it was nearly fourteen years ago.
"I don't have a lot of spare money to give them, but I give them my time and a line to my business. I've had so many of my friends, and even one of my employees, adopt through Waggytail."
You can follow Laura on Instagram @legallyaddictivefoods, or at her website.
---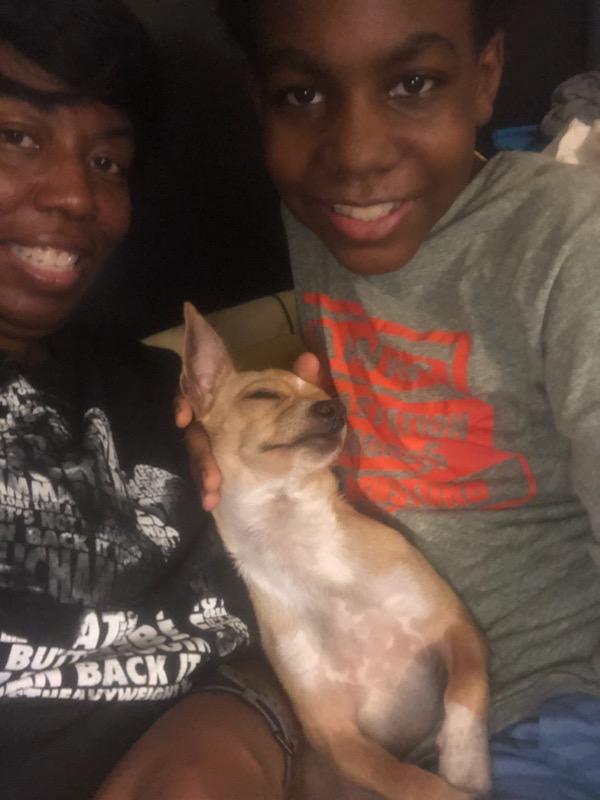 Anita Gee, the volunteer driver for Waggytail, is in charge of picking up dogs from the airport. She'll help drive them to Lucky B or drop them off at their adoptive homes or foster homes.
Anita used to drive a bus. However, after suffering a personal injury, it has become much more difficult for her to move around. She drives the dogs around in her car, and the most she's ever picked up at a single time has been three dogs.
"It's pleasant. Driving around is easy peasy. Meeting the people is the greater impact."
Anita didn't grow up with pets, but she quickly fell in love with the idea of fostering and caring for dogs and being able to love and save as many dogs as possible.
"I didn't know what it meant having a member of your family that I technically did not give birth to. They become an instant part of the family. Sometimes I'll go to the supermarket, and I'll leave, and my dog will be like, 'SHE'S BACK!' One dog I had would be so excited he would pee himself!"
For Anita especially, being part of Waggytail offers her catharsis. She receives a lot of emotional relief from fostering dogs as well.
"The first dog, her name was Ellie. It was about my son finding his forever dog. My son has autism. For some reason, Ellie was a velcro dog. She became attached to me as opposed to being attached to my son. I recall going to sleep that night, and Ellie was sleeping at the head of my bed on the floor. So I said, 'Ellie go to Tyler's room!' But she didn't move. She knew that I needed help too! She was also my emotional support animal! It wasn't just about helping my son, but myself too."
Waggytail fully supports all of its volunteers, fosters, and adopters. The Waggytail family makes sure that everyone receives the necessary resources and support to make the fostering process as easy as possible. Fostering isn't too time-consuming. According to Anita, the longest she's ever had a dog was no more than six weeks.
"Holly and Ami, they look out for me. I have my own issues with my own health, but if I ever commit to picking those dogs up, even if I'm sick, I'm still doing it. Two years ago I fell, and I continue to fall due to nerve damage, but if I have a bad day, I still do it. I don't want to put Holly and Ami in a bad position. If I commit to something, even on my worst day, getting out and walking for a little bit, it helps to get out and move. Just like picking up the puppies, it does something for me too. If you're considering getting a dog, you should foster first. If you have the time, I think everybody should open your door."
You can follow Anita and Tyler on Instagram @tylerstinyheart.
---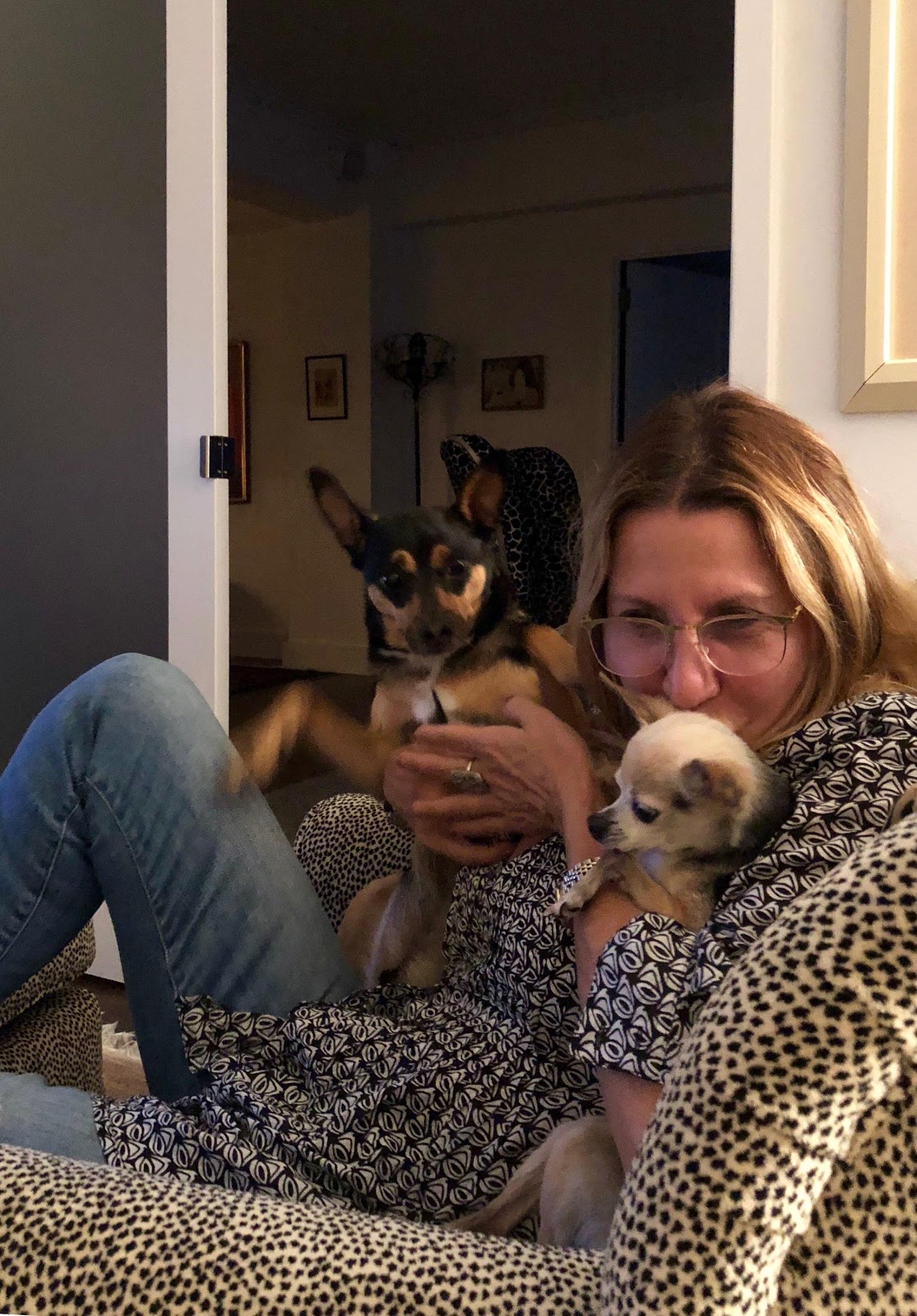 Ami Schulman, a real estate agent, has been volunteering with Waggytail for three years. She started as a flight transporter for dogs, accompanying them on flights from Los Angeles to New York. She's flown six different dogs during her time as a flyer.
"I love meeting the dogs. That's number one for me. Flying that first dog, I was so excited. It was my very first time volunteering at all with anything. That was very exciting for me. I remember everything about it. And seeing people's faces when they meet their dog for the first time."

For dogs to fly in a carrier under the seat, they have to be under a certain weight. They also have to fit inside under the seat inside a certified airline carrier with the proper dimensions.
"I wasn't a full on volunteer yet. I was just a flyer. I had gotten in touch and said I wanted to fly. The program wasn't nearly as organized as it is now. This, was three years ago. I was known because my sister had adopted a dog through Waggytail. That experience was great. The rescue partner in L.A brought the dog to the hotel where I was staying. And then I brought the dog to the airport with me, and we sat in the airport lounge.
It was the private lounge. And everyone came up to the dog and everyone wanted to meet the dog. It was a fun experience. I was lucky she was such a sweetheart. I kept her on my lap. Once the plane took off, I kept her in the carrier but put her on my lap. I kept my hand in the carrier and pet her. When I landed in New York on the other side, I dropped her off in East Harlem on my way home. It felt good."
After flying her first dog, Ami became an official volunteer for Waggytail. She was put in charge of the administration side of the organization, which includes reference checking, reading emails, filing the dogs into the system, and keeping records in check.
"There's two or three people handling 99% of the work. With the one person who's at the constant is always Holly. It's a very, very small organization. She may have 10 or 12 volunteers, but a very small amount do most of the work. I think that's how any organization that's volunteer-based funnels down to how much time a person has at any given point in their day. You need your fosters, and your volunteers to help put the dogs into foster homes. I don't do a lot of the referencing anymore. I read the emails and forward them out to the reference checkers. But you need somebody to do that part. And we take turns."
According to Ami, moving just a single dog through the foster and adoption process takes a lot of hands. Sometimes a dog's papers will get lost during transport. Sometimes a dog will go missing.
"Imagine it's a stray dog. Someone finds it. Then it goes to a shelter. Then the shelter has to promote the dog on some website. Then someone has to pull it from the shelter. Then if it's a person who's not us, and it's from another state, then they connect to us. Then that dog has to be flown, or driven. And then the dog comes here. And then there's all of us. If you just add it up, it could be 15, 20 people for just one dog."
After having rescued over 6000 dogs, it's not surprising that she runs into dogs adopted through Waggytail.
"I try to think of how many dogs are walking around in New York, especially Brooklyn, who are Waggytail grads. I have, myself, run into three dogs who were Waggytail dogs just randomly! I was around town and I recognized the dog! I would say, 'Is that so-and-so?' And they would say, 'Yes! How did you know?' The other day I pulled up out of a taxi cab at 25th and 2nd and saw this other dog that we adopted out. It's a huge city. If I'm running into these dogs, you can imagine how many are out there. That blows my mind."
You can follow Ami on Instagram @bigworld_littlelayla.
---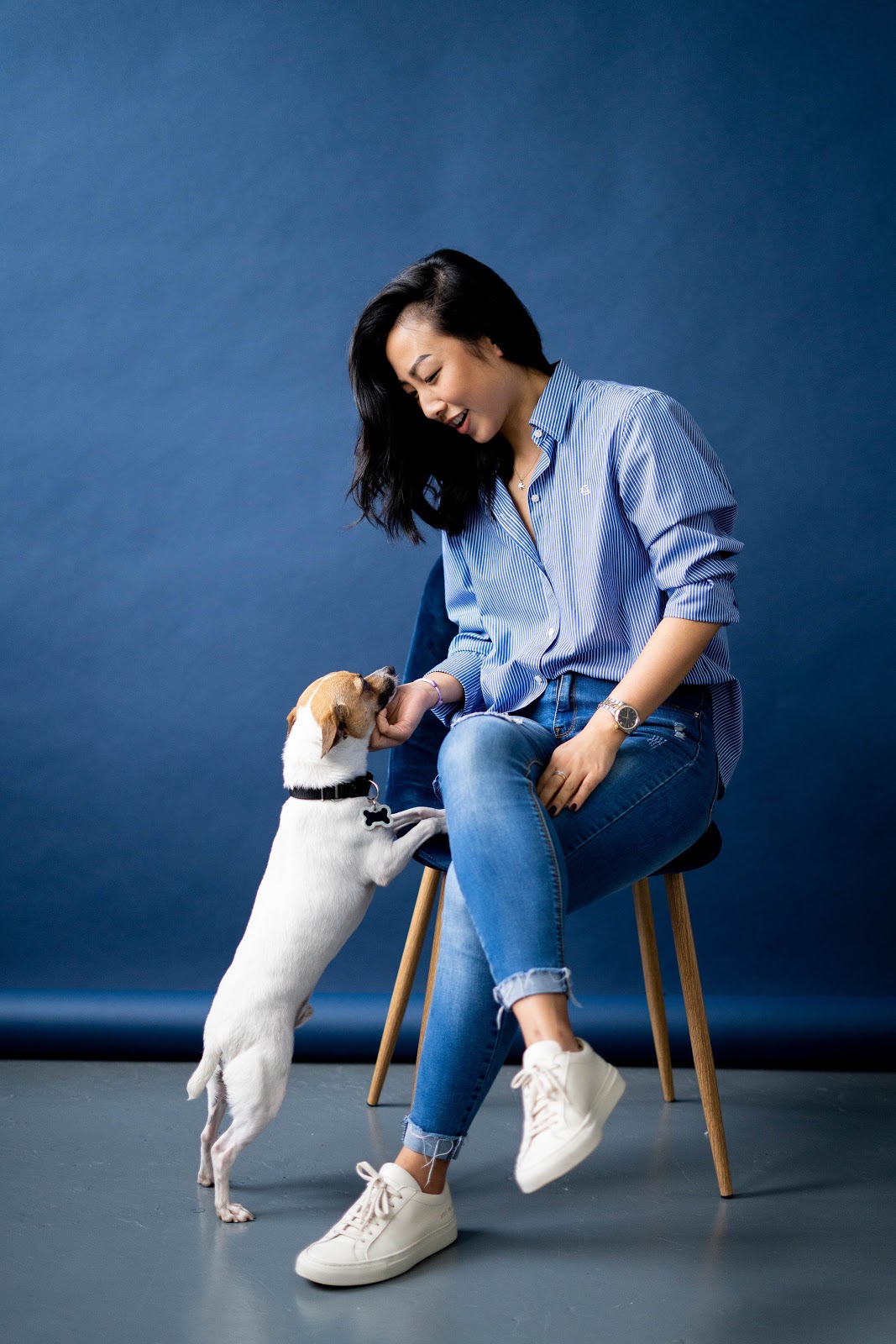 Photo credits go to Tiffany Kwan and Melissa Chu.
Tiffany Kwan is an interior designer for the coliving management brand Common. She and her dog, Bean, are inseparable. She adopted Bean through Waggytail this past January. Since then she's continued to foster dogs, helping them adjust to living with other dogs in a home environment.
According to Tiffany, the process of adopting a dog requires a lot of paperwork. It can take a few days or up to two weeks.
"It's nice to have great communication because a lot of people find rescuing or adopting kind of a challenge because most people are lazy and don't want to fill out an app. So the faster they respond and do the approvals, more likely these people are going to choose to adopt. I never really knew about the process of getting a pet. I didn't realize I had to go through an application. I didn't look into rescues at first.
So I did look into what the process was like through a pet store. There's a mini app, but it's not as intense. You don't have to be approved. They just want the dog or puppy right away. People get desperate. Regarding the pet store, you just fill out a form, make the payment, and pick up the dog a few days later. I think it's a lot faster than the adoption process."
The fostering process can last as short as four days, or as long as a month, depending on how many applications a dog receives. Adoption events that Waggytail participate in also help their dogs get adopted out much faster. It depends on all sorts of factors, but some include the breed of the dog, the size, the age, the sex, and the temperament.
Waggytail's foster-based system allows fosters to build an accurate profile of the dog in a home environment to ensure that potential adopters know what sort of dog they're getting. The worst thing that can happen is a dog being returned right after being adopted. At Waggytail, the fosters are a big part in the adoption process, not just for fostering the dog, but also choosing who adopts the dog.
"For Waggytail they still give the foster a lot of power and a lot of say on who they approve the dog for. For other foster [programs] it's first to come, first serve. Waggytail trusts the foster to make the right decision."
Sometimes, however, there are complications making it more difficult to foster a dog.
"I think the main difficulty is if the dog isn't feeling well if they come in with something. Usually, rescues will provide medication or pay the vet bill. It depends on the issue. I've dealt with illnesses and separation anxiety. Once you get used to it, it's not a big deal. At first, it's a shock. I didn't know what to do.
You don't get a lot of information. Illness, separation anxiety, and aggression are the main issues. There was one dog that I had to move because there are a lot of dogs in my building. I had him for about three weeks. After a week he started showing a lot of leash aggression toward other dogs, maybe because he was overprotective of me. Then people in general."
The saddest moment for Tiffany is when she has to part ways with a dog. Sometimes a foster will "fail" and become a "foster fail." In other words, instead of only fostering a dog for a short period, they end up adopting the dog they're fostering.
"Most of them are pretty sad, like when I wanted to keep one. Every foster is a such a different experience because you don't know what they'll be like. The best ones are when they're super shut down, and when you give them away, they're completely different. It's super rewarding."
You can follow Tiffany and Bean on Instagram @tiff_panda, or at her website.
---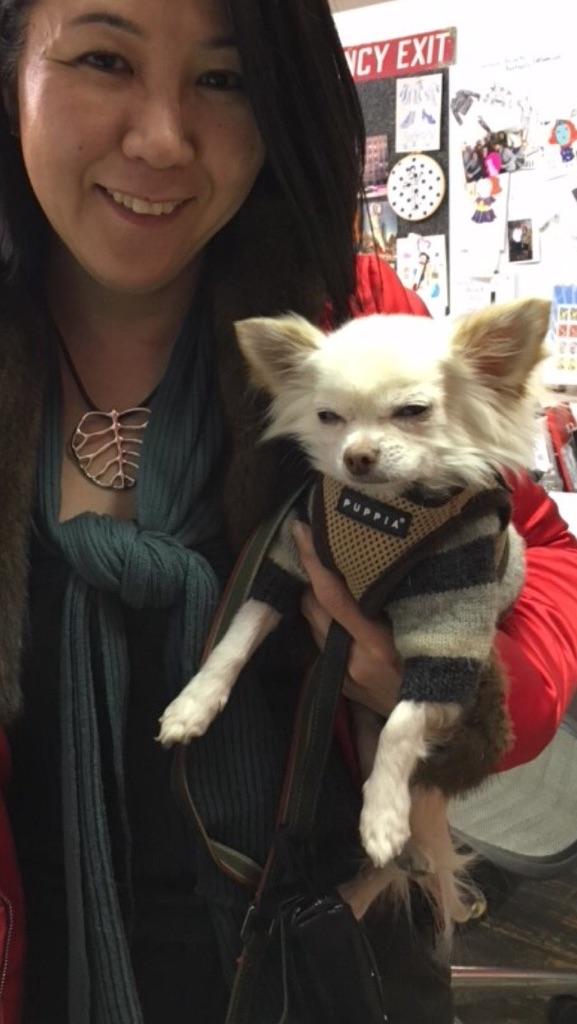 Yuko Shimizu is a New York City-based artist and a professor at School for Visual Arts. She adopted her 14-year-old Chihuahua, Bear, back in January. She had stumbled upon Bear when she saw him being fostered by another Waggytail volunteer named Elisabeth. She helped Yuko get in touch with Waggytail and introduced her to Bear.
"It's not that I found Waggytail, I found the people who were fostering dogs for Waggytail. That's the way to go. Their volunteers are doing it right. It worked out for me, and I'm sure it worked out for a lot of people. I think the foster moms and dads are doing the social media right. [Elisabeth] had been really helpful. [Waggytail] was really really nice. The [adoption] process was good because it wasn't easy for me.
I couldn't decide. Bear isn't an easy dog, and my current dog was dying while this was going on. They made it easier for me. When I wasn't sure about Bear, they gave me all the medical information so I could see my vet and figure out if I could adopt. I couldn't afford to have a dog that had another serious medical condition that would cost me a lot of money. It was stressful, but they made it really easy for me."
Since Yuko adopted Bear, she's been part of the Waggytail community. Waggytail has a Facebook group with all the adopters and fosters who constantly share pictures and updates of Waggytail graduates with each other. Everyone loves to hear about and see the progress of the dogs post-graduation. Watching a dog completely transform in a matter of months is one of the most gratifying feelings attached to fostering.
"I keep in close contact with Laura. I talk with her on Instagram every day. I sometimes speak with Elisabeth. It's been good. I feel like I have a supportive group of people who are experienced with taking care of dogs that used to be with rescue. My previous dog was so easy, and I didn't realize how difficult it could be, but he's gotten so much better.
Laura told me that she had fostered a lot, and she had some bad experiences with other rescues. When I almost adopted Bear and looked for other dogs, she said Waggytail does it right. It's a good rescue to adopt from. They got him through the medical checks and made sure it's all taken care of. I can rest assured I adopted from the right place."
Before Yuko adopted Bear, he had been living with a posh, Upper West Side family. He was surrendered directly to Waggytail.
"Bear seems like he was never treated as a dog. He was treated like an accessory. He was well taken care of, he was well fed, but he didn't even know how to walk on the leash. Initially, I thought because it was cold. I adopted him when it was cold. [However] even during the warmer weather he didn't know how to walk. He didn't know how to interact with people or other dogs. He didn't know how to sit. He was stressed out.
Whenever he was scared he would jump into something nearest to him that looked like a bed. In previous photos, he was always carried in a bag. I decided to hire a dog trainer who deals with behavioral issues. She really helped me. Now he walks a lot. For stressed out dogs, get the dog to walk. It's the best way to de-stress. He's much much better. He just learned how to sit on command three weeks ago. He's getting better with people. After four or five months, he only liked three or four people in my social circle. Now he's opening himself up to more people. He still bites, but he's okay with new people he's never met. It's a process."
You can follow Yuko and Bear on Instagram @yukoart, or at her website.
---
After fourteen years, Waggytail has managed to rescue over 6000 dogs. Some fosters end up becoming foster fails. Volunteers will often run into Waggytail grads all over the city. Waggytail and its community of fosters and adopters have created a closely-knit family that has spread across New York City and a little bit of New Jersey. Their ultimate goal is to adopt out their rescues as quickly as possible. The dogs always come first.
"What makes us unique and function and have ra eally good solid adoptions–because we know everything about each dog, we don't ignore our volunteers–is the close intimacy. At the same time, I know I would get better funding if I had a larger organization, and I had paid staff. It takes it to a whole new level. If I had the funding ,I'd probably do some paid staff, at least for some of the administrative stuff. Sometimes we fall behind on the admin (stuff), and it's difficult to keep up cause we all work other jobs. It'd be nice to have a solid paid staff, but at the same time I don't want to get so big that the intimate feeling is lost," says Holly.
If you're ready to help somebody find their forever home or want to become a foster, visit waggytailrescue.org and see what works best for you. You can also follow them on Instagram @waggytailrescue for updates on current dogs available for adoption.
thewondrouslifeoftulip Happy #nationaldogday ! Hope you all get spoiled as much as I did today 🐶🐶🐶
My dog, Tulip the Chiweenie, was adopted through Waggytail January 2018. You can follow Tulip on Instagram @thewondrouslifeoftulip.
---
If you need more dogs in your life, check out our ist of the top 15 NYC dog Instagrams you need to follow.