Yes, we miss the old Kanye, straight from the Go Kanye―but we still love Kanye.
Don't get it twisted. We still love Kanye, and we have every intention of seeing the "new" Kanye at New York City's first-ever Meadows Music & Arts Festival at Citi Field and Flushing Meadows Corona Park October 1st and 2nd.
Yes, we'll be there covering the event EXHAUSTIVELY, but it can get lonely up there. So we need a few friends to come kick it with us.
Which is why we've teamed up with Gothamist to give away―literally giving this sh*t away―four, 2-day VIP tickets to this incredible music festival.
What does it mean to be a VIP at The Meadows?!
Well, a lot of dope things.
For one, you'll be able to enjoy Chance the Rapper, The 1975, Empire of the Sun, Grimes, Pretty Lights, The Weeknd, Mr. West and a bunch of other incredible talents―for free!
Fine, fine, fine―okay, okay okay. That's something paying customers are also enjoying.
But when you win our giveaway, you're also getting access to comfy lounge areas. If you've ever been to a music festival, you know exactly how clutch this is.
We're talkin' VIP lounges located at each of the 4 stages that get you up-close seats, shade from the sun, cell phone charging stations, a beer, wine, and spirits bar, and air-conditioned bathrooms.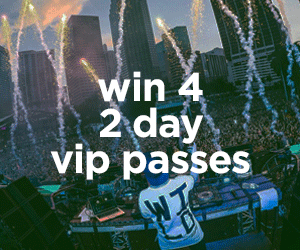 If you were at Gov Ball (and we were), then you know there's nothing quite like using the bathroom (or finding shelter from the rain) in a steamed up Summertime porta-potty.
Like we said, if you've never been to an outdoor music festival, you don't know how much of a lifesaver this can be.
Well, CONSIDER YOUR LIFE SAVED! All you have to do is enter the giveaway here. Boom. Done.
That's two jam-packed days of incredible music, art, absurdly delicious food, and all of the luxurious amenities you deserve to keep calm, cool, collected, and cozy.
Sound good? Yup. It does. Enter right here, and we'll see you October 1st and 2nd.
Not a Wait & See Kinda Person? You Can Still Get Single-Day Tickets Right Here!
[Feature Image Courtesy Instagram]