You really get what you ask for when it comes to the weather in New York City. We whined when it was too warm. We begged and pleaded for the cold. We did all sorts of crazy, regrettable snow dances in January.
Now, though? Hell, we're done with this weather. Time to get up and get away. Far away. Really far. We're thinking west coast. We're thinking delicious food, sights and sounds rich in beauty and personality.
How does Portland sound? No. Not Portland, Maine. Oregon. The Rose City. Home of the Trail Blazers, Ducks, Portlandia, Beverly Cleary, we could go on and on.
Suffice it to say it's one of the prettiest, most laid-back cities in the United States, so we mean, you should want to go to Portland, Oregon.
The food is incredible, the views are unreal, and they've got some of that ... what do they call it? Fresh air?
Yeah, they've got some of that, plus they have some really stellar mountains which we're really missing out on here in NYC.
We think it's high time you got out of this city of skyscrapers, concrete and smog, and experience the best the United States has to offer.
All this is to say, we want to send you to Portland. You okay with that? Cool. Excellent. Fanfreakingtastic.
[anad]
We've teamed up with Headlines & Heroes, Kaufmann Mercantile, Travel Curator, Wine Awesomeness, and Aha Life to send you and a friend or beau to Portland.
If you win, you'll get airfare for two, two nights at The Ace Hotel, you'll be treated to dinner and drinks at Ava Gene's.
You also get a beautiful, free tour of the absolutely stunning Multnomah Falls. Oh, more, you say? You'll get a $500 gift card.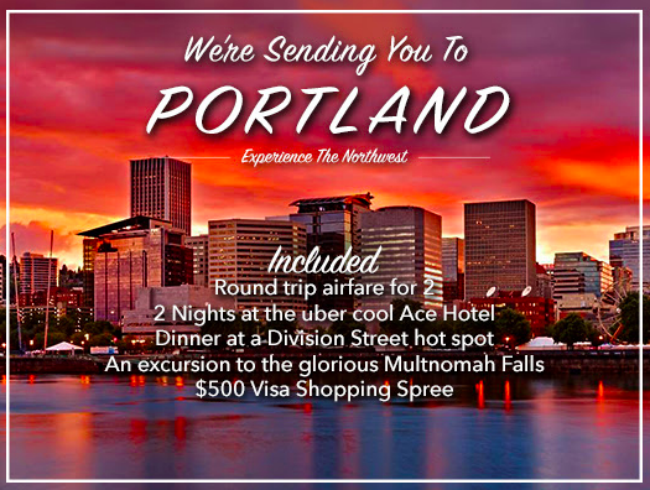 This is all a value of $3,700. So instead of dropping all that money on your next vacation, let us treat you.
If you could really use getting out of the city, if you're tired of stepping past tall piles of trash bags, and you could really use a break from this exhausting, expensive, sometimes dirty city, enter this sweepstakes.
We mean really, what do you have to lose? Yeah, that's right. Literally nothing. Enter here.
Enter This Free Can't-Miss Vacation to Portland Right Here.
[Feature Image Courtesy Find Portland Oregon Homes]