Ah, New York City in the dead heat of summer! Isn't it grand? Isn't it lovely? AC window units dripping on you from above, the noxious fumes of garbage built into walls of dry heat smacking you in the face as you walk― no, nothing beats NYC in the summer.
Okay, so yeah, that part of it kind of sucks, and it often makes us forget what's actually, really great about NYC in the summer: Rooftop bars, 4th of July Fireworks, not being in Rio for the Olympics, and, of course, The U.S. Open.
Everybody gets so turnt for Wimbledon across the pond that we too often forget that one of the greatest American sporting events happens in our backyard.
Well, we're getting you prepped for Serena & Venus Williams, Maria Sharapova―oh wait, never mind on that because doping's a b*tch―Novak Djokovic, Rafael Nadal, Roger Federer and hundreds of others in the best way possible.
Let's face it: most of us really suck at tennis. We go to matches, sit quietly (which is really hard sometimes), get stoked, grab some garb that doesn't really suit us, and then flail across the court for way too long before our sore wrists remind us, "No, you're not a pro."
Stop. We can help you. Sort of.
Better yet, we can help you not look as foolish on the court both in style and in performance. That's why we've teamed up with Headlines & Heroes, UpOut, Need2Know, and TipOff Sports to get you in the best shape of your life for the 2016 Tennis Season. Sort of.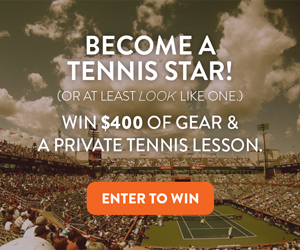 The winner gets a $400 gift card to Dick's Sporting Goods to get decked out in all of the top-of-the-line tennis gear you'll ever need, and you'll also get a free tennis lesson in your city!
Yes, no more looking ridiculous in ratty gym shorts and polos that aren't actually meant for athletic endeavors (lookin' at you, guy. You know who you are. That shirt has too much cotton for the tennis court).
No more "Fundamentally Speaking, I Don't Know What the Hell I'm Doing Here," on the court with co-workers. No more whacking tennis balls like you're going yard in Fenway (unless that's what you're going for. We're not here to judge. You be you!).
No, at this rate you'll probably never play like one of the pros, but this will take you one step further in actually looking like you know what you're doing than you would be able to otherwise.
Also, it never hurts to dream. Unless you're Nightmare on Elm Streeting it. Those might hurt.
Enter here to win this incredible Look Like a Pro Tennis giveaway. Then, make sure to kick it to Arthur Ashe Stadium in Queens from August 29th until September 11th and watch everyone not named Sharapova take the court.
[Feature Image Courtesy TennisCorner.net]