Subscribe to spoiled NYC's official newsletter, The Stoop, for the best news, eats, drinks, places to go, and things to do.
If you've never been to Flannery's Bar on 14th Street in Chelsea, well, on the one hand, good lookin' out for being cautious around what promise awaits you in a decidedly divey, questionably authentic Irish Pub.
On the other hand, it's much comfier than you would expect. It's relatively spacious, it's got clean taps so draft beers don't taste like swill, and the bartender was super accommodating, albeit sort of sketchy, when it came to pouring pickle back shots.
I'd never had one, and I'd only recently gotten to the point of saying, "Okay, pickle. You're fine on a sandwich or a burger, but that's it." The fact that the bartender provided his own pickle juice poured directly out of a Gatorade bottle, well, that was unnerving.
But Lauren Breedlove... she loves them. I caught up with her to talk about her blog, her travels, her adventures, and why she takes them, and where she's going next.
Her blog, Girl Wanderlist, is comprised of 33 different tasks she set out to complete before her 34th birthday, August 25th.
This list ranges anywhere from simple things like volunteering, seeing a moose in the wild, or singing her heart out at Karaoke, to decidedly wild things like holding a baby goat, watching a sunrise and sunset in the same day in three different countries, and, something she'll set out to do next week, swim with the pigs in the Bahamas.
In a word, she describes herself as "random," and if you've ever checked out her incredible travels through her Instagram, @girlwanderlist, you've seen the breathtaking, scattered skylines, and the jump she takes in every country she visits. You can see all of this and believe as much about her.
"Do you see that guy at the corner of the bar?" she asked. I tried not to draw too much attention to myself as I spun around to look at who she was talking about. "That guy just finished a whole rotisserie chicken out of a plastic bag."
Sure enough, a small gentleman was hunched over at the corner of the bar licking his fingers, running his teeth across the chicken bones. To be fair, we hadn't seen him start the feast, so we couldn't say for sure if he'd actually enjoyed the entire chicken at the bar.
But, for real though: What kind of person brings a rotisserie chicken to a Chelsea pub and doesn't eat the entire thing? What'd he do, eat half of it at home and save the rest of it for Flannery's? Definitely not.
It's easy to get distracted when a guy in an Irish pub is eating an entire rotisserie chicken out of a plastic bag.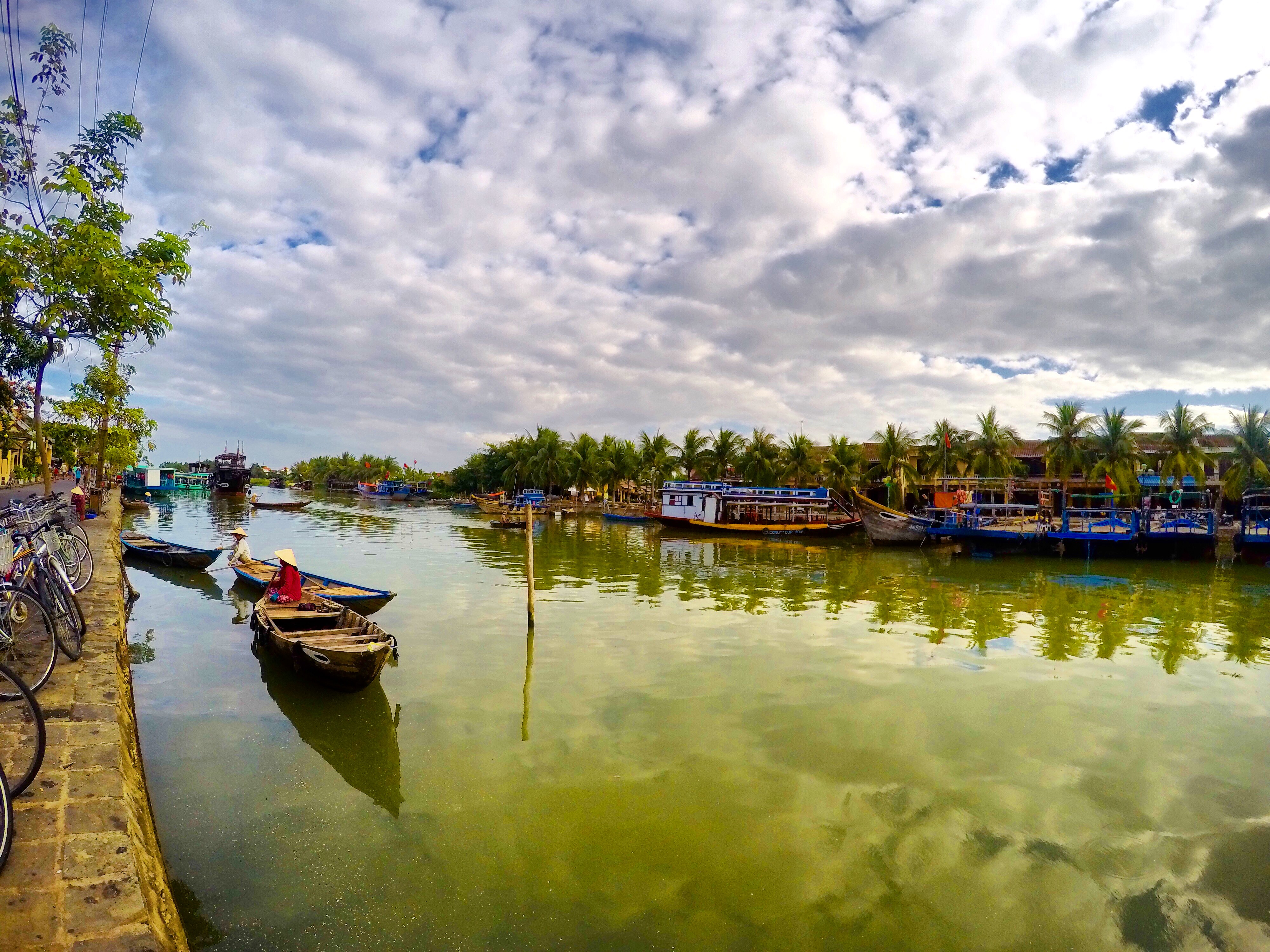 Hoi An, Vietnam
Let's talk about her blog.
"It was basically just a list of 33 things I wouldn't normally do, or things I'm afraid of-- stuff that scares me. I always find myself in random situations anyway, so I figured, why not cross them off?"
How do you got about starting a list like this?
girlwanderlist Bruges really is a place beyond belief...especially if you love waffles. and chocolate. and beer. ❤️ #travel #bruges #discoverbrugge #belgium #tlpicks #worldtourists #wearetravelgirls #dametraveler #girlwanderlist #travelstoke #bestvacations #beautifuldestinations #mybudgettravel #travelzoo #travelwithaninsider #officialtravelpage #darlingescapes #epictravelpage #europe_vacations #discovervacations #nikonphotography #theglobewanderer #fodorsonthego #guardiantravelsnaps #expediapic #intrepidtravel #lonelyplanet #planetwanderlust #beautifulexplorers
girlwanderlist tbt to sheep encounters of the Norwegian kind #tbt #travel #Norway #sheep #lofotenislands #wu_norway #travel #livetravelchannel #theoutbound #traveldeeper #fodorsonthego #wanderlustmagazine #roamtheplanet #planetwanderlust #officialtravelpage #worldtourists #ilovenorway #mybudgettravel #travelzoo #travelwithaninsider #discoverglobe #travelstoke #girlwanderlist #globe_images #bbctravel #europe_vacations #theglobewanderer #thegreatoutdoors
girlwanderlist #32: do something I loved as a kid **new post about the adventure of checking this list item off up on the blog: www.girlwanderlist.com #travel #norway #hjørundfjorden #swing #travelblogger #tlpicks #beautifuldestinations #bestvacations #epictravelpage #livetravelchannel #landscapesofnorway #ilovenorway #mybudgettravel #travelzoo #theoutbound #worldtourists #girlwanderlist #beautifulexplorers #bestmountainartists #outdoorwomen #travelstoke #wearetravelgirls #discoverglobe #wu_norway #instagood #dametraveler #intrepidtravel #christiangaardbygdetun
"It was mostly off the cuff. Just asking what do I really want to do? What's going to push me out of my comfort zone? What's going to make for a good story-- not just for readers, but for me?"
"You have write about something you're passionate about. Even if it's something I don't want to do because I'm scared, or something I'm terrified of, but excited to do because I want to push myself to experiencing it."
The coolest thing she's crossed off her list? That was hard to pinpoint. She's done so much. In the last adventure she went on from August until December, she crossed 18 of her 33 things off the list including beholding such incredible sights as the Northern Lights.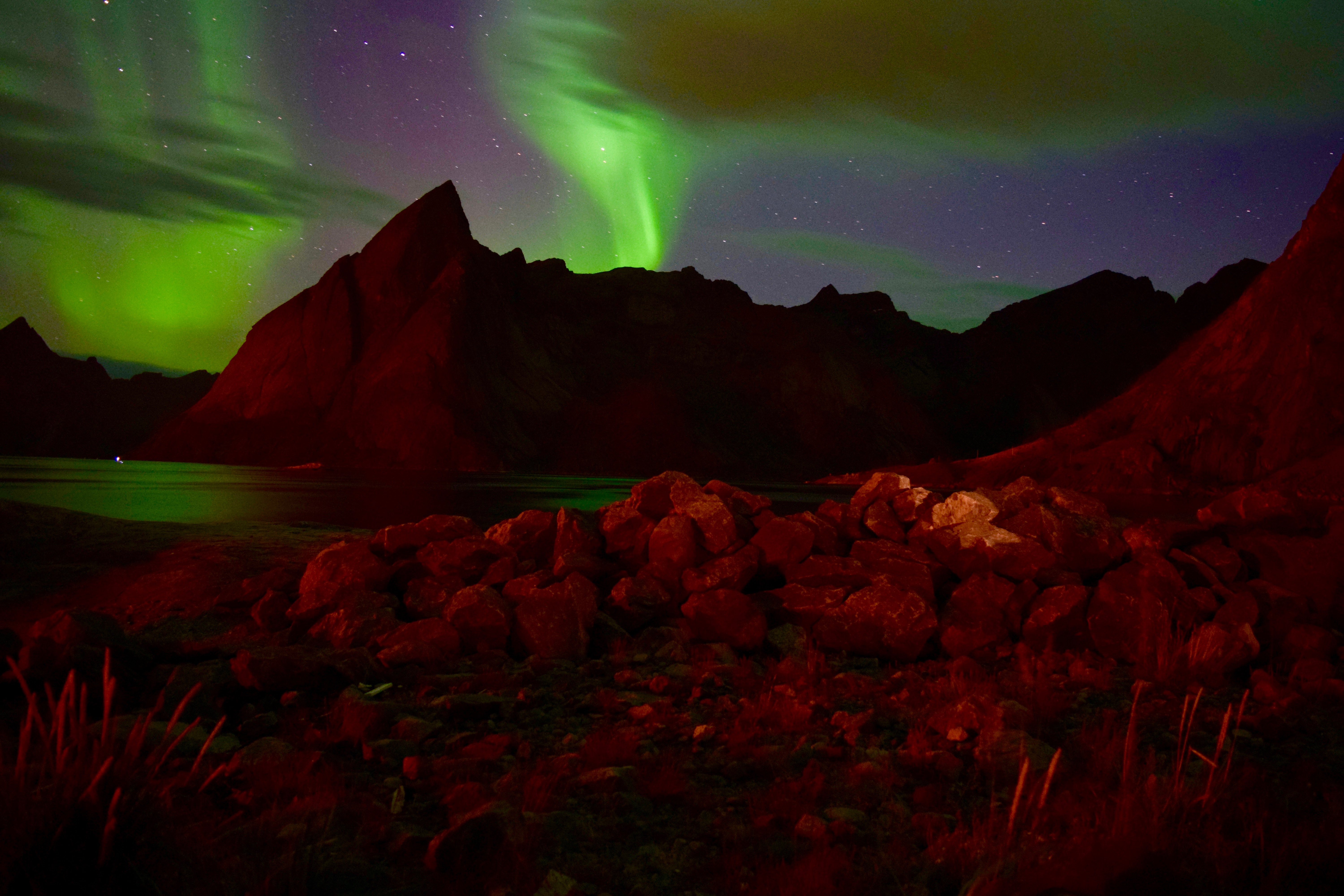 Northern Lights in Lofoten Islands, Norway
"'Do Something I Never Thought I Would Do'-- I went hot air ballooning in Cappadocia, Turkey at sunrise. It was terrifying. You're in a tiny, little basket, and you go into this valley. The balloon is huge, but you've got to keep going up and down to make it above the ridge."
As for what she's most excited to cross off? She's going next week.
"Swimming with the pigs in the Bahamas is really high up there, and that's only weeks away."
girlwanderlist Sunrise party in the sky Where to stay? http://www.girlwanderlist.com/p/sweet-sleeps.html #travel #turkey #ig_turkey #Cappadocia #cavehotel #serinnhouse #darlingescapes #livetravelchannel #nikon_photography #hotairballoon #sunrise #intrepidtravel #discoverglobe #lonelyplanet #tlpicks #beautifuldestinations #bestvacations #officialtravelpage #traveldudes #worldtourists #theglobewanderer #shareyourparadise #girlwanderlist #mybudgettravel #travelwithaninsider #nakedplanet
But we talked about home. We talked about travel and how that informs the way we understand home. She's going on a Wild, Wild West tour this summer starting with Las Vegas (where she was born), and road tripping through Arizona, Utah, Wyoming, Idaho, Montana, and, if there's time, maybe Colorado.
"I'm really psyked to be going back to my place of birth. We lived in Las Vegas from when I was born. I lived there until I was about 4 1/2, and I haven't been back there since. So I wanna go see the landmarks that I remember from that time and the ones that my family talks about the most.
"I want to see how much that city's been built up. I want to see the house where they brought me home."
"I do have random snippets of what it was, but I would have had a completely different life had I grown up in Las Vegas. Maybe it is just a part of me that I have this idea of what is in my head, and there's a need to find out for myself what it actually is, even though it's nearly 30 years later.
Her business card, when flipped over, reads number four on her list, "Hold a Baby Goat."
"While I was traveling, I'd leave it in a random spot like this. Wouldn't you want to flip this over? I've seen goats, but I haven't held a goat. It's got to be kidding season. I thought I'd be able to in New Zealand, but guess what? There are basically no goats there. It's all sheep."
As for the most difficult thing she's ever crossed off her list?
"I saw a sunrise and sunset in the same day, in the same country, in three different countries. That was hard. It was foiled several times."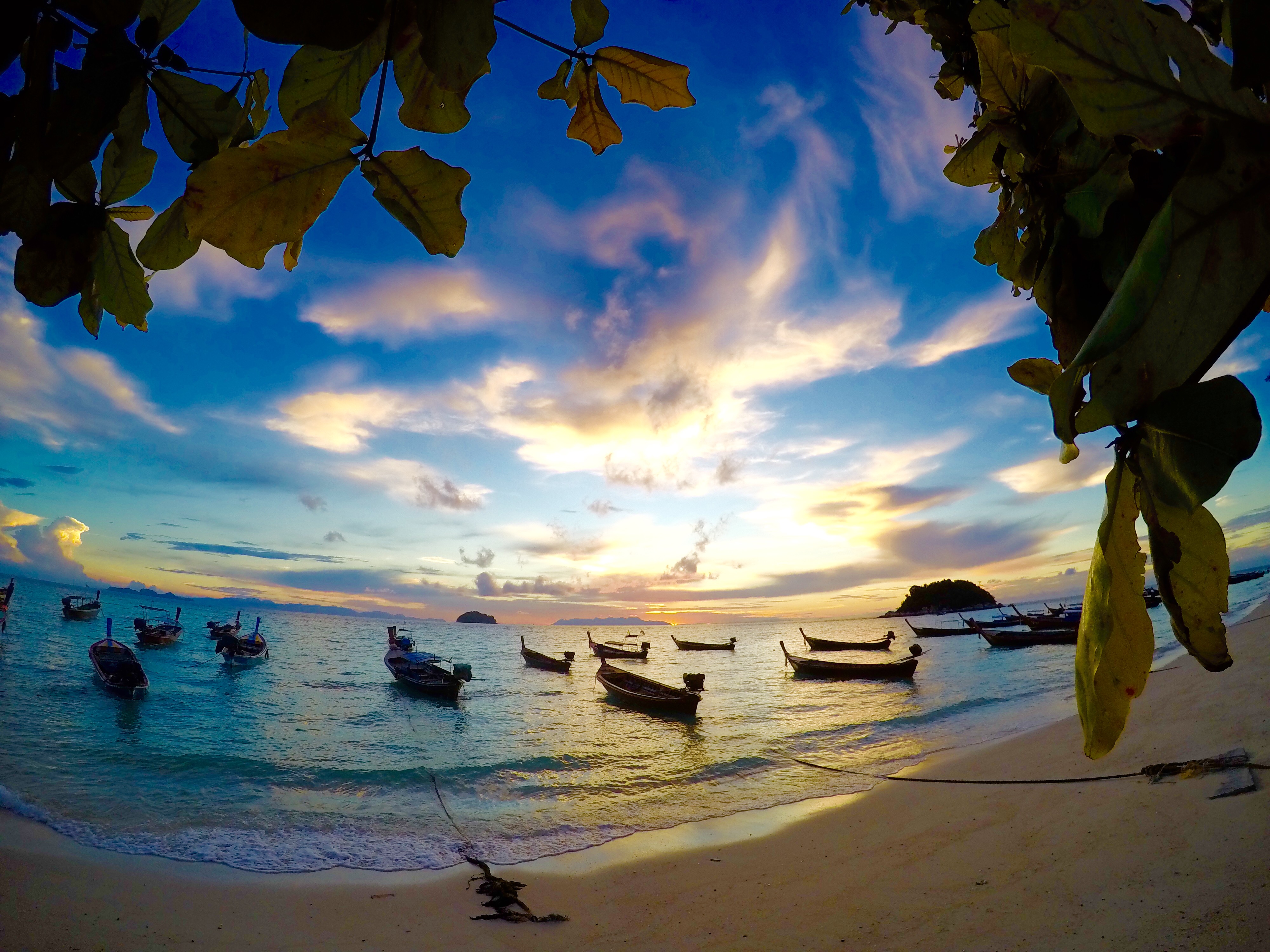 Sunrise in Thailand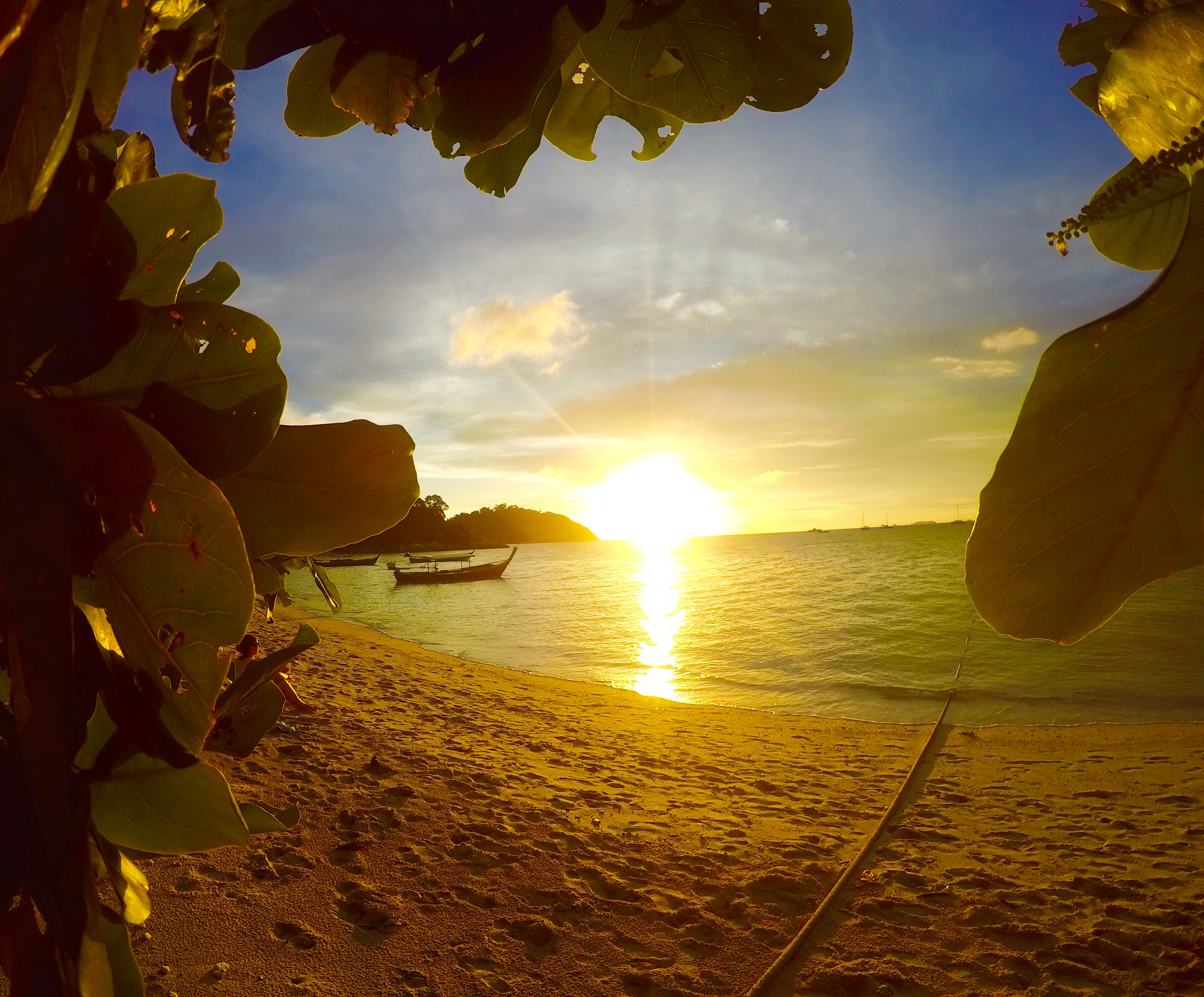 Sunset in Thailand
Of course, if that seems confusing, you're not alone.
I, too, was confused at first because I-- and I will readily blame this on the pickle juice poured from a Gatorade bottle --thought she'd achieved some sort of time travel or had gone catching sunrise after sunrise and then flying back to catch the sunsets, but no, I was just confused.
She tries to see the sunrise in every country. She also tries the local beer in every country, which, admittedly, makes it hard to catch the sunrise.
Of course, if you check out her Instagram, you'll notice she strikes the same pose in many of her pictures. She's jumping. Everywhere. Why?
girlwanderlist I would be thrilled to travel with @passionpassport & #PassportToAsia to any of the destinations, but Siem Reap would probably make me jump the highest! I'd love to explore the temples of Angkor Wat, of course, but to have the chance to uncover some of the mysteries that lie beyond the obvious, and within the local Khmer culture would be wildly amazing. Not only that, but it would also be a great experience to collaborate with other creative, likeminded people in a unique travel setting; to a place I haven't discovered first hand just yet!
girlwanderlist Woot it's Friday! Turkish leaps in Cappadocia #travel #girlwanderlist #turkey #ig_turkey #cappadocia #beautifuldestinations #tlpicks #bestvacations #dametraveler #wearetravelgirls #outdoorwomen #hike #officialtravelpage #beautifulexplorers #darlingescapes #livetravelchannel #planetwanderlust #worldtourists #travelstoke #theoutbound #departedoutdoors #outsideculture #discoverglobe #gopro #goprooftheday
girlwanderlist Tbt to Italian jumps in Polignano a Mare, Italy #travel #tbt #girlwanderlist #italy #italia #italiagram #wearetravelgirls #dametraveler #puglia #ig_italy #ig_puglia #polignanoamare #tlpicks #italyvacations #europe_vacations #officialtravelpage #sceniclocations #shareyourparadise #meettheworld #beautifulexplorers #earthexplorer #travelblogger #ig_great_pics #worldtourists #travelawesome #travelstoke
"It kind of just happened by accident. I thought that would make a cool picture when I was traveling, so I tried to do it whenever I was on vacation-- way before I went abroad or anything."
"The contrast of doing something fun-- jumping shows the ultimate feeling of travel; the joy you experience when you see these places --so I really just ended up loving that contrast of doing that with all of the huge scenery behind me."