The highly-anticipated female-power super heroine is finally coming to the big screen.

We've clearly seen way too much of Thor and Batman. We literally don't want to see Iron Man in any movie ever again. It's time for Wonder Woman to grace us with her super strength, awesome suit, and bad*ss whip.

In celebration of the monumental release, Alamo Drafthouses in Austin and New York City are screening the Wonder Woman movie.
According to Gothamist, the downtown Brooklyn location is screening the movie during these times below, with more dates to be added:
Sunday, June 4th at 3 p.m.
Monday, June 5th at 7:45 p.m.
Tuesday, June 6th at 6:30 p.m. and 7 p.m.
Thursday, June 8th at 7:30 p.m.

Just to clarify, these are ALL-FEMALE screenings for anyone who identifies as female, with all proceeds going straight to Planned Parenthood.

[anad]
Alamo Drafthouse explains, "Apologies, gentlemen, but we're embracing our girl power and saying 'No Guys Allowed' for several special shows at the Alamo Downtown Brooklyn. And when we say 'Women (and People Who Identify As Women) Only,' we mean it."
Of course, this made lots of Twitter and Facebook males butt-hurt. But many women were right there to backup the Alamo Drafthouse.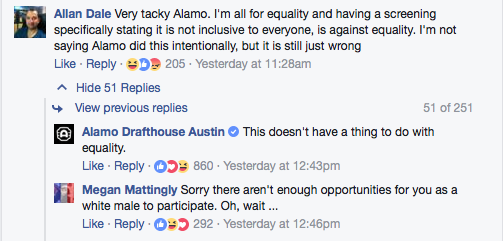 via Facebook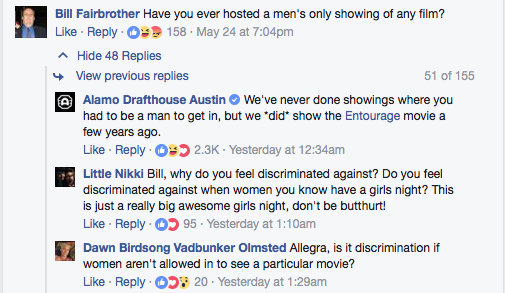 via Facebook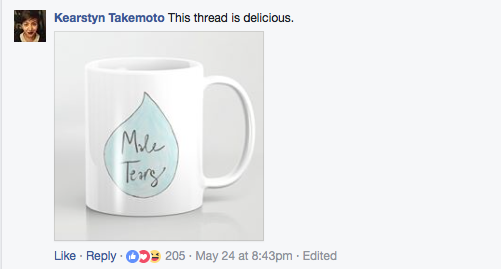 via Facebook
So ladies, grab your tickets for the most anticipated super hero movie of the year at the Alamo Drafthouse's site.

It's so exciting to say that!

You can also message the Alamo yourself or check the theater's website to see if new dates have been/will be added.
[Feature Image Courtesy Nerdist]
[via Gothamist]