We may be a little bit ornery from the lack of sleep incurred due to daylight saving time, but we're not feeling this forecast.
We just lost an hour because we're "springing ahead," yet we're supposed to get snow and near freezing temperatures? What gives?
Then we are politely reminded that yes, it is still winter... well, at least until this Sunday.
So how much wintery weather are we expecting?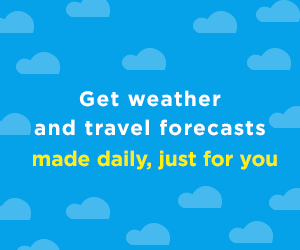 Well, according to weather analysts, we would need almost perfect conditions to see snow this late in the season, but it's possible.
Instead, prepare yourself for highs in the mid 40's on Saturday and lots of rain and wind on Sunday with highs barely reaching the 50's.
However, lows could remain in the mid 30's.
According to AccuWeather, cooler air could bring rain and wet snow to the Northeastern states, including NYC.
"It's hard to say exactly what's going to happen, but there's potential for a storm this upcoming weekend," AccuWeather Senior Meteorologist John Feerick told DNAinfo.
[anad]
"Everything would have to come together almost perfectly this weekend to get a significant snowstorm... but there's a little bit of a chance."
Sure, we love the snow, but we'd have rather seen it mid December rather than mid March.
For all of your weather updates check out the Poncho weather app. Poncho's the most comprehensive way to check weather from the moment it wakes you up with a weather-based alarm to the minute before you leave work for the evening.
It keeps you in the loop on weather, commuter alerts, and even how much the weather's going to screw up your immaculate hairdo. Download Poncho right here.
Check out This Incredible Interactive Map That Shows You the Best Irish Pubs in Manhattan.
[via DNAinfo]
[Feature Image Courtesy AccuWeather]