As pointless as it ever was, the 74th Annual Golden Globes aired last night on NBC.
While you've certainly acquainted yourself with a deluge of recaps that talk about how cute Goldie Hawn and Amy Schumer were, how badly we all needed Kristen Wiig and Steve Carrell to deadpan for a couple of minutes while revealing their troubled pasts with animated movies, and, obviously, Meryl Streep's "tear him a new one" speech.
We're going to dig into some of that, but it's important to focus the conversation on other surprisingly important things you might not have taken away from, well, a pointless awards show.
It has everything to do with the fallout and perception of the "Hollywood Elite," black representation, the twice-repeated "Hollywood Foreign Press" paradox as Drumpf approaches the Oval Office with his tiny orange hands, and, well, a brief sip of haterade for Jimmy Fallon.
Here's one more for the road, another recap telling you what you should actually focus on when it comes to self-serving awards shows in Hollywood.
---
1. Jimmy Fallon is a human softball.
The cold open video was the highlight for Jimmy Fallon, and still, he couldn't do this without his comedic security blanket Justin Timberlake in a bit that ran the last minute. Hell, even when the prompter broke down, his go-to was, "Just cut to Justin Timberlake for a second."
And then it was typical Jimmy "Anything but Affable and Accessible Is Out of My Range" Fallon (outside of a Chris Rock impression). The same guy who normalized Trump's insanity by daring no further than ruffling his matted head of hay.
Digging through the refuse for that "pointed, biting jab at Donald Trump," well... it's hard to find. Was it the joke about Florence Foster Jenkins turning down performing at the inauguration (meh)? Was it comparing Trump to Joffrey from Game of Thrones (esoteric at best)? Or Putin tabulating votes from Hollywood Foreign Press (pfffftttt...)?
---
2. Donald Glover, Atlanta, Black People, Migos
If you haven't watched Atlanta, you're missing what was arguably not only the greatest first season of a television show in recent memory, but one of the greatest, most celebrated black-centric shows on TV right now (or, ever).
Donald Glover's acceptance speeches, both for best actor in a comedy TV series and best comedy show, were gems.
Whether it was shouting out Migos, his family and the inspiration he draws from them, or just the city of Atlanta and black people in general, he casually dropped sh*t that too often comes across as forced and rigid, ultimately losing its intended effect.
---
3. Hollywood loves Hollywood
La La Land. It's a movie about white people. It's a musical about jazz. It's a musical about white people trying to save jazz. It set a record for Golden Globe wins by a single movie (7). In all likelihood, it'll do as well at The Oscars.
But it's the same movie you expect in every batch of films during awards season (notable exception last year, but Spotlight wasn't exactly a departure as it was still built around the press).
2015 is a prime case study for this - Whiplash (white jazz movie by same director of La La Land, Damien Chazelle), Birdman (to an extent), and Boyhood (essentially just an overbearing love letter to film and storytelling through it).
This year the Oscars might not be so white, but Hollywood is still stupidly in love with itself. Sure, it's probably a very, very good movie. But if you suspect it's something you've already seen, you're probably right.
---
4. See Moonlight
"Tell a friend, tell a friend, tell a friend," director Barry Jenkins repeated onstage in accepting the win for Best Movie in a Drama.
You should see it. And when you see it, you should tell a friend. We're telling you now. But seriously, Globes are sometimes good indicators of Oscars (still, for whatever that's worth exactly). Moonlight winning little beyond this isn't concerning so much as it is just confusing.
Mahershala Ali, Naomie Harris, and the writing and direction by Barry Jenkins are so beyond anything outside of Fences (and some of Manchester by the Sea), it's astounding. But, we're still perplexed.
Because of Casey f*cking Affleck.
---
5. Casey Affleck expected to Denzel to win so much that he had to quote him.

I mean, just LOL. They should have cut him off almost immediately, cut his hair, cut his beard, cut him out of the show almost entirely.
A) You were 3rd at best compared to who was nominated.
B) WHY ON EARTH WOULD YOU QUOTE A PAST WINNER WHO WAS NOT ONLY NOMINATED IN THE SAME YEAR AS YOU, BUT SHOULD HAVE PROBABLY WON BEFORE YOU DID (not to completely knock the movie. It's great—he is great).
---
6. Awards are still pointless
Yay. The Night Manager! Yay, Tom Hiddleston! Problem is, if you use this platform to make a grand sweeping statement, there's going to be something entirely bigger that isn't rooted in a call for desperately needed change.

Like Andrew Garfield and Ryan Reynolds kissing.
But that's the problem here. Meryl Streep (more on that almost immediately), buried Drumpf so well, we didn't get a context for the Sudan crisis. Of course, Hiddleston did this no favors either in his longwinded story ending with the conceit that there's value in entertainment.
It deserved more than what Hiddleston gave. Wouldn't give it the "he played white savior" treatment others have since lambasted him for, but, talking about a nation on the brink of genocide has value an awards show simply can't appropriately articulate.
---
7. Use your ears
Before you even think about going in on Meryl Streep—in favor or opposition—use your ears. Quick breakdown:
"Vilified." She didn't not say that Hollywood, foreigners, or the press were victims. She said they were vilified. If anything, they're victims of hate and vitriol. But still, that's reaching.
"It was when the person asking to sit in the most respected seat in our country imitated a disabled person." Imitated. That's an important distinction because we need to measure our words carefully with the people who don't understand them.
Conservatives hear "vilified" and jump right to "victimized." Rational people hear imitation, understand context, and because, I don't know, critical thinking? Make the sensible conclusion.
[anad2]
Imitating disability for the purposes of humbling them is mockery. That's something an average person should get checked on. It's something a Presidential candidate should be so far above that it doesn't even come to mind, let alone something this President-Elect should be allowed to forget he did.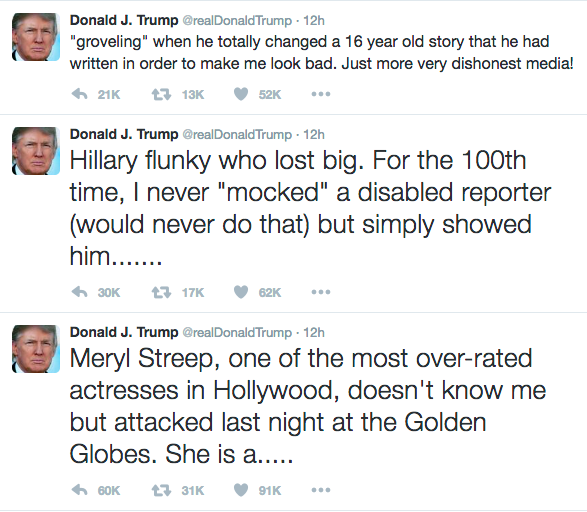 Meryl Streep didn't call herself a victim. She didn't say the Press was victimized. She called for accountability. She called for decency. She called for the bare minimum in respectability. She didn't ask for much, and she didn't eviscerate Drumpf.
She reminded us all who he has been, who he still is, and, god save us, what's to come (spoiler alert: it's more tweets where he basically explains the careful nuances confirming how dumb he actually is).
---
8. Streep is not overrated

LOL. Just don't even touch that, guys. Tammy Lahren, Drumpf—just, stop.
Also, overrated is one word, guy.
[Feature Image Courtesy Rolling Stone]