So Winter Storm Stella was a little less dramatic than we thought any blizzard named STELLLAAA would be, but it doesn't mean we're not still dealing with a couple days of gross, grey, slushie streets.
Combine that with the fact that half the people we follow on Instagram seem to have vacationed to Miami all together or something? The FOMO is so real right now.
It's too late for us, but we're gonna give you the chance to GTFO while you can– to the super sunny, 100% slush free Dominican Republic, on us!
All you've gotta do is enter to win this incredible giveaway.
You know, the one right here.
With our buds over at Tablet, Need2Know, and Bloom, we're setting you up with a 3-night stay for two at the super luxe Eden Roc at Cap Cana, along with $1,000 in airfare credit.
Cap Cana is an exclusive private community at the eastern tip of the Dominican Republic, where Eden Roc sits on 30,000 acres. The land is littered with pristine beaches, towering cliffs, and tropical forests to explore.
There's plenty to do; besides enjoying their Jack Nicklaus signature gold course and bustling marina, they have a world class spa, and state-of-the art gym.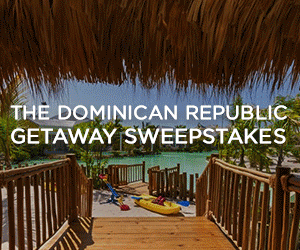 Eden Roc is also home to 5 unique bars and restaurants that will satisfy all your casual and fine dining cravings, all while enjoying some seriously 'Grammable ocean views.
Oh! That reminds us!
That whole package also includes 1 year of complimentary Tablet Plus Membership, which includes $50 food and beverage credit, so you can sample some of the culinary delights Eden Roc has to offer.
Tablet Plus also scores you some other pretty sweet perks, including complimentary room upgrades when you check in (based on availability), complimentary breakfast, and a welcome basket with fruit, wine, cookies, and bottled water.
With Tablet Hotels, you'll also be staying in the best of the best of any country's boutique hotels any time you travel for the whole year. It's pretty sweet to be a VIP, you'll totally get used to it.
And what are you waiting for now?
Don't miss your chance to win this unbelievable Dominican Republic getaway. Enter right here!
[Feature Image Courtesy Instagram]