There has been a good amount of hype over the construction of the New York Wheel, Staten Island's Ferris wheel due to open in 2017.
But now, the Wheel's pre-tax revenue projections are taking the hype to the next level.
They're expecting to rake in a massive $127.85 million in 2017.
Just to give you an idea, that's $16.35 million more than the Empire State Building observatory deck brought in last year.
Could an outer borough Ferris wheel attract more tourist dollars than the Empire freakin' State Building? Sure, it's a big Ferris wheel.
When all is said and done, the Wheel is supposed to be larger than the London Eye.
[anad]
But it's an hour away from everything else in the City, and it isn't exactly cheap. Would enough visitors choose to spend two hours in transit to wait in line for a long time to spend over $30 per seat on a Ferris wheel?
The Empire State Building isn't too far from every other major attraction in Manhattan, and it's cheaper. While the Wheel will run visitors $35 per ride, scoping out the City from the 86th floor of ESB is $32.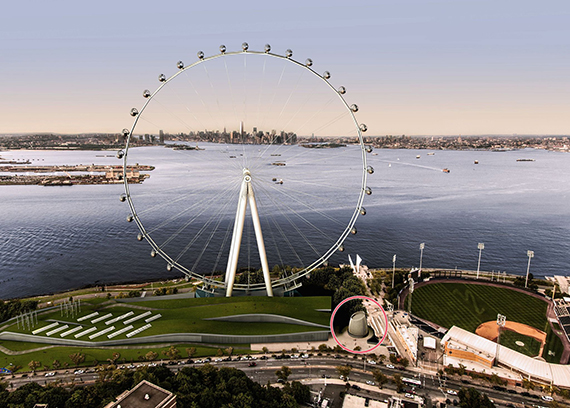 Rendering via The Real Deal
Developers are planning to take in $96 million in admission revenue, $10 million in sponsorships, and $8.7 million in gift shop income. By 2021, it's estimated that the Wheel will make up to $166.52 million per year.
In order to make those goals, the attraction must bring 4 million customers in 2017, and 3.5 million each year going forward.
Sure, everyone loves a good Ferris wheel ride, but will it bring Staten Island such sums of money and attention? Maybe. In the meantime, take a look at the live feed of the Wheel's construction.
Check out Three of the Oldest Historic Buildings on Bowery Due for Demolition.
[via The Real Deal]
[Feature Image Courtesy The Ashford Zone]