Taking over two abandoned floors of the Condé Nast building in Times Square, the curators of this year's Spring/Break Art show explores current political tensions through the theme, 'A Stranger Comes to Town.'
Inspired by this quote attributed to Tolstoy. "All great literature is one of two stories; a hero goes on a journey, or a stranger comes to town," the theme, while a stretch in some exhibitions, encourages interactive exploration of over 130 booths in search of understanding if there is such a thing as a stranger at all.
Whether you love art, or want a dope Instagram shot, the Spring/Break Art Show is worth walking through tourists for.

Thoughtful, provocative, enticing, and affordable (the show is a pocket-friendly $15, compared to The Armory's $47) the Spring/Break Art Show will expand your interpretation of otherness, intimacy, and what it means to be an artist.
Here's a quick look at just a few of the many rooms of art:
---
Jonathan Rosen: DOUBLE LIFE curated by Laura O'Reilly l Room 2329
The internet created a universe in which anonymity is a click away. The result: the physical manifestation of human complexity, a mirror held up to the hidden stranger within those you may be the most intimate with.
Jonathan Rosen: DOUBLE LIFE, curated by Laura O'Reilly, examines the ability to cloak one's identity within these avatars in six pieces integrated with augmented reality technology.
Housed in lightboxes, emitting a familiar screen-like glow, source code from the crudest and most visited websites in America surrounds block-lettered statements, exposing hidden selves within desire. With a pass of a digital screen, the code is brought to life, a three-dimensional layered collage of memes, emojis, and identities.
Discover the hidden lives of secret strangers, the power of technology to amplify, and a look into the future of art and technology.

---
Self On The Shelf curated by Christine Miele l Room 2236

The installation centers around Declan, the curator's son, and his relationship with James, his first Elf on the Shelf. The enchanted doll was believed to be sent by Santa himself to determine if Declan had been naughty or nice.
Nine environment-shifting black buttons are placed on objects throughout the installation, encouraging viewers to explore a narrative of the Elvin stranger living in the home.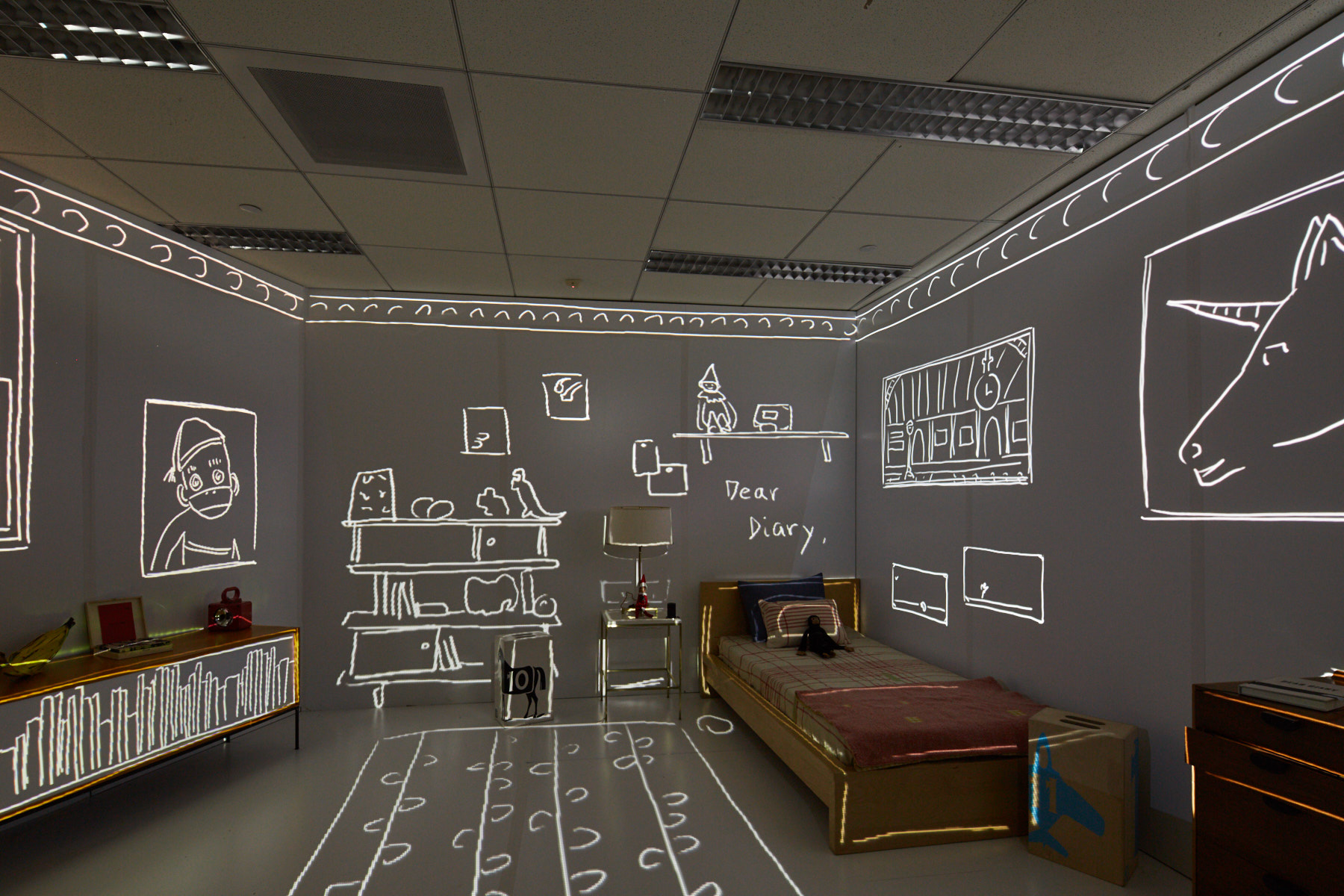 Image courtesy of Samuel Morgan Photography
Working with filmmaker Laia Cabrera, and animator Isabelle Duverger, the room, reminiscent of a child's bedroom, is transported through memories, emotions, and experiences via video projection.
Through the exploration of trust and belief (the elf would be telling Santa if Declan was naughty or nice after all), mystery, and childhood, Miele explores the role a stranger may play in conjunction with a power dynamic through the lens of a child.
---
Eric Mistretta: The Wrong Place by Anna Kustera l Room 2301
Impossible to miss, the immersive four-room showcase, easily doubles as a visual playground. Rosy lighting, floor to ceiling poles, and a concrete cast of dog toys are spread throughout the installation framing equally bright text sculptures and wood panel paintings, transporting viewers to a place of statement, vulnerability, and contemplation.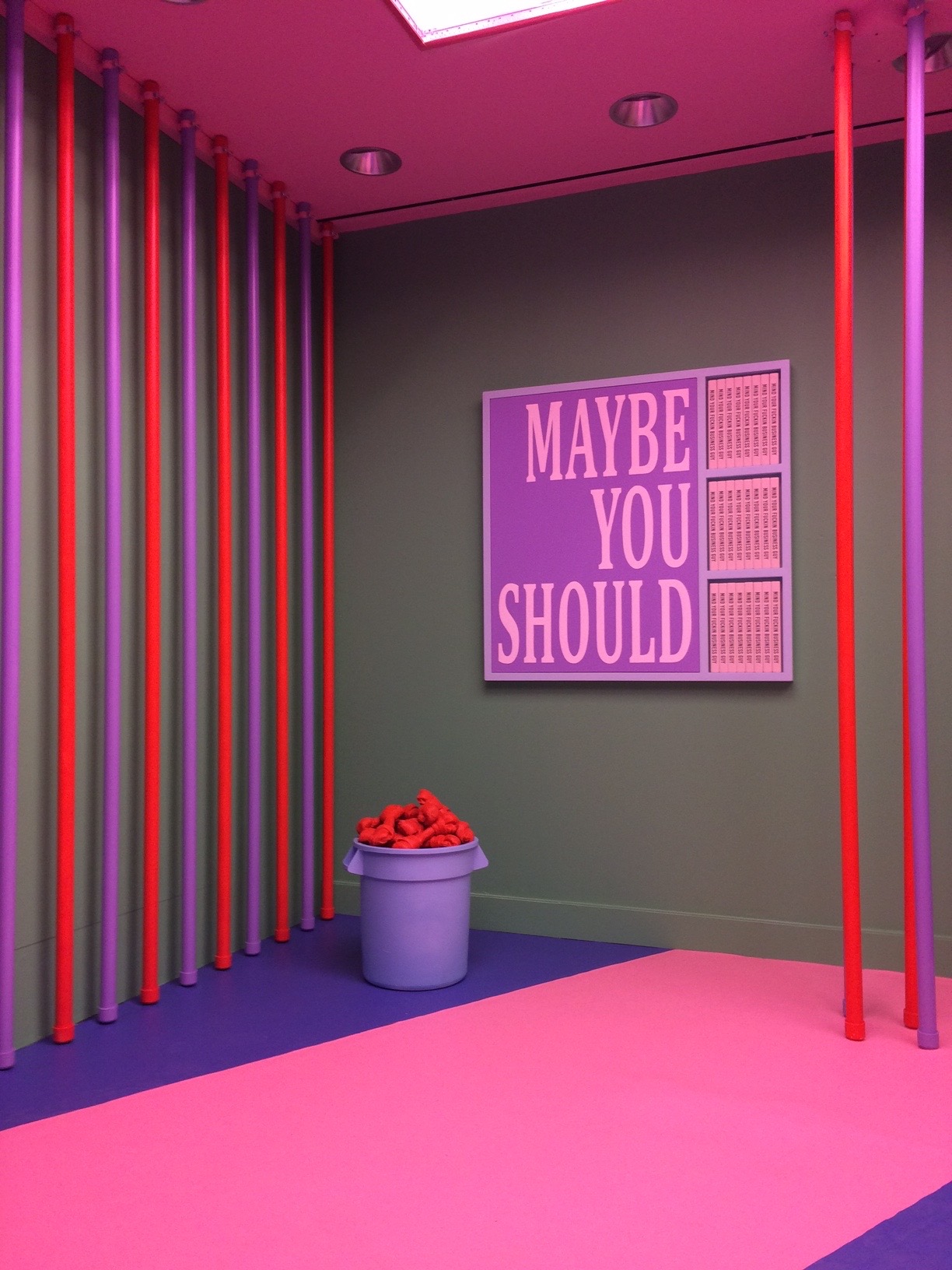 Image courtesy of Anna Kustera
Is it possible to relate to sentiment and remain strangers, or is this shared emotional experience what creates the basis of intimacy? Explore visual stimulation, the thoughts we're all thinking, and grab a great photo in this installation.
---
Hopes Springing High presented by Dan Halm l Room 2357
The enslavement of Africans first became legal in the United States in 1641. It continues today, despite the ratification of the 13th Amendment in 1865, supported by systematic racism, mass incarceration, and the school-to-prison pipelines.
Despite the fact that it is 2018, Black Americans are still seen as "strangers" in their own country. The artists featured in Hopes Springing High defiantly face and confront American history while shedding light on their ancestor's struggles, by using personal narratives and historical research.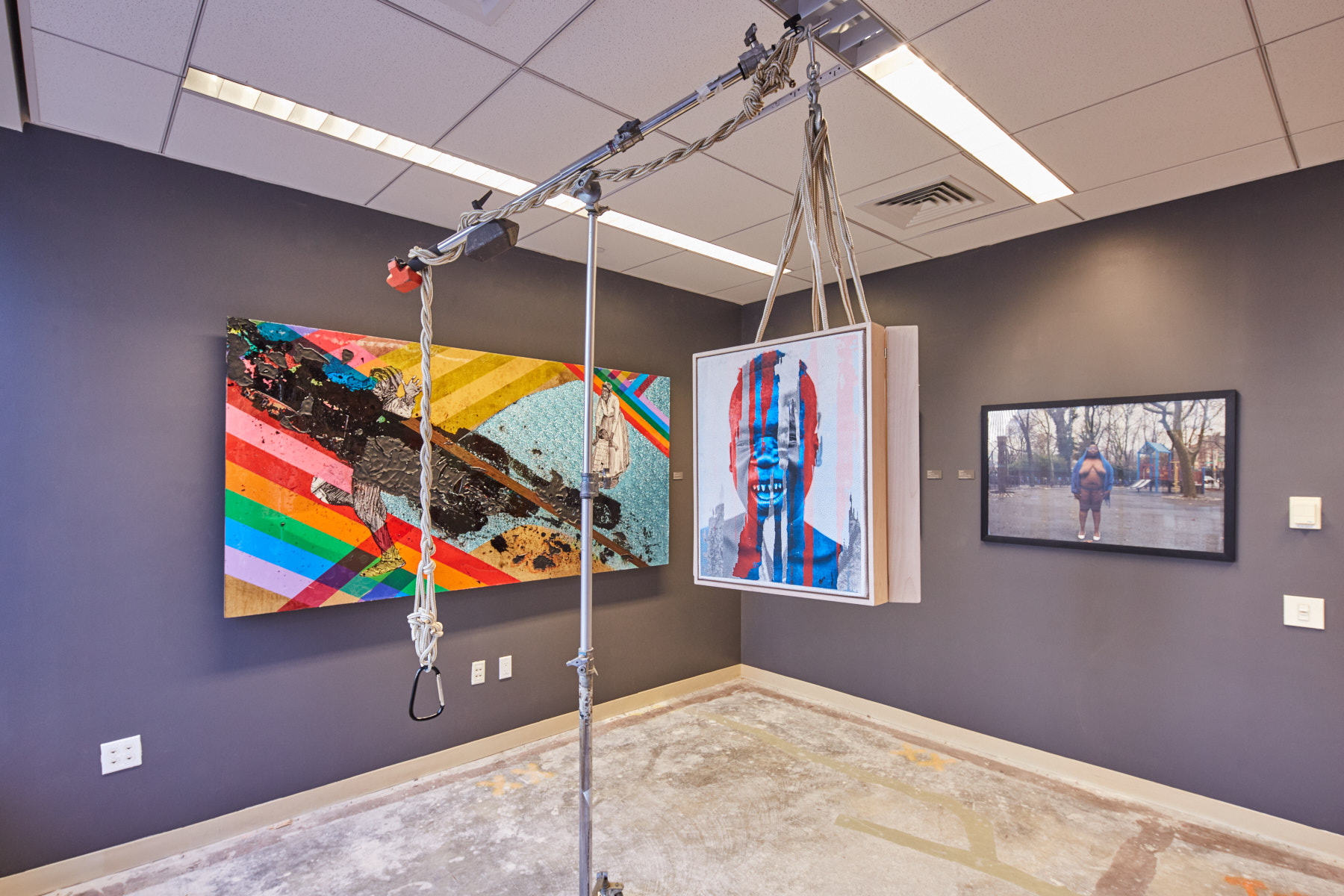 Image courtesy of Dan Halm
They remain strangers in a country that seemingly refuses to fully accept them. Featuring works by Delano Dunn, Mary Edwards', Nona Faustine and a sculpture by Ander Jones, the installation will not disappoint.
---
(Hotel) XX curated by Indira Cesarine and The Untitled Space l Room 2348 & 2350
(Hotel) XX is a 2-booth, immersive installation and group exhibition, presenting the work of female-identifying artists whose work explores sexuality and the intimate experiences one may find themselves in an off-the-highway hotel.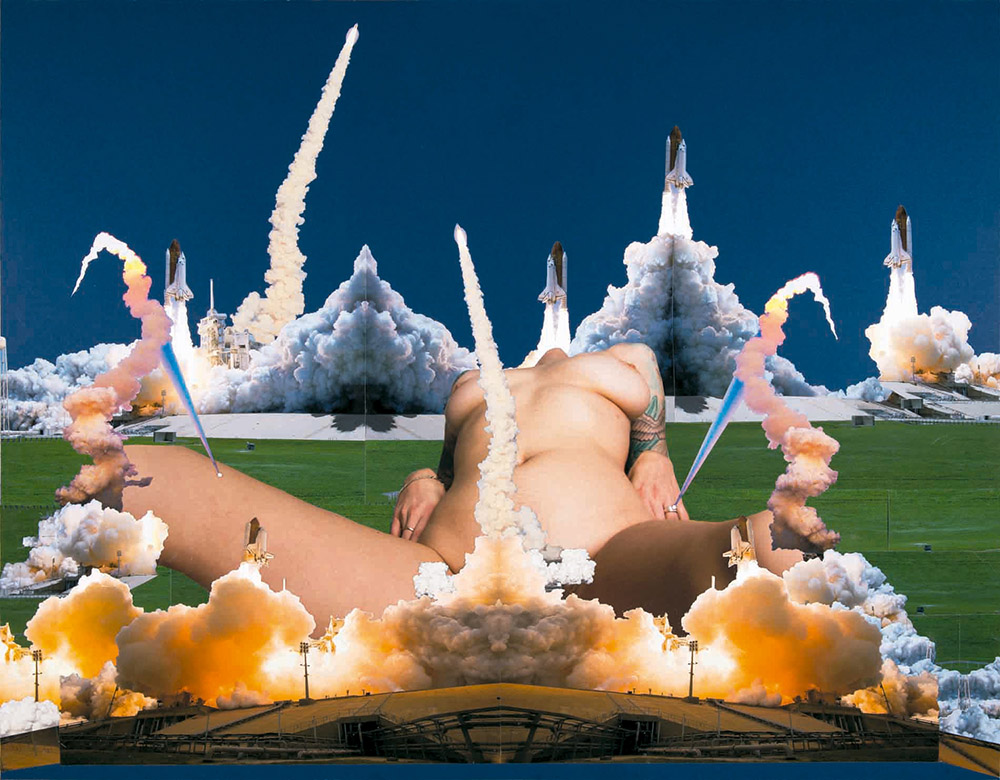 Eight Shuttles by Suzanne Wright, Image courtesy of the artist and The Untitled Space
The collection of works become the fragments of visitors both recent and pass blending the line between hotel and traveler. Memories of each passing traveler's ecstasy lingers on the walls, each experience memorialized behind by the artwork on display. Enjoy your stay at Hotel XX and explore a mixture of neon, sculpture, and print.

Jason Andrew: Black Diamonds Curated By Eric Sutphin l Room 2358
---
Named after a West African colloquialism used to describe an individual who has broken through the glass ceiling and achieved some measure of personal or professional success, "Black Diamonds" explores the lives of West African men united in Turkey by false promise.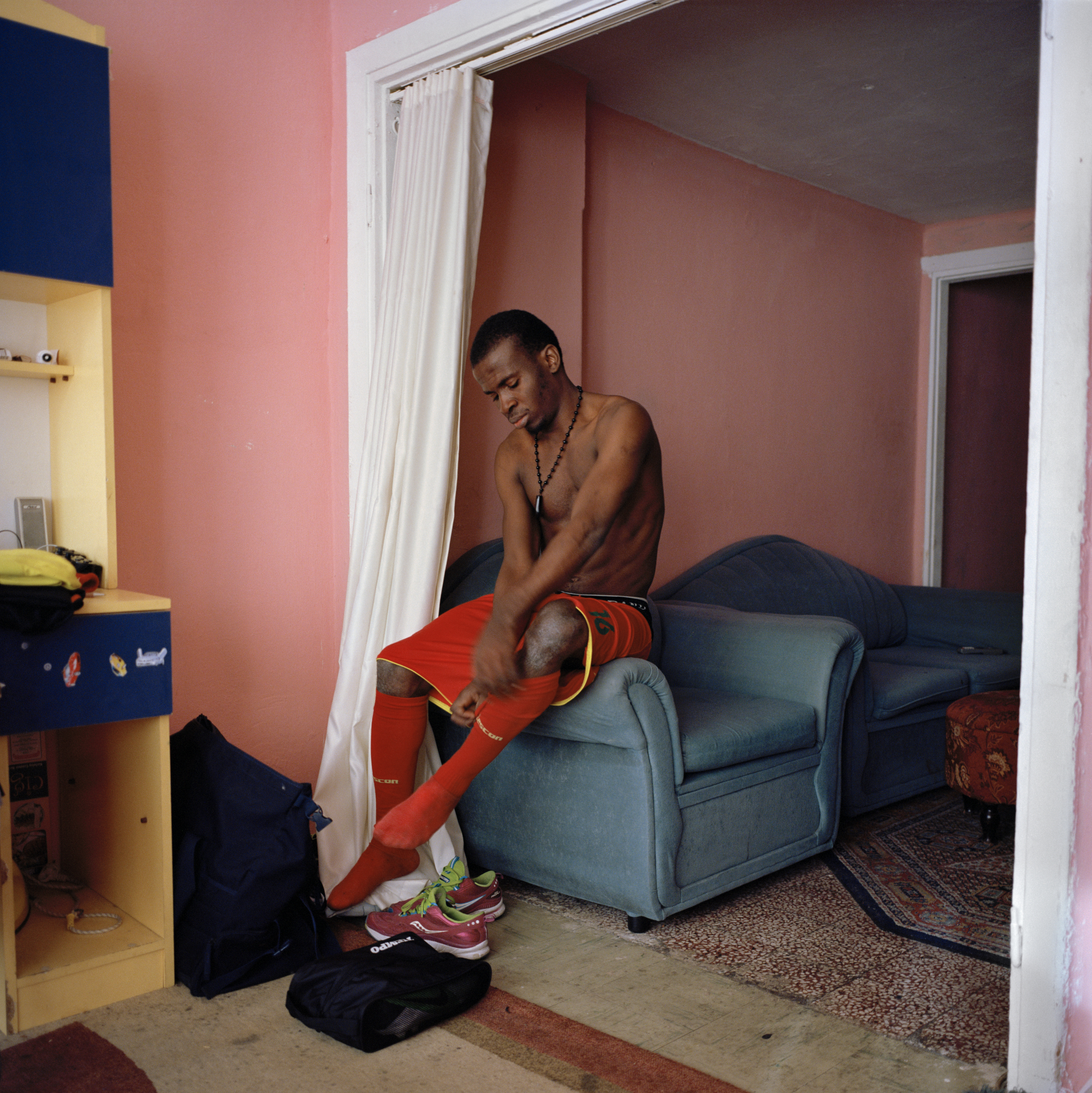 Akeem Post Practice by Jason Andrew, Image courtesy of the artist and Eric Sutphin
A stranger in every way, Jason Andrew documented the lives of Adegeye, Akeem, Sodiq, and others brought to Turkey under the false promise of landing a spot on a professional football team.
Present during some of their most intimate moments, Andrew was able to capture the radical strength and resilience these men exhibited, in addition to the harsh reality of their situations, in some cases perpetuating falsehoods themselves.

Psychic Pharmacy By Howard Hurst, Presented by Helen Toomer | Room 2207

Physic Pharmacy is an immersive installation born of America's love affair with both the conman and the obsession with self-help. Drawing from the aesthetics of the new age medicine field, a psychic pharmaceutical inhabits the space and offers free prognosis and prescription to all visitors.
After an odd consultation, comprised of testing with apparatus and a vocal questionnaire, you are shown the wall of 100 "prognosis" drawings that identify the psychic ailments that they could be suffering from.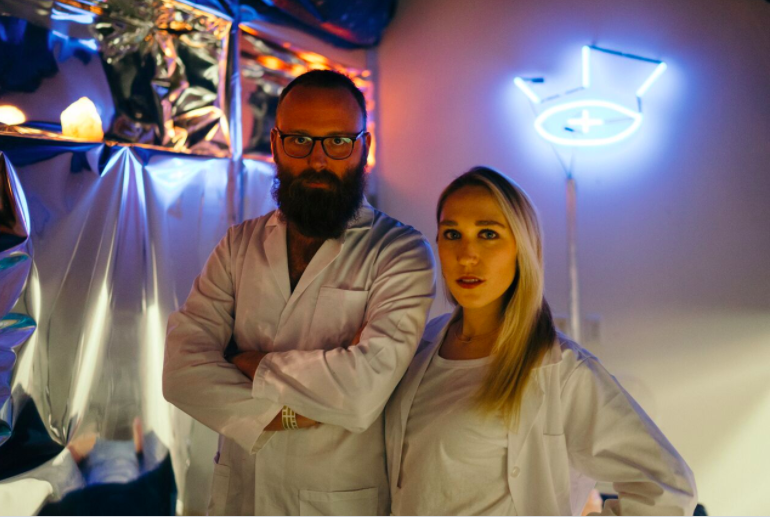 Photo courtesy of David Trumpf
Utilizing a playful, simple line style, the Howard Hurst drawings underline and make light of the internalized habits and sadness that have normalized in modern day life. Who hasn't self-indulged in thoughts of incompetence while contemplating the world's survival?
Hurst's vulnerability and perspective highlight the shared experiences of strangers, specifically our fears and insecurities.

Which SOIL Member Are You?' presented by SOIL Gallery l Room 2375
How do you like your coffee? As a means of introducing themselves to New York, SOIL gallery presents "Which SOIL Member Are You?" an interactive algorithm-based quiz matching participants with an artist featured in the show.
The quiz delves into the concept of a "known self" featured in the show based on a series of questions discussing personal preference, creating parallels between SOIL members and quiz-takers. Curious which Soil member you are? Take the Quiz online here.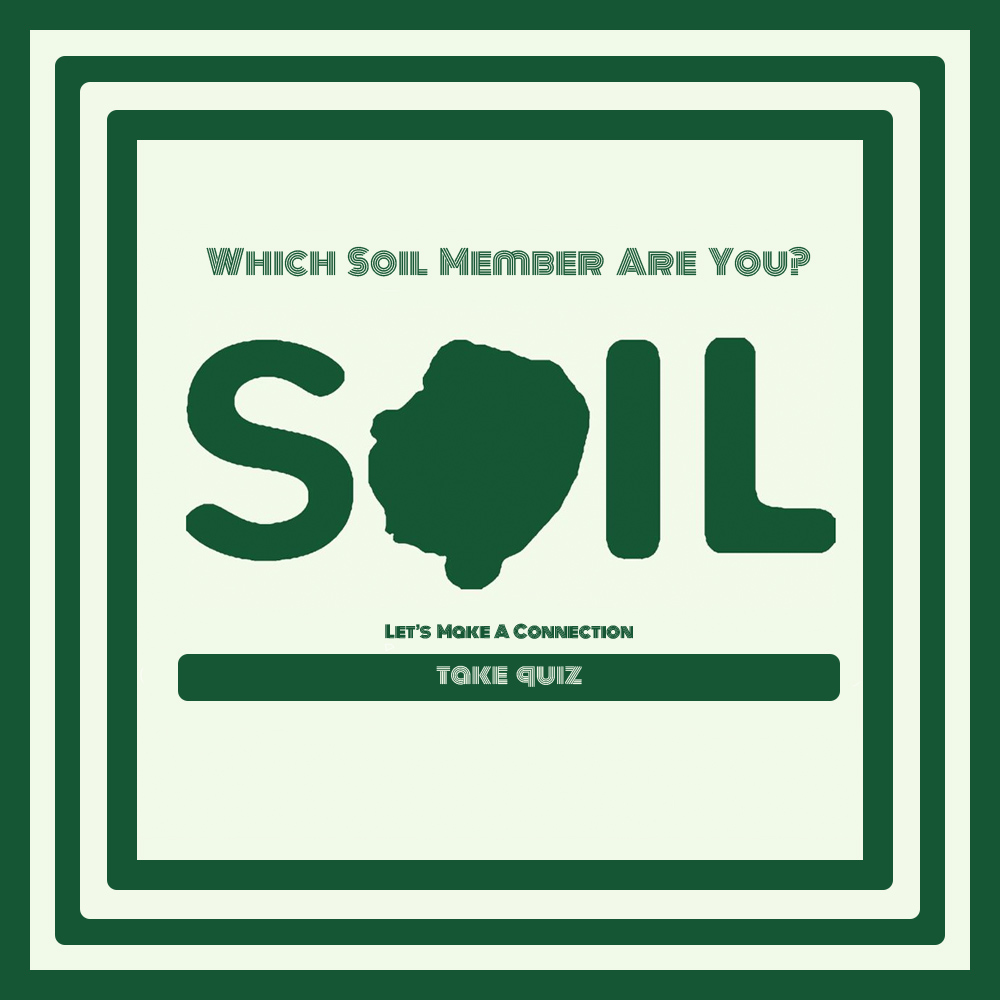 Image courtesy of SOIL Gallery
Featuring the works of twenty different artists, there's a match for every taste; including your friend who doesn't drink coffee.
Is it what you know what makes a stranger less of a stranger? Soil begs the question with an acknowledgment of shared ground.
When Darkness Loves Us presented by the Bennett Sisters l Room 2366
'When Darkness Loves Us' is a group show which celebrates the subversive impulse to find joy in the horrific through the fantasies we conjure, the mementos we collect, and the morbid curiosities we harbor that aid us in confronting the inevitability of death.
The immersive installations simultaneously places the viewer between private mourning rituals and society's infatuation with pop cultural crimes.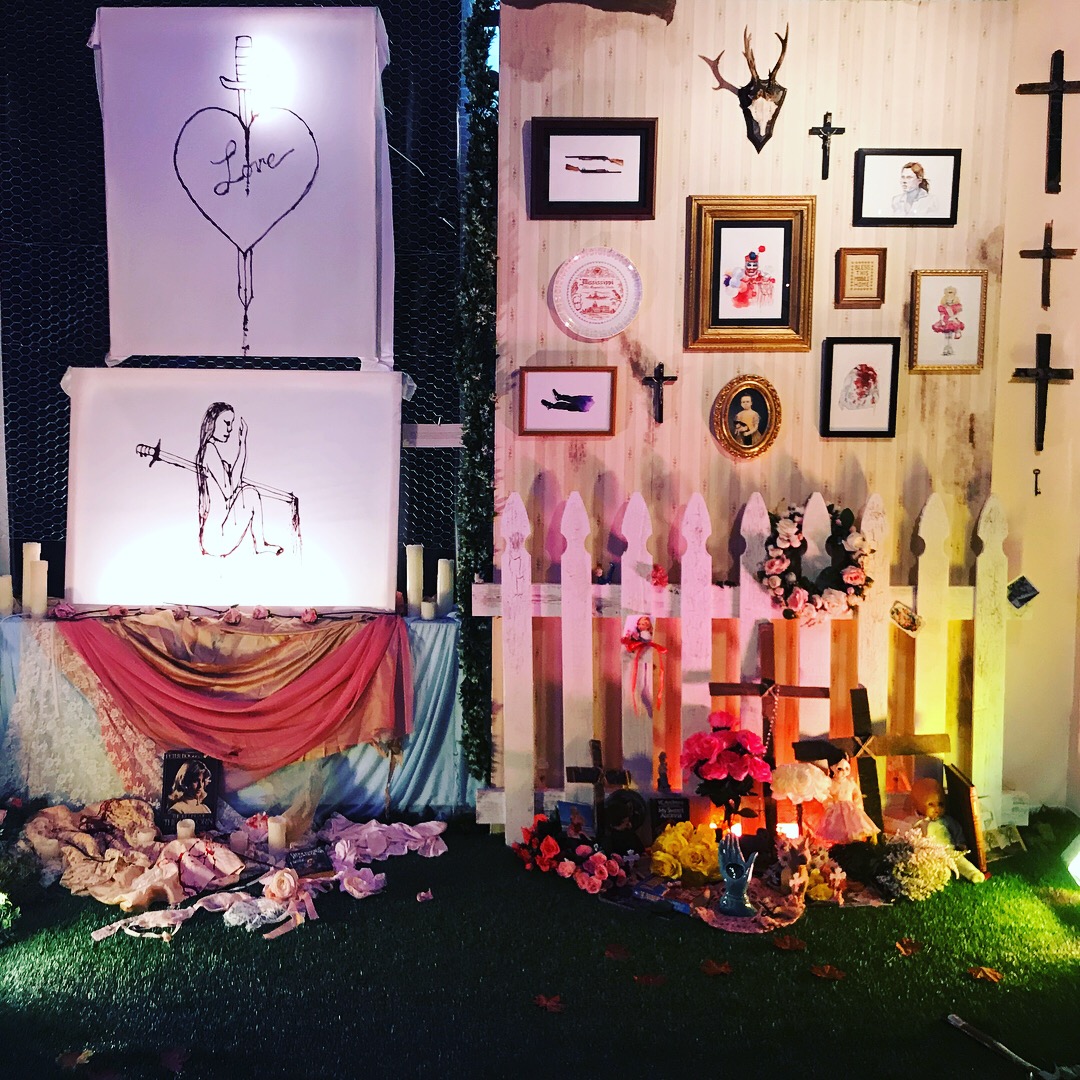 Image courtesy of The Bennett Sisters
Through small-scale vigils, photographs, paintings, and woven tapestries, the eleven artists express the multitudes of isolation and community, while highlighting the American lust and fascination of collective grieving.

A Pressing Conference By Macon Reed, presented by Helen Toomer | Room 2221
In a time of increasing fear, isolation, and misinformation, we have also witnessed the growth of resistance, supported and formed through alliances between strangers.
Bringing together performance artists, organizers, historians, and others, A Pressing Conference is a vibrant platform focused on providing truth in a world of fake news.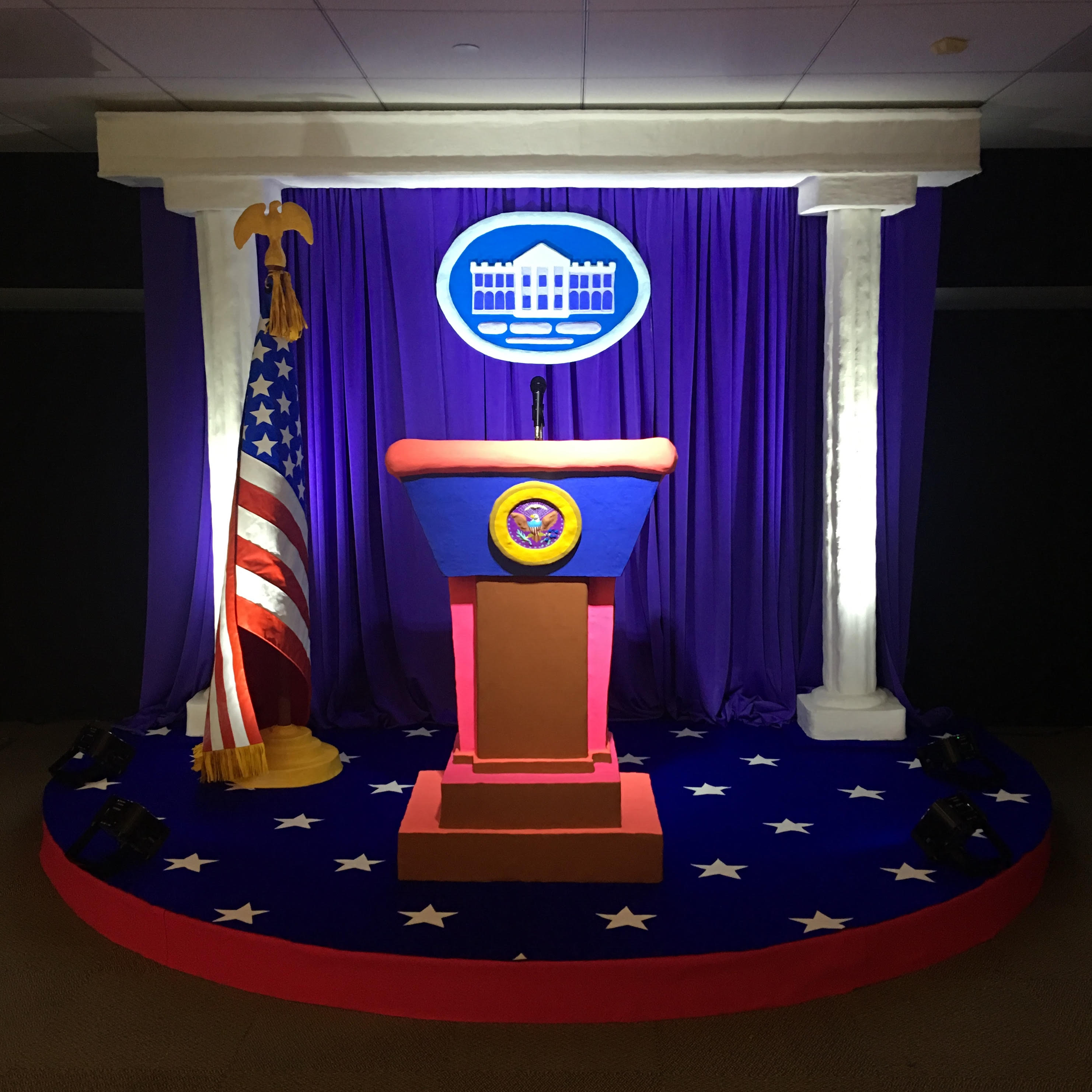 Image courtesy of Helen Toomer
Based off the official White House's James S. Brady Press Briefing Room, the installation is comprised of a podium, presidential backdrop, flags, columns, microphones and seating chart slightly distorted and amplified in color, providing the space for the room's role to be brought into question.
The public is also invited to stand up at the podium and share their interpretation of a newsroom brief. Additionally, live performance pieces are performed in the press room daily at 1 PM and 4 PM.
The Spring/Break Art Show is located at 4 Times Square (enter at 144 West 43rd Street) and will be open to the public from March 7 to 12, 11:00 AM to 6:00 PM daily.