Harlem might be going through extreme gentrification, but it's still Manhattan's #1 nabe for stretching your paycheck.
Here are the top five spots for great deals that will have your head spinning and your wallet as fat as your post-holiday belly!
All of these places are within a 15 minute walking distance of each other, and are in close proximity to the 4-5-6 train at 125th and Lexington.
While Harlem has been under gentrification for the past 20 or 30 years now, Manhattan's best bargains (especially on food) can be had there.
There is also a greater diversity of products, and it's worth wandering the side streets around 125th on the East Side for new mom and pop bargain spots-- something that is sadly missing everywhere below 96th Street (with the exception of the eastern part of Chinatown and the occasional Jack's 99 Cent spot in midtown).
And when it comes to beauty supply stores, Harlem totally rocks. There are probably a dozen beauty supply stores on 125th Street with the biggest supply of wigs and individual hair pieces for weaving and bonding anywhere in the country.
---
1. Dollar Magic 99 Cent Rush (2050 Lexington Avenue)
No store in Harlem has a greater variety of goods than Dollar Magic 99 Cent Rush.
Located squarely between 124th and 125th street, it has a huge food packaged food selection (including sweets from around the world at under two bucks), blingy costume jewelry, discontinued toiletries under $2, and even party favors.
[anad]
This is the place to get a one-buck super long, yet stylish roll of wrapping paper that's enough for 20 large gifts! My most recent unbelievable find was a two-pair pack of DKNY tights for only eight bucks!
---
2. Total 125 Beauty (56 East 125th Street)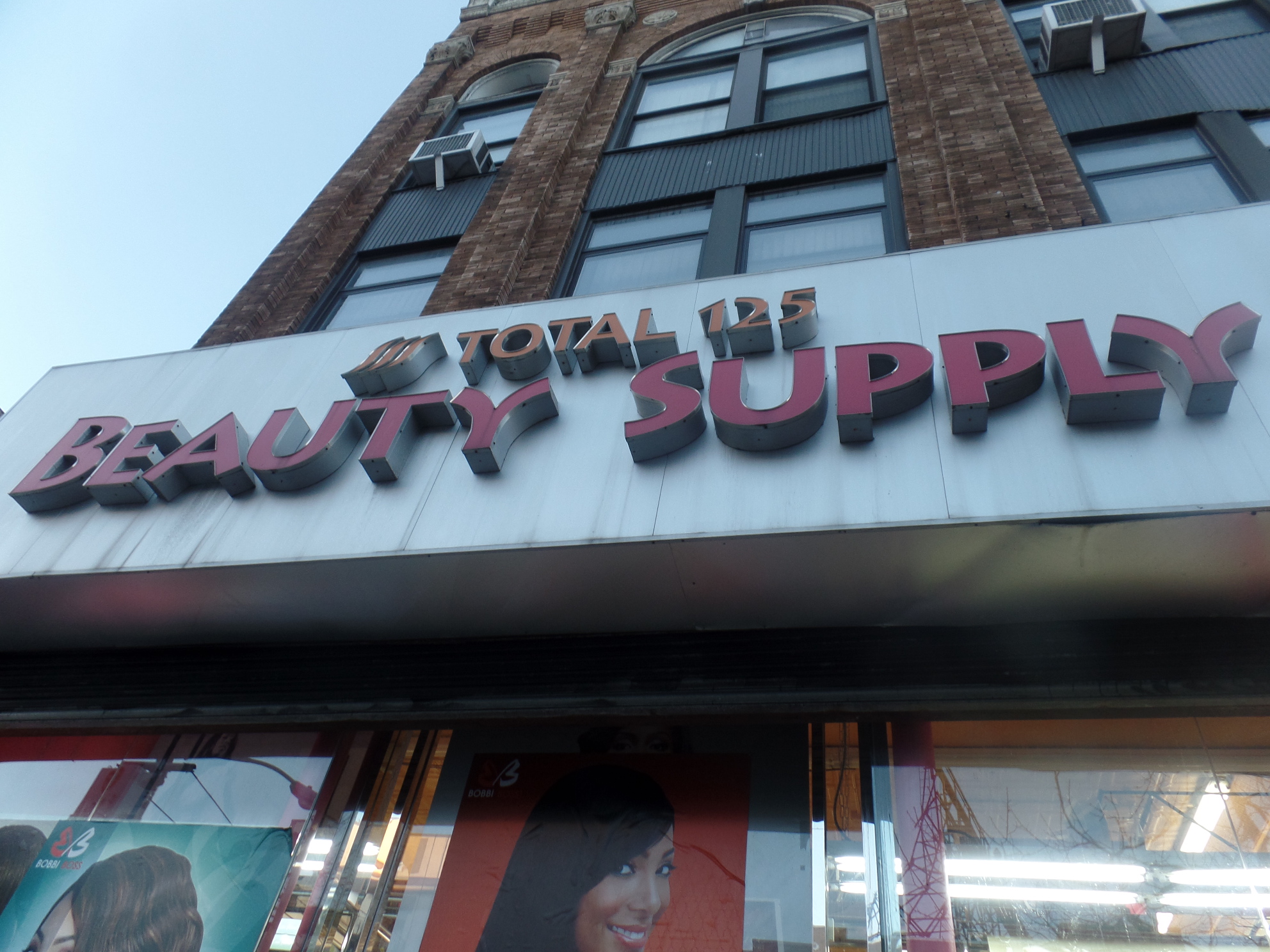 This looks like a typical Harlem beauty store with lots of funky wigs in the window, but go inside and you will find that Total 125 Beauty is packed with every beauty doo-dad imaginable from floor to ceiling including old-school after shaves and hair tonics, professional beauty tools, thousands of shampoos and styling products and even salon items (like robes and caps).

You can find more than five dozen styles of false eyelashes (some long enough to please even the most high maintenance contestant on Ru Paul's Drag Race) and at least ten kinds of eyelash glue.
---
3. 2 Bros Pizza (2060 Lexington Avenue)
2brospizza This photo definitely makes me feel some type of way. @jerm_cohen #repost

So you say that there are
2 Bros
all over the place from St. Mark's Place to Harlem? Very true, but since this one is smack dab on the NE corner of 125th and Lexington, there is a huge influx of customers in and out-- meaning there is a huge demand for freshly baked pies.


The pizza here has a very thick crust (thick than the other
2 Bros
stores), so if that is your thing, come uptown! Slices are just a buck and a whole pie is $8!
---
4. Beauty Supply of New York (2264 Third Avenue)
If you are a beauty-ista, you can probably spend hours at Beauty Supply of New York. Besides the miles of hair for weaves and extensions, there is a huge supply of salon brand cosmetics and every level of hair styling device.


The folks on the floor are very knowledgeable on the hair and cosmetic products they sell, and can make good recommendations. Prices are low, especially on the natural skincare items-- there are plenty of lines featuring castor and coconut oils, as well as Shea Butter for under $5 an item.
---
5. Lady Love (44 West 125th Street)


Lady Love, located between Fifth Avenue and Malcolm X Blvd, is arguably the most complete discount lingerie store in town.

This is the place where they claim that they can find anyone the perfect bra, and they carry up to J cups. There is a great selection of loungewear, dance leotards, hose, socks and both practical and sexy boudoir wear in all sizes.

There are even ballet slippers. The friendly service and fit experts put this place "over the top" in terms of being one of Harlem's best-kept secrets.

,


6. Manna's Soul Food Restaurant (70 West 125th Street)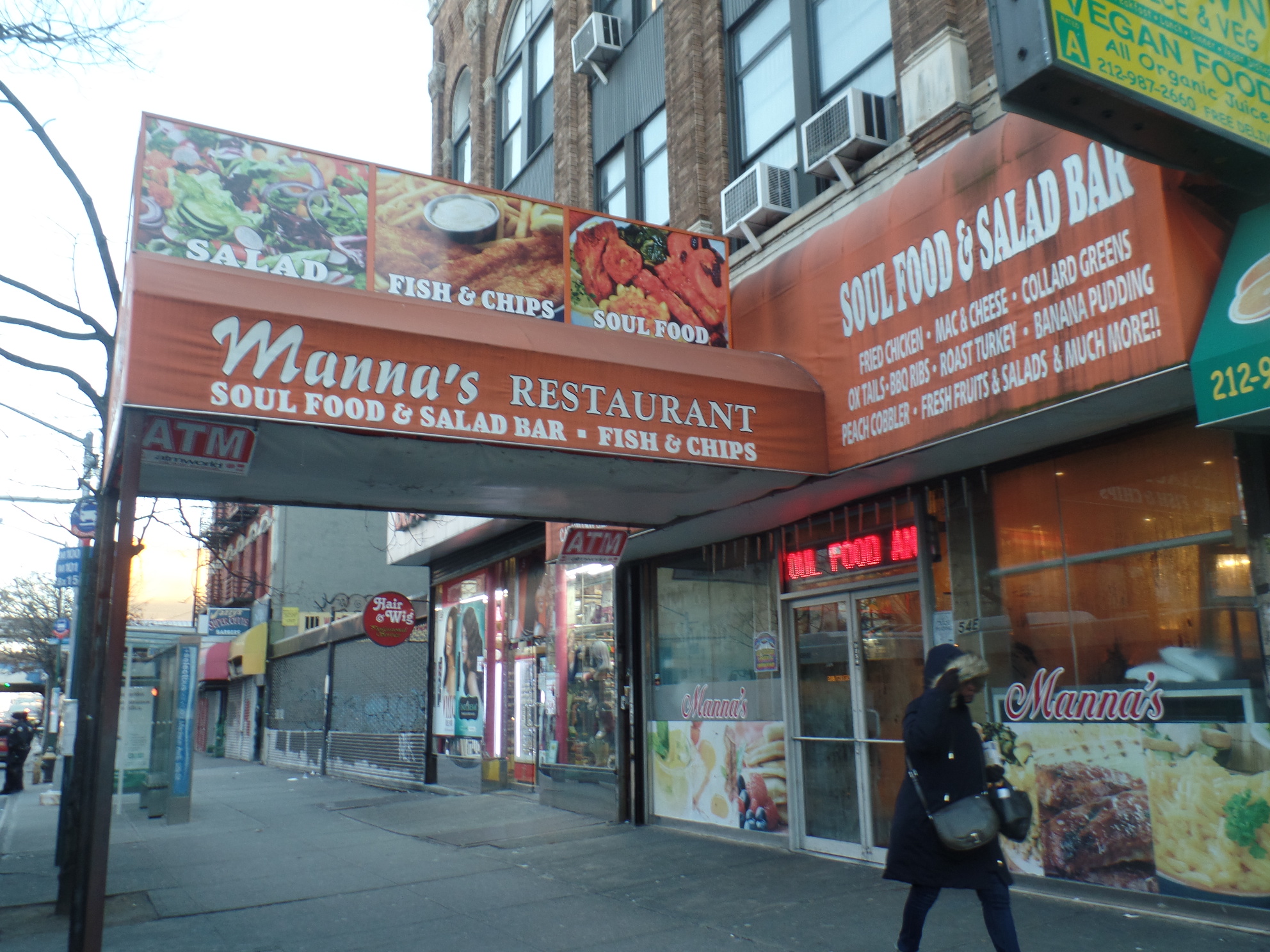 Things have changed a lot since Lou Reed was "waiting for the man" at "Lexington 125." in 2016, everyone's waiting for the Manna! The steam table prices range from $7-8 a pound, and that includes their juicy ribs and (arguably) Harlem's best collard greens.


There is a healthy salad bar with fruit and greens, but that is ho-hum compared to their true soul food area that includes ox tails, meatloaf 'n gravy, jerk pork, pineapple glazed ham and pigfeet.

[anad]

Best to come here on a cheat day if you are trying to get your nutrition in order this year.

Party orders that serve twenty of each of their soul food dishes are quite reasonable (priced in the $45 to $80 range).
7. Q & N Food (107 East 125th Street)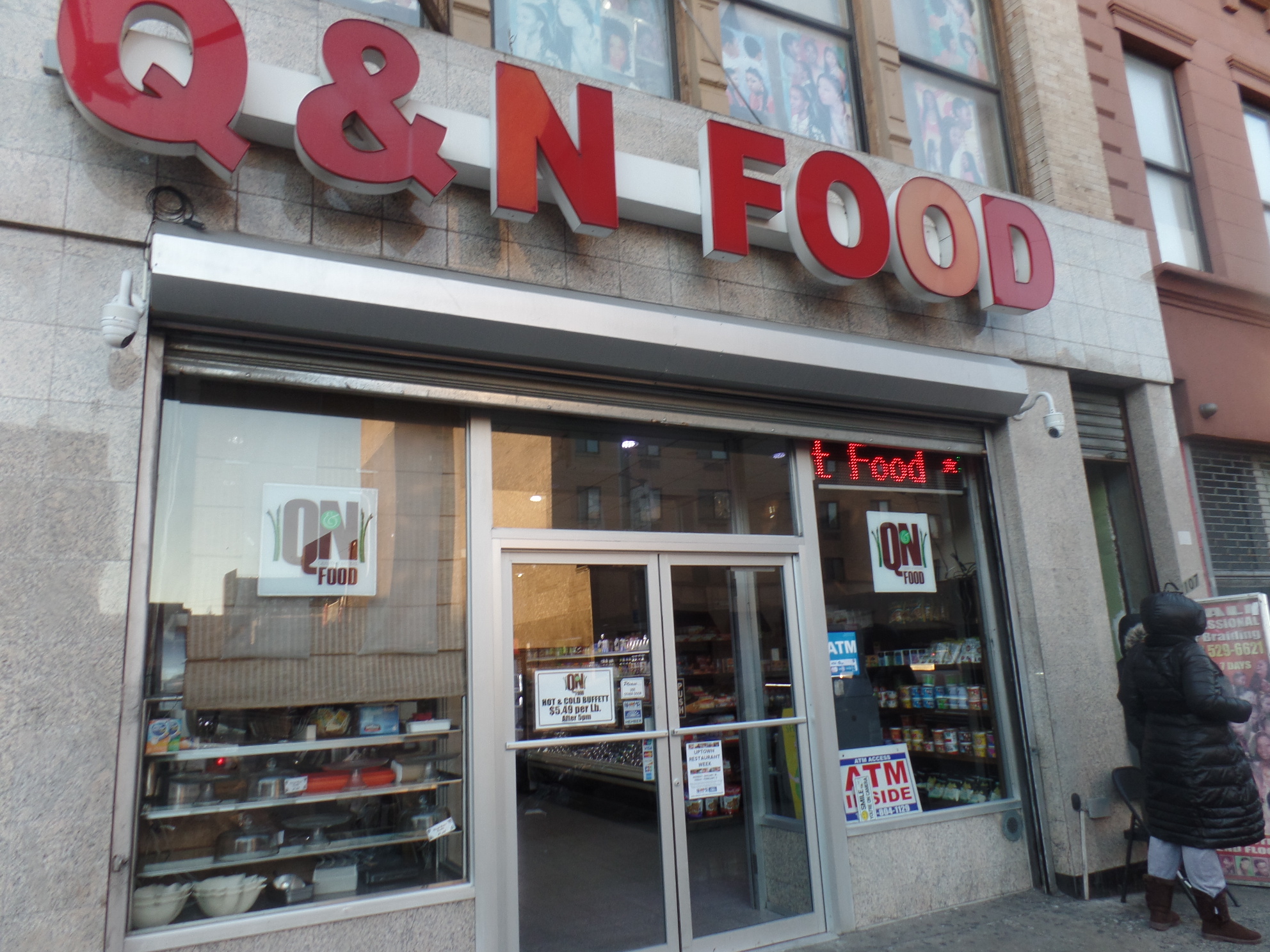 The best kept secret here is that they have mac and cheese that can knock the tastebuds off your tongue-- and that their steam table food is only $5.49 a pound after 5 p.m.

There is a custom salad bar in the back that will get you a big salad for $5.50. They have super-friendly service and classic soul food as well as healthier fare.

The ribs look divine here, and you will also love the generous slabs of homemade layer cake for sale in the back as well as their unique breakfast items. There are 31 lunch sandwiches available for $5.95 to $6.25.
---
8. Lenox Linens (57 East 125th Street)
Don't be turned off by the cardboard boxes outside of Lenox Linens full of pajamas for two bucks and ladies' shoes for five bucks--there are some real gems you can pull out of those things.

[anad2]

Go inside, and you will find a plain, yet well-stocked store with hotel-style sheet sets for $20 and under, colorful large coffee mugs for $2, and even an assortment of well-known men's underwear brands for $4 to $10. This is one of these stores that you simply can't define by what you see out front!
---
9. A Taste of Seafood (59 East 125th Street)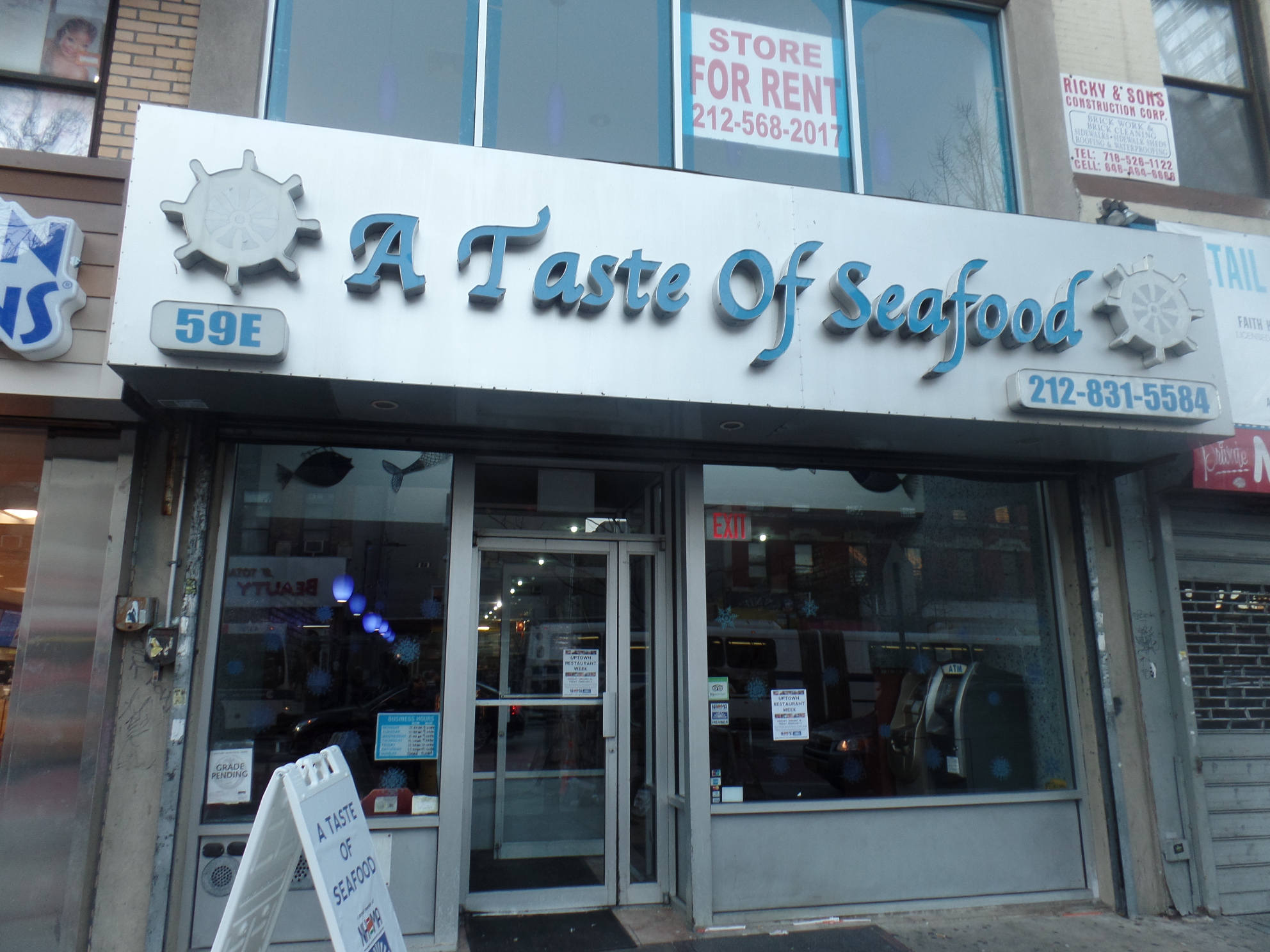 This is possibly Manhattan's cheapest seafood spot with tilapia filet sandwiches for $3. It seems that flounder and whiting are often sold out (they only cost a buck more), so try to get there early for lunch or dinner.

Maryland Blue Crabs are another specialty here and are generally hard to find in The Big Apple, so this is a real "catch!" To see their full menu that has dozens of seafood dishes (all under $10) go to their website. Most fish is fried here but you can ask what they are willing to grill for you.

Check out 8 Best Tourist Attractions in NYC (and the Absolute Best Times to See Them).
[Feature Image Courtesy Instagram]