Swap the scorching city summer heat for perhaps your coolest adventure yet, on a smattering of wild-as-they-get islands. And yes, it will literally be cool. The Faroes are eighteen far-flung dots of savage beauty in the Atlantic Ocean, somewhere between Iceland, Norway, and Scotland, and, 110% worth putting on your travel radar map. With tourism just starting to get bumpin', now is the time to explore this untouched nature before the selfie sticks invade.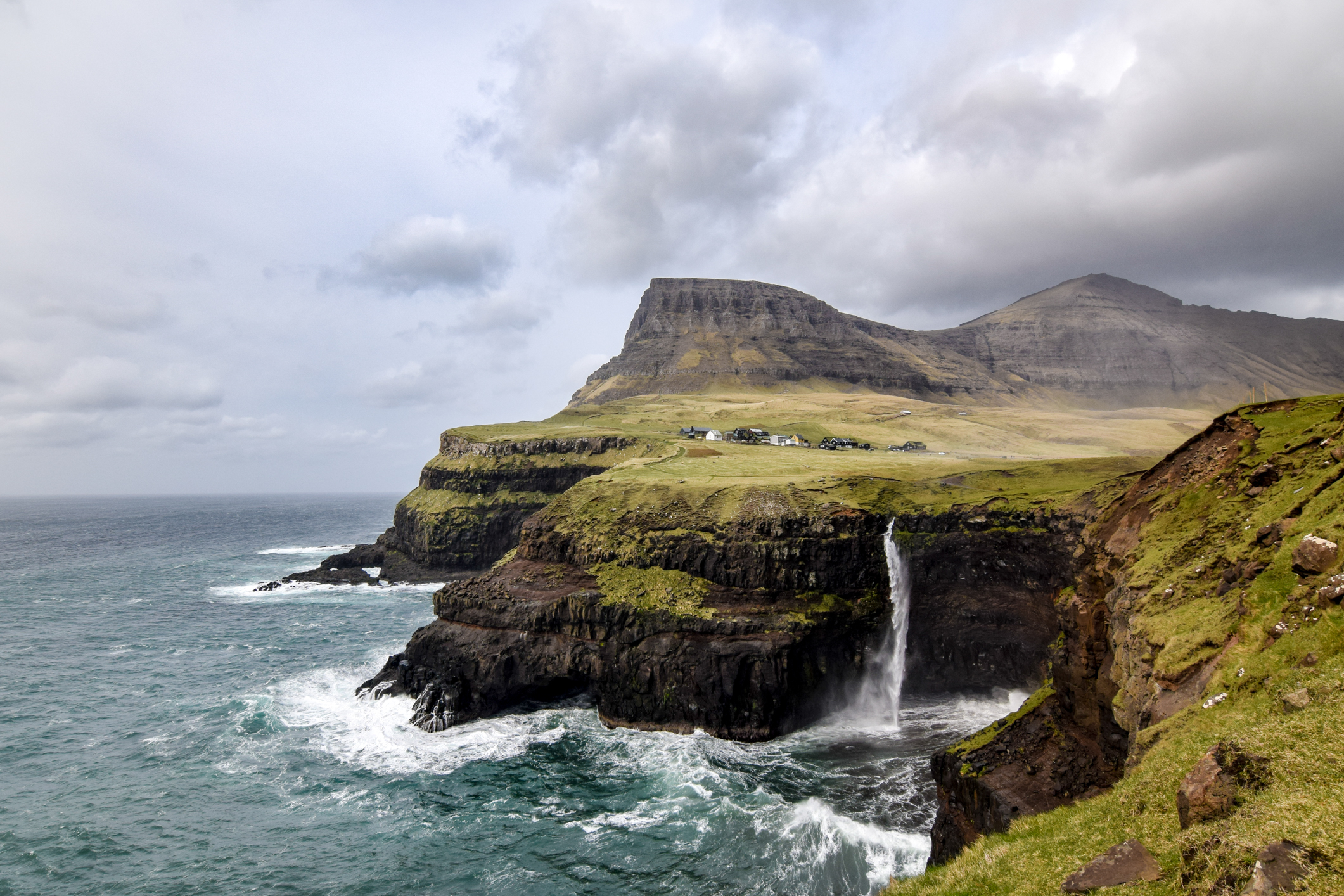 A slice of the magic surrounding these remote Atlantic gems is the lack of tourists. (Sorry, not sorry.) Trade skyscrapers for quaint turf houses, and never-ending horn honking for baa-ing sheep. Be your most free self; let loose, get wild. Your only audience? Judge-y sheep. So, ignite that sense of adventure and let your rigid city schedule fall to the wayside because in the 'Land of Maybes' plans change constantly.
Get Prepped:
The best time to go would be May-early September.
In May, you'll have the pleasure of meeting a gazillion little lambs. Some sassy, some sleepy, ALL adorable.
Weather in the Faroe Islands is as unpredictable as the A train on the weekends but in a profusely better way.

The moodiness only adds to the charm, and although the wind and rain can ascend in a hot second, it can also leave just as quickly. As New Yorkers, we're schooled in unpredictability. It's like this adventure was tailor-made for us. So, when stuffing that suitcase, plan accordingly.

Good waterproof hiking/walking boots are a must, as are a rain jacket, hats, and warm layers.
Get There + Around:
For seemingly the "end of the world," it's surprisingly easy to get to the Faroe Islands. You can fly from NYC to one of three European cities: Reykjavik, Copenhagen, or Edinburgh, and then take Atlantic Airways direct to Vágar, Faroe Islands.
Cars, ferries, and helicopters, oh my.

Where else can you take a heli to another island as casually as you can a ferry boat, and for approximately the same price too?
The Faroes, that's where.
The helicopter rides to neighboring islands are worth it for the mind-blowing scenery alone.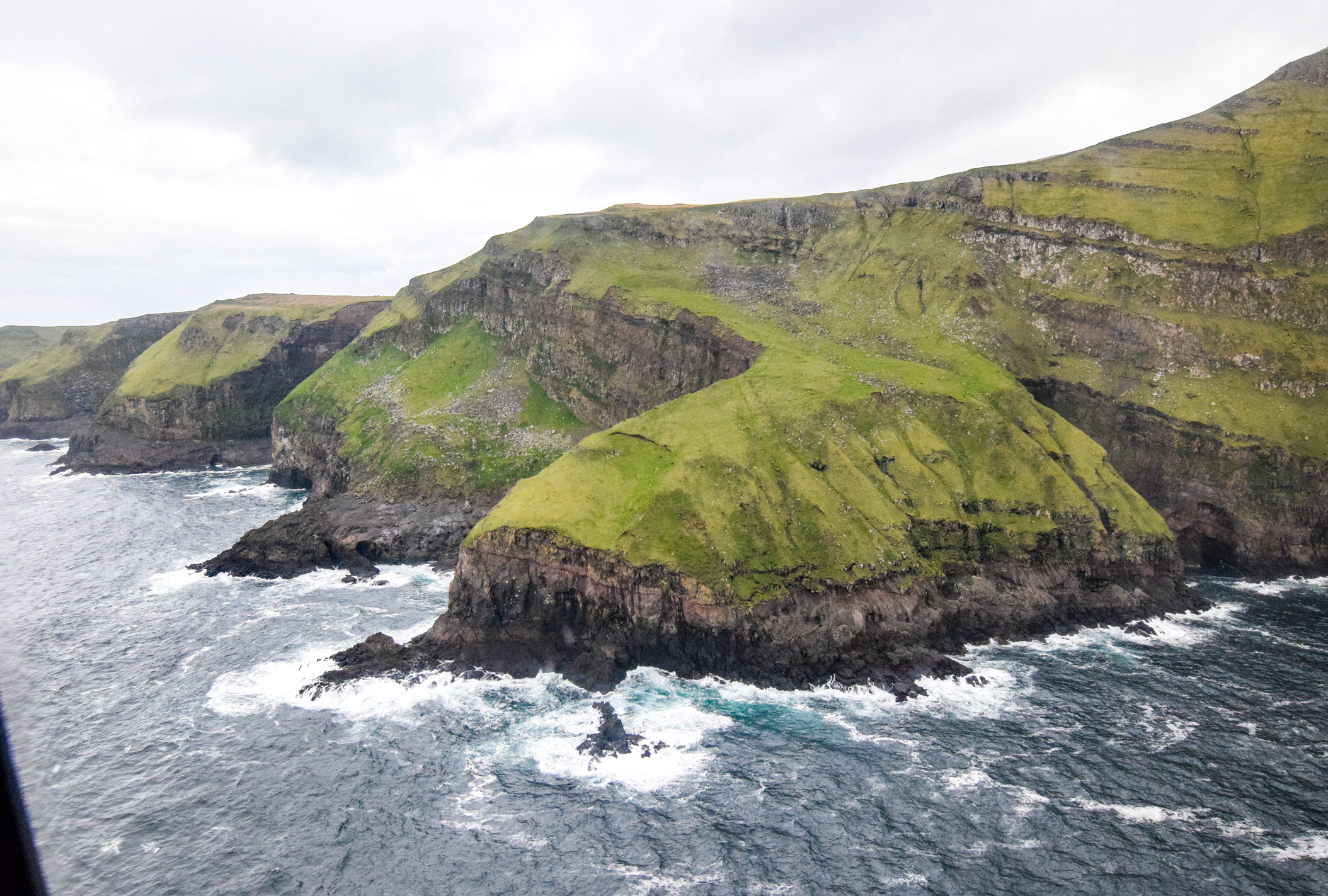 by Lauren Breedlove
For everyday adventuring, you'll need a car, plain and simple. If you want to experience the nooks and crannies of this unbelievable landscape (and you do), renting your wheels is the way to do it. With tunnels and ferries, you can get to a majority of the islands with ease. Weather dependent, of course.
It should be noted that a bulk of us New Yorkers likely don't drive stick, and there's a limited supply of automatic transmission cars available on the islands, so reserve far in advance! Oh, and they drive on the right, like we do, so easy peasy; you know, except for the suicidal sheep that like to nap in the middle of roads.
Get Sleep:
It makes the most sense logistically, to base yourself in the capital city, Tórshavn, on the island of Streymoy. It's about a 40-minute ride from the airport, and a solid platform to explore from.

The "big" city is Nordic chic (if there is such a thing). It's harborside location, with a mix of modern and old world charm. Complete with high-end dining in old-timey turf houses, and even some cobblestones, to boot. Fishing boats bob in the waters skirting colorful waterfront cafes where you'll embrace the chill in the air because look at that view.

Yeah, it's an actual postcard.
Hotel Foroyer is the fanciest, with a breakfast fit for a viking. OH, and the heart waffles, those too.

Perched just above the city, it also gifts ridiculous views.
There are Airbnb and guesthouse options as well, in Tórshavn and dotting the surrounding islands.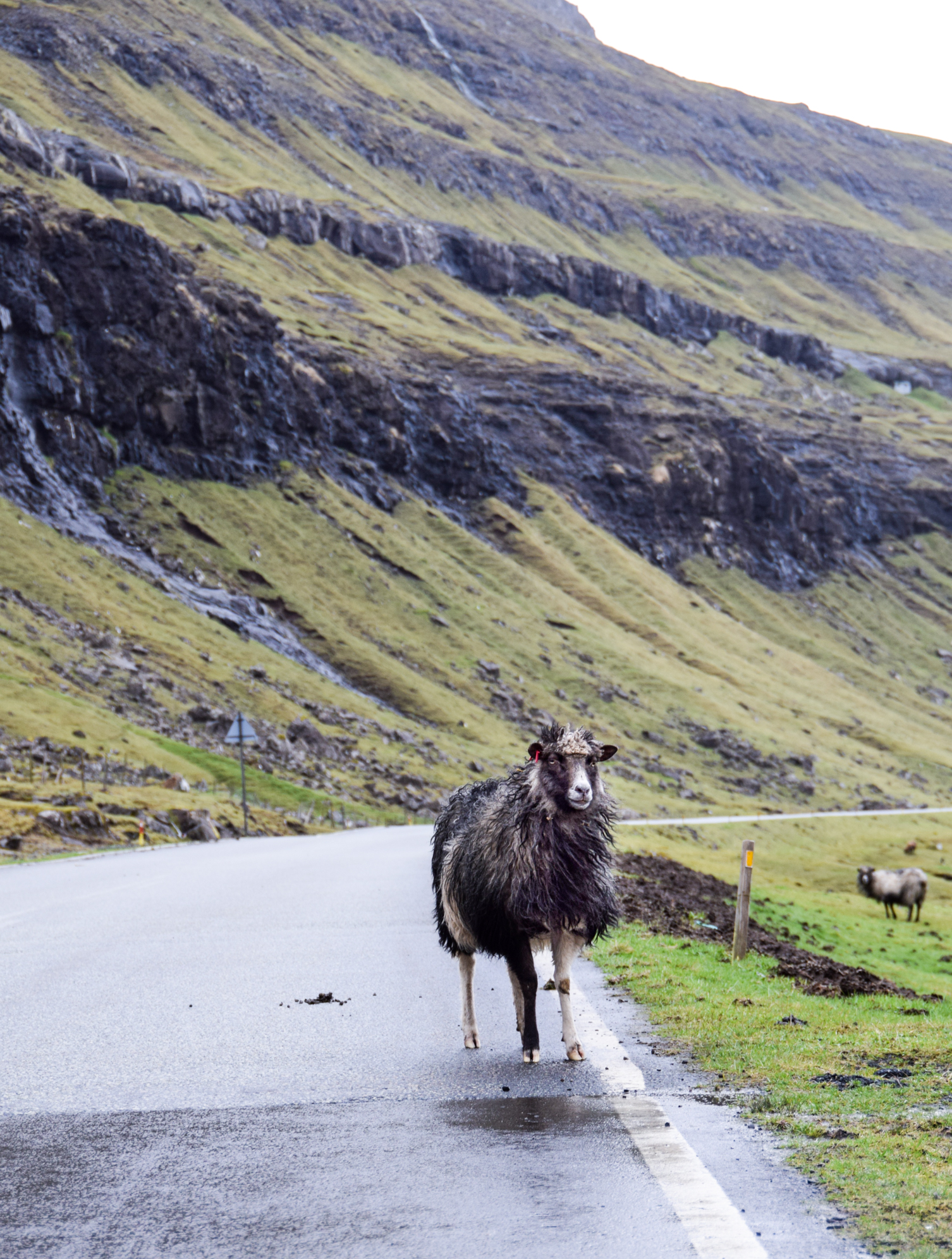 by Lauren Breedlove
Get Food + Drink:
The Nordic countries are not cheap, and the Faroes are no exception. The good news is the gas stations are on point in the snacks department. Hotdogs, delish. Candy? No problem, it's like the Viking version of Dylan's Candy Bar up in there, with an entire wall dedicated to the sweet stuff.
Barbara Fish House: Just because you're tapping into your wild side doesn't mean you can't get fancy pants. If you want authentic Faroese food, with fresher than fresh fish, head to Barbara's- she knows what's up.
Gardahúsid: For a local experience dining within a Faroese family's home called Heimablídni, arrange for this cozy dining delight. The hospitality, authentic experience, and ginormous servings will keep you more than food happy. Fair warning that you'll want an actual ladle to spoon the soup into your mouth. It's THAT good.
Joe Pizza: True adventures can sometimes last 'til the later hours, limiting food options in the islands for sure. This late night pizza stop will feel like a lifesaver for your New York City soul that, let's be real, just doesn't run on regular food hours.
Get Adventure:
The Faroe Islands have bounds of bounty to discover by way of exploration escapades. Just driving around is an adventure in and of itself, with drool-worthy views that will blow, no EXPLODE your mind, your mind.
A few ideas for your 'Faroe Adventures Starter Pack':
Hiking: Hiking with a guide is encouraged, as many of the trails can be difficult to follow, and the weather can change on a dime. Reika Adventures and Hiking.fo are both exceptional companies to work with. Besides being a safe choice, it's the perfect opportunity to hear stories about the history, legends, and local life from an actual resident of the lands.
'Hanging Lake' hike/Lake Sørvágsvatn: Nature's infinity pool where a lake meets the ocean in a jaw-dropping effect.
The 'Postman' trail: Hike from the village of Bøur to Gásadalur along the same route that the Postman used to way back when. The views are put-in-your-pocket good, and you'll end up in the iconic village of Gásadalur (pictured above, first photo), where every Faroe fairytale begins.
Kallur Lighthouse: On Kalsoy island, this trek is accessible by ferry from the village of Klaksvík. It's iconic and wild, and you'll rub your eyes in disbelief.
Mykines: An untouched puffin paradise where you can legit sit next to them. If it's wildlife you like, then this is the mic drop you seek. Getting there is touch and go, as the helicopters and ferries only run certain days + times, and sometimes canceled due to uncooperative weather. Which, also means the chance of getting stuck out there is somewhat a reality but stuck with puffin friends, so, do we even care?
Village Hop: The villages are something you have to see to believe. Other than Gásadalur, Saksun, Vidareidi, and Tjørnuvík are some top choices for your village crawl. That being said, there are plenty of others worth stopping and exploring whilst road tripping around the islands.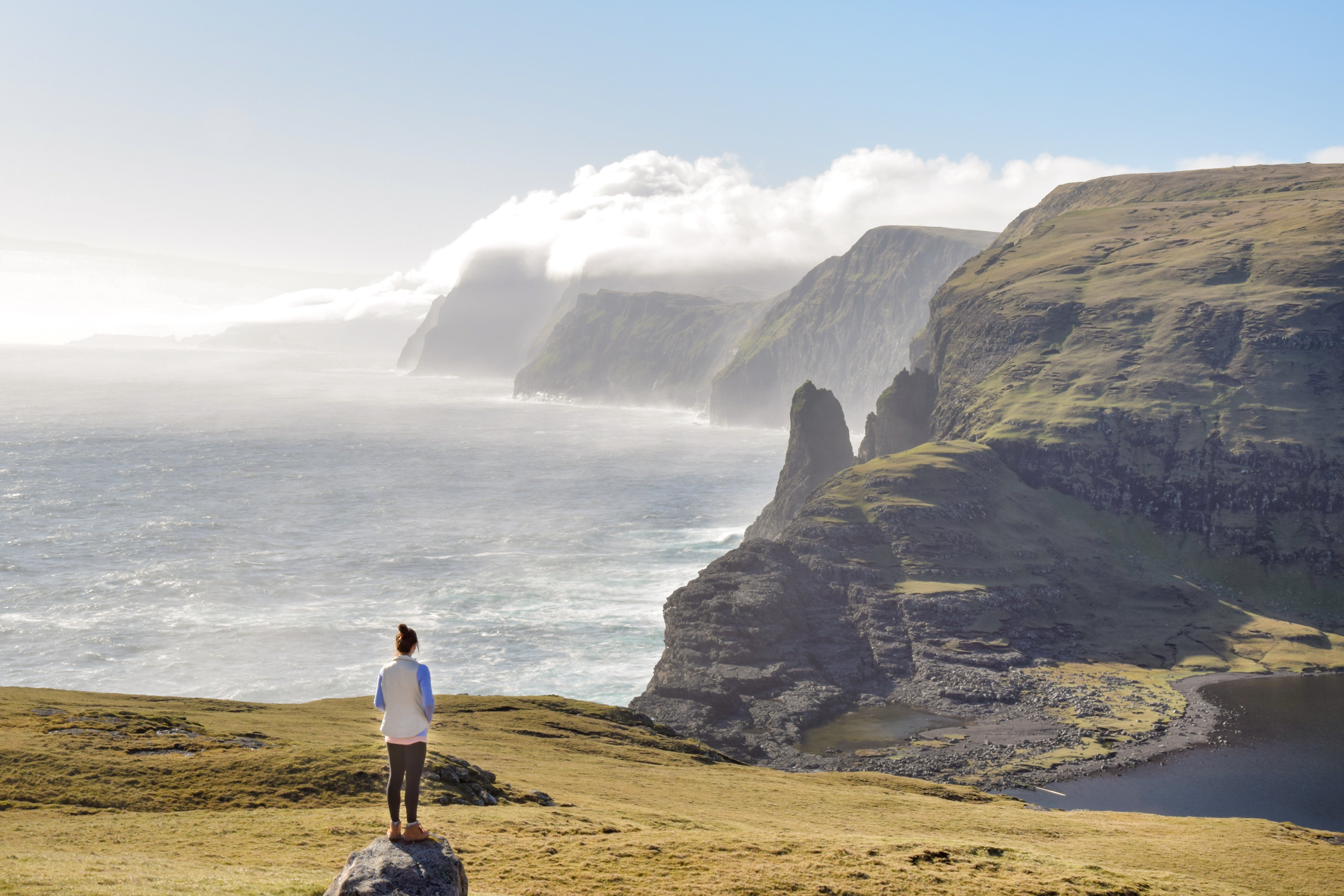 by Lauren Breedlove
Get Sun:
Not a tan, silly. Catch midnight (ish) sunset and be prepared to have your city socks knocked off.

A cocktail of fiery sun, foggy fog, dramatic mountains, and water, water everywhere, will have you feeling buzzed without the alcohol. Driving to the tippy top mountain roads on the island of Streymoy, will reward you with the most mystical of sun tucks you've probably ever EVER seen.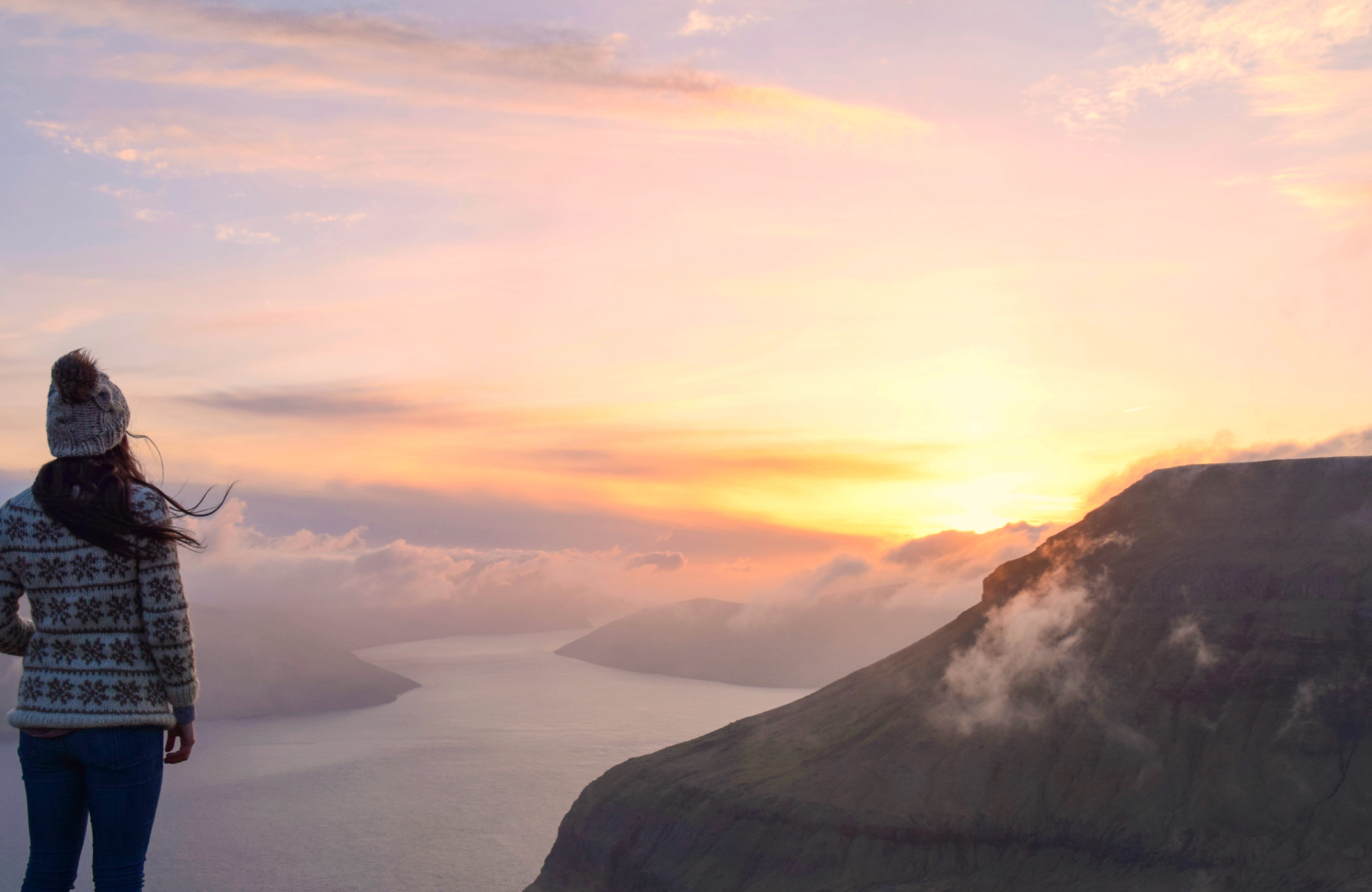 by Lauren Breedlove
Get Local:
Locals are super friendly and bound to regale you with stories of what it's like living in the Faroes, growing up there, and the recent tourism changes. One of the best ways to do this is by experiencing HOYMAbit. These are in-home concerts with homemade, traditional Faroese foods, and mingling with locals. Checking the authentic box like a boss.
Tips:
- Pick up a SIM card at the information office at the airport. It's super helpful to have, and affordable. Despite being remote, cell service in the Faroes is some of the best coverage anywhere in the world. No joke.
- Try the salmon. It's the land of the salmon, so kind definitely of a must. It's melt in your mouth delish and will turn a non-salmon lover into a...you guessed it, salmon lover.
- Load on the rhubarb jam. LOAD. IT. ON.
- Get to the ferries early to secure a spot in the queue. They fill up fast!
- For more information, check out Visit Faroe Islands, or eye candy inspiration via their Instagram.