As the sun set over the blustery streets of the West Village, a magical Saturday night of adventure was bubbling up at Smith & Sinclair's Adult Candy Shop on 66 Greenwich Avenue. Boxes of their famous Alcoholic Cocktail Gummies lined the walls and Bombay Sapphire cocktails, complete with a stripe of edible blue Cocktail Paint, awaited the special guests of the evening.
smithandsinclair GIVEAWAY TIME: Fancy winning a tonne of boozy confections just in time for Christmas? Simply make sure you're following us, comment below who you'd gift these to and like this post. Easy! 👋🏼
A small gaggle of New York's drag performers sashayed into the Adult Candy Shop, led by Cocktails & Contours host Bella Noche, the drag mermaid of New York. The colorful cast, taken with the chic décor and warm atmosphere, immediately gave the room new energy. As they all met Smith & Sinclair CEOs Mel and Emile, as well as the Adult Candy Shop staff, bright blue gin & tonics began floating about the room.
Founded in 2014, Smith & Sinclair developed the first-ever Alcoholic Cocktail Gummies with a mission to make "Adult More Fun." The innovative team of Smith & Sinclair started with humble beginnings, originally selling their confections at adult board game dating nights. Mel and Emile's creations were doing so well at these events that they ditched the board game nights and opened up a small storefront in the Berwick Street Market in Soho, London. Now, five years later, this award-winning business has brought their confectionary creations to New York City.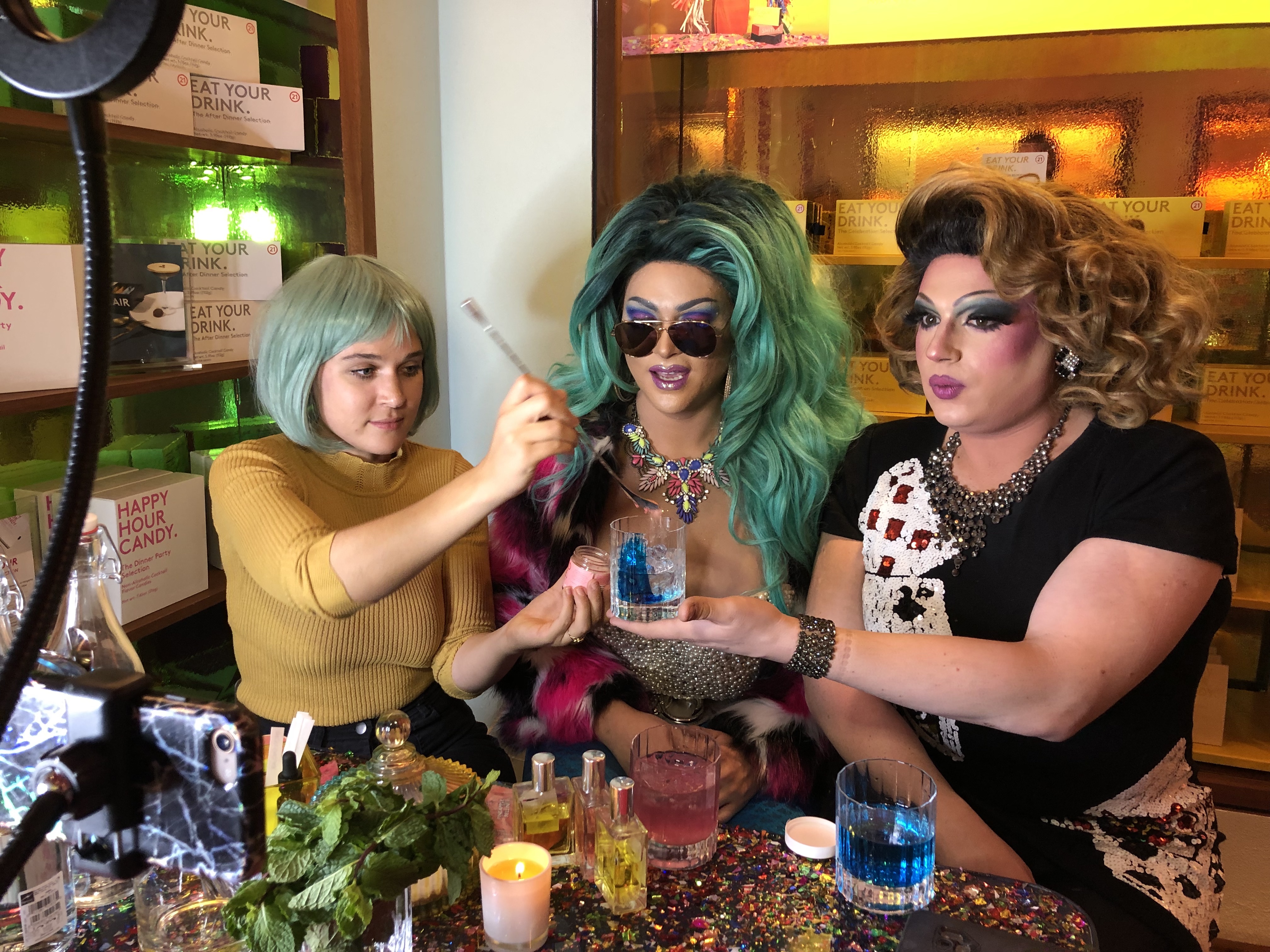 On Saturday, Cocktails & Contours went live on Facebook with Bella Noche, joined by Mel in a matching mermaid blue bob, and the cocktail journey began. Bella & Mel dove into how Smith & Sinclair was created, where the creative ideas for their candy came from, and even some of the science behind perfecting their treats over time since the company's inception in 2014.
Viewers were also treated to some of Smith & Sinclair's sensory experiences, like Alcoholic Cocktail Gummies, Alcoholic Dippers, Cocktail F.I.Z.Z. and Edible Fragrances, as well as YouTube-style first reactions from Bella's guests Avant Garbage, Zalika Parsons, Aria Derci, Makon Mayhem, and Jayse Vegas. From glitter cocktails and inhaling garnish to edible candle wax and a surprise makeover, it was a sugar-coated night to be remembered. You can check out the full Cocktails & Contours episode here.
smithandsinclair This Gin Obsessed Selection box is the perfect treat for that person who has 'Gin O'Clock' pillows or a frame in their living room. That's all we're saying on that.
Sadly, all good things come to an end. And this Sunday, December 22, is the last day before Smith & Sinclair packs up shop (but will still be available online on their website and at Neiman Marcus and Paper Source!)

There's still time to pop in to try and take home some of the shops' delights. You can get your hands on their many creations like their Alcoholic Cocktail Gummies, Cocktail F.I.Z.Z. and Edible Glitter Dust. It's a sensory experience that both entertains as well as educates!
You can also order your own alcohol-infused treats on their website. Order now and you'll get a FREE Happy Hour Party Grab Bag of Gummies worth $10, when you spend $60+. Use code PARTY2019 at checkout here.