Discover more like this at www.perlamente.com

Per La Mente—for the mind has been created by Fernet Branca to expand your ideas about what's possible by being the source of discovery into the universe of creative experiences. We're endlessly curious about underground, experiential, and elusive culture, as well as the artists who make and love it. We want to share it all with you. We seek a spark of mystery, a hint of eccentricity, a dash of staggering originality, and a tinge of chaotic genius. Think of www.perlamente.com as the storyteller, the enabler — your conduit to the path less traveled. So open your mind and join us for some splendid adventures like the one we have brought forth here.
---
Contrary to what many might have you believe, New York's art scene is not dead. Despite the city's skyrocketing prices and the extreme difficulty of obtaining enough space to work in, there are visionaries who don't see the obstacles, opting instead to follow their hearts and just make it work.
The struggle of finding ways to pay rent while also creating something beautiful to share with others is a familiar tale, but when artists and friends come together to make the dream a reality — defining their own career path while making a dent in Brooklyn culture, and inspiring others around the world — it's kind of a big deal.

At a wide array of Brooklyn art events, some elements of the décor are particularly eye-catching: stunning large-scale pieces cut out into shapes of animals, heads, and florals with psychedelic flare that serve as a backdrop to colorful projection-mapping patterns. These art pieces are truly unique, yet they all share a familiar aesthetic. That's because they are all imagined, designed, and programmed by RhizomeNYC.

The word "rhizome" means: putting down roots underground to grow new plants elsewhere without having to plant seeds.
RhizomeNYC is an art collective that has beaten the odds: they have a vision, they work hard, they share their art and collaborate with other artists every chance they get, and now they've made a name for themselves in a community battling the norm.
Photos by Brittany NO FOMO
They've designed stages at BangOn!NYC's Elements Festivals that were graced by artists like Shpongle and Tipper, mapped out visuals for Griz, and helped do projection mapping at festivals like Envision in Costa Rica and Oregon Eclipse, just to name a few of their accomplishments. These dreamers have crafted a visual identity and a unique creative offering in Brooklyn that is now expanding throughout the world.

It all started with three friends from Pratt Institute playing to each other's strengths. When one was offered a gig in 2015 and called upon the other two to help pull it off in his backyard, the team was officially made. RhizomeNYC is Oliver Allaux, with an architecture and 3D-modeling background; Caleb Olsen, who went to school for photography and has become the master of all things production; and Thaddeus Echeverria, whose skills include fine art, painting, and 3D modeling.
They all balanced their nine-to-five jobs and other hustles while unexpectedly launching their trio. "Oliver definitely thinks about where and how we get out the message," Echeverria says admiringly. "Caleb cares about the specifics of how it gets done. And I'm always worried about what that message is. Good trio. Balances well."

Photos by Brittany NO FOMO
As artists in a dynamic and innovative city that never sleeps, the inspiration to start their work in large-scale art structures was all around them. Allaux's mind was opened up to a world of possibilities from his experience at Burning Man. Looking for that artistic expression actively for years in New York, the trio eventually found events thrown by Thunder Gumbo that had similar elements of art, music, and spontaneous presentations of both, and the idea to offer interactive art of their own started to percolate.

"We ran around with a projector and a laptop, projecting art onto people on the dance floor," Olsen says, laughing. That nightlife culture of immersive art parties in DIY venues like Glasslands and Death by Audio (both since closed), with their welcoming communities that encouraged everyone to participate in the fun, was all these experimenters needed to solidify the idea of turning what they did into an actual event offering.
"We saw not necessarily a need, but a vacancy in the scene for art at this scale, especially for projection mapping… We created our own niche that didn't exist before." —Oliver Allaux
With their eyes set on the vision to create large-scale art structures, they crafted the stages at Gratitude Migration Festival in 2015 as their first official RhizomeNYC project. Four months later, they built art structures and worked Disorient, Chromed, and iFeel all in one weekend. An ambitious way to kick off their new endeavor!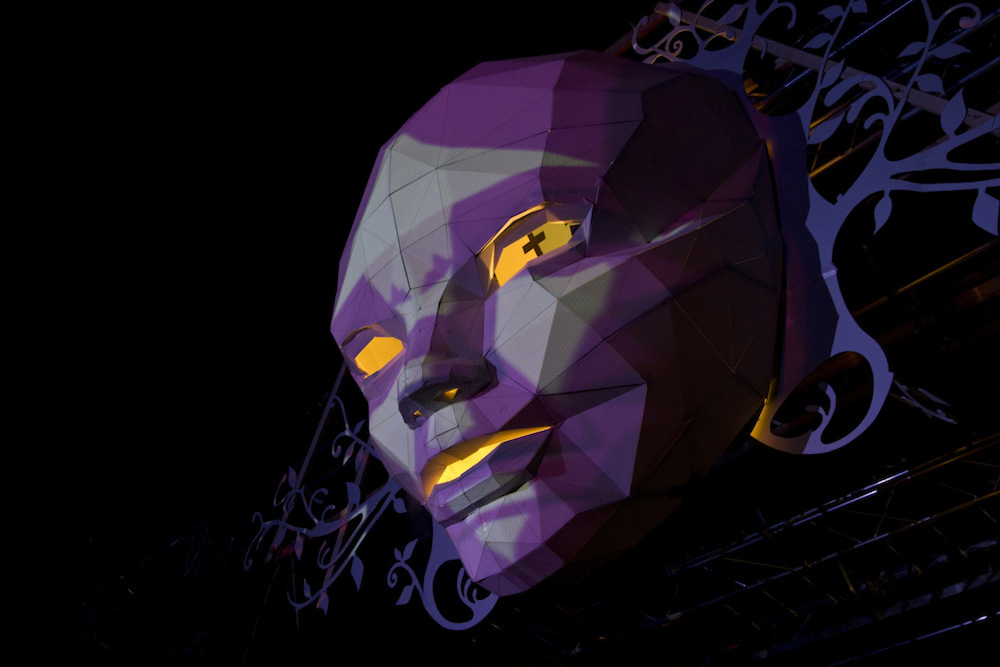 Photos by Brittany NO FOMO
"I think that was the moment when we were like, 'Wow, we can pull this off!'" Olsen reflects. "At that point, I wasn't even going to these parties, let alone working them. So it was definitely a shock to go from my daytime corporate job right into full-on working in the Brooklyn nightlife scene in a matter of basically a weekend!" Inspired by his peers and the community, Olsen and the RhizomeNYC team jumped right into the swing of 140-hour workweeks, bringing their sketches to life.

"All these crews that were doing semi-illegal art events are now running New York City nightlife culture, and the whole city is behind it. We're creating careers that didn't exist before, out of our imagination, pretty much. Doing the thing that everyone said was impossible." —Allaux
The artwork, the story, and the teamwork are all wonderful elements of why RhizomeNYC is making its mark on Brooklyn culture. But what's even more beautiful than their structures and designs is the impact they are leaving on other communities and visions for the future.

With that core value and mission, RhizomeNYC has invited curious people in the field to work alongside them, and they encourage others to learn their craft. At a festival, they will take someone asking questions about their setup under their wing to learn the basics. When they see another team of people crafting stages or doing projection art, like Zebbler Studios from Boston, they don't view them as a competitor, but instead strike up a conversation about how they can work together.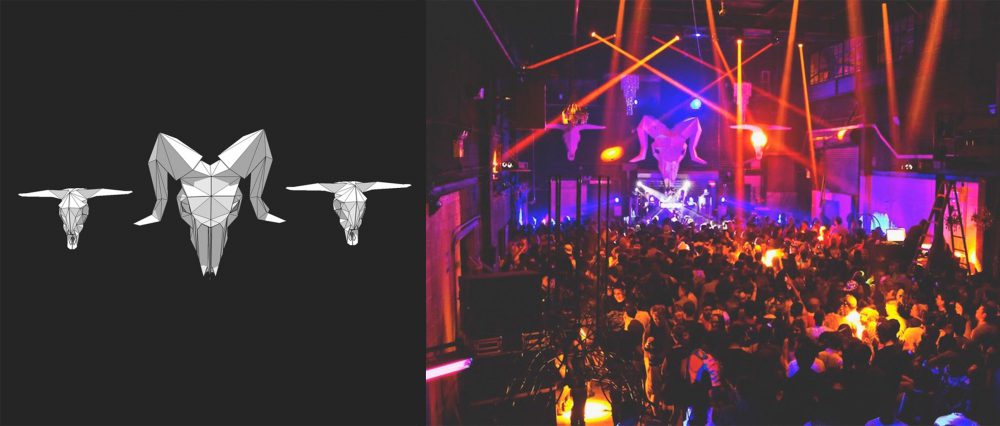 Photos by Brittany NO FOMO
That thinking led the team to exchange knowledge with locals and other artists all over South America, during festivals like Cosmic Convergence in Guatemala and Envision in Costa Rica. They are even talking about teaming up with other artist collectives to bring art programming to NYC schools. Artistic ability plus a passion for sharing art to open people's minds is what keeps this team creating, traveling, and growing.

Some may view this kind of nightlife as a form of escapism or not a "real" career, but RhizomeNYC sees it as a "real paradigm shift" that they are thankful to be a part of. The next step is to ensure that others outside of this scene know about what's brewing in the community and its endless benefits and possibilities.

"The scene is sort of in its own feedback loop," Allaux explains. "It's a little oversaturated. The goal is to bring this large-scale art, music, lifestyle, and culture to the public at large, to people who have never seen this before. To the people in small-town America, people who really need to hear the message. A lot of the country and a lot of the world has never gotten it.

It's pretty hard for a lot of this country to live day by day, so I think a good way to start new conversations, to help with depression, to help with the general media overload is by just shaking your day-to-day with art, with music, with something you weren't expecting. Just that little shift can be a rabbit hole for you to restructure your life if you follow it. That's true activism for me: spreading art, love, and all the good things we know to be true, that others might not know of yet."

For RhizomeNYC, it's really hard to go back to a more average lifestyle after seeing what's possible… and we hope they never do.
---
Author Credit: Brittany NO FOMO
Photography Credit: Brittany Halberg