Care for a string pull? New Year's resolutions may kick a lot of our vices to the side, but rest assured pizza will not be one of them! New Yorkers can't get enough of cheesy, crispy, doughy slices and how can we in a city full of endless options? Since we're in this together, we've compiled a list of pizza joints serving up must-try pies for the new year whether you're in Brooklyn or Manhattan!
Michael Ayoub, the chef who launched Fornino in 2004, is credited with starting the artisanal pizza boom in New York City. Their emphasis on innovation, sustainability, appropriate fermentation, and their historically exploratory menu, which features First Generation - Neapolitan, Second Generation - Regional Italian, and Third Generation - Original Fornino pizza varieties, have helped them stand out. Favorites like their Cosenza Pie, prepared in a wood-burning oven with N'Duja, butternut squash, fontina, burrata, oregano, and spicy honey, is one of the signatures offered at all three Brooklyn locations, including their flagship in Greenpoint (849 Manhattan Ave.), a seasonally open spot at Brooklyn Bridge Park's Pier 6, and a year-round spot at Time Out Market New York (55 Water Street).
L'Antica Pizzeria da Michele (2 Bank Street)

When the moon hits your eye like a big pizza pie, that's amore! A historic Naples pizzeria has spawned a branch called L'Antica Pizzeria da Michele at the junction of Greenwich Avenue and 2 Bank Street in the West Village. With the exception of being much closer to home, the pizza menu and Neapolitan pie style at the original da Michele are identical to those found in Italy. Hungry tummies will be able to binge on an insane 15-inch pie, bigger than the Naples original and visibly cheesier.

Zazzy's Pizza offers a wide variety of pizza, plant-based appetizers, a choice of parms, and delectable desserts at its locations in the West Village (73 Greenwich Ave.), Upper East Side (1477 2nd Ave.), and Lower East Side (173 Orchard St.). In order to dish out their show-stopping pies, renowned by both meat eaters and plant-based foodies, Master Chef James Whelen seeks out the greatest combinations of mindful and fresh ingredients. Check out their legendary Vodka Pie or popularized Vegan cheese pizza, viral in the foodie community. This is also the spot for those in desperate need of an indulgent gluten-free pie!

Pizza & Shakes (209 W 57th St)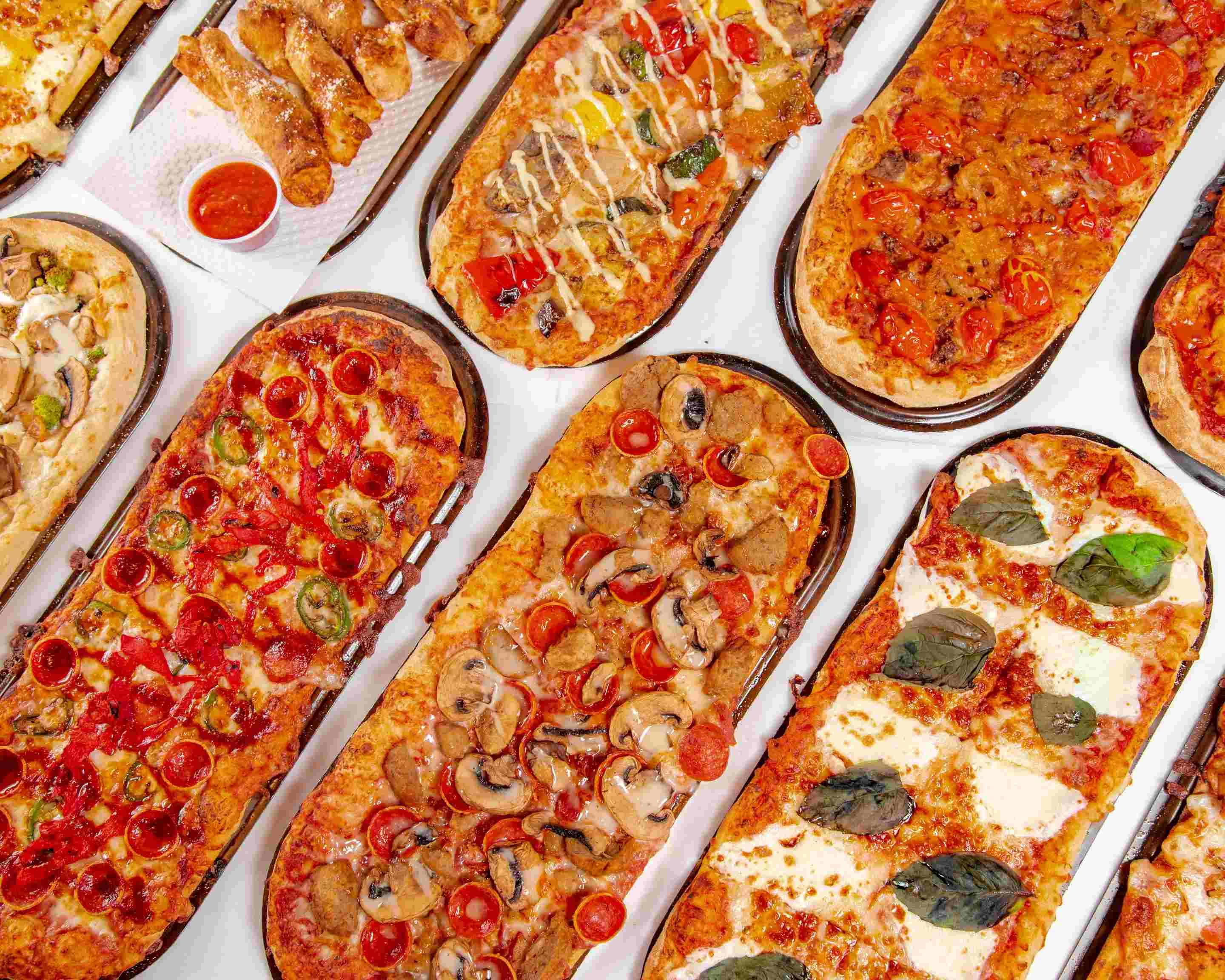 Pizza & Shakes, the top tier destination for all your pizza, milkshake, and gelato needs offers the perfect decadent boost to kickstart your weekend or wrap up a long day. The restaurant offers high-quality pies in one size and at one set price, all with vibrant and exciting toppings. Diners can choose from one of the chef's speciality pizzas, such as the Powerhouse, which is topped with feta, goat cheese, chicken, broccoli, mushrooms, and garlic parmesan sauce, or you can go crazy and create your own.

Ainslie, which recently opened a 20,000-square-foot location at 199 Bowery on the Lower East Side, continues to be a Williamsburg neighborhood staple as a result of its successful flagship site at 76 Ainslie Street. Its delightful interior shines with warm lighting, wood finishes, and interactive games throughout. The kitchen, run by Executive Chef John DeLucie, offers a variety of wood-fired pizzas, including the Boscaiola, which is topped with pancetta, mushrooms, fresh mozzarella, and truffle oil. The menu is full of Italian classics like lasagna and more for every craving.