Welcome to Real Couples of New York, where we will introduce you to the likes of that mythical creature we've glimpsed on the subway: a couple who found love (or something like it) in New York City. These couples prove that dating in NYC is indeed possible, and you never know when or how you might meet the person you've been dreaming about splitting Seamless orders with since you moved here.
It took them a month to meet up IRL, but then they sped things up: one month later, they were official, and they moved in together less than a year after that. "Lesbians move fast!" Melanie jokes.
Meet Melanie and Beks, who enjoy cheese and The Bachelorette. They had their first date at a bar that is closed (miss you, Common Ground) and a restaurant that burned down (RIP, Pomme Frites).
They wore onesies together on their first date and more than two years later, they still are. More than lovers, they're best friends.
It's a tale as old as time...or at least as old as Tinder.
---
HOW THEY MET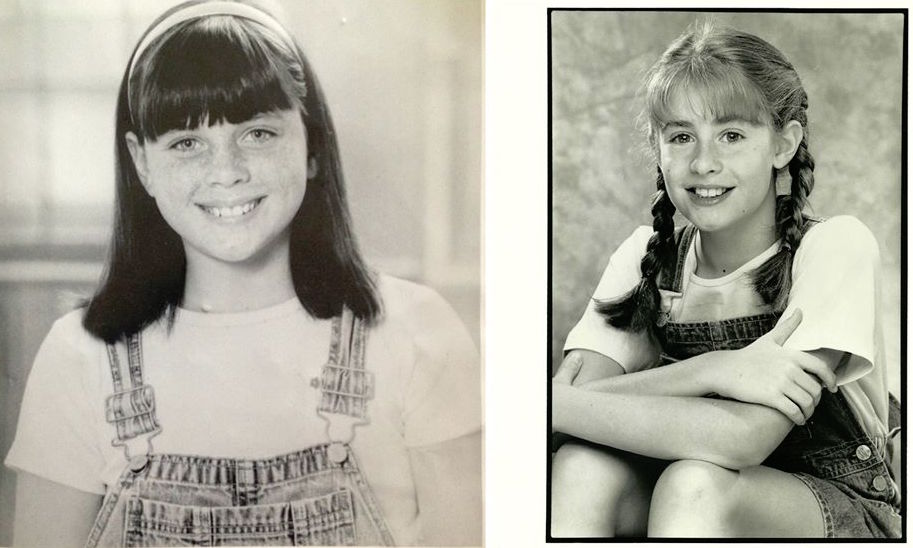 Two years and change later, neither one remembers which direction you're supposed to swipe when you like someone ("Right!" I helpfully supply), but they actually met each other on Tinder. "I feel so far removed from Tinder in this relationship," Melanie says. "The only time I think about how we met is when someone asks how we met."
There's also another adorable explanation: they probably met as children. The two discovered that they were both professional child actors in New York during the same time frame, with the same agent, same singing teacher, and same acting teacher—their headshots are even styled identically with overalls and bangs.
As adults, the dating app helpfully displayed a strong mutual friend between them, so both felt more comfortable swiping right. Melanie expected Beks to reach out first, but after a few days of silence, she plucked up enough courage (aka drank enough wine) to send the first message herself. They haven't stopped talking since.
---
HOW THEY DTR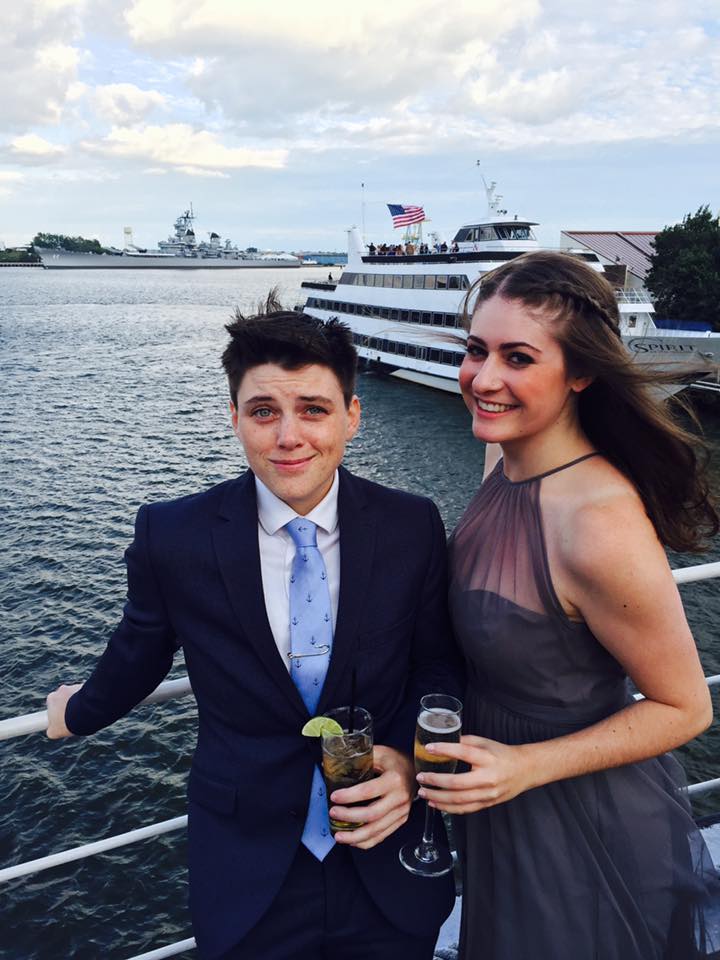 They talked for a solid month before meeting IRL. "It took novels that were written via text," Beks says. "I had to clear out photos and other conversations in my phone to make storage." Though neither told the other, both of them were still involved with other people at the time.
Plans for their first date fell through last minute due to complications with those other people. Fortunately Melanie had a wonderful and extremely supportive coworker (ahem, it was me) to drink too many margaritas with instead. They rescheduled, but weren't sure what would come of it. "We were both not necessarily in the right headspace to see each other, but we did it anyway," Melanie admits.
Their first date was a success—they showed up to trivia night with every intention of playing but ended up too distracted by conversation to join in the game—but the morning after they slept in onesies together was too awkward for either to be sure it would move forward. After returning to their roots of novel-length text messages and Kristen Wiig GIFs and going on a few more dates over the next month, though, it was clearly going somewhere.
"I was happy more than I was unhappy," Beks explains simply. "I wasn't liking the time we were spending together, I was loving it." Both of them realized this relationship was better than either of the things they were still entangled in, so they decided to leave those things behind and make a conscious choice to be together.
Which, I might add, happened at the bar during my half-birthday celebration (Yes, I do celebrate my half-birthday, try and @ me).
---
OUTLOOK ON DATING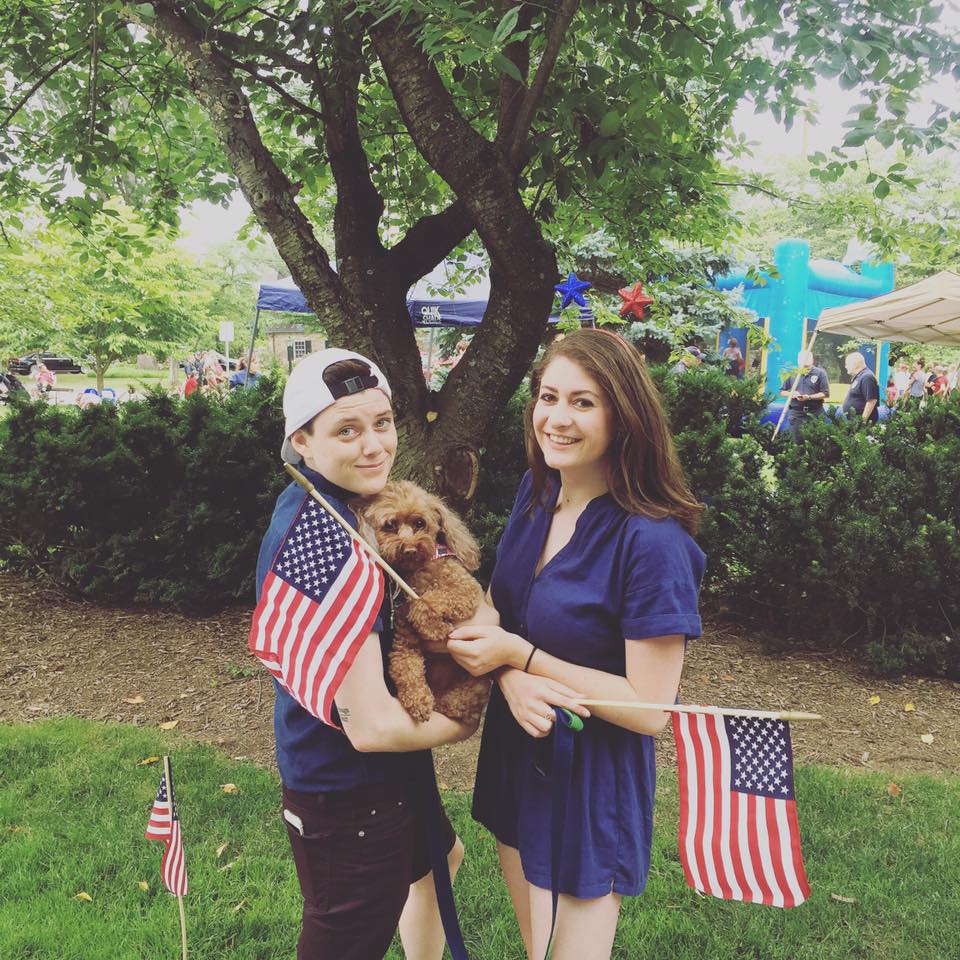 Although they hardly remember their Tinder beginnings, neither is embarrassed by it. "We're of the tech age, we should be advocates of it," Beks says of online dating. "You can meet people behind a screen but that doesn't mean you have to always hide behind that screen."
Both suggest doing due diligence when it comes to online dating. They each checked in with the mutual friend before meeting up for some background information and to avoid a catfish scenario. They also recommend going into it with an open mind. "Our mindset going into it was I could have been looking for a friend or I could be looking for a relationship," Beks says. "I don't want to be cheesy to say this, but I got both."
Although they know how easy it is to feel lonely in the city and turn to dating apps for comfort, they stress the importance of having a friend group too, to be there to help you ride out the ups and downs of dating and being in a relationship. "It's amazing we feel we're both friends and lovers," Melanie says, "but the longer you date, you realize your partner is not everything you need; it's important to recognize your partner is not everything."
When going the online route, don't expect the apps to do the work for you. "I think that since we live in a world where everything is on demand and it makes things easier for us—i.e. ordering groceries or streaming movies right away—it leads people to think that just because you have a dating app, it should make things easier," Beks says. "But it doesn't. It still means you'll have to work for it, sometimes harder than you expected."

Don't be afraid to make the first move. Although they were a match, they were both nervous about messaging, even though they were interested. "To this day I'm fairly certain if I hadn't made the first move we might not be sitting here," Melanie says. And that would have been a tragedy, indeed.
Once in a relationship, they stress the importance of time apart. After they enjoy their morning together watching the Today show and eating breakfast ("We feel 80 years old but it's the best part of the day," Melanie admits) they try to wait until 2pm to text one another from work. "It's so important to miss each other," Melanie says.
---
ADVICE FOR SINGLES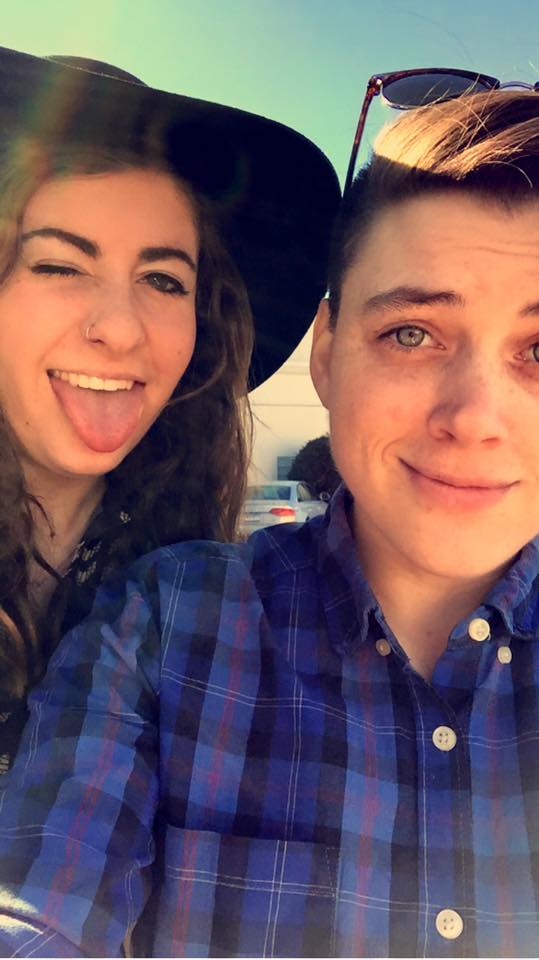 To sum it up: "I would say try everything," Melanie says. She never expected to meet someone online, but she recognizes that there are a lot of options nowadays and no way of meeting is better than another.
Beks reminds single people to take risks. "Never have your mind made up about what you want out of a relationship from the get go. I thought maybe this would be a one or two night stand." They admit because of past complicated relationships, they weren't their best selves when they made it official and didn't know what to expect out of the new relationship. Two years and two apartments later, they're going strong.
And don't get discouraged by dating in NYC. "There are so many people in this city," Beks says. "There are five boroughs filled with tons of people—plus people who commute from Jersey (and Connecticut! Melanie interjects). There are so many backgrounds, there is something for everybody."
My personal takeaway: Make the first move. And always celebrate half-birthdays.
[Feature Image Courtesy Meredith Hirt]