This Valentine's Day is going to be as warm as our frosted, cynical hearts.
And by warm, we mean potentially record-breaking cold... the kind of cold that takes your breath away when you step outside.
New York City is expected to freeze over this weekend, with a Polar Vortex ushering in temperatures with highs in the low 20's.
Yeah, you read that right. Saturday is expected to reach a high of 20˚F, and that's during the day. Sunday's temps are slightly higher, with highs of 22˚F.
If you're heading out to party at night, make sure to bring a coat. An outfit lasts a night, but pneumonia lasts for weeks...
NYC is look at temperatures in the single digits (4˚F) on Saturday night. Sunday is only supposed to drop to 14˚F. Only.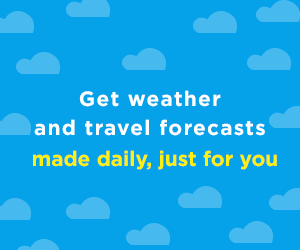 These numbers will be toying with the record books.
The beginning of the week won't offer too much relief. Although the temperatures are expected to rise to the mid-30's, we're expecting a combination of snow, sleet, and freezing rain to start our work week.
We're hoping this will keep the outdoor PDA to a minimum due to the fact that couples tongues could freeze together from a brief make out sesh. Then again, we're going to be too cold and bundled up to notice.
[anad]
Just do us (and yourselves) a favor: keep the clothes on until you reach the warmth of your own bedrooms, mmkay?
As for the weather, stay up to date with any and everything you need to know about the weather with the Poncho weather app. You can use Poncho as your morning alarm, or simply as the last thing you check before you leave the office. Download the Poncho app here.
Check out NYC Didn't Make the List of Most Romantic Cities in the U.S.
[via Time Out]
[Feature Image Courtesy AccuWeather]