New York City has been the setting for countless revolutions in music history-- from jazz, to punk, up through hip hop-- and we see it in the iconic photos and dramatizations of the times.
One such revolutionary era was the 1970s. New energies were flowing around the City, visible in Martin Scorcese and Mick Jagger's HBO seriesVinyl, which follows NYC's evolving musical landscape and the blow-fueled industry drama wrapped around it.
I had the pleasure of sitting down with legendary rock and roll photographer Bob Gruen, who got his start in the mid-60s scoring his first photo pass for the 1965 Newport Folk Festival. Little did he know that he'd only be feet away from Bob Dylan playing his first electric set just days after the release of, "Like a Rolling Stone," before most of the world had heard his new sound.
By the 70s Bob Gruen was working with giants like John Lennon, The Rolling Stones, KISS, and Black Sabbath while also covering the burgeoning punk and glam scenes around bands like The New York Dolls, The Ramones, and Blondie.
I spoke with Bob at his West Village apartment where books outnumber people about a million to one. It was something like a conversation with a rock and roll Yoda.
We began talking about French mosaic graffiti artist Invader (of whom Bob is a big fan) before getting into the nitty gritty.
Bob is a wealth of knowledge and experience, but primarily he seems to be a punk zen master.
[anad]
The moral of all his stories emphasizes doing it yourself without too much planning. He admitted, "Most of my sessions, I show up not really having a clue what we're going to do."
But this isn't an admission of ineptitude, this is a submission to the subject he's photographing.
And when it comes to shooting Led Zeppelin at JFK in front of their cataclysmically huge jet, "The Starship," or The Ramones on the subway, it's a plan that always works: almost, basically, no plan.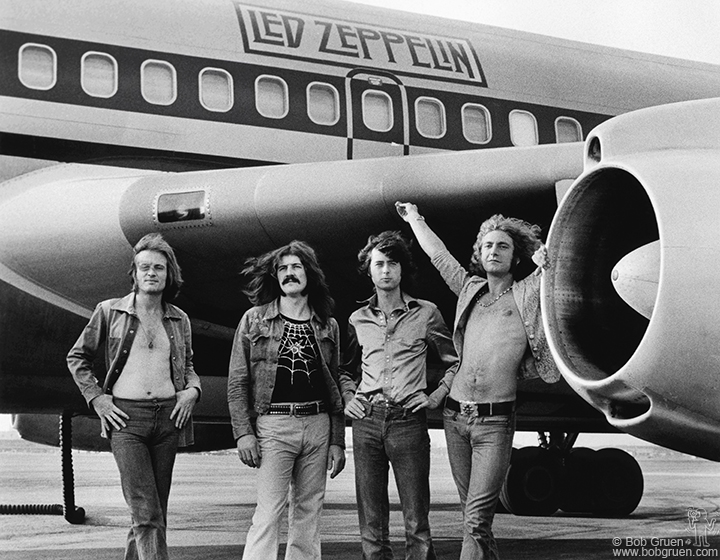 Led Zeppelin posing in front of "The Starship" Boeing 720B, 1973 via Bob Gruen
"For me it's about the people in the picture and the background is just something that supports what they look like, supports being able to view them."

Just shoot the band in their natural habitat. Go with the flow, and when an opportunity arises, seize it.
This was most definitely the case when Bob regaled me with the story of snapping The Clash atop 30 Rockefeller Plaza just after taping The Tomorrow Show with Tom Snyder in 1981.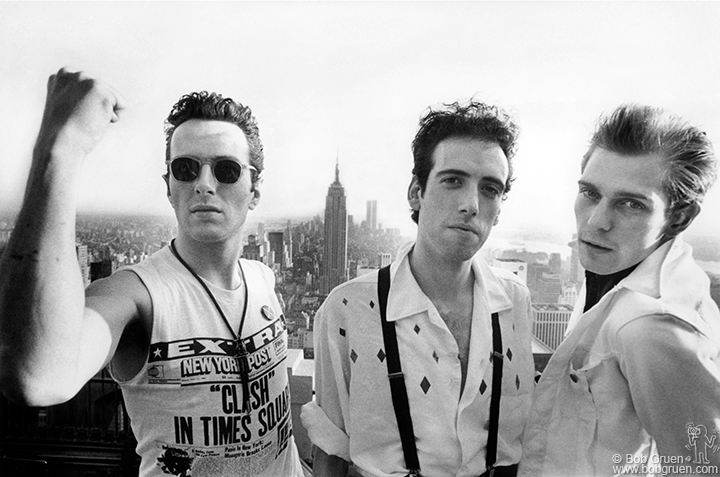 The Clash atop 30 Rockerfeller Plaza, 1981. (Via Bob Gruen)
It's almost unbelievable that such an epic shot was spur of the moment. It wasn't planned out-- that's just where they happened to be, but Bob's photographic intuition led them to the roof.

"Most of my pictures are not planned. Nowadays you'd have to have an art director and an assistant scour the neighborhood, make notes, and go and have a corporate meeting to decide exactly what angle and spot to shoot at."

Knowing that the Empire State Building and the World Trade Center were visible from the Top of the Rock, Gruen sought to convince the band it was the best view of NYC and that they should take a photo as they were in the elevator leaving the taping.
Bob remembered with a laugh, "Joe [Strummer] said, 'Yeah listen to him, he knows what he's talking about!' Topper [Headon, addicted to heroin at the time] unfortunately had some business to take care of down on the Lower East Side, so he wasn't in the picture."
It was as simple as that.
"We did a series of pictures, it probably took ten minutes at the most.
Nowadays you'd probably have to email for a couple of months before you receive absolutely no permission whatsoever. Back then we didn't ask permission. We just went there like three English tourists.
About a decade before that, Gruen shot a young Black Sabbath sitting in the grass in Central Park. It was their first time in America, and they'd just come from a press conference.
But true to Black Sabbath form, it wasn't a usual conference.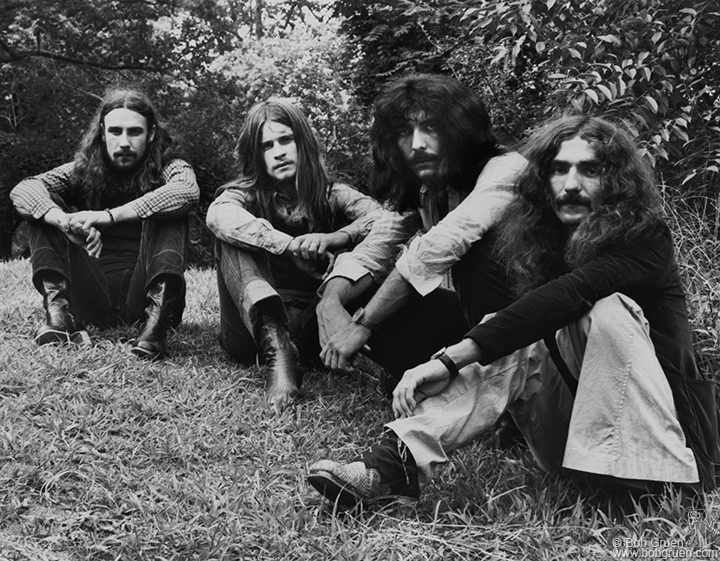 Black Sabbath relaxing in South West Central Park, 1971. (Via Bob Gruen)
"They had a press conference in The Sanctuary, which was a disco in a church on 43rd Street. It was a gay disco, so it was basically secret. It didn't start until 10 or 11 at night, and it was in a deserted area west of Times Square. It was actually a very good disco, very free in there..."
After the press conference, Gruen and Sabbath just took a walk around the park.
"They didn't have a 'look' or a metal following, [Ozzy] hadn't been in the news yet."
,
Later, Bob would be one of the early photographers with his finger on the pulse of the NYC punk, glam, and new wave scenes.
He shot acts like Patti Smith, The Talking Heads, The Dictators, and many more as scenes grew up around them.
He wasn't paparazzo, he was more of a friendly fly on the wall that was happy to shoot in Madison Square Garden or CBGBs', on John Lennon's UES balcony or in a subway with KISS.
The more Bob was invited to hang out, the more legendary almost candid and raw shots he racked up.
Take the one below for example.
Unlike with Led Zeppelin, The Clash, or Black Sabbath, this one wasn't even for a specific purpose, but it oozes "NYC 1977."
[anad]
Whereas today three people would be in charge of styling Debbie Harry and they'd pre-order ice for her nipples, this wasn't planned at all.
"This is basically Debbie walking across the street [at Coney Island] towards me. We didn't sketch this out, we didn't plan it, we didn't even go there to do this; she was there doing something else.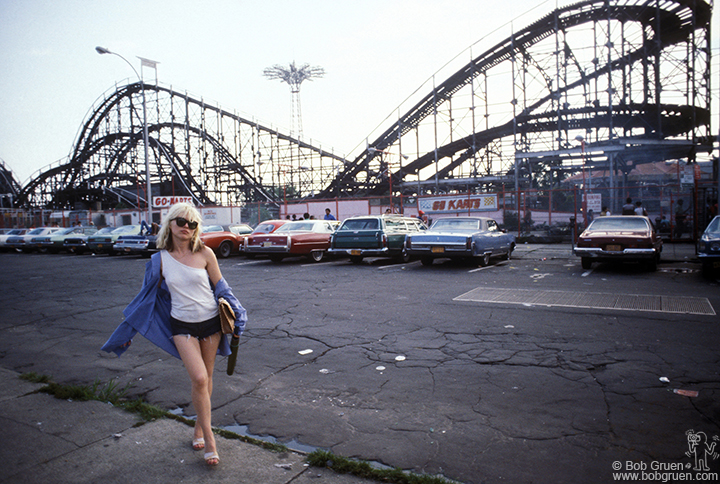 Debbie Harry at Coney Island, 1977. (Via Bob Gruen)
"That's just what Debbie wears on a hot summer day. I didn't have to style anything, I just had to say, 'Hello' after I took the picture."
Another instance of Gruen's on-the-spot shot genius is a photo ubiquitous with the punk scene, originally published in a two page story in Rock Scene Magazine, the Ramones riding the G train on the way to their CBGB's gig later.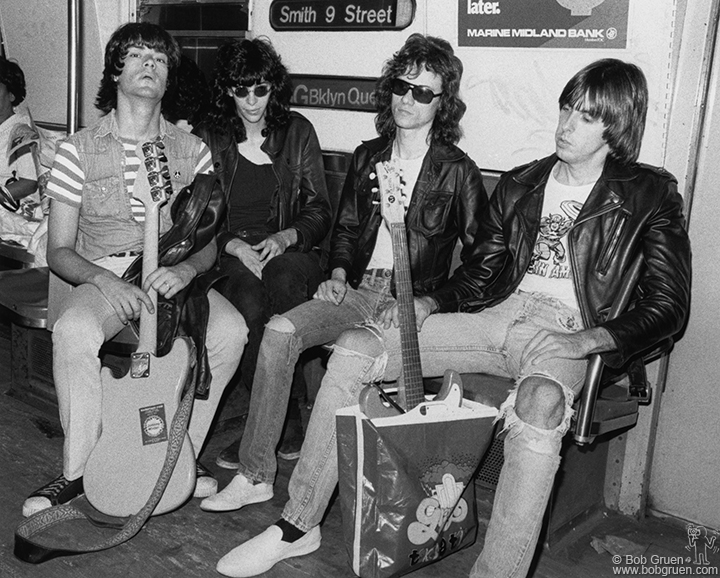 The Ramones riding the subway, 1975. (Via Bob Gruen)
Whereas the shot of Zeppelin on the tarmac feels epic and prestigious, his framing of the Ramones on the subway after meeting in Forest Hills characterizes their simple IDGAF lifestyle. You can almost hear "Blitzkrieg Bop" just looking at them.

It's another instance of how Gruen's ethos of going with the flow and snapping photos of where it takes you paid off-- big time.
Whereas he admits it was a chaotic time, flying around the City on his motorcycle from shoot to shoot, with one camera and two lenses, Gruen doesn't seem to have stressed.
"We used to shoot on film, so it was 35 shots to a roll. If you got one really good shot on a roll, that was a good roll. If you got two, that's amazing. If you didn't get any, that's normal."
And it's much the same for some music industry photographers today.
Though the red tape has grown by miles, the pay has gone way down, the technology has become space-aged, the City is a condo playground, and rock and roll may or may not be dead, the gleam of adventure on Gruen's face matches that of festival and publicity photographers who love what they do.
"For me that's what rock and roll is all about. It's about freedom. It's about the freedom to express yourself very loudly."
It's clear Bob's lifetime of photos document not only a period of rock history, but a life well lived to say the least.
The 70s are only one chunk of it. Check out his book Rock Seen, and our interview on the anniversary of his friend John Lennon's assassination.
Check out The Hip-Hop Goddesses OSHUN Empowering an Entire Generation Right Now.
[Feature Image Courtesy Bob Gruen]