Want to celebrate the start of fall and chillax with a rockin' staycation? Trying to impress that new boo or heat things up with your other half?
Is your biggest fear this Halloween is more stress? Or are you dreaming of escaping the city altogether to fulfill your holiday dreams?
All of the above, right? Then we're bringing you the perfect opp—a chance for you and your significant other to win our $5,000 Fall Makeover NYC Getaway Sweepstakes.
First, we're bringing you a 2-Night Stay at the Hyatt Centric Times Square! This bomb hotel is right in the heart of it all—but you may not even want to leave your room! These spacious suites come complete with floor to ceiling windows and amazing views. Or stroll upstairs to Bar 54 and grab some seasonal cocktails and take in those unforgettable rooftop views.
But you'll have to leave time to enjoy a romantic couple's 90-minute Chocolate Massage Treatment at the Hyatt's Timeless Marilyn Monroe Spa! Talk about an aphrodisiac!
Not that you'll need one to want to cozy up together after you each enjoy a complimentary cut and style from high-end NYC salon Ouidad. The stylists there have been bringing their expertise in curly and textured hair to patrons of their flagship 57th Street location since 1984! That's right—more than 30 years!
Nor will you two lovebirds have to fret about how you're gonna maintain your new look—with $500 in Ouidad products, you'll be able to keep your head in tip-top shape for weeks to come!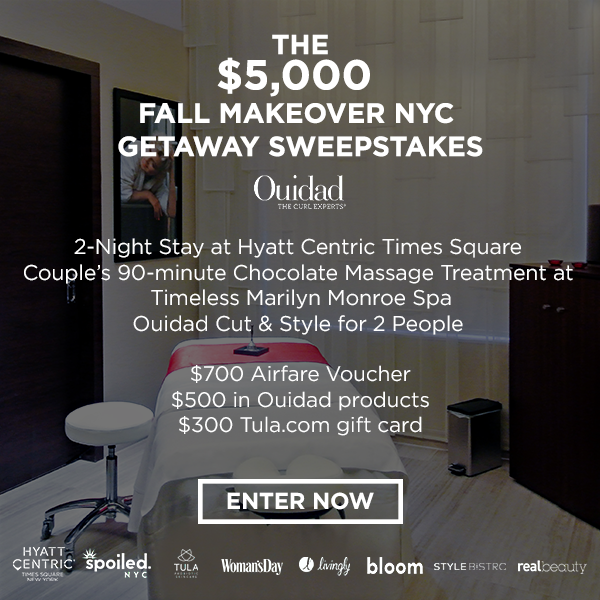 And your skin will be straight-up glowing for weeks on out with a $300 gift card to Tula, which offers an amazing line-up of probiotic-infused creams, masks, cleansers, and moisturizers—all perfect to protect your skin from the NYC cold.
Finally, we're throwing in a $700 airfare voucher so that you two can get your newly spiffy and stylish selves anywhere your hearts' desire.
Convinced to enter yet?
You were convinced after the first sentence, weren't you? Yo, ain't no shame in that!