Indira has been an independent soul from a young age. From convincing her parents that boarding school was the only way she could follow her true calling, to opening a gallery claiming the space the New York art scene was missing - a voice for women.
I had the pleasure of visiting Indira at the Spring/Break Art show and later having the chance to sit down and talk to her. Check out our great conversation all things art and feminism below.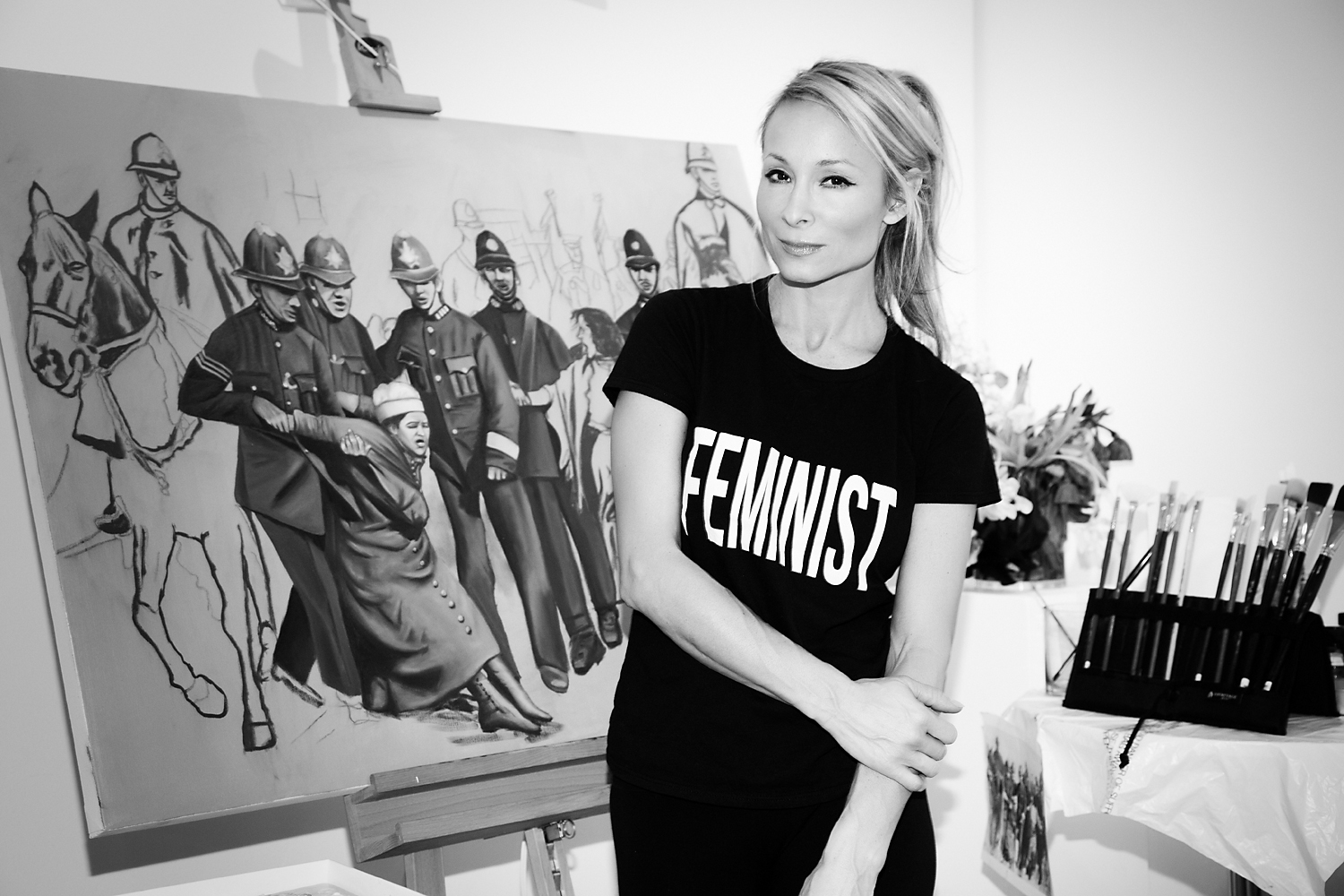 The show you produced was focused on a Garden of Eden theme. How do you feel this fits in with Spring/Break Art Show Fact + Fiction theme?
When I first heard about the Fact + Fiction theme for this year's Spring/Break Art Show, I became fixated on the Garden of Eden, and how perfect it would be for the show.
The Garden of Eden has been written about historically for thousands of years, it appears in just about every religious text, yet it is considered to be mythological by most scholars. The story of the Garden of Eden and Adam and Eve has also of course been the subject of countless artworks, and could easily be a rather cliché theme.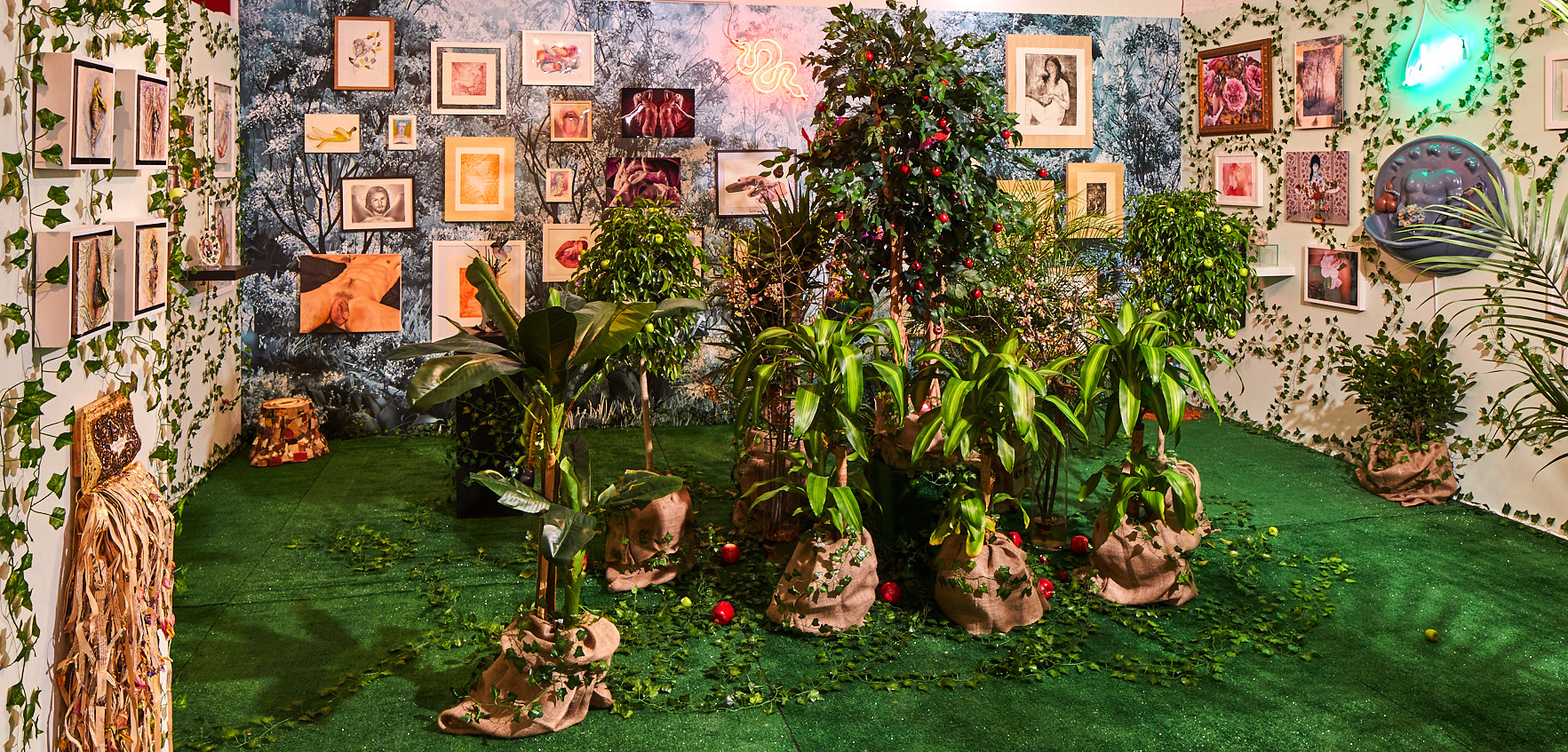 Despite that, I had never seen a feminist exhibit that specifically investigates the history, symbolism, and impact this story has had on our society and what it says about women. The concept of Eden from a feminist point of view is ripe with content, it's an investigation of the first "fake news" that ever existed!
What is your personal attachment to this story?
I have personally been creating artwork on this theme for as long as I can remember. I was raised Catholic, and from an extremely young age I recall going to church and hearing them read from the Book of Genesis and feeling almost enraged by the story.
The story of Eve's actions causing women to be condemned for eternity to be subservient to man for eating the apple just seemed insanely unfair. I recently went to a wedding and the priest read in a very serious tone from the Book of Genesis before the wedding vows, describing how Eve was created from Adam's rib to be his companion, etc and I just knew that this was a crucial subject for a feminist exhibition, investigating the first "fake news" of mankind, and the misogyny that this story has embedded in our culture for thousands of years.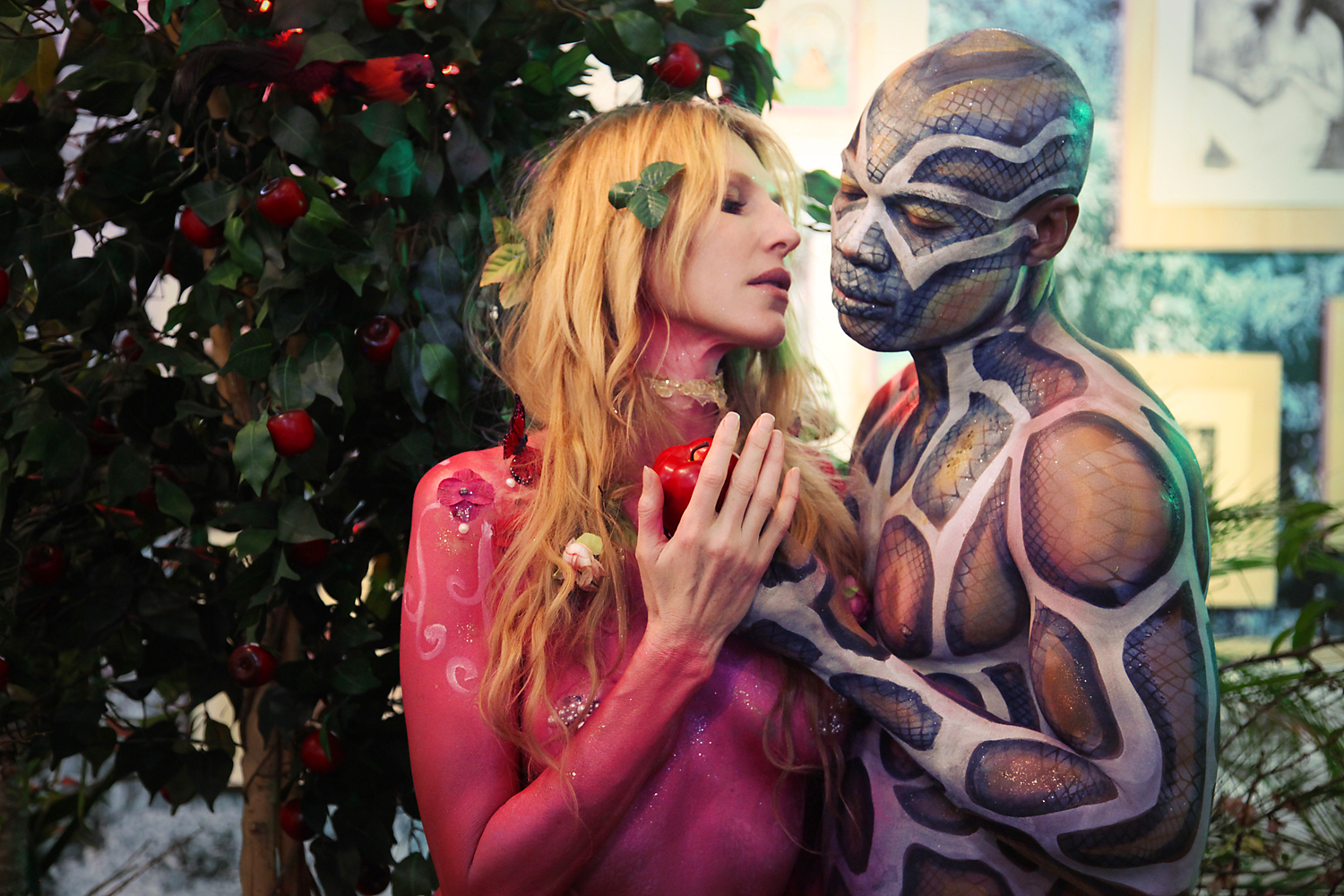 Aside from the gender stereotypes, the role of subservience, shame and blame it has placed on women, the story of Adam and Eve living naked in this utopian paradise evokes all kinds of romantic and erotic visuals.
It's a very complex story, that on the surface many disregard as myth or religious folklore, yet it really is embedded in our culture – everyone knows the story, and it says a lot about how our society has placed blame on women since the beginning of time as well as positioned women as "inferior" to men.
As both an artist and curator what do you believe is the role of art? Of the viewer?
It's important as an artist to address contemporary culture and history and challenge what we think is true, important or real. Art can be many things to different people. For some, it is decorative, while for others it is thought-provoking or life-changing. I think as an artist and curator you have to make decisions about what sort of messages you want your work to represent, and what audience you are looking for.
Since launching The Untitled Space I gravitated towards making and presenting artwork from a feminist perspective that challenges stereotypes and double standards - that challenges the status quo. Not everyone may care for it, but I think that's the whole point – you need to make art that matters to you, and if people don't get it or don't like it, it's not your problem.
I always tell artists if everyone likes your work than it probably isn't very good!

What do you feel is the most important aspect of your creation process? What about your curation process?
Personally, I am drawn to work thematically, through different mediums, to express an idea or concept as in-depth as possible. Often I start exploring an idea in one medium, photography for instance, or painting, and become inspired to explore the idea or imagery in other mediums such as printmaking or sculpture, the expansion doesn't stop until everything's been expressed. My work is usually best suited to an installation environment that frames the concept and brings everything together.
As a curator I often work the same way – I gravitate towards a theme that I feel needs to be explored or investigated and invite artists to create or submit work that they feel relates to the theme. Often these are themes I have addressed in my own artwork previously, but I feel that it could be expanded upon with the vision of other artists to create a much bigger picture. It is very inspirational to me to collaborate with other artists. For the EDEN exhibit, I had previously been creating artwork on the theme for years. It was inspiring to explore the narrative with other artists, and see how they addressed the theme in their own way, and what components of the story inspired them. Seeing all the artwork come together at Spring/Break Art Show created quite an impact and it was great to also see how viewers responded to it.
What is the story of the Untitled Space? What inspired the transition?
I launched The Untitled Space gallery in 2015. I previously worked as a photographer and shifted my focus to art, in the process I found that opportunities for female artists to exhibit in NY were limited. There were a few non-profits galleries and collectives, but as far as the established galleries, most only had 1 or 2 token female artists (if any), and very few galleries exhibited feminist-themed artwork. So I decided to launch my own.
I began curating exhibits a few years prior for my indie magazine and had some pretty amazing opportunities, including a few group shows in collaboration with the American Friends of The Louvre – one at the French Embassy Cultural Center in NY and the other at Art Basel Miami. I really loved collaborating with other artists and was inspired to launch my own gallery space. I basically transitioned what was previously my private photo studio into a gallery open to the public – which is now known as The Untitled Space.
In the last few years we have seen a lot of emphasis on the expansion of womanhood, a lot more female-focused exhibits and galleries have launched, which I think is great. We still have a lot of progress ahead though.
Name a few new artists you are excited about post Armory week. Are there any new trends you are also excited about?
At the Armory Show, I really loved Florine Demosthene's solo show at Mariane Ibrahim's booth, she created some really powerful works and the presentation was very unique. I also loved Sadie Barnette's solo presentation at Charlie James' booth.
At Spring/Break one of my favorites was definitely Shona McAndrew's solo booth curated by Lauren Powell and Bianca Nemelc's "Motherland" by curator Che Morales.
I also really love a lot of the incredible textile-based artwork I have been seeing. I would love to do an exhibit of artists working with textiles soon.
What are new concepts will the Untitled Space be exploring?
I launched a solo show series at the gallery in January. We have become known for our large group shows, and I wanted to hone in on a few artists that I really believe in to present their work in solo presentations this year.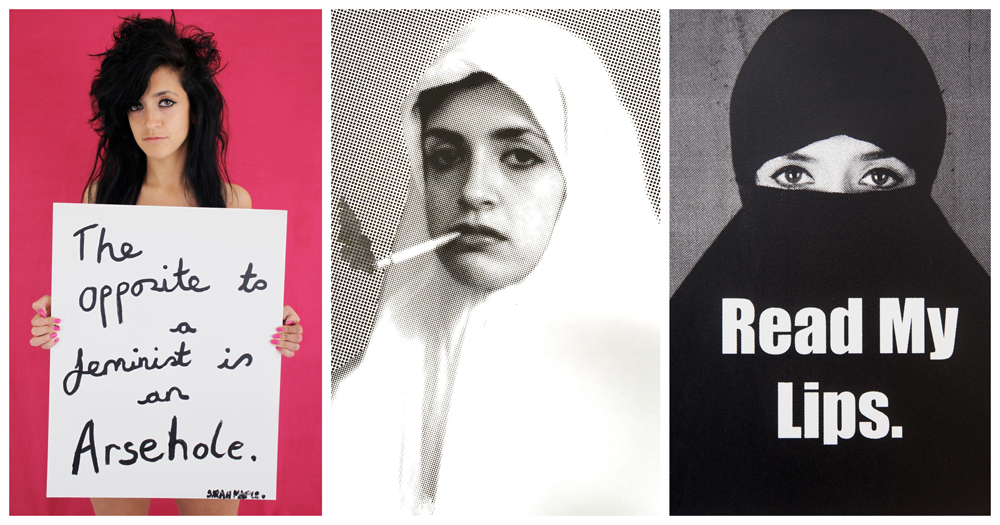 We had the debut US solo show of British artist Sarah Maple in January, and I curated a solo show of artist Alison Jackson's work for Spring/Break Art Show. I have several more coming up, which will be announced soon.
I am also personally launching an initiative in collaboration with The Untitled Space called Art4Equality later this year. The name kind of says it all.
Where do you see the future of art? Where does the Untitled Space fit in?
It's really hard to say. I'm honestly not a huge fan of art fairs, so I hope that the trend fades in importance.
Art fairs have really shifted the focus from carefully curated exhibitions to more commercially minded presentations. There are only a handful of fairs that really push innovative creativity as an important component - such as Spring/Break, which is thematically presented by curators - instead of just galleries dealing art by name-brand artists.
Most fairs are like being in an art shopping mall, and often that level of mass presentation takes the art out of context to an extent that it devalues it. Unfortunately, I doubt that the Art Fair model will go away anytime soon, so who knows - maybe we will eventually launch our own art fair that emphasizes equality along with creativity.
Are you a native New Yorker? How long have you been here? How did you get here?
I moved to NYC when I was 14 years old to go to Parson's intensive summer art program for high school students. It was an awesome experience. My family is from Iowa, but I went to school in Connecticut. I am the youngest of 5 kids, and convinced my parents to let me go to boarding school as I wanted to go to a school with a strong art program. I used to come into the city on weekends and every summer for the Parson's program and was very into art and photography.

My paintings were also very feminist driven even in the early days. After high school, I moved to the city to attend Columbia University.
I graduated with a triple major in Art History, Women's Studies and French. I moved to Europe after college to work as a photographer and only really moved back to NYC full time in 2012.
Favorite place in New York (one to eat, one to be)
That's a tough question!
There's a little wine/tapas place near the gallery I like to go to called Terra, it's got a great terrace area in the summer… I also love riding my bicycle in the summer around the city and to Brooklyn and just stopping at random places, exploring new spots.
I'm looking forward to the weather heating up!