From affordable apartments in Williamsburg, to a studio in the West Village with a private garden, the New York City apartment market is constantly changing up on us.
The newest trend when it comes to NYC real estate? Micro apartments.
Carmel Place is a building composed entirely of micro apartment units, with studios starting at 260 square feet.
These units are seen as a test drive for a possible solution to a prevalent problem in the apartment market, which is that many New York apartments are not suitable for those who would like to live as a single.
The apartments feature a sofa-bed and moderately sized kitchen that can still house company, but is clearly built for only one person.
While Carmel Place houses units that are meant for those who value micro-living, these apartments aren't exactly cheap. An average 302-square-foot unit rents for $2,670 a month - though it does come fully furnished and with a wide range of amenities.
The market price units available at Carmel place range from $2,446 to $3,195 a month. However, eight units have been set aside for formerly homeless veterans, and another fourteen units have been set aside as "affordable" units, with monthly rents ranging from $914 to $1,873.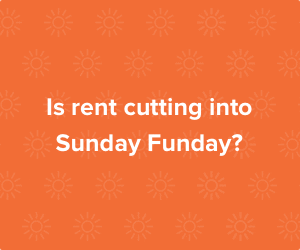 Besides all of the benefits that come with compact living, Carmel Place provides a variety of additional services that are included in their monthly rent.
These features include Wi-Fi, weekly tidying-up service, dry-cleaning pickup, and a variety of other customized personal errands that can all be arranged through the app, Hello Alfred.
While these units aren't cheap, it does seem to pay to try out micro living. Or maybe it's more fit for just a one night sleepover.
For many, this micro apartment trend is just what we're looking for. We don't need a whole lot of space, and we're down with every inch of that space feeling like it's part of our skin. For many more though, it's straight claustrophobic being in that space. For those, we're looking at Roomi.
Roomi's the best way to find a housemate so you don't have to leave the apartment you love simply because you couldn't find a non-sketchy roommate to take that extra bedroom. It's a free app that lets you list a vacancy and then sends applicants your way so you can find the right fit.
New York City is hella expensive, so living alone (or in a micro apartment) isn't always a viable option. Download the Roomi app right here.
Check out the full tour of the micro apartments from The New York Times below.
[anad]
---
Check Out 5 Reasons Why the East Village Is the Place to Move in NYC Right Now.
[via New York Times]
[Feature Image Courtesy Instagram]