After an unseasonably warm week in New York City, New Yorkers should expect the unexpected on Friday.
You guessed it. Everyone's favorite four letter word. S-N-O-W. So, how much, you're wondering? Well, it depends on who you ask.
(P.S., if you ask us, there's no one better than our new favorite friend, Poncho, but more on that that furry feline later on.)
The National Weather Service has issued a winter weather advisory until 10 a.m. on Friday morning and are predicting 2 to 4 inches of snow in New York City. AccuWeather.com, on the other hand, is expecting 1 to 3 inches of snow.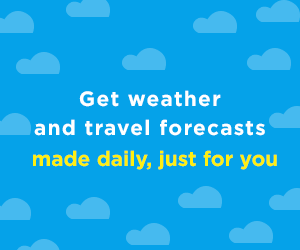 Either way, it's not the ideal way to end into the weekend, we know. But this weekend's temperatures will warm back up to 40 degrees-- although there is another significant amount of snow on the horizon for next week.

So you want to stay up to date with the best weather app that we've absolutely fallen in love with? It's simple: Poncho.
To get the most up-to-date weather and travel updates right on your phone, check out Poncho's weather app.
It's the best thing that's happened to us this week. No, seriously. The. Best.
Read More About Poncho Here and Then Download It Right Here.