New York's history carries a lot of weight in the establishment of this country. A major player in the Revolutionary War, New York City, held a brief spot in time as the nation's capital, and was where immigrants passed through on their virgin voyage into the states.
Every step of the way, New York has faced enormous growth, having its history etched somewhere, in some way, throughout the city.
Here are some remarkable places and landmarks to discover throughout NYC in your quest for historical knowledge:
---
Wallabout Bay/Brooklyn Navy Yard (Fort Greene, Brooklyn)
Wallabout Bay off Brooklyn was the location of British prison ships that saw 11,500 American prisoners die onboard. The Prison Ship Martyr's Monument in Fort Greene Park, located near the bay where they had perished, contains some of the men's remains.
Wallabout Bay is also the spot where the British had an upper hand and brutally defeated George Washington's army. It was here that Washington learned not to fight the British head-on, essentially refining his war tactics and aiding in the quest for liberty.
These same grounds, dubbed the Brooklyn Navy Yard, house Building 92, a museum that opened in 2011 for the history and innovation of the area post-war time; it offers tours, exhibits, educational programs, and archives.
---
Nathan Hale Statue (City Hall Park, Manhattan)
Nathan Hale was an American spy that posed as a Dutch schoolteacher in British-occupied Long Island for George Washington during the Revolutionary War. In 1776, Hale was captured after British Major Robert Rogers low-key recognized him in a tavern. Rogers made him think that he was a patriot sympathizer and Hale confided his spy-status to him.
Hale was then invited to a dinner at Roger's quarters, where British soldiers found maps and Latin-scribed letters on his person, ultimately leading to his arrest. There is another story that Samuel Hale, Nathan's cousin, turned him into the British, also leading to his arrest and sentencing.
Nathan Hale was hanged at 21 years old on the morning of September 22, 1776. At City Hall Park in lower Manhattan, there is a 13 foot statue of Hale. His last words were, "I only regret that I have but one life to lose for my country". Truly a boss.
---
Van Cortlandt House (Bronx)
Van Cortlandt House is the oldest surviving building in the Bronx. It was originally established in 1748 as a grain plantation by the Van Cortlandt family, who was prominent in New York's commerce.
During the Revolutionary War, after having been under British rule for several years, George Washington posted up there in 1776, 1781 and 1783, during his fight against the British. It was a temporary headquarters for Washington before he triumphantly marched into Manhattan.
This mansion also contains a burial site for the 37 Stockbridge Indians who were ambushed by British soldiers in 1778. It is now set up as a museum to learn about the history of the house and the various occupants of it throughout the years.
---
Atlantic Avenue Tunnel (Cobble Hill, Brooklyn)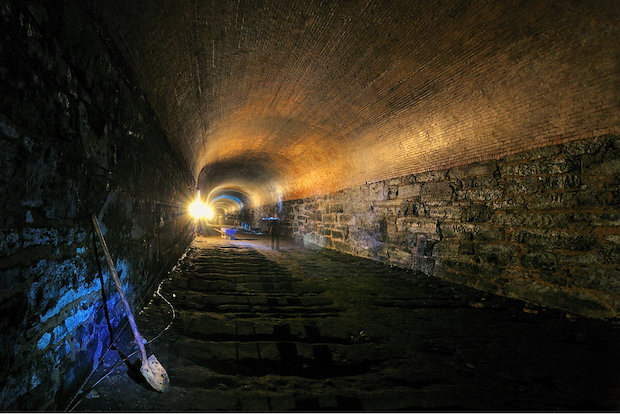 The Cobble Hill Tunnel, under Atlantic Avenue in Brooklyn, is dubbed the world's oldest subway tunnel. Built-in 1844 to relieve congestion on the roads above, the tunnel was sealed in 1861. Americans suspected that German's were using this tunnel to plant bombs in 1916, prompting them to jackhammer through the roof, find nothing, install a light system and reseal it.
In 1980, a Brooklyn native, Robert Diamond, rediscovered the tunnel through a manhole located at Atlantic Ave and Court St. He ran tours in the tunnel from 1982 until his permit was revoked in 2010, due to safety concerns. There is no way to gain access to the tunnel anymore, but part of it can be seen in Brooklyn in Le Boudoir's bathroom.
Many visitors have claimed to witness so-called pirates, vampires, and ghosts in the abandoned tunnel system; and a few authors have written stories based off of alleged tales that have taken place down there.
---
Magnolia Grandiflora (Bedford-Stuyvesant, Brooklyn)
In Bedford-Stuyvesant, there is a Magnolia grandiflora tree that was planted by William Lemkin in 1885. He brought the seed from North Carolina and what is remarkable about this tree is that its species rarely survives north of Philadelphia. Though it has stood the test of time, and gained a unanimous vote in 1970 to be considered a landmark.
During the 1950s, it was protected by Hattie Carthan. Who, alongside local school children helped raise money to protect the tree from the impending construction of a parking lot. Once it became considered a landmark, Carthan founded the Magnolia Tree Earth Center located next to the tree, which focuses on urban gentrification and environmentally alertness.
---
Ellis Island Immigrant Hospital (Ellis Island)
Ellis Island Immigrant Hospital was the first public health hospital in the United States. Built on Ellis Island in 1902 and used until 1930. The hospital contained a general hospital and a separate contagious disease ward. Immigrants were also held here and deemed either unfit to enter the country or allowed to enter and begin a new life in America.
Through the 1930s, the hospital then acted as an FBI headquarters, while other parts of the island was used as a detention facility. It then went on to treat Merchant Marine sailors, Coast Guardsmen, other military personnel and war brides during the 1940s, but was ultimately abandoned in 1954.
By 1990, the more structurally sound parts of the facilities were reopened as a museum and in 2014, hard-hat tours through the sketchier parts were offered.
---
Track 61 (Manhattan)
Beneath the Waldorf Astoria lies a secret train station called Track 61. The track was created in the 1930s to shuttle President Franklin D. Roosevelt in and out of the hotel, allowing him to effectively hide his polio from the public.

The limo would supposedly get lifted off the train car, from the station to the Waldorf's garage, allowing for a completely clandestine operation.
As a part of Metro-North and not the NYC Subway, an antique train car is permanently parked at the station. A street-level, unmarked brass door at the Waldorf that shows the track is still being used.
It has been reported that a number of other presidents, including George W. Bush, and high ranking military officials have used the track over the years, though details have never been released.
---
North Brother Island (Bronx)
North Brother Island is a 20-acre land mass off the east coast of the Bronx historically used as the location of a hospital specializing in disease treatment.

The hospital once housed Typhoid Mary, who was quarantined for having the United States' first trace of typhoid fever, a contagious bacterial disease that resulted in high fever, headache and stomach issues. Mary died from her sickness in 1938 after years of being confined to the hospital.
Shortly after World War II, the island became a housing complex for war veterans and their families, as they attended local colleges. Shortly after, the facility became an experimental drug rehabilitation center from the 1950s to 1963, but once it was found to be corrupt and its practices too expensive, it was shut down.
The New York Parks Department is currently trying to find a way to publicly open the island for tourists, despite folks already making their own unsupervised trips there. It is technically now a bird sanctuary for herons and other shorebirds, and the dilapidated hospital still stands in the thick forest that inhabits the island.