We can make commuting suck less, but suckage seems to be the one thing that gets around everywhere in NYC.
So imagine our surprise when we learned that we don't have the worst commute in America (that particular honor goes to Detroit).
"Whaaaat?!" you say.
"YAS," says Fortune.
Los Angeles and Philly tied for the 20th best commuting city, and NYC placed 31st.
Redfin, an online real estate company, developed an "opportunity score" composed of factors like the duration of commuting and the availability of jobs with an annual salary above $40,000.
Philly and LA rank pretty high because Redfin was only calculating times for carless commutes. NYC ranks pretty low because of our famously high living prices.
The higher housing prices within NYC mean living more within our means further outside NYC. Which, in turn, means a longer commute.
[anad]
Cities like Detroit (again, ranked the worst) and Miami (ranked the second worst) beat us because they pretty much need a car to get to work.
The workweek commute is kind of a big deal. More effective commuting leads to a slew of benefits, like increased workplace productivity and improved health. You listening, MTA?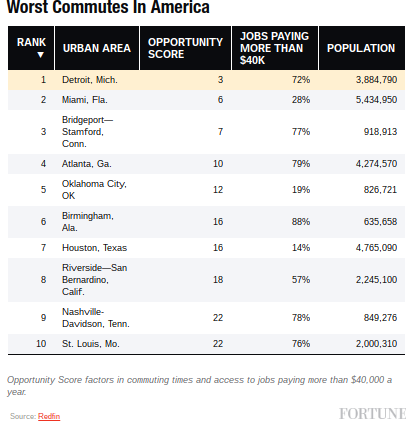 [via Fortune]
[Feature Image Courtesy Instagram]