Grilled cheese is a perfect food. There's no denying it.
There is literally nothing better than gooey, delicious cheeses all wrapped up in toasty bread. Go ahead. Name something that's better than that.
That's right. YOU CAN'T.
And what's more, there are endless ways to enjoy this fantastic, carbo-loaded delicacy. It's just as amazing as a straight up, classic version as it is with a food trend-focused, New York City spin.
So as the loyal cheese lovers that we all are, we took it upon ourselves to embark on our very own grilled cheese crawl, an epic quest to find and indulge in Manhattan's best grilled cheeses.
We think it is safe to say that we have now reached cheese enlightenment (as well as a pretty massive cheese coma, #worthit), and are now bestowing this precious knowledge unto you.
Read on to join us, the grilled cheese fanatics that we are, in our admirable journey. We also Snapchatted the whole thing, so be sure to follow us there for more food-ventures to come. (@spoiledNYC)
---
1st stop - Harlem Public (3612 Broadway)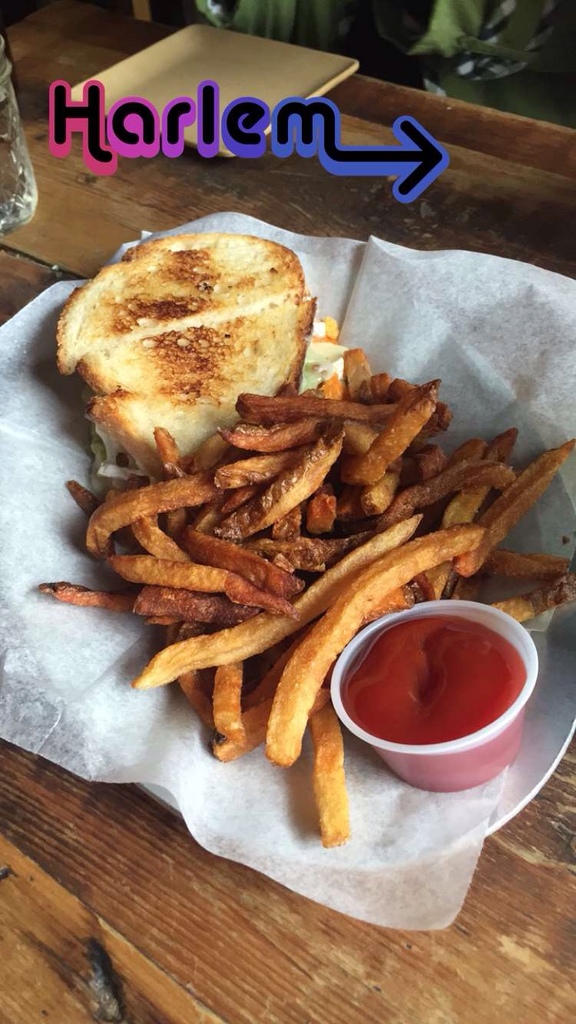 spoiled NYC - Snapchat
Our first stop was at the Harlem Public, a tiny little pub nestled at the corner of 149th and Broadway in West Harlem. The Public has a super chill atmosphere, amazing drinks, and they serve you popcorn while you wait for your food, so it's basically heaven.
[anad]
We ordered the "Loaded Grilled Cheese," which was met with confusion from our waiter, who was probably wondering why 4 people were ordering one sandwich.
We assured him that this was only stop #1 on an epic tour of the city's finest cheese sandwiches, so we were planning to split the sandwich so as to not legitimately die from cheese overdose before reaching the final stop.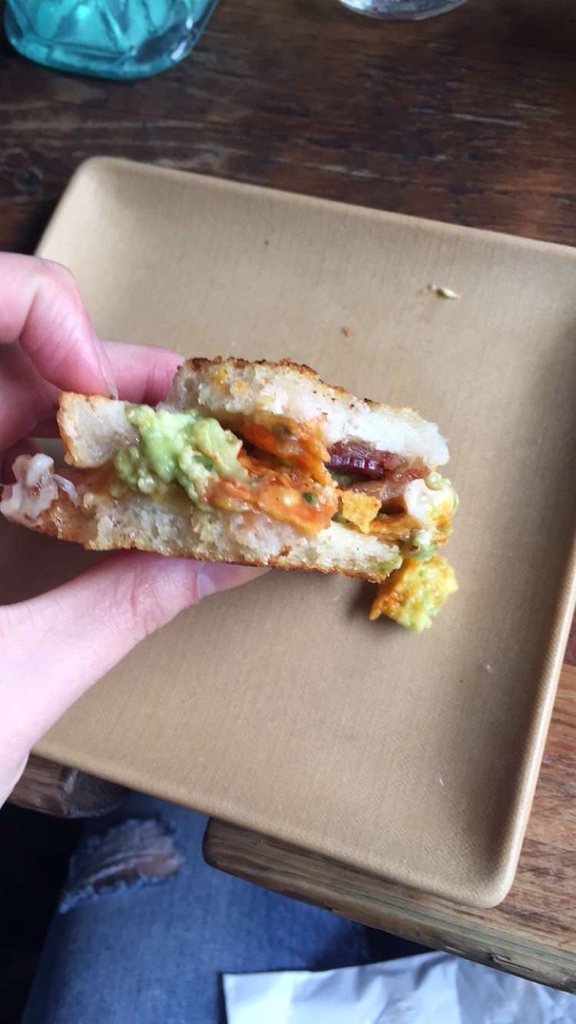 spoiled NYC - Snapchat
He seemed unimpressed, but complied and brought us a magnificent-looking plate loaded with the side of fries we simply couldn't pass up.
The sandwich is loaded indeed. It's filled with cheddar and jack cheeses, bacon, guacamole, and crushed Doritos. YUP. You read that right. Just take a gander at the beauty pictured above.

Needless to say we devoured that thing in a matter of minutes, and it was onto the next stop.
---
2nd stop - Murray's Cheese (254 Bleecker Street)
We then headed downtown to visit Murray's Cheese Shop, which holds the prestigious title of New York City's oldest cheese shop.
This place is huge. It includes a grab-and-go sandwich counter, prepared foods, and a deli counter with just about every type of cheese imaginable.
We ordered the "Murray's Melt," boasting a "secret blend of cheeses." To be honest, we don't even care what the cheeses were, because whatever was in that sandwich was freaking incredible.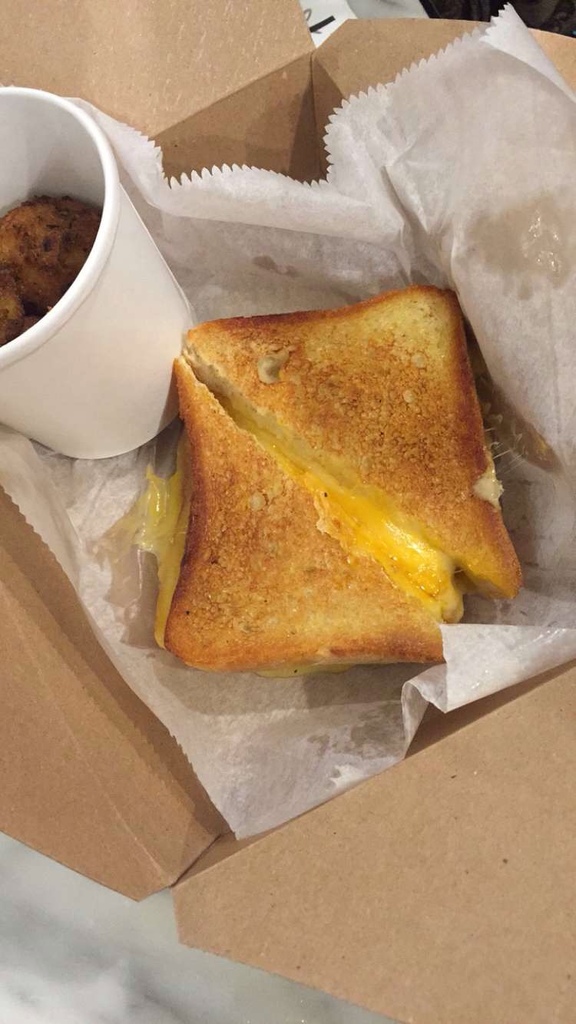 spoiled NYC - Snapchat
LOOK AT THAT THING. Just LOOK AT IT. Beautiful.
Wondering what's in that cup to the left of the sandwich? Are you sitting down? Good.
Those delightful nuggets are pulled pork mac & cheese balls (YUP), and we're pretty sure we never want to eat anything else. #blessed
On our way out, we spotted an interesting collection of sodas and decided to try one. Behold the pumpkin pie soda!
spoiled NYC - Snapchat
Our verdict: definitely nails the pumpkin pie flavor, but also definitely not something the average person can tolerate more than a sip or two of.
We tossed the remainder of the bizarre beverage and trekked to the Flatiron District to the 3rd location.
---
3rd stop - Beecher's (900 Broadway)
Now at the halfway point in our journey, we take a moment to reflect: What brilliant mind invented the grilled cheese? How can a food so simple and obvious be so delicious? What is love? Is there life after death?
The moment passes as we step into Beecher's at 20th and Broadway.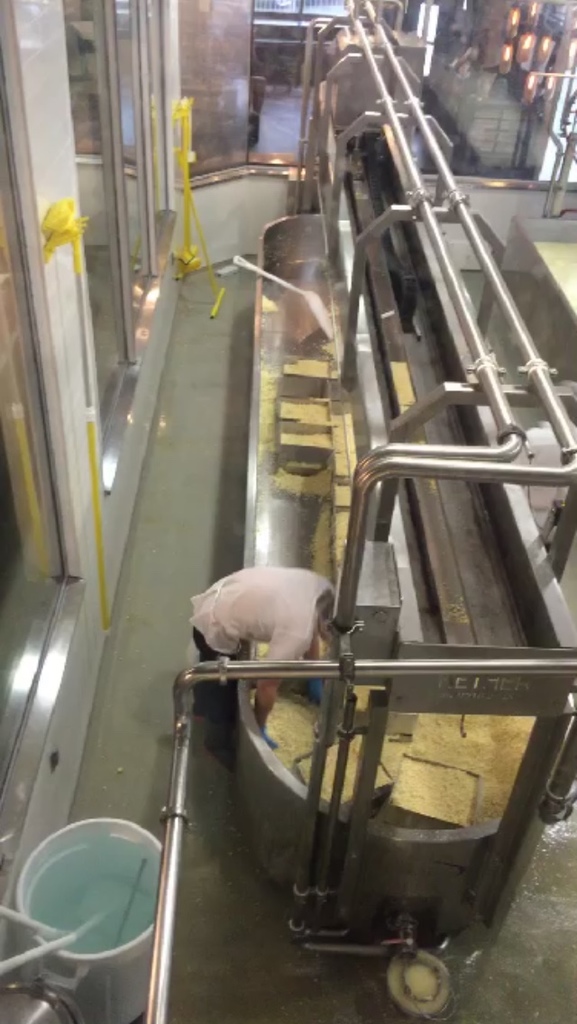 spoiled NYC - Snapchat
We order the grilled cheese with a side of tomato soup and settle into a table upstairs, overlooking the cheese making room.
That's right; Beecher's makes their own cheese, on site, right in front of your eyes. They're legit.
[anad2]
The sandwich is amazing - sharp cheddar grilled to perfection, perfect for dunking in their creamy tomato soup. YUM.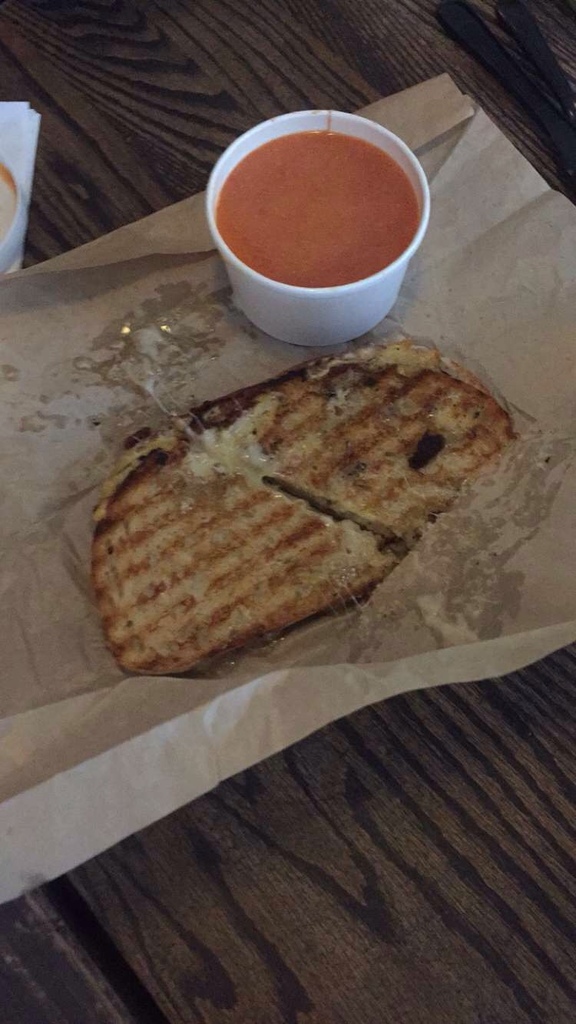 spoiled NYC - Snapchat
At this point, we were all beginning to feel a bit of cheese fatigue, a little known but very real condition that occurs during such food tasting excursions.
But no way were we going to let that get us down, especially when we only had one stop left. So we gathered our strength and made our way to the Upper East Side.
---
4th and final stop - Lucy's Whey (1417 Lexington Avenue)
If we're being honest, grilled cheese is pretty much the only thing that will motivate us to go to the Upper East Side.
Especially when it's the grilled cheese served at Lucy's Whey, an adorable little wine bar on Lexington Avenue.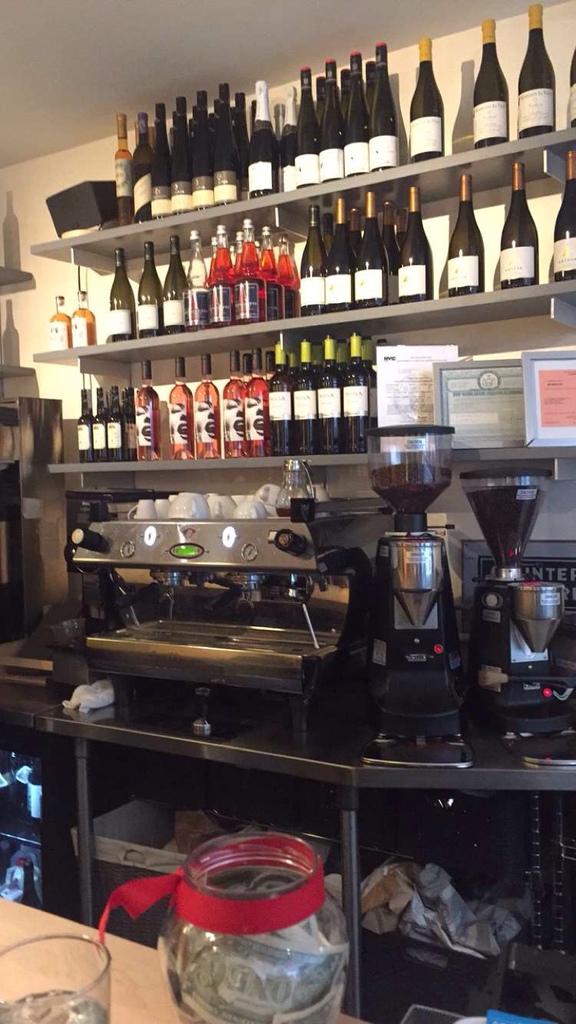 spoiled NYC - Snapchat
The grilled cheese is fancy AF, served on ciabatta with a delicious fig jam spread. It was SO GOOD.
spoiled NYC - Snapchat
We were DEFINITELY feeling the cheese fatigue by the time we finished at Lucy's, but man, was it worth it.
We cheers'ed to a successful crawl, and thanked Jesus for bestowing humanity with the great gift that is grilled cheese.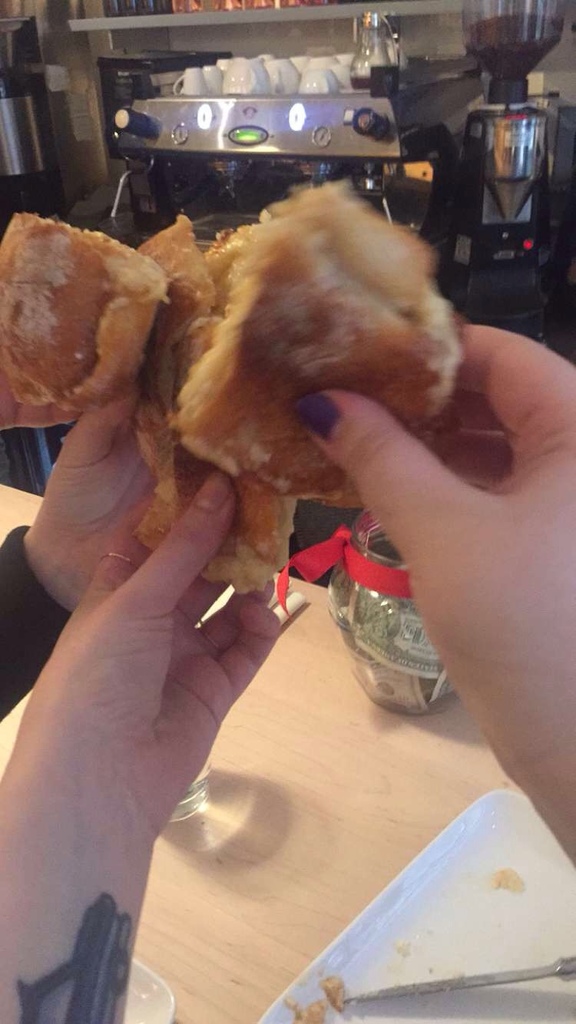 spoiled NYC - Snapchat
Check out 7 Perfect Grilled Cheese Sandwiches in NYC.
[Feature Image Courtesy Instagram]