Searching for a lunch spot serving up ripe from the garden flavor in the Big City? These restaurants, putting the color wheel on one plate, deem it possible! Surrender to the textures and flavors of real ingredients and whole foods taking center stage at these eateries across the city ranging from French to Greek cuisines and more.
Salmon with Pea Puree — Market Table
Market Table (54 Carmine St.)
In the autumn of 2007, Mike Price and his colleague Joey Campanaro formally opened Market Table, now a longtime fixture in the neighborhood conveniently situated on Carmine and Bedford Streets. With surprising ease, the market-sourced, seasonally inspired meals give signature veggies center stage to shine. The restaurant's new Chef de Cuisine, Chef Kishen Jagmohan, is building on Mike's menu items from the Maryland farm where he grew up by adding mouthwatering new dishes like Spring English Pea & Asparagus Salad with Sour Cream Aioli & Pickled Meyer lemons, a fragrant Curry Panisse with Kohlrabi and Avocado Mousse and Onion Jam, and a crispy and comforting Fried Chicken Sandwich on Housemade Focaccia. Try out their new seasonal dishes like the Hamachi Crudo or Salmon with Pea Puree.
Loulou (176 8th Avenue)
Loulou, a stunning French Bistro and Speakeasy in Chelsea, has become quite the hotspot for upscale dining with A-listers. With one of the most stunning outdoor seating options and an exterior adorned in flowers, it screams Summer. Signature menu items from Executive Chef Jarett Brodie include a Loulou Burger made with grass-fed beef, cheddar, and caramelized onions, Duck Leg Confit with apple rosemary puree, and gala chutney and Steak Frites. That's in addition to a large selection of gorgeously crafted cocktails, which you can indulge in, in the dining room or by entering the restaurant's speakeasy Adélaïde's Salon via a vintage Coca-Cola vending machine door on 8th Avenue. Every plate is filled with light and colorful touches, including their Nicoise Salad, arriving elegantly deconstructed.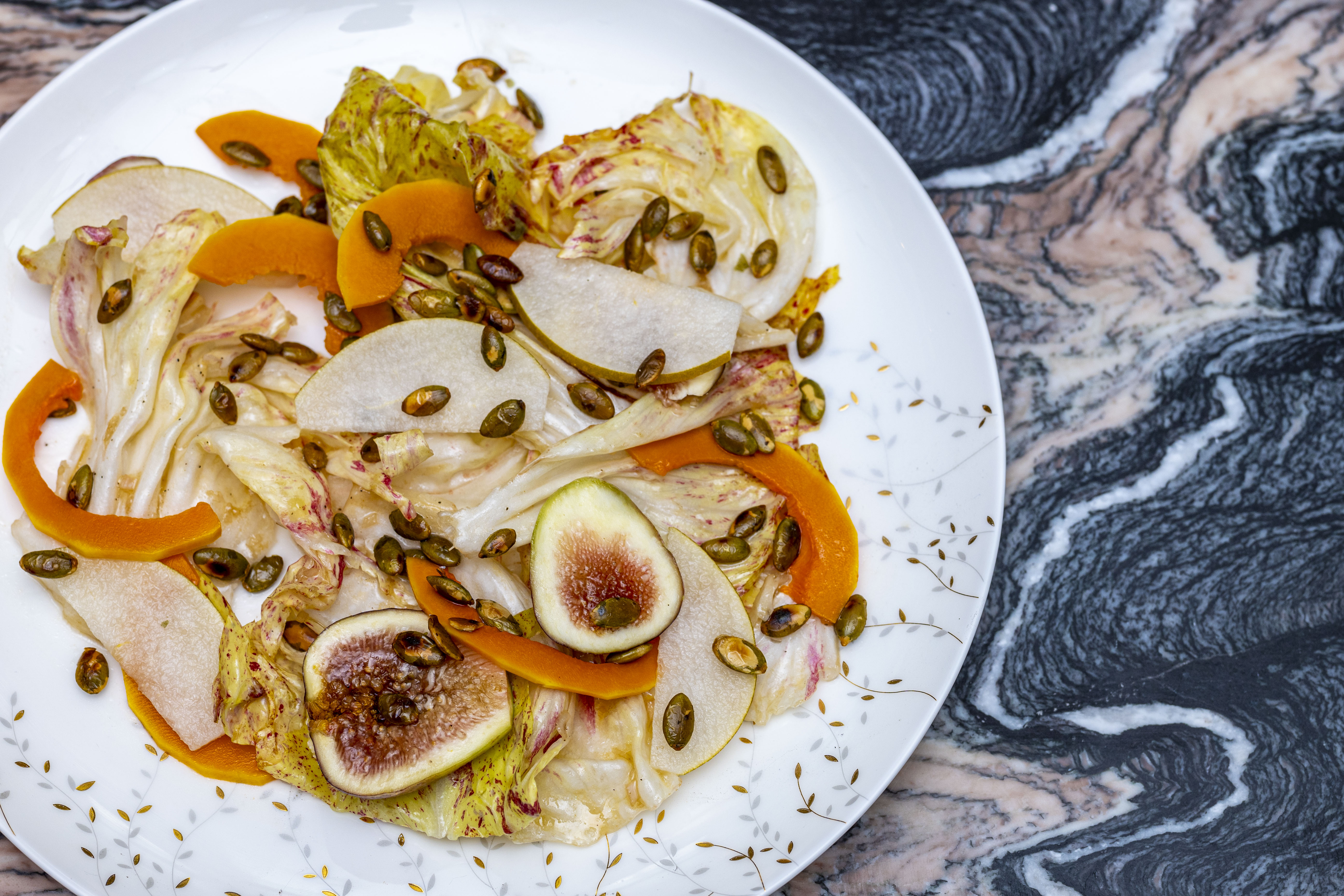 Castelfranco — Monterey
Monterey (37 East 50th Street at Madison Avenue)
Spend a summer evening at Monterey, a midtown Manhattan hidden treasure developed by Simon Oren, Dudi Sasson, and Chef James Tracey. The menu features cuisine from all over the world, including Chef Tracey's seasonal fare, a wide variety of prime dry-aged steaks, roast prime rib of beef, a range of award-winning wines, and beautifully shaken and stirred cocktails by beverage director Aviram Turgeman. The Castelfranco Salad with radicchio, figs, Asian pear, pumpkin, and old sherry vinaigrette and the Japanese Eggplant with carrot harissa purée, hen of the wood mushrooms, baby artichokes, and basmati rice are just two examples of the star-worthy dishes on the menu that expertly highlight seasonal ingredients.
Bar Marseille (190 Beach 69th St)
Paying tribute to Provençal cuisine with American elements, Bar Marseille in the Rockaways draws its name from the renowned port city of Marseille in Southern France. Along with lighter fare like Crispy Zucchini served with Za'atar Yogurt and lemon or the Salade De Plage made with Tomato, Cucumber, Peppers, Olives, and Feta, the waterside restaurant's signature dishes include Seafood Tartare, a Steak Sandwich Au Jus, an Ahi Tuna Burger, Les Viandes Du Breton Pork Chop, and Seafood Tartare.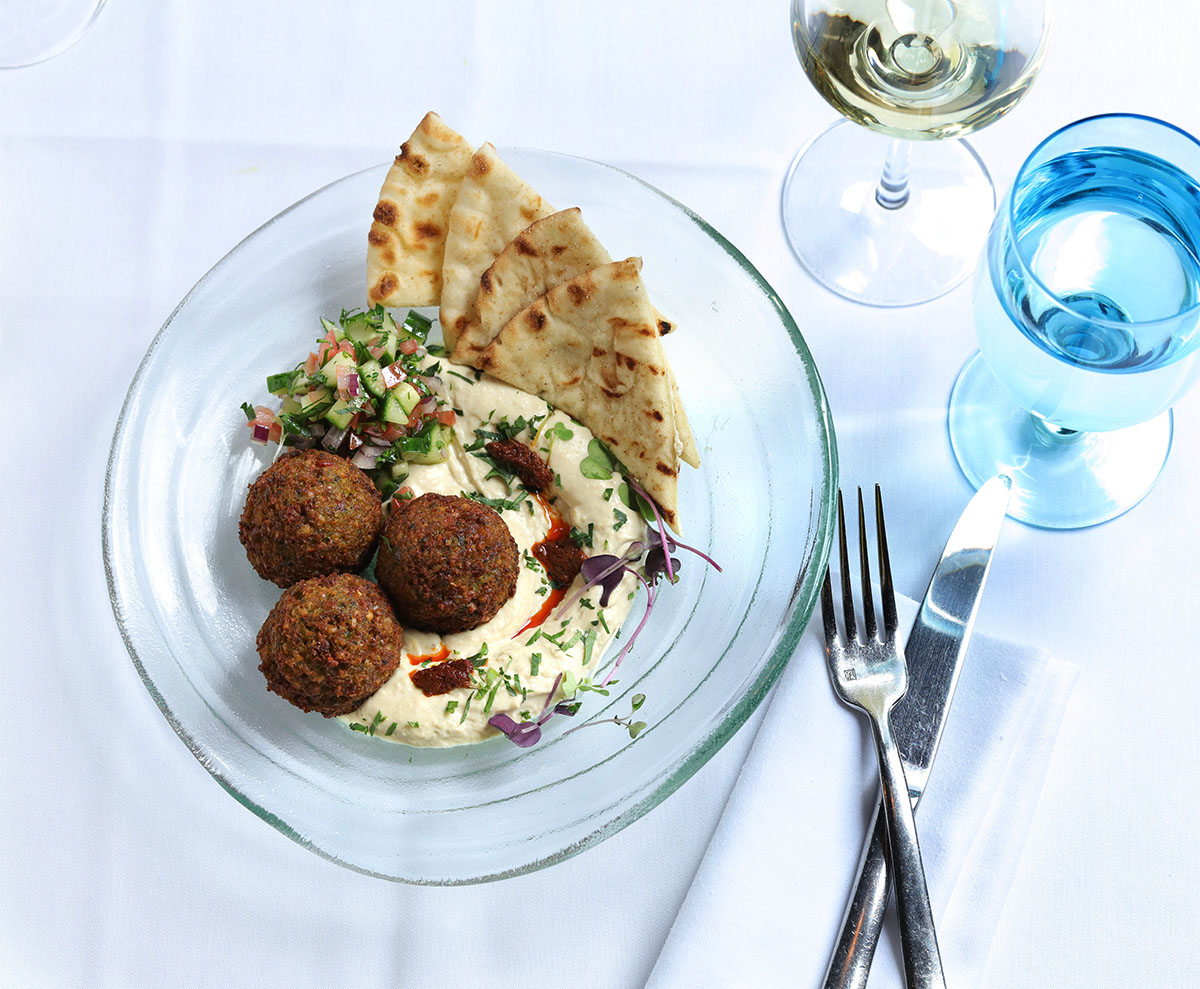 Falafel — Nerai
Nerai (55 E. 54th Street)
Ranked as one of TripAdvisor's top 75 restaurants in New York City, Nerai remains a year round location in Midtown East. The magnificent Greek restaurant offers indoor dining on two floors for lunch and supper starting at 11:30 am every day in addition to a spacious garden patio and stunning sidewalk seating. Enjoy fresh Falafel chickpea fritters with Israeli salad, hummus, and harissa, Pantzaria Salad with red and golden candy stripe beets, caracara orange, endive, frisee, mizithra, pistachio vinaigrette or indulge in individually wrapped Spinach Pies served with ouzo yogurt.