Welcome to the NYC Art Walk, where we will introduce you to the vast and ever-changing street art scene in our beautiful city. We're hooking you up with insight into the street art movement, as well as some fun stops for food, dessert, and drinks. We will unveil the hidden, walkable world that exists within this city's dark corners and closed alleys, inspiring you to see it in a whole new light.
This walk has been carefully designed so you can see the best street art Bushwick has to offer in record time. However, you can choose to follow the stops in any order you like.
Most of the art you will see on this guide was created and curated by one of the most influential street art collectives in the world: the Bushwick Collective.
The Bushwick Collective started out as a small organization, but has quickly turned into an influential institution that organizes the annual Bushwick Collective Block Party.
This event attracts art aficionados as well as some of the most important artists, art dealers, and galleristi from across the globe.
If you weren't blessed with the opportunity to attend this year's event, you can still encounter the work of legendary artists like Blek Le Rat, Case Ma'Claim, and Pixel Pancho throughout this walk.
---
1. Willoughby Avenue (between Wyckoff & Irving Avenue)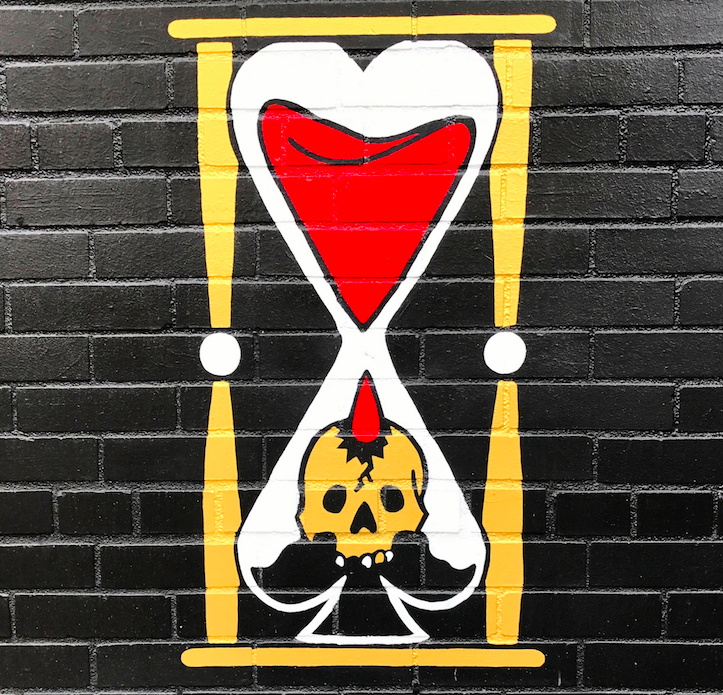 Photo by Juanita Tovar / Artwork by Unknown
Along Willoughby Avenue, you will see the first mural of the series. Through the use of vibrant colors and caricaturesque lines, this mural manages to comment on the fragility of life and the inescapable quality of death in a playful, almost comical way. It is because of this, that as you look at this mural you are more likely to be amused than terrified.
[anad]
Even though this mural re-imagines the theme of death in a new way, it is inspired by Japanese comic art in which comical references to death are common.
---
2. Wyckoff Avenue (between Willoughby Avenue & Starr Street)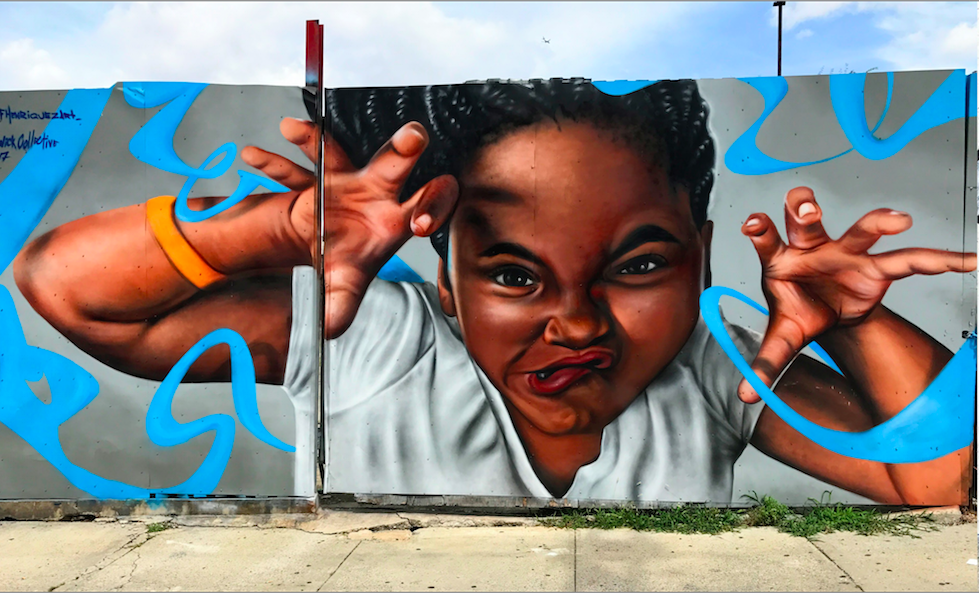 Photo by: Juanita Tovar / Artwork by @jeffhenriquezart
If you look right on Wyckoff Avenue you will find one of the most well-known murals in the city, painted by New York-based artist Jeff Henriquez. The raw expression of this mural's subject will draw you in and fuel your curiosity about the underlying motifs that inspired this street art piece.
[anad]
In this mural, Henriquez is following motifs that are common to a lot of his work. The main theme at play here is the portrayal of minority individuals as beautiful, interesting, and indefinable by the general categories society wants to label them with.
---
3. Starr Street (between Wyckoff & St Nicholas Avenue)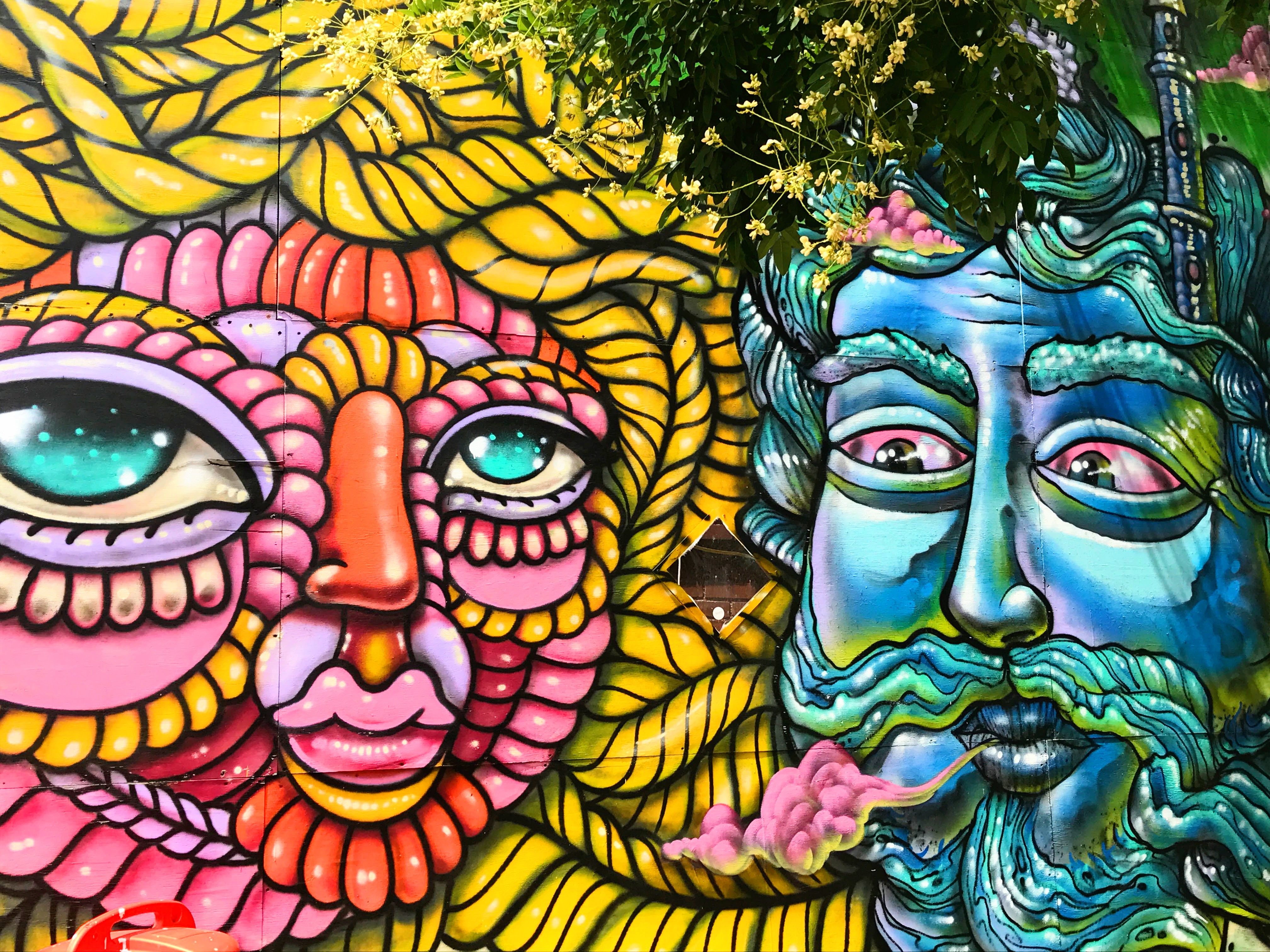 Photo by Juanita Tovar / Artwork by Unknown
On St Nicholas Avenue next to the headquarters of the Bushwick Collective, you will see a strange mural of a man and a woman. This mural's dextrous use of bright, perfectly balanced colors might arrest your attention at first, but will hold it because of the captivating components that define these characters' faces.
This piece is a part of the 'Pop Surrealism' movement, which was conceived and pushed forward by street artists from around the world. In this mural there is a clear reference to the work of Salvador Dalí, evident in the subjects whose faces are defined by bizarre objects, motifs, and unconventional lines.
---
4. Cypress Avenue (between Starr & Troutman Street)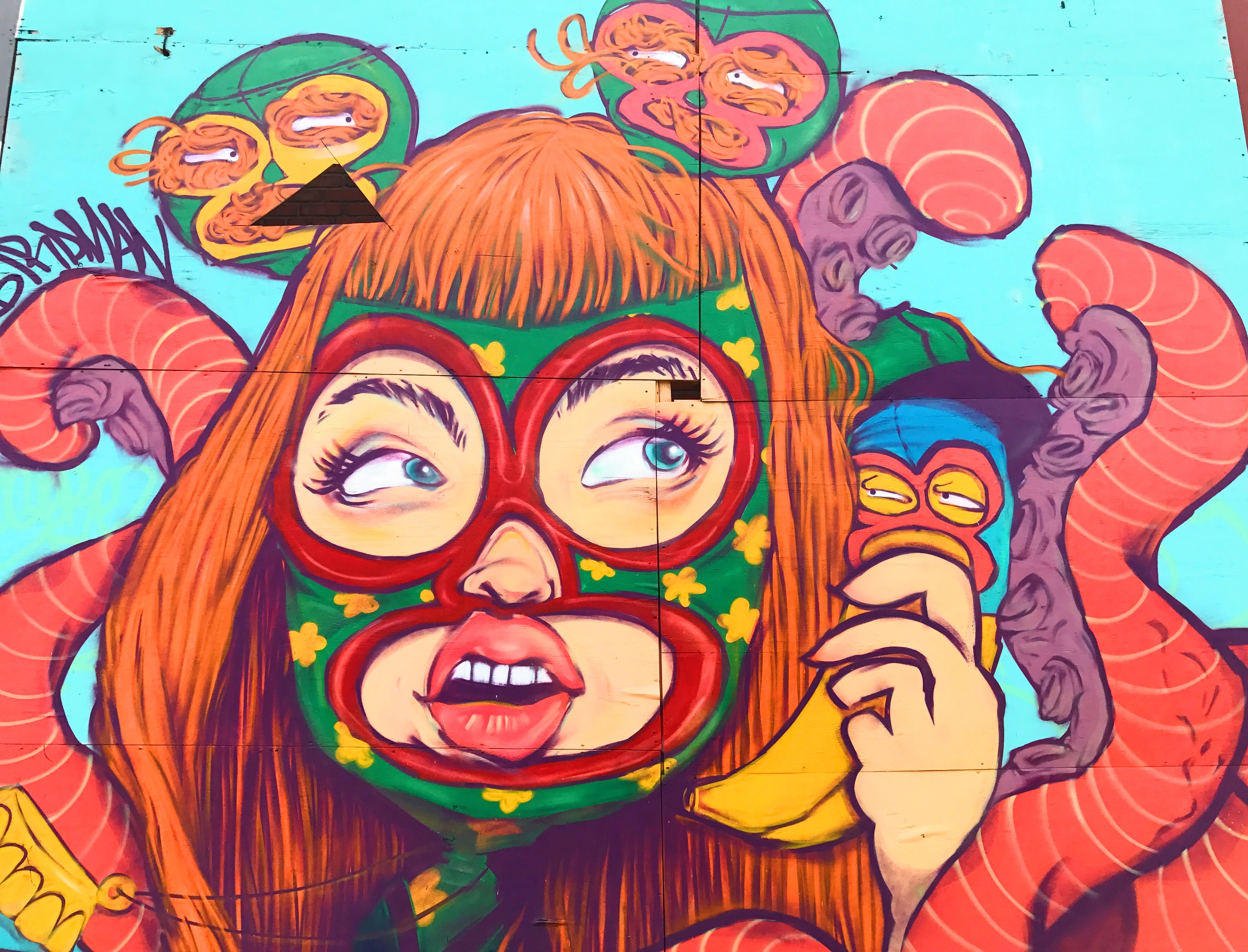 Photo by Juanita Tovar / Artwork by @Birdmanphotos
The mural of a red-haired woman, which you can find in the middle of Cypress Avenue, follows similar surrealist motifs to the previous mural. However, this mural is clearly inspired by more than just surrealism.
For instance, the animalization of its female subject and more specifically the use of tentacles to define her female shape are clearly inspired by Japanese art and comics.
---
5. Scott Avenue (between Troutman & Jefferson Street)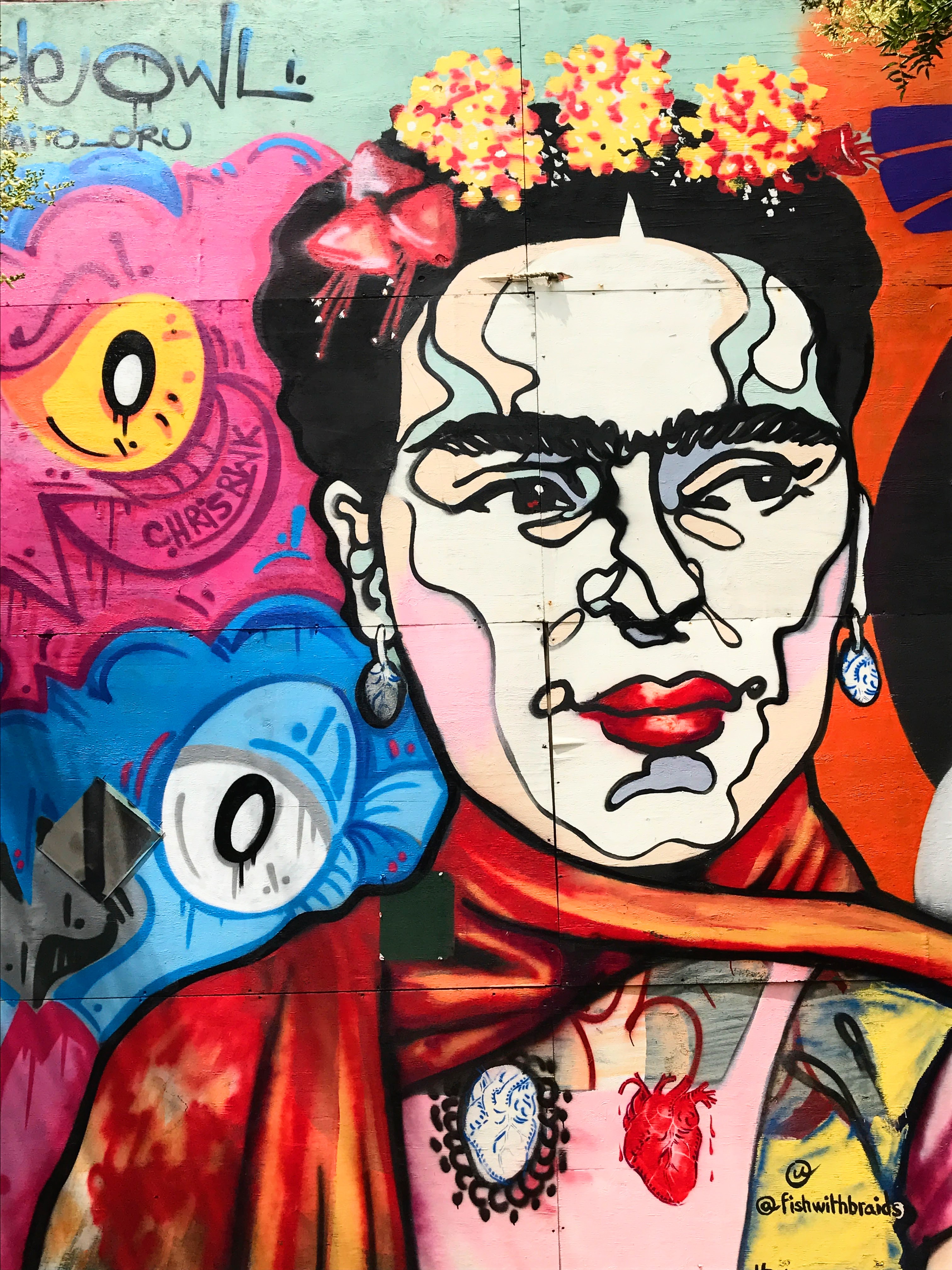 Photo by Juanita Tovar / Artwork by @fishwithbraids
Even though the techniques (such as the use of almost blinding bright colors and thick, black contour lines) utilized in this mural of Frida Kahlo differentiate it from Kahlo's work, this mural is indeed evocative of Kahlo's core motif: the positive representation of Mexican identity.
This can be seen through Uta Braser's depiction of traditional Mexican clothes, as well as her use of vibrant colors, which are pervasive in everyday Mexican life and festivities. This mural is therefore an homage not only to Kahlo's art, but to her efforts to celebrate the richness, beauty, and diversity inherent in Mexican culture.

---
6. Jefferson Street (between St Nicholas & Wyckoff Avenue)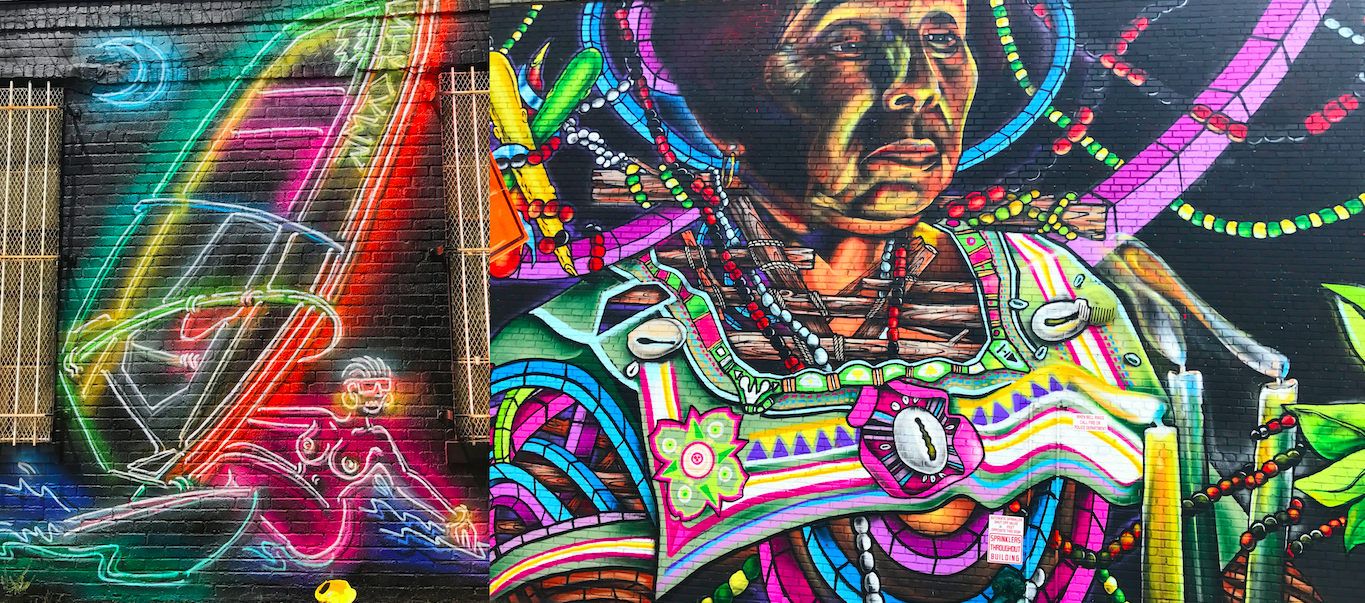 Photo by Juanita Tovar / Artwork by @muralist (left) and Unknown (right)
On Jefferson Street, you will encounter a massive 8-foot mural that from a distance looks like a tall, neon light installation, but upon closer look is clearly street art. This mural showcases how the world of street art is constantly evolving whether through new art movements (e.g. pop surrealism) or through pieces that look as if they were emanating from the walls that contain them.
Another mural can be found on the other side of Jefferson Street. This 11-foot masterpiece seems to freeze the expression of a South American shaman at a specific point in time.
The emotion and sense of wonder on this man's face, combined with its use of vivid colors and an anarchic arrangement of shapes and forms overall creates a dramatic piece of street art that can hold one's attention from a distance.
7. Troutman Street (between St Nicholas & Wyckoff Avenue)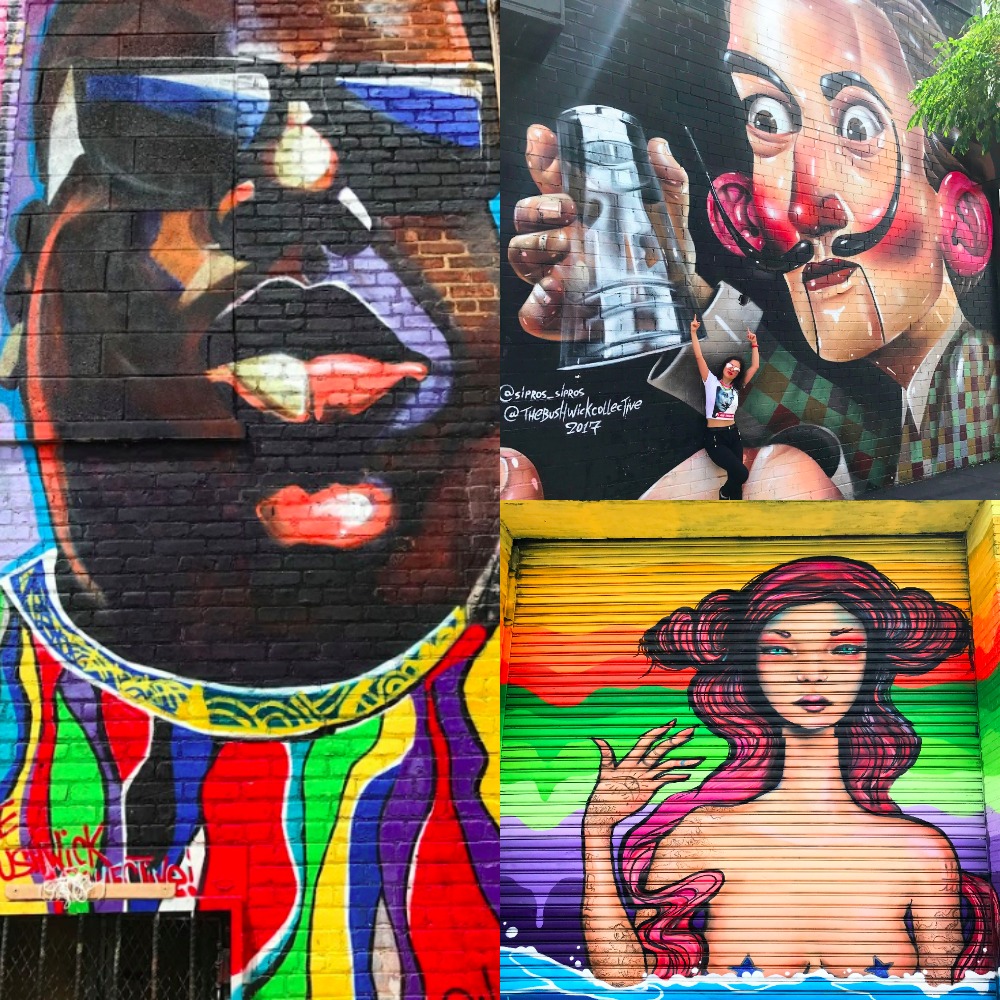 Photo by Juanita Tovar / Artwork by @daniellebknyc (left), @sipros_sipros (top), and @aquarelaart (bottom)
The work found along Troutman Street has to be one of the highlights of this walk. It will take you from Danielle Mastrion's homage to Biggie Smalls on the 20th anniversary of his death, to Aquarela Sabol's magical world of prismatic colors and mermaids, and Wellington Sipros' whimsical yet bizarre world of the Dali-esque and surreal.
---
8. Jefferson Street (between Wyckoff & Irving Avenue)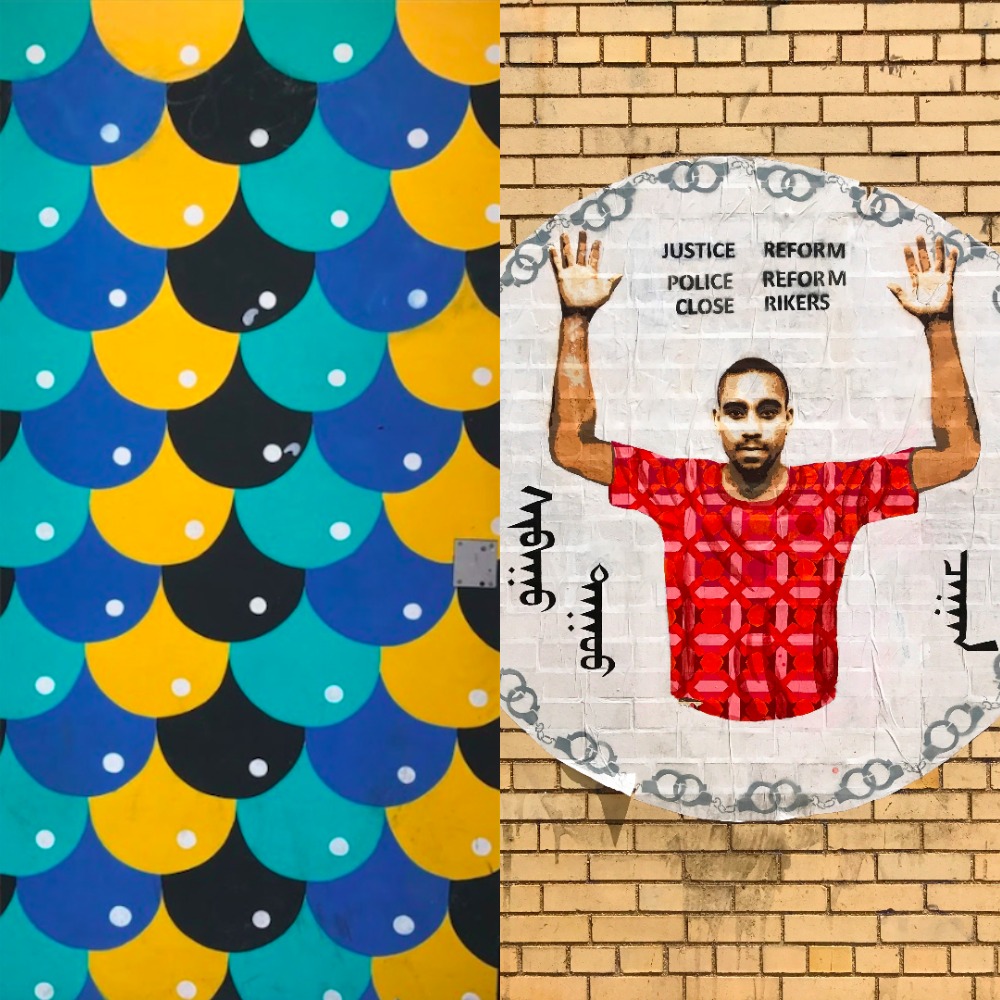 Photo by Juanita Tovar / Artwork by @wonderpussoctopus (left) and Unknown (right)
House of Yes' eleven-foot tall mural will leave you mesmerized by PJ Linden's playful use of circular shapes and pastel colors.

Opposite to this wall, you will find the mural of a Black man who appears to feel obliged to announce his non-threatening nature to his observer. This mural's text, which reads the words: 'justice reform, police reform, close Rikers' puts forward a denunciatory perspective on the issues that are at the core of minorities' oppression.
The combination of this mural's portrait and text put forward a powerful narrative that a) denounces issues such as the unfair imprisonment of minorities in the Riker's Island prison complex and b) demands for reform.
---
9. Troutman Street (between Wyckoff & Irving Avenue)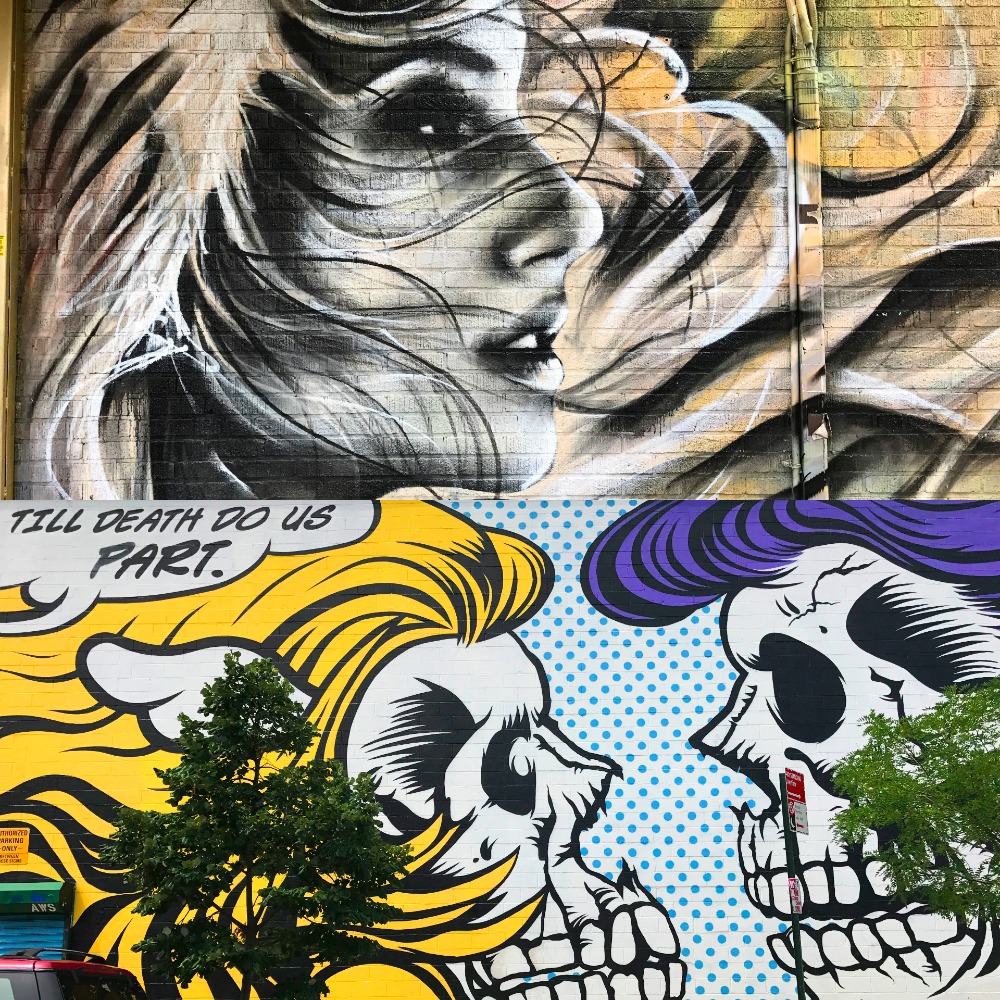 Photo by Juanita Tovar / Artwork by Unknown (top) and @dface_official (right)
Stand still here, and you will be in awe of this woman as she personifies the true essence of sensuality and mystery.
Opposite to this mural, you will find D*Face's darker yet whimsical twist on Roy Lichtenstein's art that in terms of technique and color palette looks exactly like one of his paintings, while differing completely on the choice of theme, which rarely dealt with topics such as death.

However, the funny tone created by the comic like style of this mural and the text reading, 'Til death do us part' is very much referential of Lichtenstein's paintings, which had a tendency towards irony and comedy.
---
10. Intersection of Troutman Street & Irving Avenue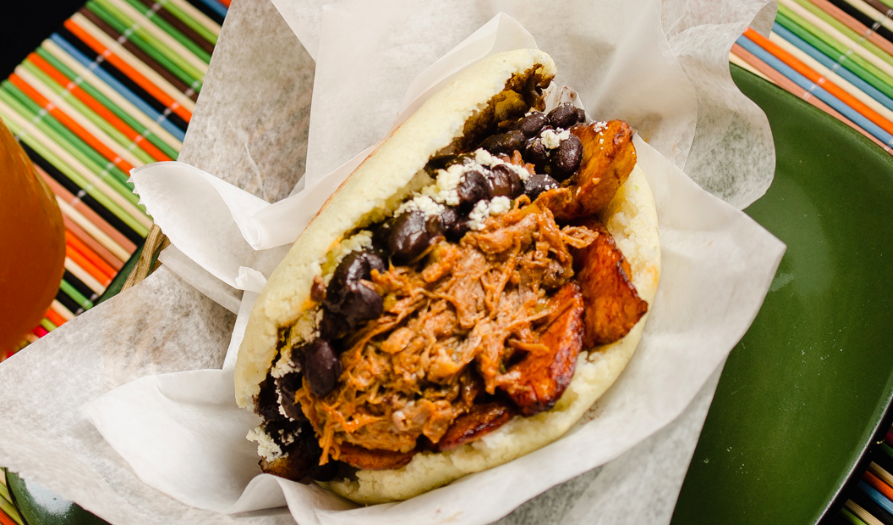 If you have chosen to follow this guide's stops in order, it is time for the first food stop at Guacuco. This small Venezuelan establishment offers hands down the best arepas in NYC. They are so good that you could close your eyes and within seconds feel as if you were transported to the streets of Caracas, where arepas can be found everywhere.
If you are in the mood to try unusual pairings of textures and flavors, get the arepa pabellón or the arepa vegetariana, which combine sweet plantains with other delicious toppings such as avocado, beef, beans and cheese.
Or if you feel like you deserve a reward for all the walking you have been doing, get their 'cocada,' a succulent yet subtle Coconut milkshake. The empanadas are also highly recommended.
---
11. Knickerbocker Avenue (between Starr & Troutman Street)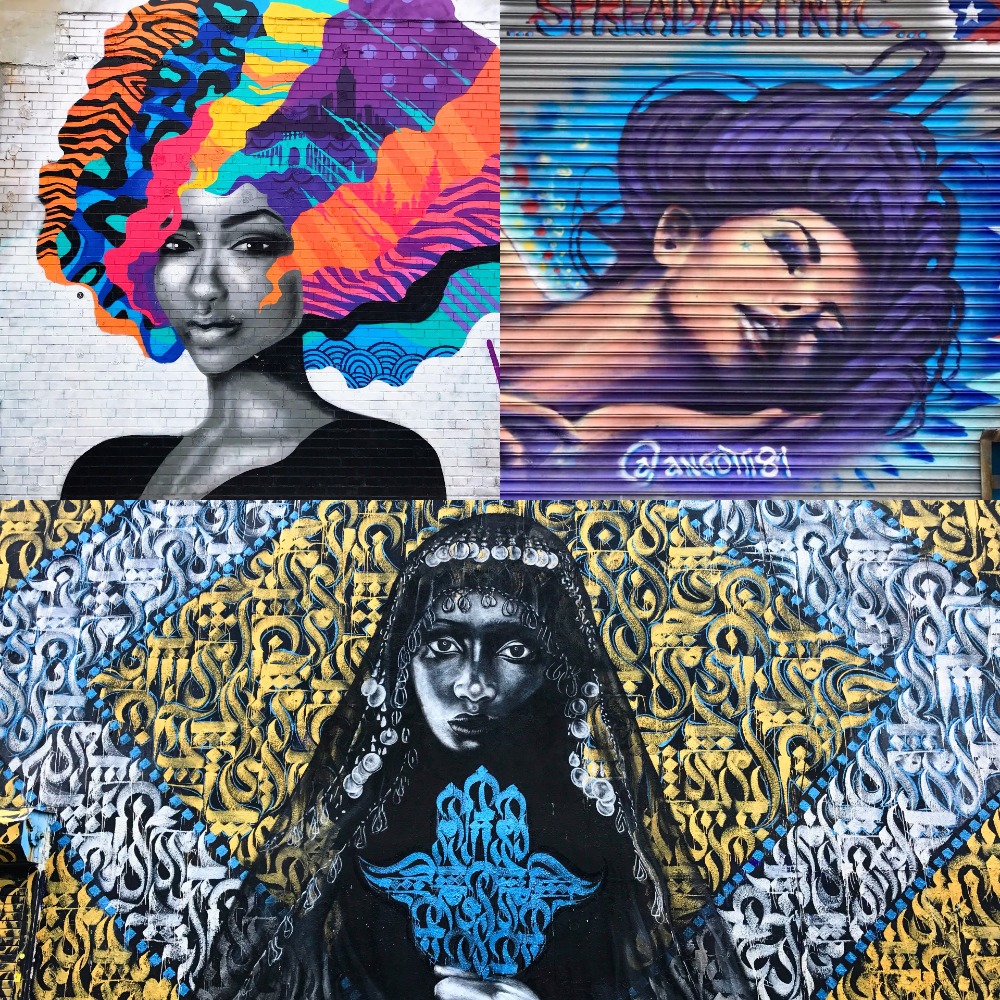 Photo by Juanita Tovar / Artwork by @angotti81(top right), @dinasaadi (top left), and Unknown (bottom)
The work you will find on Knickerbocker Avenue was commissioned by Spread the Art NYC to artists whose work has shown commitment to the diverse and positive representation of minorities.
These murals stand as a celebration of Black and Latin heritage and do so through their use of striking, vibrant colors that are evocative of African and South American style and festivities, as well as their depiction of aesthetically stunning dark-skinned women.
Moreover, it is the masterful capture of the subject's unique expressions that transforms them from fictional characters defined by categories such as 'Black' or 'Latino,' into flesh and bone women.
---
12. Intersection of Seigel & Bogart Street

Fine & Raw is a Bushwick institution that offers some of the most inventive chocolate money can buy. Fine and Raw's chunky truffles, chocolate shakes, chocolate hazelnut butter, and mezcal truffles are worth every single penny.
An insider tip, if you want to relax, is to do what locals call 'Bushwick Beach,' which consists of taking the beach chairs that they offer to the front of the store, where you can sit down and watch people go about their day.
---
13. Moore Street (between Bogart & White Street)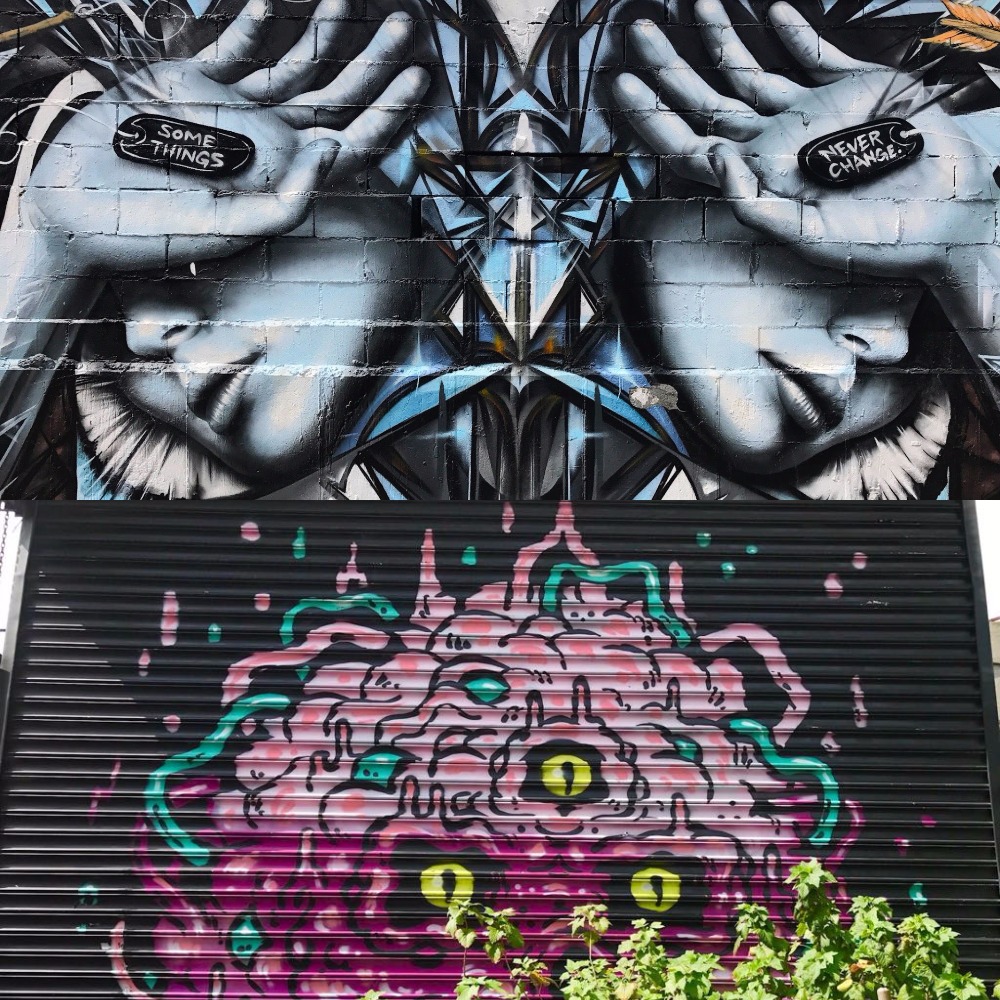 Photo by Juanita Tovar / Artwork by @starfightera (top) and @lamoursupreme (bottom)
Some murals featured on Moore Street contain political motifs as well. Christina Angelina's mural, which showcases two pale women delicately covering their faces to reveal the tags 'some things never change,' is evocative of the emotions her female portraits often display: fear and pessimism.
Even though Angelina's work is not generally centered around the fatality of existence, it is very much focused on showcasing the complexity of women and their wide range of emotions. In this case, Angelina has chosen to draw from the feeling of powerlessness to create change that is felt by women all over the world.
[anad2]
But not all art on Moore Street has such a pessimistic theme! L'Amour Suprim's paintings of bizarre, colorful monsters delve into the world of the whimsy, eccentric, and comical. So transport yourself to Suprim's alternate reality, which mixes the influence of 1980s horror films and underground Japanese comic artwork, and figure out whether these monsters terrify or amuse you.
---
14. Flushing Avenue (between Morgan Avenue & Vandervoort Place)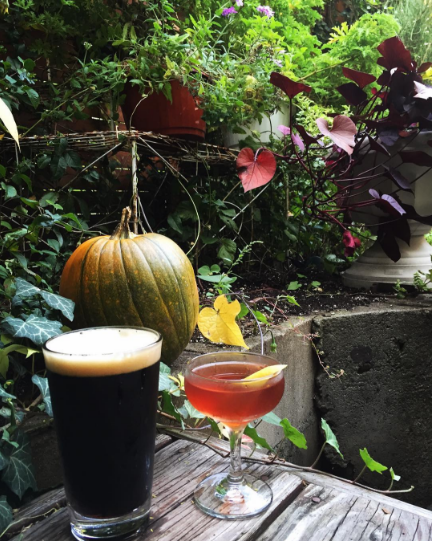 Sit down and grab a delicious drink from the unique collection of house cocktails at The Narrows, and enjoy those last summer days in style with whomever you decided to bring on this walk.
This low-lit art deco bar offers an intimate, almost romantic vibe indoors, as well as a refreshingly open backyard, which should be the perfect setting for you to end quite a hectic day.
[Feature Image Courtesy Juanita Tovar]