Sushi and a show, anyone? Sushi Roxx is a gourmet, swanky sushi restaurant meets night club that now hosts the ultimate Throwback Thursday every week.
This month, they've debuted an epic new show called Boogie Nights, which transports guests back to the swingin' '70s.
Between the music, the disco balls, and the '70s era gold lamé jump suits, you'll feel like you're living out an episode of 'The Get Down.'
How do they do this? Well the entire staff is made up of professional singers and dancers who, between serving you out-of-this-world cocktails and rolls, rock out to your favorite disco and Motown hits.
And the food is as lavish and decadent as the costumes— start off with truffle butter popcorn, then make your way to one of the best lobster mac 'n cheese's in the city (we don't say that sh*t lightly).
You'll barely have room by the time the sushi comes, but we're sure you'll find some.
You definitely won't have room for dessert, but it's worth the valiant effort— one of Sushi Roxx's talented singers doubles as a pastry chef, and holy sh*t, you've got to try her caramel apple cheesecake.
Between the '70s music, swanky night club lighting, sushi, and very excellent cheesecake, this restaurant is kind of a sensory overload, but in the best way!
It's got the fun, kitschy vibe of a Times' Square musical themed restaurant, but without the hoards of tourists (and way better food).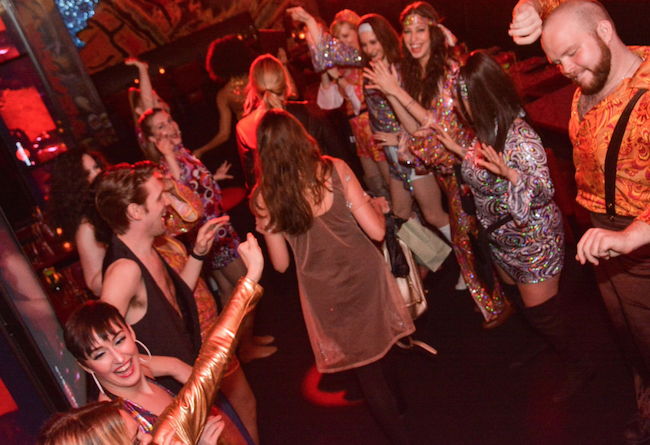 via Andrew Werner
While Sushi Roxx may not be the best choice for an intimate date night or a business meeting, it's perfect for a birthday dinner or a bachelorette party. Just imagine all of the great #TBT pics you'll snap for your 'Gram!
Make a reservation ASAP, because we have a feeling 'Boogie Nights' is gonna be the best thing since disco fever.
Just remember this place is BYOB: Bring Your Own Bell Bottoms.
[Feature Image Courtesy Andrew Werner]