Explore the relations between art, community, and culture as you take on our Abstract Weekend Guide. We've selected art-centered tours, intoxicating art classes and cool pop-up events that will soon sell out. Check the websites for more info on ticket pricing, times, locations and more.
Friday, 3/13
LGBTQ+ PopUp Launch Event - NYC 54 West 21st Street, Manhattan

slateny CHEERS! 📸: @natstagramm
The Association for Out Marketers is hosting an LGBTQ+ Pop-Up this weekend to establish a voice for the community, diversity, and inclusion. The central topics are marketing, advertising, communications, and PR industries as well as branding, influencing and advertising. Join others at Slate NY for panels, complimentary drinks, and bites.

Immersed in Wonderland 111 W 32nd St. Manhattan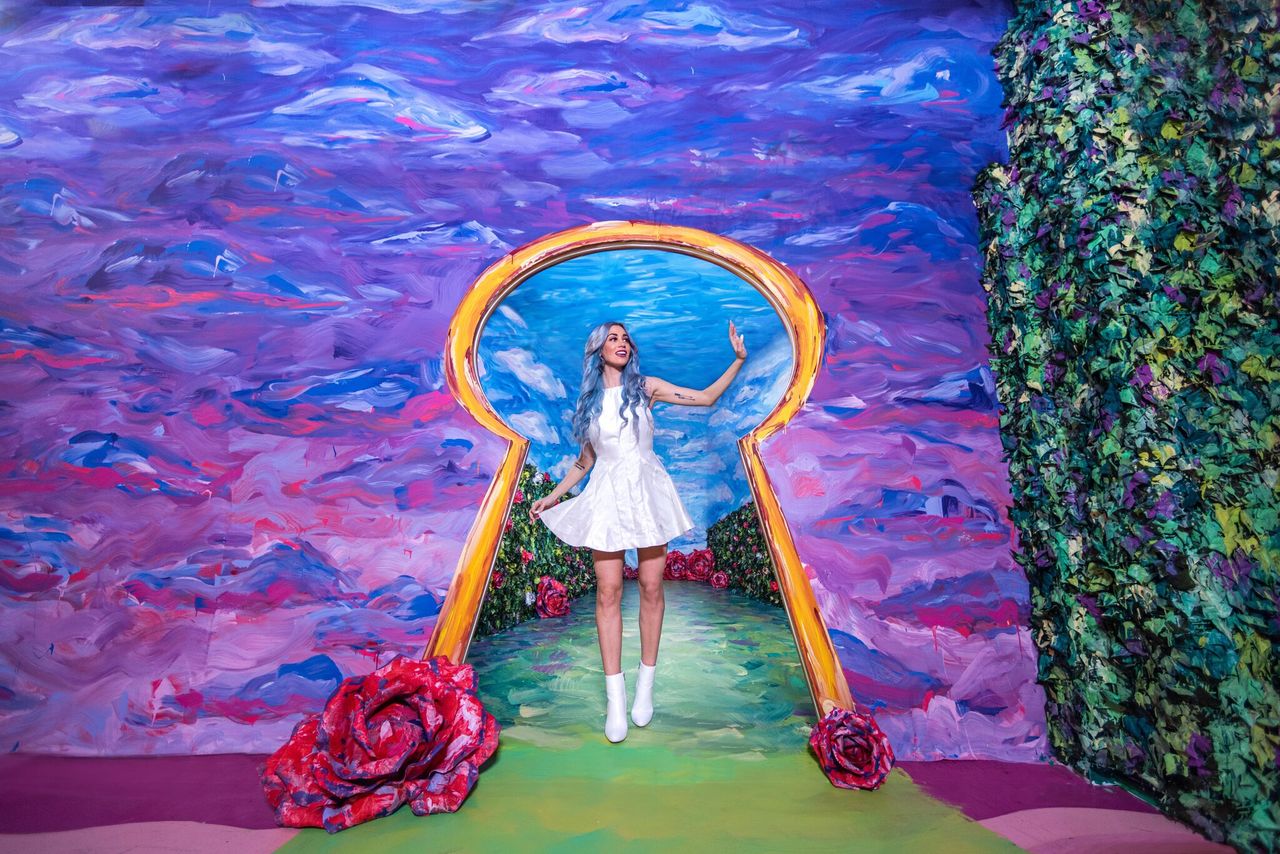 Travel through the looking glass to a world of painted illusions where you can explore, play and become the art. Alexa Meade and Rosè Mansion have partnered to create a new interactive 14,000 sqft art exhibit that brings the story of Alice's Adventures in Wonderland to life through mind-bending installations that blur the lines between art and reality.

Surreal Histories 755 East 133rd Street, Bronx

hellgatearts Working on the next show, Natural History, Paintings from the Golden Age, opening November 23 from 5-9 pm! will feature work by @heidiheidihoho #nycart #bronxart #painting Hell Gate Arts is pleased to present, Natural History, Paintings from the Golden Age. An exhibit of paintings by Heidi Johnson we will celebrate the opening with an artists reception from 5-9pm on Saturday November 23rd. There will be an artist talk on December 7th at 3pm Heidi Johnson's paintings give a glimpse into a constructed world where flora and fauna have overwhelmed their environment. Seemingly oblivious to what might be considered chaos, an abundance of birds, animals, insects and plants appear to thrive and delight on the detritus of human existence. Inspired and informed by the conceptual template of the golden age of dutch still life paintings. Disparate species of flora and fauna meet on the same plane, time is compressed. Ms. Johnsons paintings speak to our contemporary personal temporality, they exist in a culture of overrun by excess and saturation. The work plays with the space between the unending highly constructed world of the internet and the very real and immediate space we dwell in. Although obviously farcical the paintings emit an anxiety with excess that is very familiar in our society. Heidi was born in Providence, Rhode Island and attended Tufts University and the School of the Museum of Fine Arts, Boston. She currently lives and works in the Mott Haven area of the Bronx. Hell Gate Arts is a gallery and community space in the Port Morris section of the Bronx, located in the shadow of the Hell Gate Bridge. We showcase local and international artists and performers in an intimate space. It is owned and operated by Eileen Walsh The show will open with an Artists reception Saturday November 23, from 5-9pm. And will continue through January 11th. The Gallery is open to the public Friday and Saturday from noon to 6 pm 12noon until 6 pm. There will be am Artist talk on December 7th at 3pm.
The Surreal Histories event featuring storytelling photography by Sandra Ayala, Jeremy Dennis, and Karisha Hickman opens this weekend. It will be housed at the Hellgate Arts venue and features narratives from Native American, Latinx, and African-American creatives. Register now to secure your spot.

AFROTHÈQUE - AFRO HOUSE & TECHNO - FREE W/RSVP 361 Metropolitan Avenue, Brooklyn

knittingfactorybk JUST ANNOUNCED: Sci-fi, Middle Eastern fusion rockers @considerthesourcemusic are headed our way on 3/7 with @bellasbartok in tow! Tickets on sale now 🧶
The Knitting Factory Brooklyn invites you to Afrotheque, a party exploring textures, rhythms, and songs from African American culture. Listen to African house and techno music from modern producers such as Sta7ck. Space only allows 200 guests so get your tickets now while supplies last.

---
Saturday, 3/14
Guadalupe Maravilla: Disease Thrower 52-19 Flushing Ave, Queens

guadalupe__maravilla Bird Vampires that only drink blood of Americans that eat meat. 🦢 🩸 🥩🇺🇸 Disease Thrower Performance. Performance 3/14/20 Free RSVP on Bio. Knockdown Center is pleased to present Disease Thrower, a newly commissioned performance by Guadalupe Maravilla, presented in partnership with The Chocolate Factory Theater. Maravilla's practice, which spans sculpture, drawing, and performance, draws heavily on autobiography to address the larger context of the immigrant experience within increasingly repressive and abusive systems. Disease Thrower lives between an immersive operatic and an invented healing ritual, and addresses the artist's experience as an unaccompanied child immigrant escaping El Salvador to the United States, the subsequent intestinal cancer he endured, and his healing methods. For this performance, new mythologies will be created as the artist transforms Knockdown Center into a space for storytelling, choreographed rituals, and healing. Under the embrace of a purple cloud, Knockdown Center's expansive Main Space will be populated by totemic objects, a suite of gongs, a revving motorcycle, and a cast of otherworldly characters. The performance will incorporate one of Maravilla's signature Disease Thrower shrine sculptures that operate simultaneously as an artwork, an instrument, and, for the first time as part of this performance, as a headdress worn by the artist. A mix of returning and new characters conceived by Maravilla — from futuristic border crossers and an operatic singer named La Momia to a troupe of masked, mourning quinceañerxs — will fill the Main Space. Disease Thrower is accompanied by a live score by the Mexico City-based electro-drama band La Rubia te Besa, composed in collaboration with Maravilla. Following the performance, the audience will have an opportunity to commune and dance to a concert-style show by La Rubia te Besa. Disease Thrower is the third and final work of a performance trilogy based on Maravilla's autobiography. The first chapter, titled The OG of Undocumented Children, performed at the Whitney Museum, NY, in 2018, relayed the story of how Maravilla became an undocumented and unaccompanied child immigrant.
The Knockdown Center is hosting Guadalupe Maravilla: Disease Thrower. It is presented along with the Chocolate Factory Theater and is a newly commissioned performance. It addresses the immigrant experience through drawing, sculpture, performance and visual arts.

Sneaker Room Presents Art Max 210 Hudson St, New Jersey

kierstengabrielle He says, "what's art?" Art is whatever the heck you want it to be! Whether it's tattoos or murals or clothing it's beautiful. Art tells stories, emotions which is what I love so much about it. In recent interviews, I've been asked what's something people don't know about you?.. and here I am telling you all. My mom constantly yells at me for my tattoos but she doesn't realize that I use it as my art & to tell my story. So to everyone, create your own art, I'm unsure who painted this beautiful mural but for some reason every time I pass it I see/feel something new. That's what art is. Thankful to live in a place that no matter who, what or where has art everywhere. Thanks JC, please continue to inspire the aspiring 🌻⛰🌹🍃🎋🕊 xx K B E Y O N D P A R A D I S E
The Sneaker Room is presenting Art Max at Manny's District Lounge this weekend. The art show will function as a fundraiser through the auction of Airmax inspired art. Visitors can score unique pieces, enjoy live music, drinks and networking with other sneakerheads.

Pop Up Shop by Women 780 East 133rd Street, Bronx

urbanallure Finally wore neon, I can add hot girl to my bio now 😌 #bdaybehavior cc: @afuegoparty
The Port Morris Distillery is celebrating women with the Pop-Up Shop by Women. Local vendors and businesses are supplying attendees with food, jewelry, desserts, clothing, a masseuse and more goods. There will be bar specials, live music, a tour, and tasting experience as well as live music.

---
Sunday, 3/15
Shake Rattle & Roll Dueling Pianos BOOZY Brunch 259 w 42nd Street, Manhattan

shakerattlerollpianos Now that #duelingpianos is mainstream (thanks @aliciakeys !!!) check out the best in the Northeast @shakerattlerollpianos !!! . . . www.ShakeRattleRollPianos.com #duelingpianos #pianobar #saturdaynight #timessquare #nyc #weddingbandnyc #weddingbandnj #weddingbandli #weddingbandct #whattodo #livemusic #nightlife #fivestar #airbnb #yelp #tripadvisor #singalong #corporateentertainment #soldout #shakerattlerollpianos #fundraiser #birthday #50thbirthday #40thbirthday #30thbirthday #girlsnightout #privateparty #bacheloretteparty #holidayparty #weddingmusic
The Shake Rattle and Roll Pianos Boozy Brunch is this Sunday in the city. Enjoy a sing-along drink-along with hits from Billy Joel to Bon Jovi, Britney Spears to Bruno Mars and beyond. There will be bottomless Mimosas and Bloody Mary options, as well as New York, themed entrées.

tipsy_painting_party Beautiful work! #jerseyshore #canvaspainting #paintnight #tipsypaintingparty #beach #raft #painting
Make a masterpiece while getting hammered at the Tipsy Painting Party hosted by the New York City Food and Drink Guide. Attendees will be provided a two-hour course with an expert artist instructor included as well as painting supplies, drink and food specials, a canvas, great music, and a private server. You'll also get to keep your art which is cool.

The Brooklyn Street Art Tour hosted by Dat Spots NYC is this Sunday and tickets are on sale for this renowned Brooklyn based tour. Investigate the entire neighborhood with an informed and experienced guide that will show you the best art Brooklyn has to offer. This will also include information on Brooklyn's history with art, gentrification, and culture.