Ever since Starbucks announced a change to their loyalty program, essentially penalizing those of us who favor simple (read: cheap) drinks, we've been feeling kind of unloved.
It's left a hole in our hearts. We feel betrayed.
Not only did Starbucks basically say, "We value your loyalty, but not THAT much," but we did the math, they did the math, and now-- thanks for nothing, math --we know to the dollar how little they value our business.
How much can we actually blame them, though? They wanted to switch up from quantity of transactions made to quantity of dollars spent. That makes sense, right? It's not personal; it's business?
In a twisted way, yeah. Welcome to New York. It's been waiting for you.
Too often we're confronted with the lose-lose situation for our coffee. It might be overpriced, it might taste like garbage, or we might have to wait in line forever just to pray the cashier makes the right change.
So, what do we do? We look for solutions.
We look for spots with legitimately delicious coffee, that feel welcoming, that aren't just a $2 black coffee stopgap to use the bathroom, and won't change up their rewards programs because they feel like we've been rewarded enough.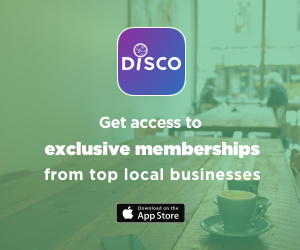 We look for coffee shops and cafes that value both our business and our time by letting us pay through an app to get in and out of there quickly.

So, luckily for New Yorkers, there's the DISCO app who's also been looking out for us. They're the app bringing NYC's coffee scene into the long-awaited future.
They've looked for the best deals in the city, and they've only partnered up with coffee shops and cafes that recognize how much we value getting the most out of everything-- not just coffee.
Of course, they also made it incredibly easy to do all of this.
All you have to do is download the DISCO app, purchase a DISCO-powered membership at one of their partnered spots, and you can get in and out of these places with the ease and access of a valued VIP.
---
---
Check out the map above. DISCO's put together a comprehensive guide to the absolute best coffee deals in NYC.

There might be a Starbucks on almost every block in Manhattan, but all of these coffee shops with memberships powered by DISCO are pretty close to nearly every major subway stop.
It's time to break up with Starbucks. Time to switch it up and get more for your money. Check out this interactive map of cafes and coffee shops in NYC that are actually worth committing to. Then check out the the DISCO app right here.
Check out the DISCO App Right Here and Start Getting More for Your Daily Cup of Coffee.
[Feature Image Courtesy Instagram]