If you don't believe in magic, it might be time to explore the world of wonder and childish joy at Alchemy and Illusions from Adélaïde's Salon, taking place at Loulou's seedy and seductive speakeasy. The fantastical evening will star the one and only show-stopping magician, Greg Dubin, a master of illusion alongside a rotating lineup of whimsical performers finely trained in the art of amazing a crowd. New Yorkers will have the chance to marvel at the mind-bending feats of magic and illusion, unlike anything ever seen over a round of after-work cocktails and French fare.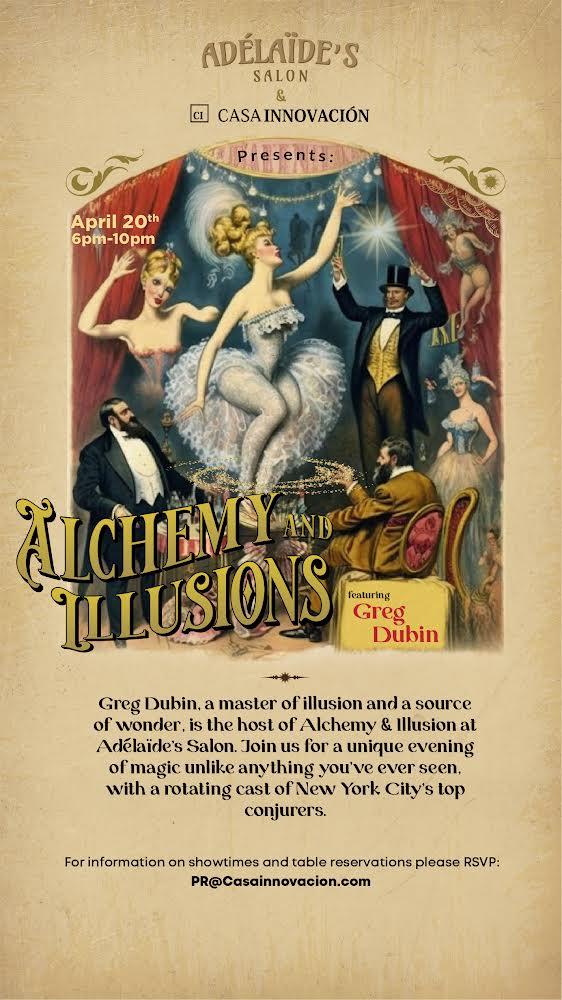 Loulou, the one of a kind French Bistro and Speakeasy in Chelsea, located at 176 8th Avenue , will host the magnificent evening on Thursday, April 20th between 6 p.m. and 10 p.m., where guests can indulge in signature menu items from Executive Chef Jarett Brodie while enjoying the show. Menu highlights include savory dishes like the Loulou Burger made with grass-fed beef, cheddar and caramelized onions, Duck Leg Confit with apple rosemary puree and gala chutney and Steak Frites. In addition to a large selection of gorgeously crafted cocktails like the Remy, which features an enchanting Fever Tree Sparking Grapefruit garnish, the speakeasy, hidden behind a vintage Coca-Cola vending machine door on 8th Avenue, will also serve up wine, beers and more.
Those searching for a little spark in their work week can pop in to witness a string of performers devoted to shocking and enthralling crowds as part of the on-going theatrics from Adelaide's Salon, which include other upcoming events like psychic readings and enchantments. The troop is sure to add a little razzle dazzle to any average weeknight. To find out more about the Alchemy and Illusions, or inquire about showtimes and table reservations contact the team.