Getting around town in New York City is a pain in the ass.
Yellow cabs, buses, black cars, the ol' two-legged walk, subways, Uber, Lyft, Via, CitiBike, your neighbor's bike that you ganked in the middle of the night.
There are a million different ways to get around, and ride sharing seems, unsurprisingly, to be the best way to get around in a pinch.
But ride share apps Lyft and Uber are now competing at critical mass and rates are fluctuating like crazy. How the hell do you know what the best ride out there is?
Calm down. Stop crying. There is help.
Instead of flipping back and forth between apps to compare rates, FareEstimate.com will compare fare estimates for you.
It's a handy way to ensure you're getting the best rate for your ride share, but there are some bugs.
At the moment the service doesn't seem to display rates for UberPool, but hopefully it will soon.
Take a look at the search results for a ride estimate going between Williamsburg and Times Square. Don't get burned with a price surge. Forewarned is forearmed. Nope. That's not the saying.
[anad]
---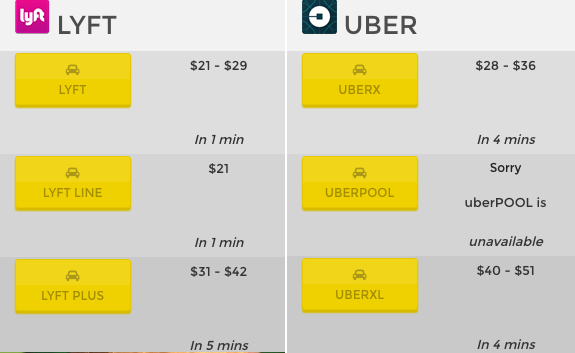 Check out Amazon Now Lets You Order Condoms, Doritos & Toilet Paper with the Push of a Button.
[via Time Out New York]
[Feature Image Courtesy Quartz]