Take the 1 Train to the 191st Street station, and you'll find yourself in Washington Heights.
But walk a few blocks to 187th & Broadway, and you'll be transported to Miami in the late 1980's, with the notes of "Thank You for Being a Friend" playing in your head.
That's right: The Golden Girls are back, thanks to Rue La Rue Café.
While there's sadly no chance of a reunion, this cafe has all the personality of Blanche, Rose, Dorothy, and Sophia.
With memorabilia adorning the walls, a mega flat screen showing nonstop episodes, and menu items named for the iconic lady, this tiny spot will be your next home away from home.
The cafe is dedicated to the legendary Rue McClanahan, who played fan-favorite Blanche Devereaux alongside Bea Arthur, Betty White, and Estelle Getty. It is the brainchild of Michael J. La Rue, who was a close friend of the late great McClanahan, who sadly passed in 2010.
As the executor of her estate, La Rue has access to many Golden Girls collectibles, and those that cover the walls are just a small fraction.
Yet not only does La Rue preserve the looks of the Girls, but the warmth as well. La Rue greets everyone who enters, always smiling and ever-ready to take a picture for some fans.
[anad]
Rue's name is always on his tongue; when he saw my coat, my grandmother's from the seventies, he nodded approvingly and stated, "Rue would have stolen it. She loved vintage."
He noted that she also loved people, which explains the large community table in the small cafe's center.
Everyone seated was smiling as they discussed favorite episodes over coffee including "Dorothy's No Nonsense Roast;" hearty plates like "Sophia's 16-Hour Lasagna;" and sweet desserts including, "Auntie Rue's Orange Poppy Seed Coffee Cake." The crumb coffee cake goes great with a large "Rose's St. Olaf Blend," IMO.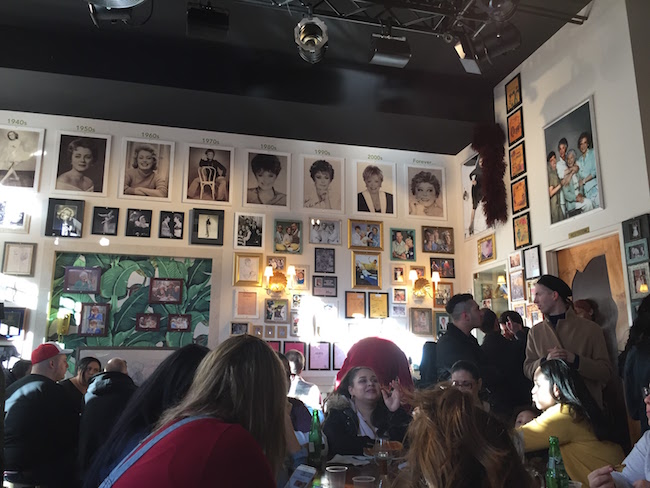 via Breffni Neary
Getting a seat is a bit hard, but even those standing on line were too entranced with Rue's dazzling sequined suit to mind the wait. So whether you are a Blanche, a Rose, a Sophia, or a Dorothy, a trip uptown is well worth it, if only for the fact that Rue's face is on the coffee cup sleeve.
Rue La Rue Café is open 7:30 a.m. - 7:30 p.m., Tuesday through Sunday.

[Feature Image Courtesy Breffni Neary]