If you're a Knicks fan and you have a television with the MSG Network, chances are you've heard the crazy funk music featured during the highlights on the Knicks' programs for the last number of years.
The interstellar squad of funk engineers behind the sound are none other than Lettuce, a crew of highly decorated musicians who double as die-hard Knicks fans, many of them native New Yorkers.
They're also the subject of a new documentary called, Let Us Play, a film following the writing and recording of their latest album, Crush, which debuted streaming on the New York Times website this past November.
I caught up with guitarist Adam "Shmeeans" Smirnoff, bassist Erick "Jesus" Coomes, and drummer Adam Deitch to get the low-down on their involvement with MSG, the Knicks, basketball in general, their documentary film stardom, and what's in store for 2016.
While their repertoire has been featured for years on the Knicks' program, this Friday night's game will include a special feature of the album Crush along with their usual sound tracking.
It's more than just an honor for the band, according to Smirnoff, "...especially for me personally because I grew up a die-hard--die-hard --Knicks fan. And I still am a die-hard Knicks fan. Every time I turn on a game, I get so into it that I forget our music is going to be playing."
And that's hardly surprising seeing that Smirnoff, affectionately known as "Shmeeans," wears Knicks gear onstage somewhat regularly.
But not every member of Lettuce grew up in New York or had that same genetic love for the Knicks.
[anad]
Erick "Jesus" Coomes, who holds down the bass, grew up in Los Angeles. He's written a litany of songs for artists like Jennifer Lopez, Pitbull, and Mariah Carey, just to name a few.
Not only that, but he's also played bass on tracks like Eminem's, "Crack a Bottle," Kanye West's, "All Falls Down," and more recently Dr. Dre's, "Talking to My Diary," which appears throughout the NWA biopic Straight Outta Compton.
Coomes admits, "I've definitely grown up a die-hard Lakers-- die-hard purple and gold fan, my whole life. But with the coming of Phil Jackson to New York, and the fact that I'm in Lettuce, I've got a really soft spot in my heart for the Knicks."
On his split fandom, Coomes went on to say, "I don't think it's bad to have an East Coast and a West Coast team. I think that's OK."
"Yeah we only play each other twice a year (or) in the NBA finals!" Shmeeans added.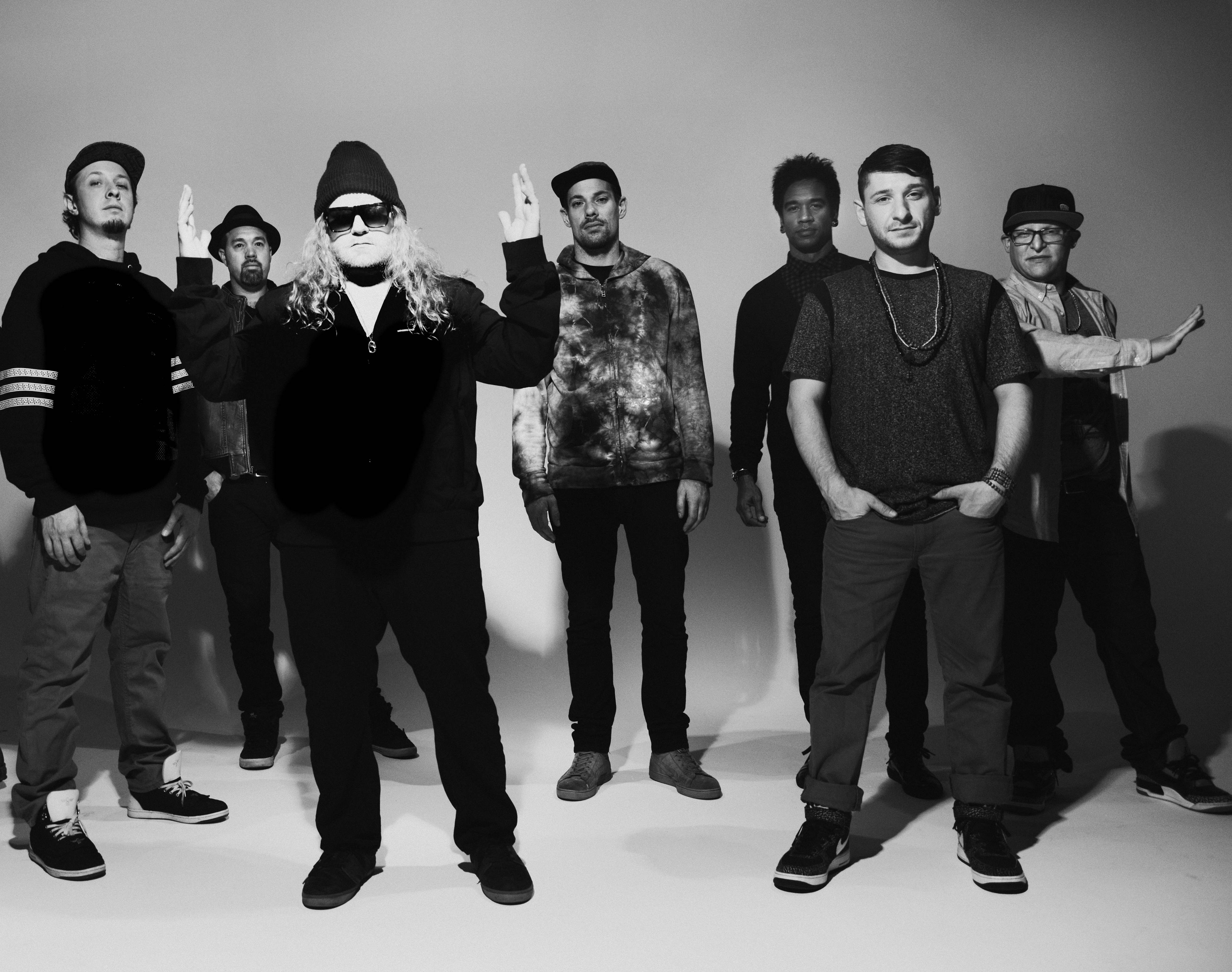 Via Lettuce (left to right: Adam Deitch, Eric Krasno, Erick Coomes, Ryan Zoidis, Neal Evans, Eric Bloom, and Adam Smirnoff)
Grammy-nominated drummer Adam Deitch wasn't always a basketball fan, or even a fan of sports. He was a skateboarder for years until Shmeeans "converted" him into a die-hard Knicks fan during the Patrick Ewing era, when he fell in love with guys like Charles Oakley and Latrell Sprewell.
Aside from drumming, Deitch's producer credits include tracks by 50 Cent, Pharoahe Monch, Redman, Talib Kweli, Xzibit, and Matisyahu, in addition to his two bands Lettuce and Break Science.
When Deitch began describing the Sprewell era as, "fun," adding that the team at that point was "so up-tempo," Shmeeans, who happens to love the current pairing of Melo and Porzingis, really couldn't help himself.
"Sprewell, Camby, Houston, LJ, what? Come on! That team was bangin'!"
But the band sees their style of music and the sport of basketball as having more in common than just the Knicks. Deitch drew an interesting similarity between the two.
He elaborated, "We have this theory that basketball, as a game, has the most improvisation of any professional sport. It's kind of like how we play."
"We have set plays or set tunes and we use those to create from there. It's pretty much the way basketball is played."
And it's true. Lettuce has the unique ability to blend funk, hip hop and jammy psychedelic tunes cohesively. A newbie to their concerts may not even recognize when they're improvising because they are such a tight band-- such a well-practiced team --that it sounds like one in the same.
"There's a lot of shimmying and a lot of magic that goes on within the game," Deitch said, something incredibly resonant with Lettuce's work as well.
[anad2]
Their interplay as team is a focal point of the documentary, Let Us Play, a Human Being film produced by Live for Live Music. Director Jay Sansone, of Human Being Media, told me that for him, it's simply about a love for music.
Let Us Play, Sansone messaged me, concentrates "on the fundamentals of [composition] and improvisation; Lettuce is a really major tool in examining the big picture, the process of creating music-- in the studio, on stage, and everywhere in between."
Be sure to catch this Friday's Knicks game versus the Bulls, as always, on the MSG Network. There'll be a special Lettuce feature shining their new album, Crush, and definitely a myriad of Lettuce tunes throughout the program during highlights, stat rundowns, and much more.
You should also check out the trailer for Let Us Play below. Plus, they're playing back to back Brooklyn Bowl shows coming up. You can grab tickets right here for January 1st and January 2nd.
---
---
Check out 25 Can't-Miss Concerts in NYC This January.
[Feature Image Courtesy Lettuce]