ATTN: If you are interested in learning more about Hungry Pop's interactive food experiences for your next corporate/team-building or private (bachelorette, bridal, birthday) event, you can contact us directly HERE.

PLEASE NOTE: Starting on Sunday, November 10th, 2019, 'Make Pizza, Drink Wine' will begin its weekly residency at Beebe's in Long Island City, Queens.
Few things taste as good after a long day than a mouth-watering slice of pizza and a well-deserved glass of wine. But instead of ordering a pie or succumbing to the sinful temptation of *gasp* Domino's, why not make a delicious pie yourself?
But what's that?! Don't know the first thing about making pizza? Not many people do!
But since we've had such great times these past eighteen months for our first one-hundred (yes, 100!) pizza-making events in Manhattan, we're coming back for more, more, more--and starting in November 2019, we will be hosting these experiences in Queens at Long Island City's Beebe's! So consider this your formal invite (yup, yet again) to Hungry Pop's now world-infamous pizza-making experiences, 'Make Pizza, Drink (Bottomless) Wine', going down at 2PM on the following Sunday afternoons: November 17th & 24th + December 8th & 15th.
Get schooled by New York City pizza chef Pascual Gonzalez (an alum of Speedy Romeo) at Beebe's in Long Island City, Queens, where you'll spend two hours with us learning how to make (and taste, obviously!) authentic neo-Neapolitan pizza.
*Please note: If your group is 10 people or more (birthday parties & corporate/team-building events are welcome!), please contact info@hellohungrypop.com to discuss setting up a private event.*

Not only will you gain hands-on experience from the cream of this city's pizza-making crop, but did we mention you'll also enjoy sipping on complimentary glasses of house red & white wines for two hours, all the while learning about the incredible history of Neapolitan pizza-- plus you'll have delicious shared Italian appetizers served up family-style! And to top it all off, there's nothing like a few good surprises along the way (Nutella infused-banana bread pudding for dessert, anyone?)!
Sounds absolutely amazing, huh?! You can snag your tickets, which start at just $95/person, right here.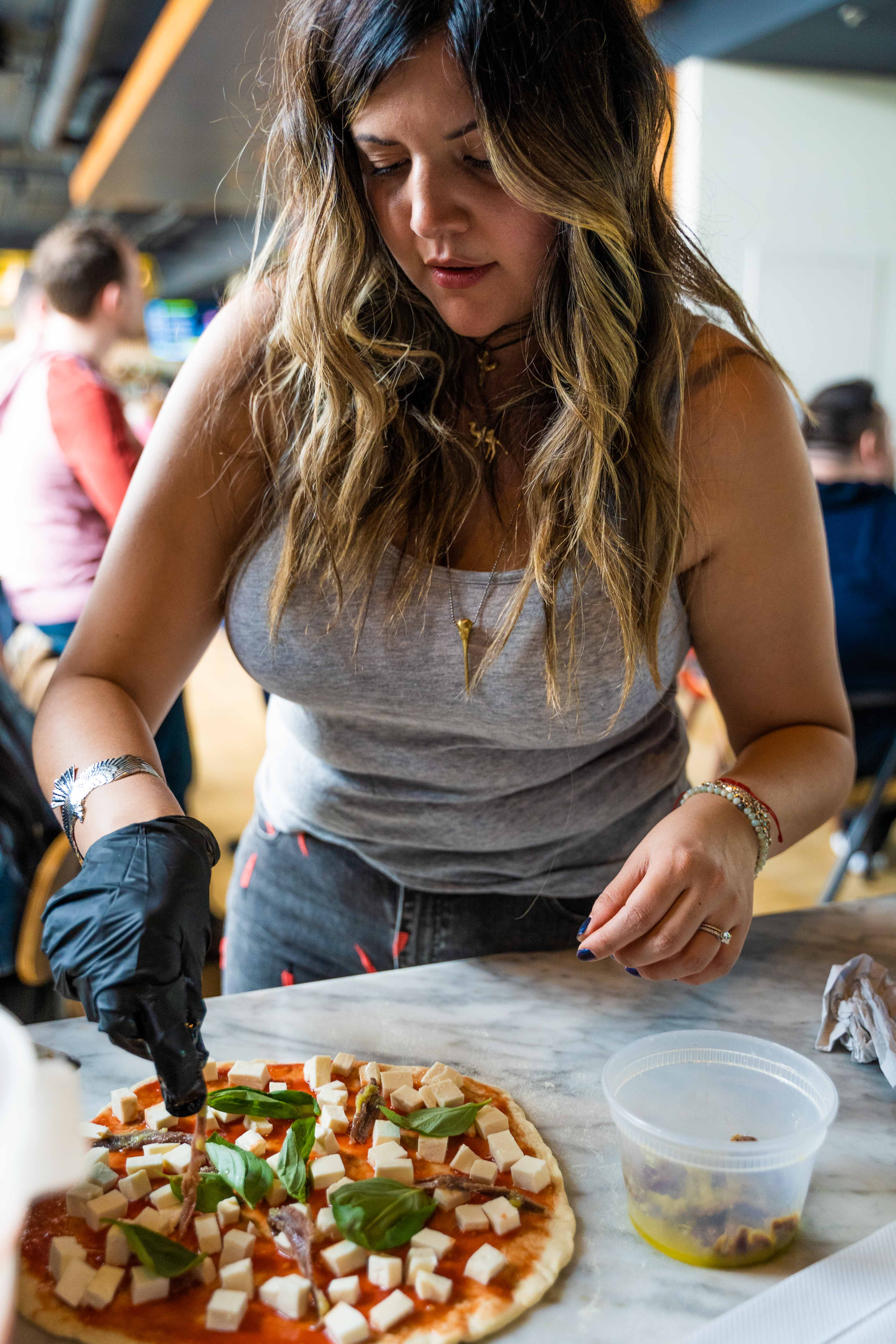 Did we mention you'll also enjoy sipping on complimentary glasses of house red & white wines for the entire night?!
If you're looking for the most interactive food experience unlike any other happening in New York City right now, this is it!
So be prepared to roll up your sleeves, enjoy a glass of wine (or two, three, four... you get the open bar idea by now, right?) and make your saucy pizza-cooking debut. Plus, get ready for your close-up, because Hungry Pop will be on-site to capture videos and photos of the tasty night.
So, what are you waiting for? Grab your friends, family, or significant other(s) and join Hungry Pop at Beebe's inside Long Island City's Boro Hotel for a taste of neo-Naples and to test out your pizza-making chops while enjoying an open wine bar. (P.S., we promise you'll want to throw out your take-out menus afterwards!)
P.S., Want to check out some pretty amazing Instagram posts & stories from previous 'Make Pizza Drink Wine' events? We gotchu covered right here. Enjoy 'em-- and we'll see you for a fun-filled night of 🍕 & 🍷 very soon!
(Written By Audrey Lee)