New York's art scene tends to thrive during the summer months and 2018 is no exception. In this guide, you will find artwork that is in essence, arresting.
The exhibits contained in this guide will command your attention whether it is through optical illusions, immersive audio-visual installations, politically-charged imagery, or live dance performances.
---
kasmingallery SUMMER SHOW: "SEED", Curated by @yvonneforce, opens next Thursday, June 21, between 6-8pm at our 293 Tenth Ave space. "SEED" brings together a group of 29 contemporary artists who explore the complexity and resonance of a long association between the natural world, sexuality and fertility, and spirituality and mysticism. • Included in the show is Robin F. Williams' "In The Gutter;" a wryly comic riposte to any concept of a 'polite' female body. Williams has previously mounted solo exhibitions at P.P.O.W Gallery, Space 414 and Jack the Pelican Presents, and has been involved in group shows in spaces such as The Hole, ARTspace, New Museum of Los Gatos, Driscoll Babcock, and Sargent's Daughters. She currently lives and works in New York. • #RobinFWilliams #SEED29 #SummerShow #Kasmin #FemaleArtists @yvonneforce • Image: Robin F. Williams, "In the Gutter", 2015, oil on canvas, 63 x 84 inches, 160 x 213.4 cm. Courtesy of the artist and P.P.O.W, New York. Copyright the artist.
(Artwork by Robin Williams)
Group Show, Seed, Paul Kasmin Gallery, 293 10th Avenue (Closes August 10th)
This month, the Paul Kasmin Gallery is showcasing work by 29 renowned female artists from around the world. 'Seed' brings together paintings and sculptures unified by these artists quest to explore modern expressions of female sexuality and fertility.
Paintings of naked women by Robin Williams stand as "a comic riposte to any concept of a 'polite' female body while also questioning the spaces in which female nudity is (un)acceptable." On the other hand, Lisa Yuskavage's paintings aim to explore female nudity amongst nature and the inherent connection there is between women's bare bodies and the natural world.
---
Paul Kasmin Gallery is located on 293 10th Avenue
(Photo by Mickalene Thomas. Courtesy of the artist and Artists Rights Society (ARS), New York)
---
Group Show, Multiply, Identify, Her, The International Center of Photography (ICP), 250 Bowery, (Closes September 2nd)

'Multiply, Identify, Her,' brings together "an intergenerational group of women artists whose work explores representations of identity."
This exhibit examines the concept of the female gaze, it plays with it, and effectively explores the complexity of women's identities. The female artists showcased in this show are unified in their effort to examine the elements that affect and transform female identities such as "the weight of personal and social stereotypes of race, class, gender, and age."
The result of this exploration are explosive images that portray women through raw expressions of joy, rage, and bewilderment.
sue_debeer installation in progress. Such a gift to show these early works again. From my first body of work - photos from 1998-2000 first shown with #sandronirey @kristinrey1 @tarahirshberg #horrorphotos #projectroom show opens thursday
(Photo by @marianneboeskygallery)
---
Sue de Beer, The White Wolf, Marianne Boesky Gallery, 507 W 24th Street (Closes August 3rd)
This summer Marianne Boesky Gallery is showcasing the world premiere of Sue de Beer's latest film 'The White Wolf.' This horror film was developed as part of the John Simon Guggenheim Fellowship that the artist earned in 2016.
This exhibit includes de Beer's past photography work in addition to her latest film, in order to expand and continue this artist's exploration of the gruesome and abject thematics that have encompassed her career.
"The White Wolf' will particularly appeal to those intrigued by images of violence and to the individuals that can see beauty in images plagued by blood, exposed organs, and decapitated subjects.
untitledspaceny "A Bad Man is Hard to Blind" by artist @katehush⠀ ⠀ ⚡️The Untitled Space presents "DEFINING FORM" A Group Show of Sculpture curated by @indiracesarine ⚡️⠀ ⠀ DEFINING FORM group show investigates progressive themes in sculpture, including contemporary feminism, gender identity and political art, as well as new technologies in digital sculpture, with an emphasis on originality and innovative usage of materials. ⠀ ⠀ http://untitled-space.com/defining-form-a-group-show-of-sculpture/⠀ ⠀ EXHIBITING ARTISTS:⠀ @therubinstein @abardalesart @ann.lew.is @arlenerush @barbject @cmasseyart @Colinmemaybe @cristinmillett @dadada_z @desirerebecca @devi_shyam @elektrakb @elizabethrileyprojects #emilyelliott @gleeleelawlee @hazy.mae #indiracesarine @jsbranson @artgirlsy @jasminemurrell @jen_dwyer_ #jennifergarcia @jessdewahls @jbarmstrongceramics @jonathanrosen_art @kacy_jung #katehush @kelseybennett333 @lauramurrayart #leahgonzales @Leauxism @maiaradanovic @manjushandler @meeganbarnes @Michael_Wolfs_Work @nicolenadeau #olgarudenko @rachelmarksart @rebeccajgoyette @rongeibel @ronaldgonzalezstudio #roximarsen @sandra.erbacher @msmapes @seunghwuikoo @shamstoked @yescliteracy @stephanie.hanes @stormascher @suzannetylerwright @tatyanamurrayartist @Toubaalp @whitneyvangrin @zac_hacmon⠀ ⠀ #DefiningForm #UntitledSpace #Sculpture #Exhibit #ArtTrends #ArtScene #neon #neonart
(Artwork by @Kate Hush)
---
Female Group Show, Defining Form, The Untitled Space, 45 Lispenard Street #1W (Closes August 1st)
'Defining Form,' delves into the question "What is sculpture today?.
In order to fully answer this question, Untitled Space is showcasing the work of 50 emerging and established artists that are pushing the boundaries of what sculpture is by mediums and form.
The sculptural work displayed in this exhibit, for example, steps away from "classic techniques such as chiseling stone and casting in bronze and shifts towards new technologies such as 3-D printing, materials such as silicone, plastics, and textiles as well as found, recycled and repurposed materials."
'Defining Form' also resonates with progressive themes that are being investigated by artists around the world, such as gender identity, contemporary feminism, and political art.
(Artwork by Seth Price ,Photo by @momaps1)
---
Seth Price: Danny, Mila, Hannah, Ariana, Bob, Brad, MoMa PS1, 22-25 Jackson Avenue (Closes September 3rd)
MoMa PS1 is showcasing Seth Price's latest work. Presented as a discrete installation, Price's photographs depict magnified details of the skin of people of various ages, genders, and races.
In order to bring these images to light, Price had to make use of a state of the art "robotic camera that is typically deployed for scientific research or forensic study." The resulting images displayed in this show, "combine the crips detail of close observation with the impersonal breadth afforded by panoramic view, in order to provide uncannily intimate representations that nevertheless reveal very little about their models."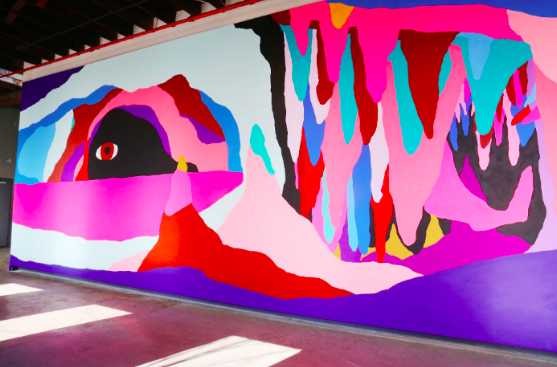 (Photo by @knockdowncenter)
---
Macon Reed, Who Is Watching You More Than You Are Watching You, Knockdown Center, 52-19 Flushing Avenue (Closes August 12th)
Macon Reed's 52-foot-wide mural strikes the eye from afar with its loud neon colors. However, it is this mural's blend of amorphous shapes and lines that can be interpreted to be anything from abstract art to Plato's allegory of the cave, what makes this large-scale painting interesting from up-close.
"Who Is Watching You More Than You Are Watching You" makes part of a series of conceptual projects designed to showcase the spaces that still exist in modern society between people both in a literal and figurative way.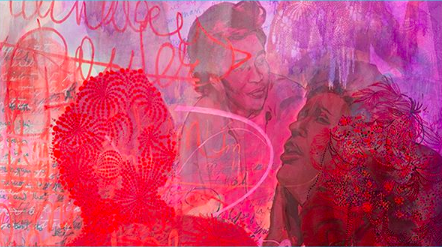 (Photo by @fireleibaez)
---
Firelei Báez, Joy Out of Fire, Studio Museum, 144 West 125th Street (Closes Nov 24th)
"Joy Out of Fire" continues Firelei Báez's longstanding effort to change the way in which women, particularly Afro-Caribbean/Afro-Latina women, have been represented in visual culture and throughout history.
Baez's work portrays women from different socioeconomic backgrounds, historic eras, and it intentionally highlights important females of color that according to the artist "have historically been overlooked or thought of as tangential to their male counterparts." She does this by blending their portraits with "archival photographs, notes, diaries, letters, and manuscripts," relevant to their histories and narratives.
The artist's choice to create wall-length canvases from which large portraits of female figures emerge in striking, bright colors, aides Baez's intent to portray Afro-Latin women as powerful and beautiful.
redbullartsny 🔦 ENTER INTO THE UNKNOWN 🔦 Stop by today between 12-7pm and dive head first into the world of #RAMMELLZEE. Admission is free and open to the public (detailed gallery hours in bio). Photo: Lance Brewer. Exhibition view of RAMMΣLLZΣΣ: Racing For Thunder. All artwork © 2018 The Rammellzee Estate
(Photo by @redbullartsny)
---
Rammellzee, Racing for Thunder, Red Bull Arts New York, 220 w 18th Street (Closes August 26th)
Rammellzee -cultural influencer, legendary artist, graff, hip-hop pioneer, and New York cult icon - is bringing a retrospective of his vast amount of work to New York this month.
Whether you recognize his name from his seminal record Beat Pop, "which is still widely regarded as one of the foundational tracks of early rap, and has inspired artists such as Parliament Funkadelic, the Beastie Boys, and RATKING," his hip-hop collaborations with Charlie Ahearn and Basquiat, or his cameo on the all-time classic film Stranger than Paradise, this is a show not to be missed.
"Racing for Thunder" examines the evolution of Rammellzee's artwork, and will provide its viewers with snippets of his vast body of work, including his seminal post-graffiti artwork, pieces from his "Letter Racers and Garbage of Gods" exhibits, as well as new work commissioned by Red Bull Arts New York.