Subscribe to spoiled NYC's official newsletter, The Stoop, for the best news, eats, drinks, places to go, and things to do.
Happy New Year, from all of us here at spoiled NYC! Hope you've been unscathed by the blizzard this week as well.
Now that we have all been forced to leave the calendar bubble that it holiday bliss and rejoin the real world (only 354 more days until Christmas) here's a monthly guide to having fun while avoiding the cold.
---
1. Target First Saturdays at the Brooklyn Museum (January 6)
Brooklyn Museum's monthly first free Saturdays continue into 2018. In honor of the New Year, imagine new futures with artists and changemakers. Happy Hour is 5-7 PM, and the evening is filled with a few talks, showcases, and of course, music and party vibes.
---
2. No Pants Subway Ride (January 7)
improv_everywhere Union square all aboard the hype train 🚇 #npsr17
The annual event staged by Improv Everywhere will be happening this Sunday. What was once a small prank has turned into an international phenomenon. Head over to the Improv everywhere website to sign up for details to join the mission.
---
3. Brooklyn Horror Film Festival Presents: Devil's Gate (January 8)
arenacinelounge @ifcmidnight's #DevilsGate premieres with us January 5th! From director Clay Staub and starring @miloanthonyventimiglia (#ThisIsUs) Bridget Regan, @amandaschull @shawnrashmore (#XMen) @jonathansfrakes (#StarTrek) and @spencerdrever (#Fargo) Set in the small town of Devil's Gate, North Dakota, the film examines the disappearance of a local woman (Regan) and her young son. Schull plays an FBI agent who helps the local sheriff (Frakes) search for answers. Partnering with a deputy (Ashmore), they track down the missing woman's husband (Ventimiglia) and find that nothing is as it seems. For tickets visit http://www.arenascreen.com/event/devils-gate #IndieFilm #SupportIndieFilm #Cinema #Movies #Horror #Thriller #SciFi #Mystery #miloventimiglia #shawnashmore #IfcMidnight #IFC
ICYMI, Videology Bar & Cinema, The Brooklyn Horror Film Festival, and IFC Midnight team up one Monday a month for screenings of recent and upcoming horror films.
This month's pick Devil's Gate follows FBI agent Daria Francis as she's dispatched to the small town of Devil's Gate, North Dakota to investigate religious fanatic Jackson Pritchard, husband and father of the missing persons.
Don't forget to stick around after the movie to redeem your ticket for $2 off at the bar.
---
4. Brooklyn Poetry Slam (January 9)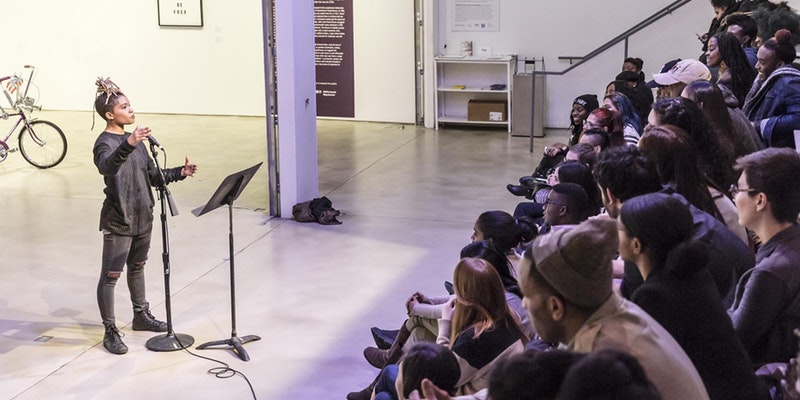 via BRIC
Hosted by BRIC, the Brooklyn Poetry Slam brings forth some of BK's best slam poets for a monthly gathering of words and wisdom.
There's also going to be an Open Mic afterward, so come early to sign up if you want to get your slam on. No need to RSVP, just remember it's first come, first serve.
---
5. Best of the Bay (January 11)
johnny2phones_ Me , @sig_roy , @nolansantomusic , and a few others about to turn up Long Island if you wanna come through dm me or click the link in my bio for tickets 🔥
Best of the Bay is a concert in Long Island, featuring some of the best up-and-coming acts throughout the state including BTG, Brooklyn-based StravDuhGod, and Johnny 2 Phones to name a few.
The show is 16+. Attendees 21 and over will get a wristband at the door.
---
6. Art and Yoga (January 13)
brooklynmuseum Start your Saturday off right with a morning of yoga and mindfulness meditation led by @sashayogawellness inside our beautiful Beaux-Arts Court, courtesy of @adidasNYC! Afterwards, wander the Museum and explore a selection of contemplative artworks currently on view. Click link in bio for tickets and see you Saturday! 🙏
Stick with your resolution and find your flow surround by art, courtesy of Adidas. After yoga and mindfulness meditation, participants are encouraged to explore the galleries on a self-guided tour of specially selected contemplative objects.
It's a great way to get the creative energy going. For those who still haven't figured if yoga is their thing, yoga mats are provided.
---
7.globalFest (January 14)
globalfest_nyc Caught Colombia-via-Toronto @lidopimienta's short #Brooklyn stop! 🇨🇴
globalFEST is moving the 15th-anniversary edition of its flagship festival to Midtown, adding a new collection of sounds in the world stomping ground that is Times Square.
The event is bringing together 12 artists onto three stages for one night. Discover Delgres, gritty Creole blues reconnecting Guadeloupe to New Orleans, or Indian sarod and tabla-infused underground hip hop group, Grand Tapestry.
---
8. Tribute to Dr. Martin Luther King Jr. (January 15)
bam_brooklyn "Injustice anywhere is a threat to justice everywhere."—Dr. Martin Luther King, Jr. Join us next Mon, Jan 16 at 10:30am for our annual #MLKinBK Tribute, featuring a keynote address by #BlackLivesMatter's own @opalayo ✊🏿
Heralded as the city's largest public celebration in honor of Dr. Martin Luther King Jr., the Tribute returns to BAM in Brooklyn for the 32nd year.
Created and curated by world-renowned activists, intellectuals, and civic leaders with the goals to pay tribute to King's legacy and keep his message alive.
Head to BAM for a full day of free events, including a movie screening, a talk featuring keynote speaker Jelani Cobb, and an art exhibition.
---
9. #PoetsforPuertoRico (January 20)
afrotainoprod #PoetsforPuertoRico in full effect. Thank you @denicefrohman, @yolandawisher and all the poets, partners and supporters. #AfroTainoWinter2018
Puerto Rico still needs our help!
Show your solidarity and support with a benefit reading by #PoetsForPuertoRico to raise funds and continued awareness of the ongoing political and environmental devastation in Puerto Rico.
---
10. NYC Restaurant Week (January 22-February 8)
nycrestaurantweek Hungry to explore? How convenient: #NYCRestaurantWeek returns 1/22, and your taste buds are in for a world tour. Reservations open 1/8!
NYC Restaurant Week returns at the end of the month. New York is one of the most food diverse places in the world, to the point we've even played Frankenstein with our foods.
Check the website after January 8 to browse menus and book tables (and if you love somewhere, trust me, make a reservation).
---
11. Beer, Bourbon, BBQ (January 27)
stuffscrivsees #mood for #beerbourbonbbqfestival today with some of the homies 🍻@aboer106 @blockbusterben @cvillianchillin #beer #bourbon #bbq
What's makes a better a good time than friends and three sacred b's (Beer, Bourbon, and BBQ)?
Your admission buys you a sampling glass to enjoy an all-you-care-to-taste sampling of beer and bourbon.
With over 60 beers and 40 bourbons paired with noms by Chef Elliott Farmer & Farmer's Gourmet Catering, you'll have a southern fun afternoon.
---
12. Knicks vs. Nets (January 15 & 30)
sbviewz MOOD... 😁🙌 The real #NewYork please stand 🆙️ - First WIN of the Season!!! That's Right! Brooklyn WHO?! @NYKnicks #NYKnicks #NYKvBKN #KnicksvsNets #NBA #TGIF
?tagged=knicksvsnets
I have been a Knicks fan since birth, but I'm waiting for the day that either New York basketball team *actually* makes it through the playoffs.
Head over to Watch the New York Basketball rivals duke it out on the court. Tickets: Barclays & Madison Square Garden
---
13. Brooklyn Moon Full Moon Open Mic (January 31)

camillefelicity Come sing a song about your ex tonight at 745 Fulton street until 10PM . . . . #comethru #tonightinbrooklyn #brooklyn #brooklynmoon #openmic #jazz #band #karaoke #openinvite #thingstodo
Recently featured in Spike Lee's She's Gotta Have It (#teamGreer), Brooklyn Moon has been a Fort Green staple for over 22 years.
Celebrate the full moon and sing your heart out, with $4 margaritas providing you\ courage.
The open mic starts at 7 PM and is open to creatives of all types (rappers, poets, musicians).
---
Volunteer (Everyday)
volunteermatch You know that warm, fuzzy feeling you get when you do something good? We hope you get that feeling all holiday-long. From our VolunteerMatch family to yours, happy holidays! 🎄✨
Make a Volunteer profile on Volunteermatch and start giving back this year. There are even virtual opportunities for those getting started.
That's all for this month! Enjoy and make the most of it.
Got a hot tip or correction? Drop us a line at tips@spoilednyc.com