The 90's are back y'all! Between 90's Fest, 90's bar crawls, and the 90's Are All That on Nickelodeon, there's a clear comeback working its way into our mainstream.
We've always wanted a way to relive our nostalgia, and now we have a ton of ways to do it.
From Rugrats to Hey Arnold!, and everything in between (my personal favorite is All That), we can reconnect with the characters and stories that made our childhood so much fun.
And here to jump on the bandwagon and make that comeback even sweeter is Love Tribe. They've got a new collection of Nickelodeon-themed clothes that will make your inner 90's baby scream!
Bonnie Dogan, the VP of Hybrid Tees, spoke to me about the collection and why its such a great time to bring your faves back.
[anad]
"It's about nostalgia," Dogan gushed, "And remembering things you grew up loving."
The inspiration for the line came from a mixture of the 90's comeback, which has become a rising trend in the past few years and is having a huge moment, and Dogan's love for Nickelodeon.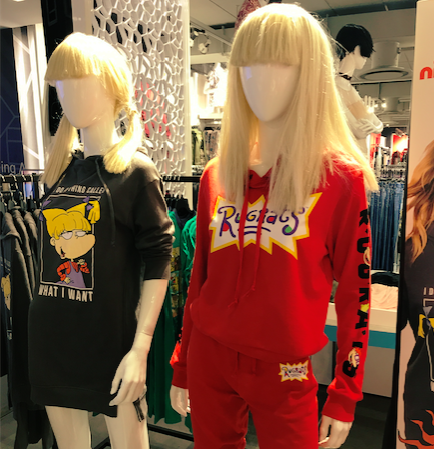 via @ashalamode
pic
"There's no Nickelodeon in South Africa," she explained, so growing up, she would hear about it from her cousins and all she wanted was to watch it, and when she did, she was hooked.
Angelica was one of her favorite characters- I mean who can blame her?- and receives a special piece as part of the line. And who doesn't love Rugrats? But her favorite is the long green dress filled with characters in the center.
via @ashalamode
Other shows getting some spotlight include Hey Arnold!, Clarissa Explains it All, The Ren & Stimpy Show, All That and SpongeBob SquarePants.
You're gonna want to get yourself to Macy's because there are some seriously adorable pieces, and we're sure they'll sell out fast. Or check out the full collection here to spy before you buy.
[Feature Image Courtesy MaddMike]